Save time, improve productivity, and enhance your confidence in modeling and investment decisions using the new and improved Equity Data Terminal in Sentieo. Access significantly more equity data (12x more data fields for a total of 1500 fields) and new financial models, including consensus and standardized models. Get improved auditability of model numbers and the ability to download all models (including As Reported) directly from Excel.
Access Private Company Data in the EDT
Data on 750,000 private companies is now available in Sentieo's EDT, including basic profile information (date founded, location, activity sectors), funding rounds, investments, exits, acquisitions, and investors.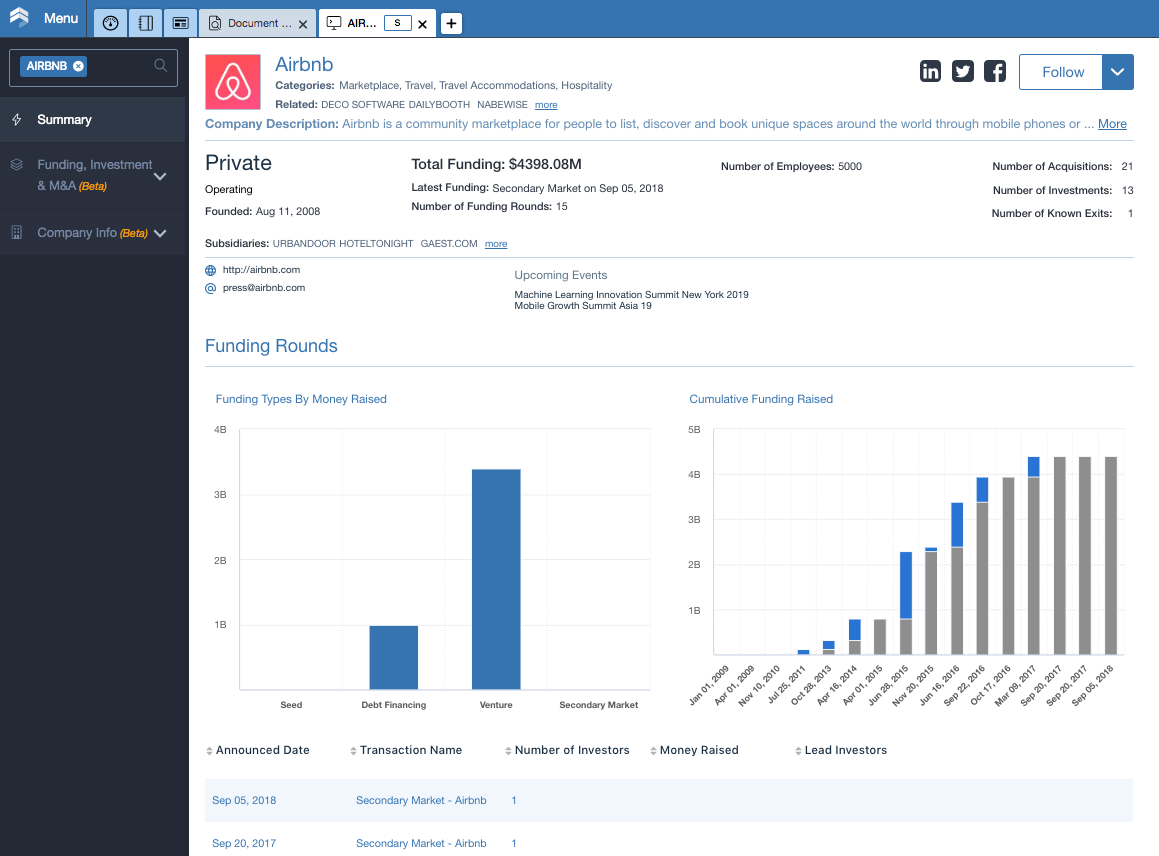 When available, data from the private company dataset on funding, investment, and M&A has also been added to public company profiles in the EDT.
Additional Fundamental Data and New Model Interface
We dramatically increased the data field count (12x!) in the EDT to 1500 fields total. (Source: Refinitiv Fundamental Data)
We updated the look and feel — and responsiveness — of our financial models.
New Financial Models Available
We expanded the number of financial models available for income statements, balance sheets, and cash flow statements.
Consensus Model:

Based on Refinitiv I/B/E/S Estimates data, this model shows the actual adjusted figures for historical periods and current consensus for future periods.

Standardized Model:

Based on Refinitiv Reuters Fundamentals data, this model takes the financials reported by the company and reclassifies all the items according to a standardized template.

As Reported Model

: Based on Refinitiv Reuters Fundamentals data, this model is the closest to the financials reported in a company's filings and press releases.

Updated Sentieo Model

: This model has adjustments like the Consensus model, as well as justifications for the numbers.

Models for Banks

: The EDT now also includes the As Reported and Standardized models from Refinitiv for banks.
KPIs Now Available In EDT
Public company financials now include KPIs pulled from filings; for example: gross leasing area for mall operators, per-passenger and per-distance metrics for airlines, retailer average sales per store, and restaurant comparable sales and unit openings. 
New Time Period Options 
Calendarized, Next 12 Months (NTM), and Last 12 Months (LTM) periods are now available for all of our models.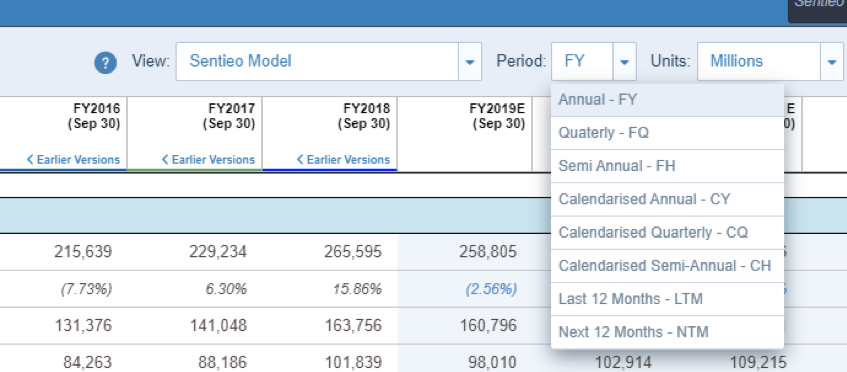 Formula Auditing and Data Sourcing
We have added new ways to audit formulas and to understand the underlying data sources.
Audit Pop-Up: Every number in our models and on the ratios page now includes a pop-up showing how the formula was calculated.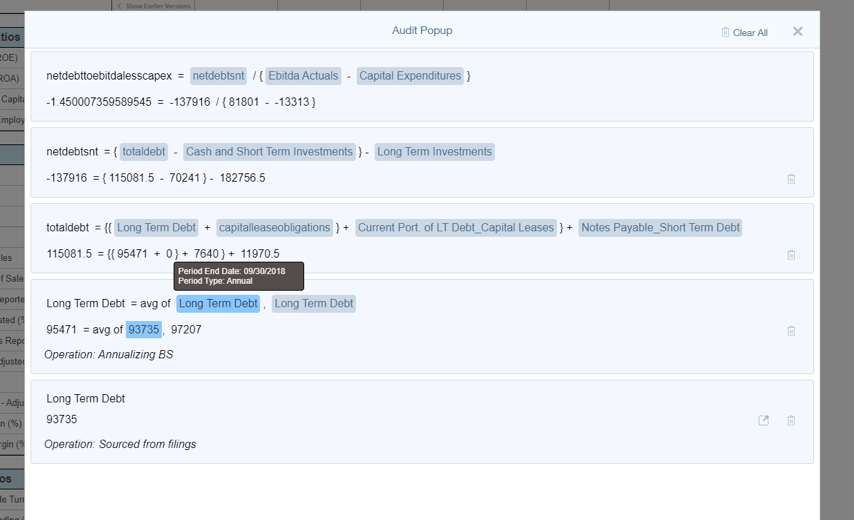 Historical Filing Comparison: Click on "Show Earlier Versions" to see a side-by-side comparison of a previous report for the period and the most recent update.

Filing Information: All Standardized and As Reported models include detailed filing information used to produce the number,
Consensus History (Consensus Model Only): Click on any number and a pop-up will show you the history of the estimate for that number.
New Excel Tools for Modeling
All numbers in our financial models are now available for export to Excel to support your own modeling activity— including the As Reported model! This includes the ability to bring the underlying formulas in the models into Excel.

Video Walkthrough of New Features
Our Head of Research walks through the enhanced EDT in this video: 
To learn more about the updated Sentieo EDT,  join our upcoming webinar covering everything about it!