Sentieo's overarching mission is to augment human decision-making through the application of the latest technologies. We are proud to demonstrate this with our most recent improvement to the platform:
Sentieo Continues to Lead In Search Tech with Relevance Search
Clients already love our smart Document Search, which offers:
tens of millions of documents, searchable across many dimensions

1000+ synonyms/acronyms

extended Boolean operators and proximity

in-section/in-table/in-footnote searches

saved search alerts

extensive document tagging including sell-side report classifications

search statistics for quantifying trends

seamless integration into notes, and much more.
The newly released Relevance scoring algorithm, custom-built by our global team of data scientists, will surface documents most likely to be relevant to your search based on multiple factors derived from the statistical properties of the documents and the queries. For example, some of the factors considered are density within the document (inclusive of synonym matches), clustering, and recency. Relevance scoring is based on true machine learning and will only improve as Sentieo DocSearch "learns" over time. It gives you, the user, more time to focus on analysis where you add value, rather than on tedious searches.
But we didn't stop there. Another new sorting option is Sorting by Hits — because we know that sometimes you need the most recent documents at the top, sometimes you need the document with the most hits (mentions), and sometimes you need the one that is the most relevant. You can now toggle between these sorting options in one click, which allows you to compare the results before you dive in. You can also sort by document size and by ticker for your multi/all ticker searches. You are in control of the format that fits your needs.
Users will find relevance searches suitable for broad initial overviews of topics: your search might pick up sector primer reports from the sell side, or a very topical deck from a corporate. Users more familiar with a topic might still prefer the reverse-chronological order of documents for the latest on the topic. And, for people getting specifically into details, we have the specialized searches, such as in-transcript, said-by-the-CEO, or in-table searches that let you find the numbers around your topic within seconds.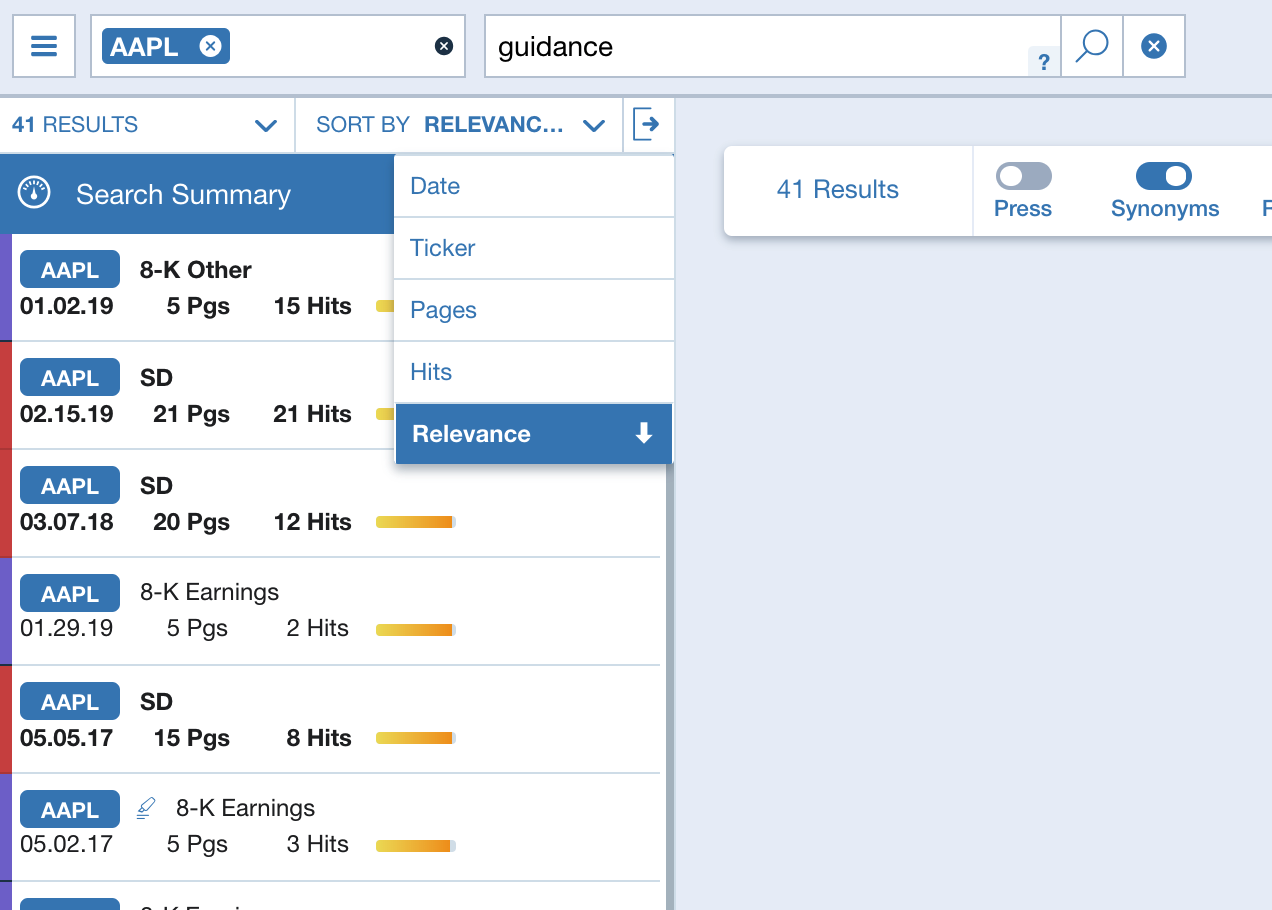 And there is still a lot more to come. The 2019 Document Search product pipeline is better than ever, and you will see additional applications of AI/ML coming soon!