Plotter is one of the main modules of the Sentieo integrated research platform. Here are some of Plotter's benefits:
Customizable visualization of financials and non-financial data (such as web traffic, sentiment, document search counts, FRED macro series)

Statistical overlays — such as means, moving averages, standard deviations and correlations — in 3 or less clicks

Relationship creation between series, such as market-cap weighted P/Es

The ability to upload one's own datasets, as well as download any dataset

The ability to save and share one's work using a public viewer link, internal messaging, and email

The ability to add charts to a note or to a formatted thesis write-up
Below, we will demonstrate a few uses for this very versatile tool.
Here is a simple combination of financial, valuation and non-financial data. As you probably know, Sentieo has NLP-based sentiment analysis for quarterly transcripts as a standard feature. This sentiment analysis can be accessed not just inside the transcripts themselves, but also in our Plotter and in our Screener.
Below we have plotted management sentiment from the Stamps.com quarterly calls, against the stock price and a rolling next twelve months price-to-earnings ratio (NTM PE). We can see that the sentiment decline preceded the drop in the stock price and the contraction in valuation. Interactive chart: http://snt.io/A8F2E6Hqk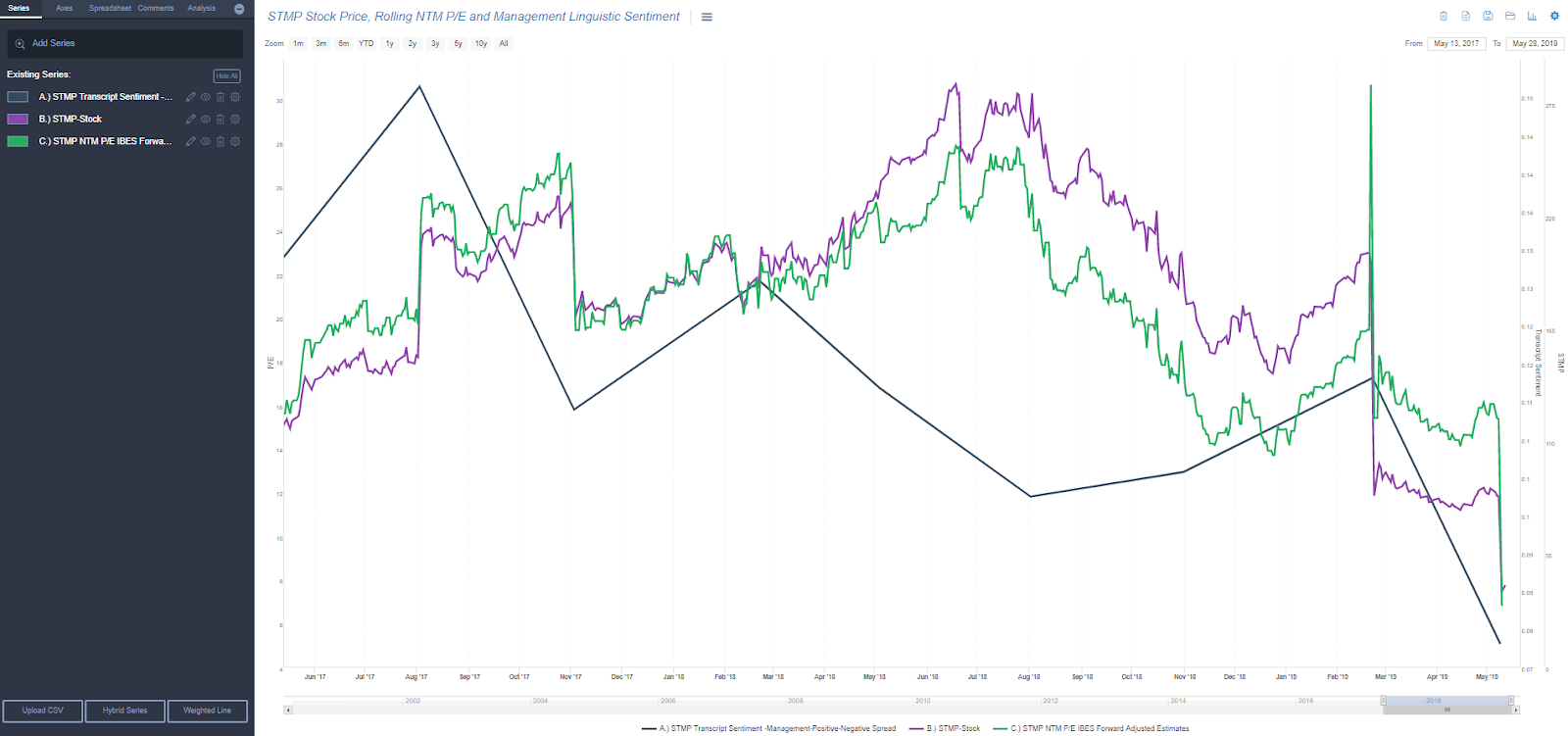 In this chart, we have created a custom web traffic "market share" for Align Technologies (parent of the Invisalign orthodontic product). We combined the web traffic data for the three players in the industry, and calculated the share for ALGN. We also added the ALGN stock price. In order to align the traffic to the stock price, we did a one-quarter offset, and we can see that the two charts align (no pun intended) fairly well. Since getting braces is a large ticket purchase with a lot of research involved, web traffic has been a good proxy for this stock's price moves. Interactive chart: http://snt.io/99F2E7WY1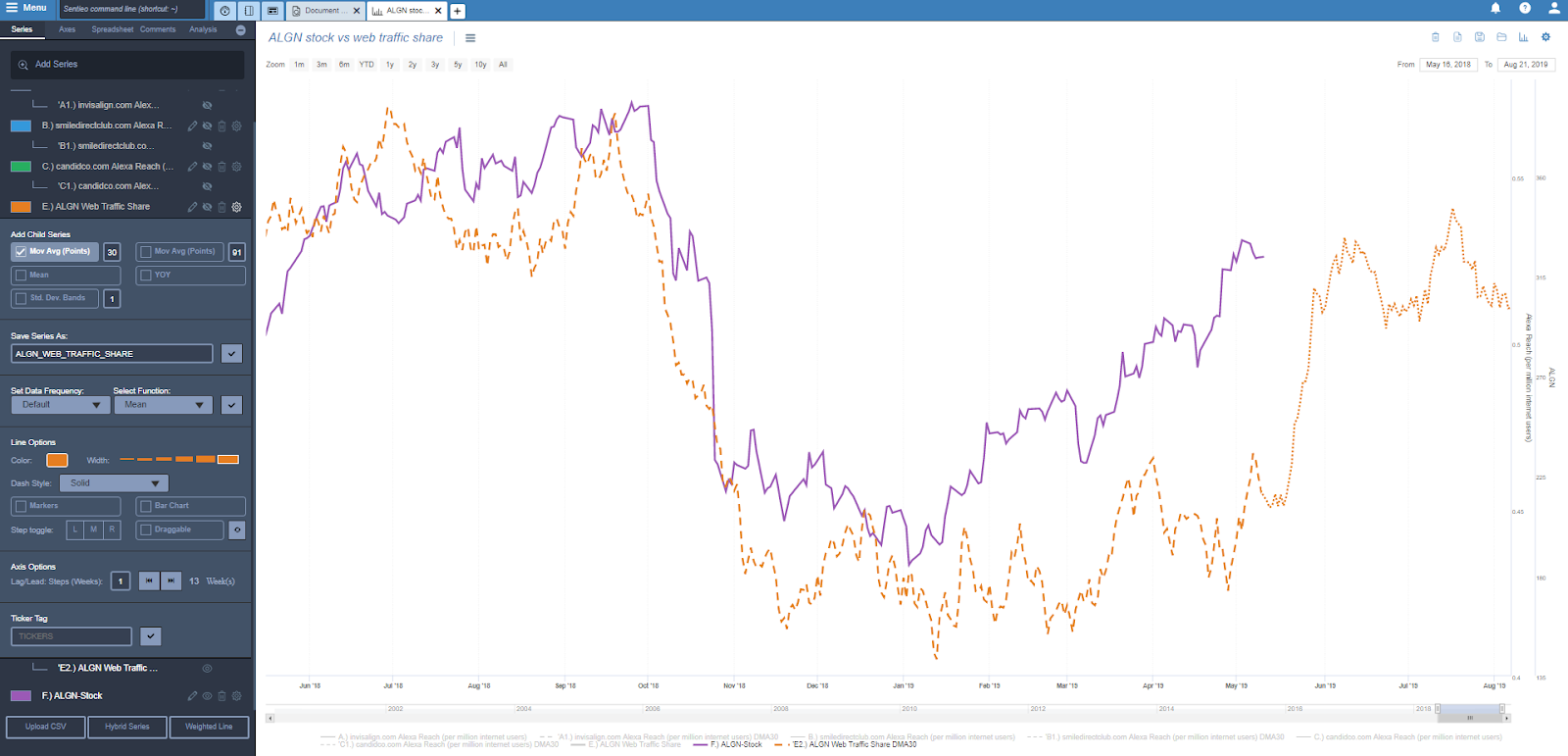 Sentieo Plotter's integration of several alternative data sources make it possible to follow social media and search trends for any topic. This is particularly useful for single-brand companies or entertainment titles. On this popular chart, we have plotted Twitter mentions of Game of Thrones, along with search trends for the topic, AND search trends for HBO. We can easily observe two things: interest in the series has been steadily increasing over the years, with the current season being extremely strong. We can also see that search trends for the "parent" HBO (in fuchsia) are very closely aligned with those of the show. Interactive chart: http://snt.io/KqF2E7oe4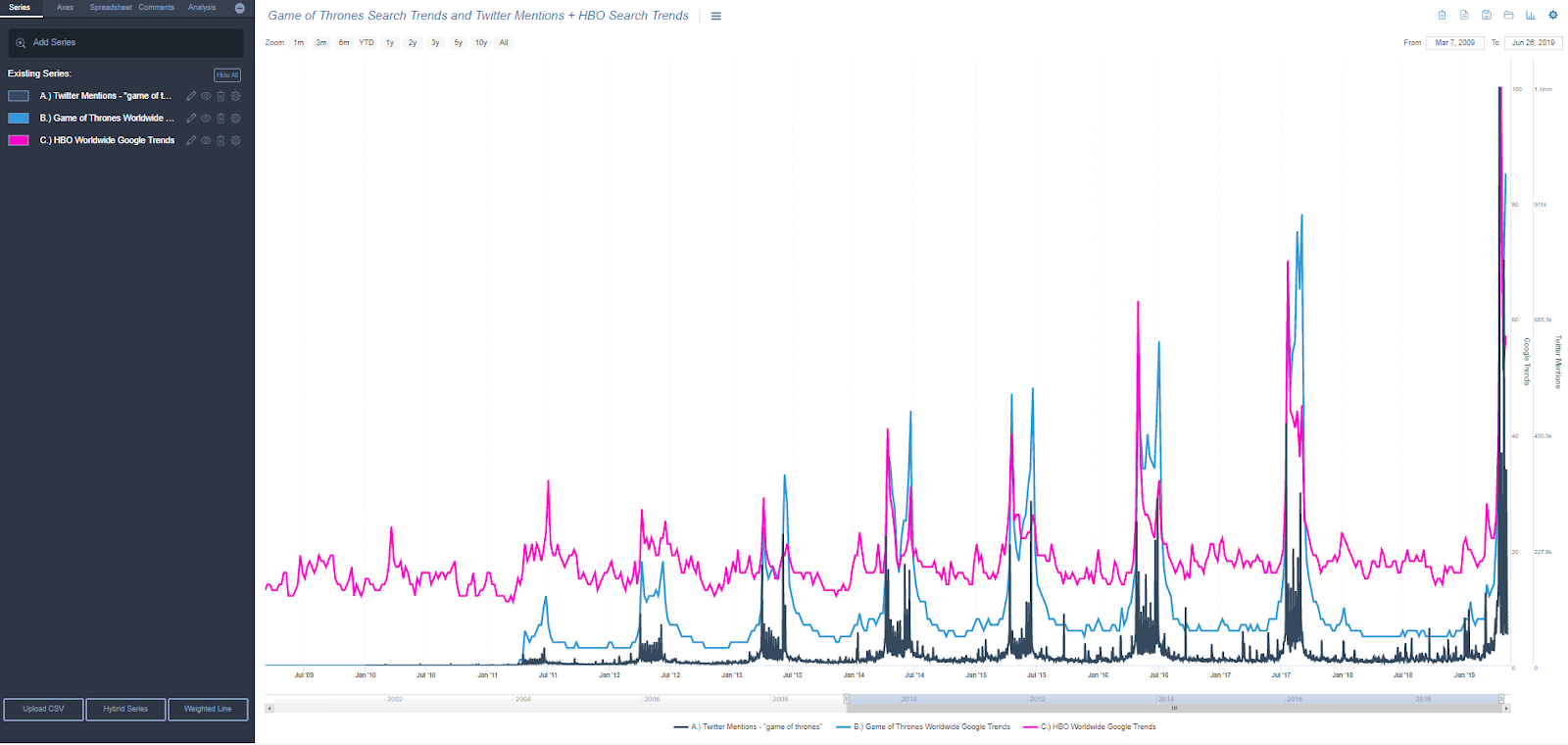 Plotter can also be used to visualize the relationships between macro trends and an individual firm's performance. In this chart, we show three very different datasets to move from "the macro" to "the micro." The red line represents the U3 unemployment rate from our FRED Macro integration. The green bars depict monthly counts of restaurant transcripts that mention wage inflation (with synonyms)— just  a one-click export from our Document Search. Finally, we overlaid a four-quarter moving average of The Cheesecake Factory (CAKE) LTM EBIT margin (blue dotted line). We can immediately connect the dots: labor expenses ramp up very quickly once the unemployment rate hits about 5.5%, and the margin declines follow very quickly.   
Interactive chart: http://snt.io/5HF2E7xpH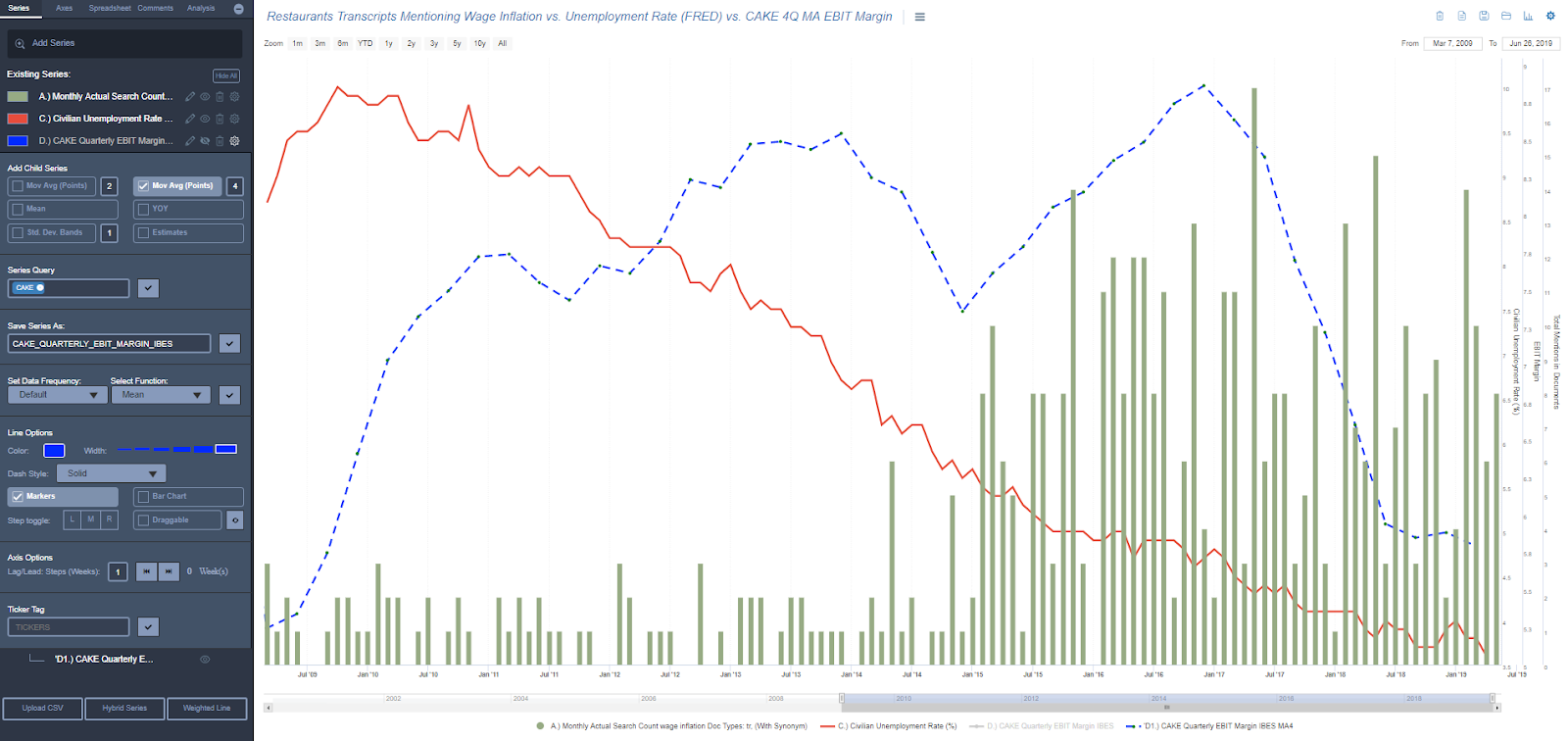 Here we have used the built-in calculations capability twice. You can see all the hidden data sets by clicking on and off the eye icon or the legend at the bottom. First, we pulled in the NTM P/Es and market caps for CVS and Walgreens Boots (WBA), along with the NTM PE for the S&P 500 index. We then constructed a market-cap weighted NTM PE average for our two-member drugstore index. We then divided the S&P 500 NTM PE by that index PE to see how the industry valuation has moved against the overall market. Finally, we added the 10-year mean and 3-standard deviation bands (both with a single check box). We observe that our custom sector's valuation has really contracted against the overall market. Is this an opportunity?
Interactive chart: http://snt.io/7JF2E8fBk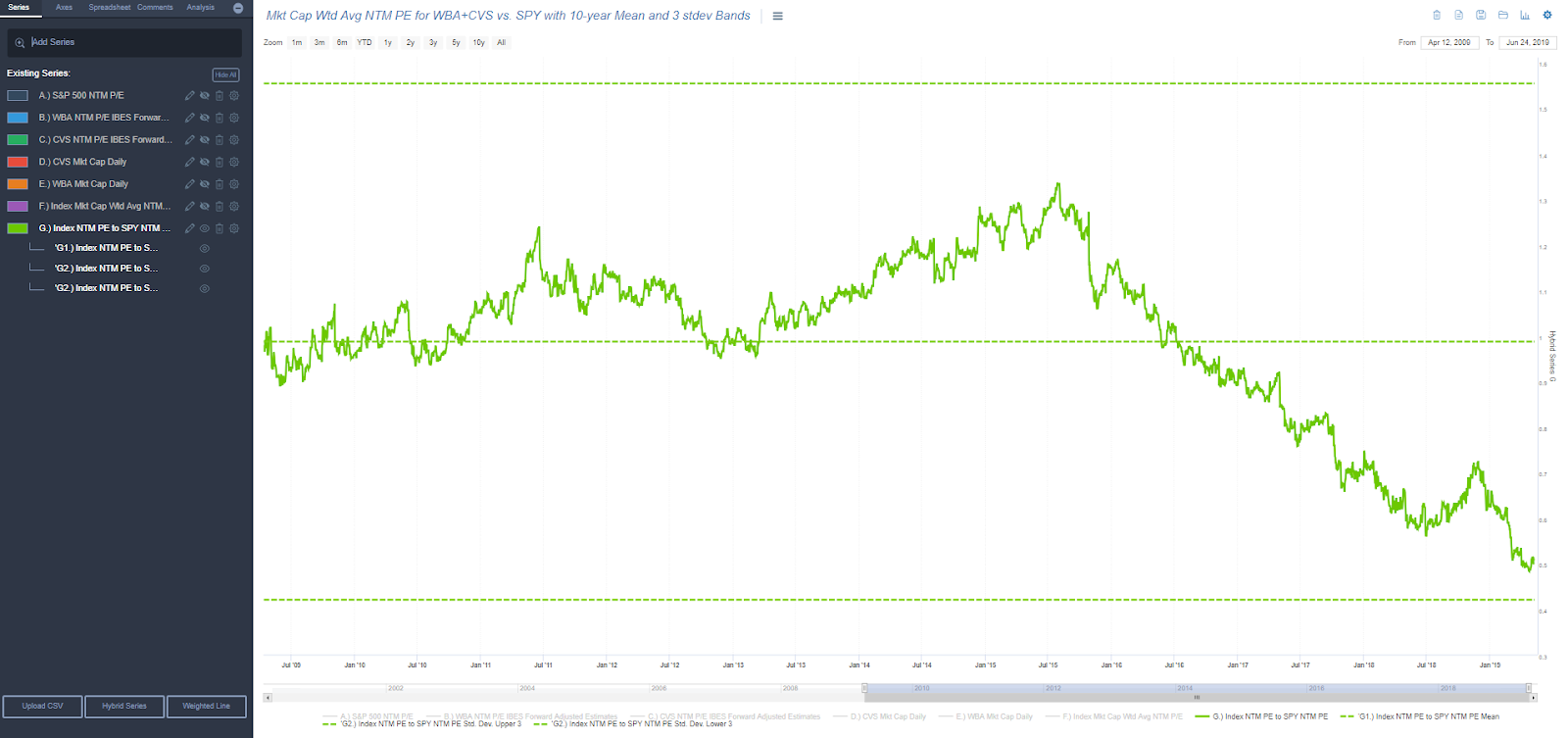 Sentieo's Mosaic alternative data composite index can also be used in Plotter. We can see major and relentless deceleration in the alternative data composite index (the dashed line, 91-day MA) well before the APRN IPO, and the disappointing revenue (green) and stock price performance (red) since. Interactive chart: http://snt.io/3GF2E9Vgb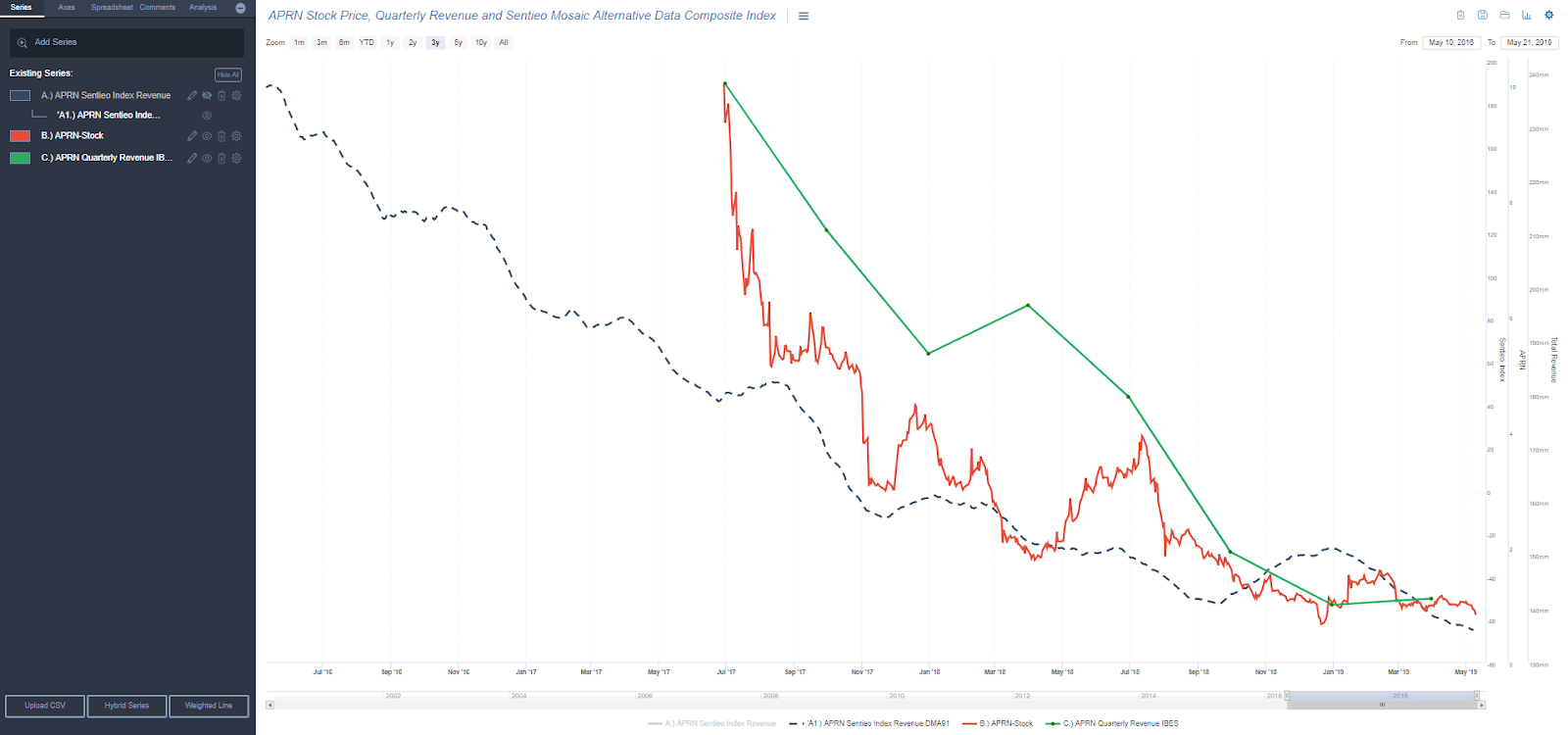 Finally, Sentieo Plotter can be used for visualizing data extracted from tables in SEC filings with our unique, ML-based Table Explorer tool. Below we have chained the reported income statement for CAKE in one click from 8-K filings. Note both the mini-Plotter preview for any line item, as well as the export to Plotter button in the upper right.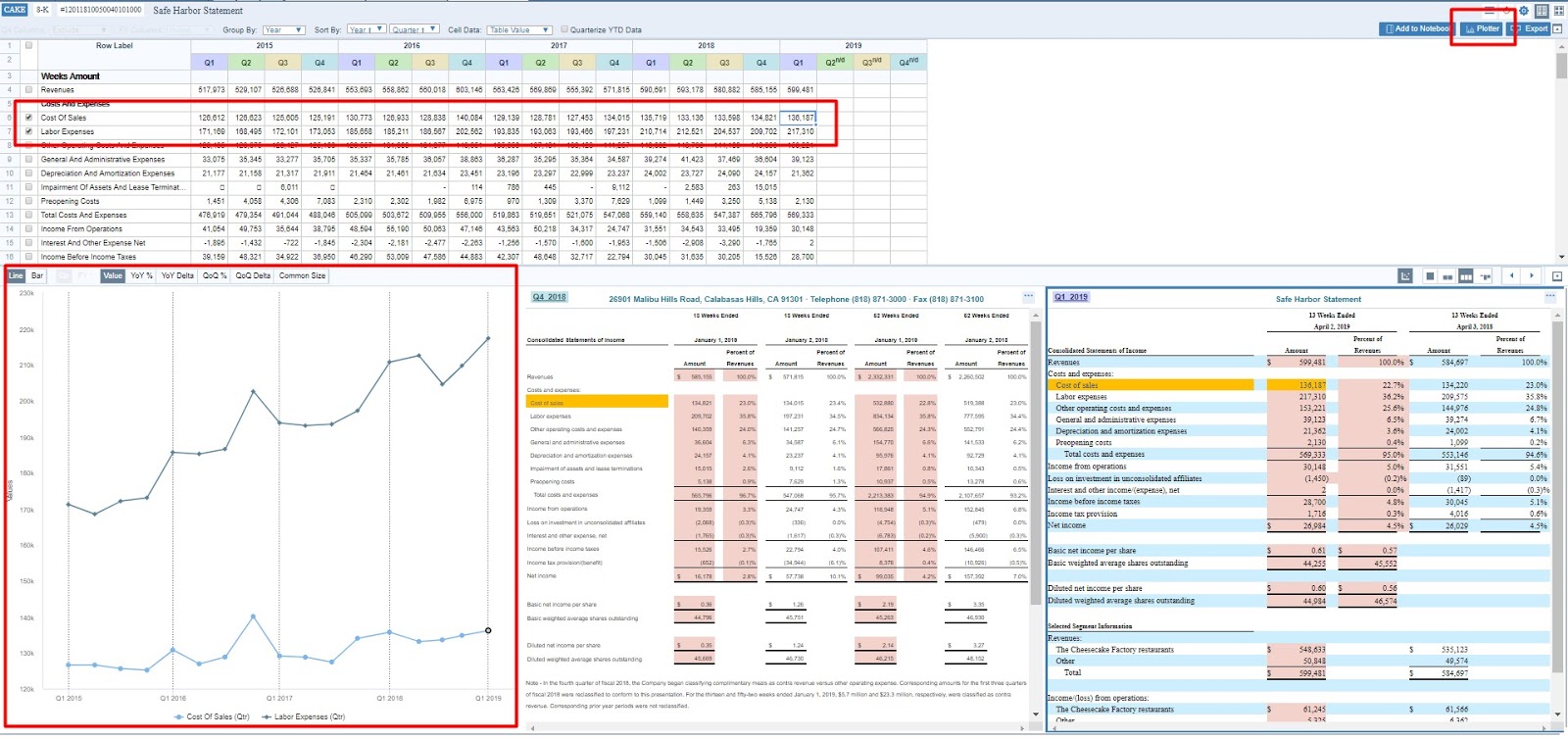 The Table Explorer chains not just tables with financials: it can be used for chaining any tables, such as ones with reported KPIs. For example, below we have pulled Chipotle's comparable restaurant sales from the earnings 8-K to Table Explorer in one click, and then exported them to Plotter in two clicks (row selection and export), where we can combine them with many other metrics.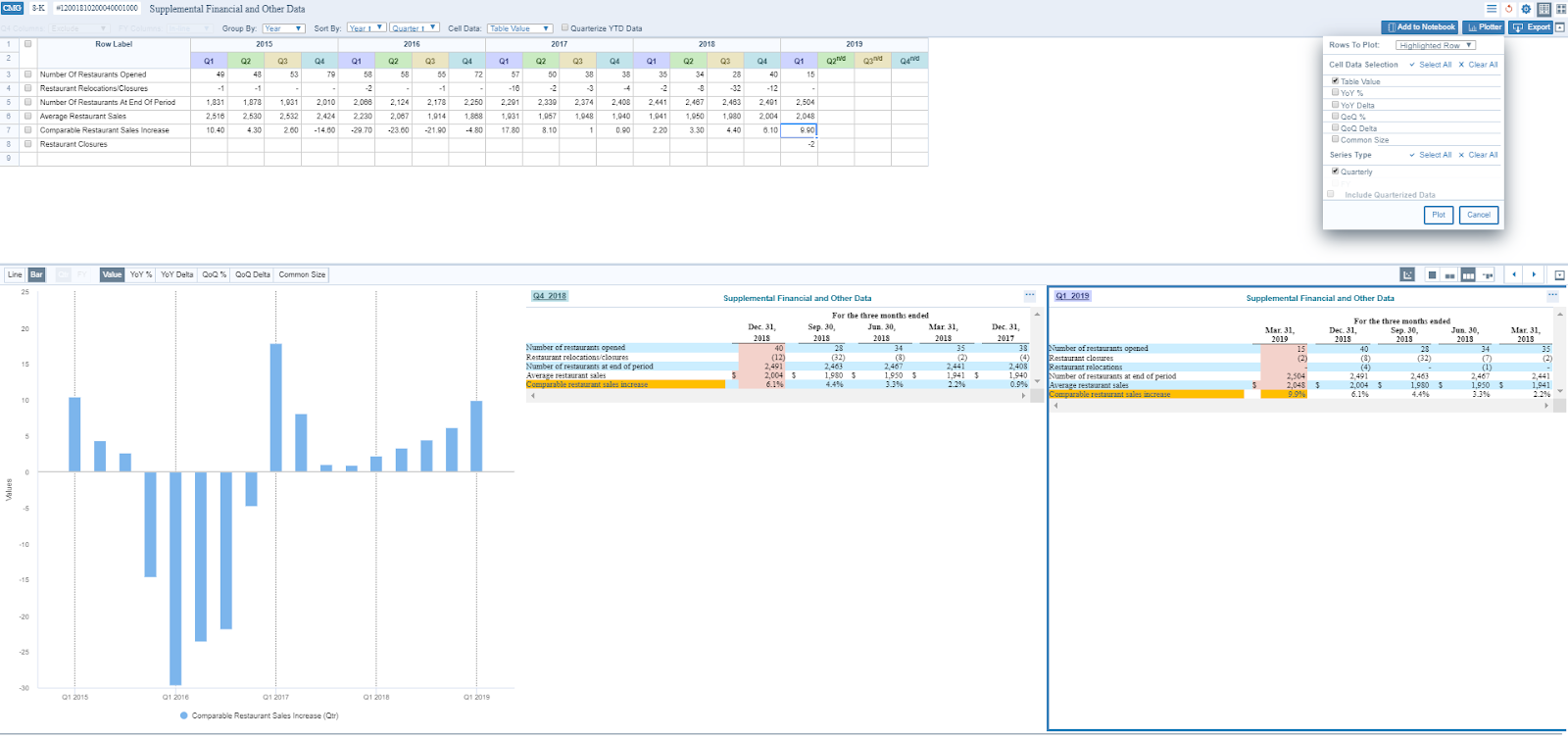 The export to Plotter looks like this. This dataset can then be saved for future use (such as for comparisons with another company's KPIs or statistical operations). Interactive chart: http://snt.io/DGF2GH3eQ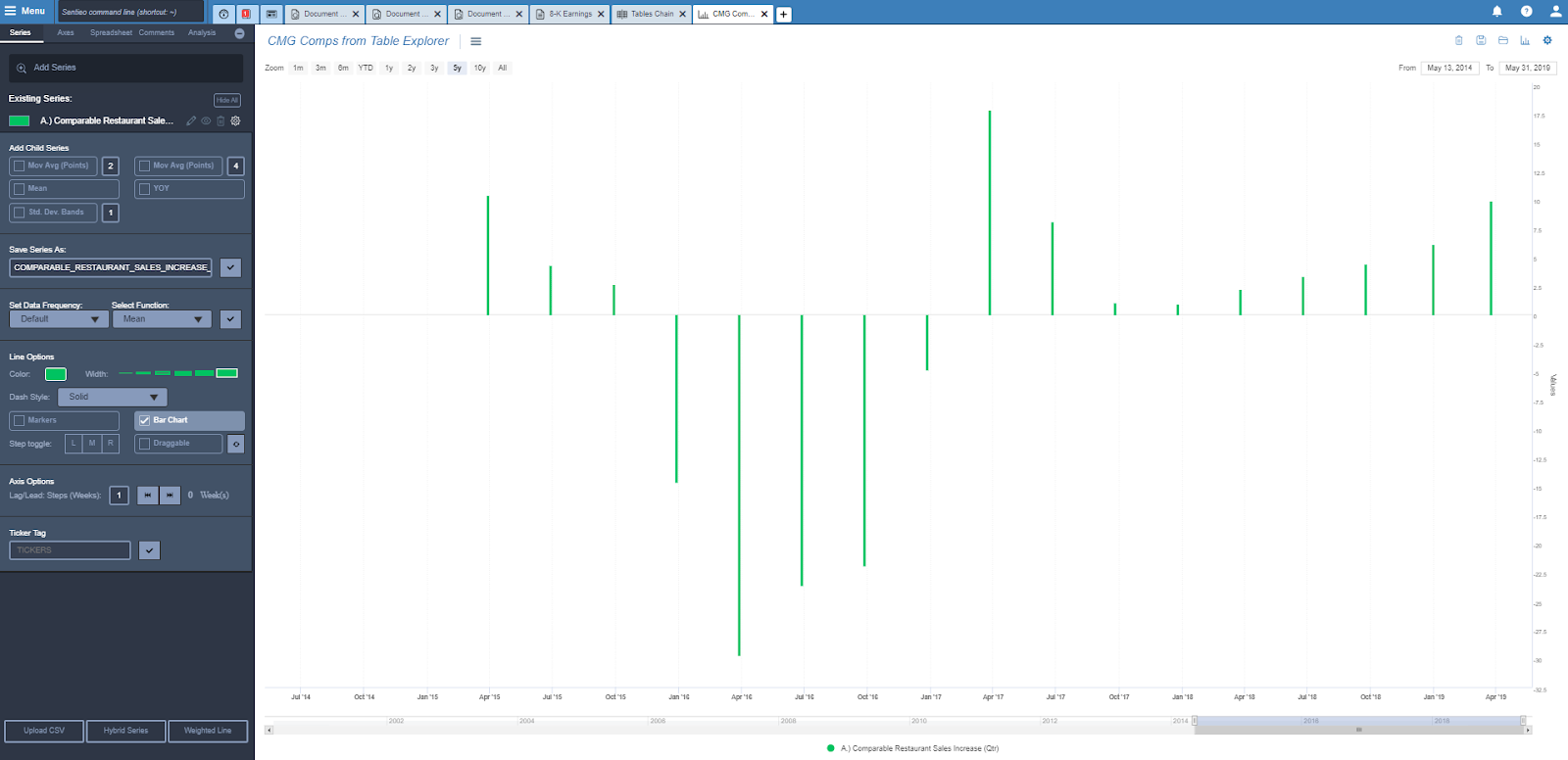 Plotter is just one of the modules in Sentieo's integrated platform. To learn more, please get in touch or watch our webinar!