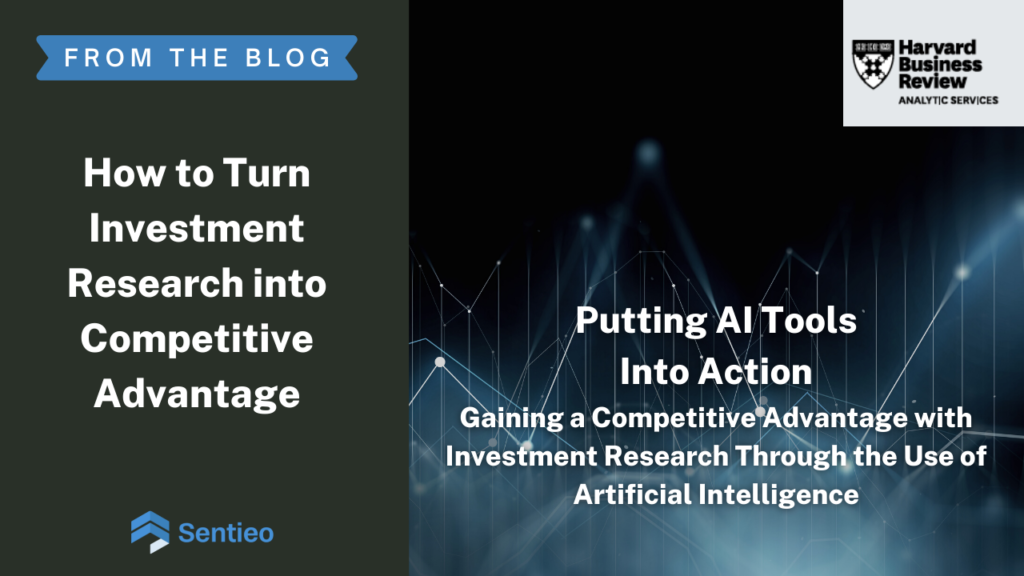 In the first two blogs in this series on turning investment research into competitive advantage, based on a briefing paper we sponsored with the Harvard Business Review, we discussed some of the challenges analysts face when researching opportunities and how tools leveraging artificial intelligence (AI) can provide a solution.
In this final blog, we explore how AI can improve workflows and best practices for putting these tools into action.
A central source
Analysts are probably more interested in the potential applications of AI tools like semantic analysis, topic modeling, and named entity recognition rather than the science behind them. After all, the way they add value is through ease of use and by enhancing the research process.
Take an investment thesis, for example. Once an analyst completes a thesis, in many cases, it's saved in a folder on the company server and then sent to a portfolio manager attached to an email. Tracking it down months later because a relevant opportunity has emerged is a waste of an analyst's time.
A centralized platform which uses AI to curate theses, notes, and presentations, is a much more efficient way of storing research output. Hosting the platform on the cloud means that analysts can upload or retrieve information from any device, while it also gives research directors a real-time overview of the team's workflow. Incidentally, cloud computing has become an essential technology during the pandemic- spending is expected to increase by 30% this year across all industries, according to Forrester Research.
A centralized platform also helps develop a more robust investment thesis. When a firm produces research on two companies within the same industry, variations in the approach taken by the analysts could lead to missed opportunities or, even worse, poor investment decisions. But when that information is presented in a standardized format, it's more likely to highlight qualitative differences between the companies rather than inconsistencies in the way the analysts work.
A regulatory paper trail
Staying on the right side of the regulatory authorities, especially in a sector as heavily regulated as finance, helps firms avoid hefty penalties issued for compliance breaches and prevents the inevitable damage to their reputation. A centralized platform effectively creates a paper trail, so if the regulator asks a firm to justify an investment decision or a response to a corporate action, the relevant information can be quickly and easily accessed.
Making the case
While AI tools may seem like the perfect solution to the information overload suffered by many analysts, poor implementation can add to the burden. As with any digital transformation project, firms must fully understand what problems they're addressing and the capabilities of their people.
Having a change management strategy in place is important so analysts know why and how you're introducing a new solution. It should also ease any concerns about technology eventually replacing them.
But don't let these considerations allow your firm to delay making a decision- those that fail to embrace the latest innovations risk losing ground to their more tech-savvy competitors.
Download the full briefing paper here.