Alternative data has become a mainstream source of data for investment managers, with up to 50% of funds now using it as a part of their research process. The question of how to get value from alternative data is no longer about access to the data sets; there are hundreds of vendors offering alternative datasets or services. Rather, it is a question of how to make that data useful to every equity analyst driving investment strategy.
Download the Picks Whitepaper now.
Large funds have made multi-million dollar investments in data science teams and big data infrastructures in an attempt to win an alternative data arms race that is predominantly driven on the hope of finding the needle in the haystack, big bet investment. However, with our 13 Alternative Data Stock Picks, we have proven that the most successful approach to alternative data is to directly embed it into the core research workflow for analysts, effectively democratizing alternative data.
This guide outlines how we used the Sentieo platform to pick our initial 11 stocks from the first half of the year, the performance of these stocks, and our Alternative Data Picks for the second half of 2019.
How Sentieo Makes the Alternative Data Stock Picks
For both the original Sentieo 11 and the new Sentieo 13 picks, we used the same methodology:
We started with the Sentieo Mosaic screen, where we looked for:
    A high correlation between the alternative data composite and revenue growth and/or KPI

    Large acceleration in the alternative data (our proxy for end-user demand) versus the consensus expectations
These correlations and significant changes in trends are what drive analyst usage of Alternative Data.
Our next step is to marry the broad screen results with our team's 60+ years of collective fundamental, qualitative investing experience. Sentieo augments human decision-making: the charts and the stats will not give you the "why." We do not adhere to specific investment style boxes, but we do look for revenue growth as the single largest driver of long-term results. No business ever shrank its way to greatness.
The ideal picks have strong revenue growth because they:
    Operate in high-growth industries, supported by long-term secular megatrends

    Are the leaders in their respective industries

    Tend to be underpriced relative to their growth rates
As a result, this set of long ideas has relatively high near-term P/E. We also looked at earnings momentum through a combination of the classic earnings upwards revision, plus our alternative data Mosaic index. Most alternative data sets do come from consumer-generated data, and most of our picks are in these two broad groups. As more and more consumer behaviors shift to digital, we expect to see the alternative data sets become more and more predictive.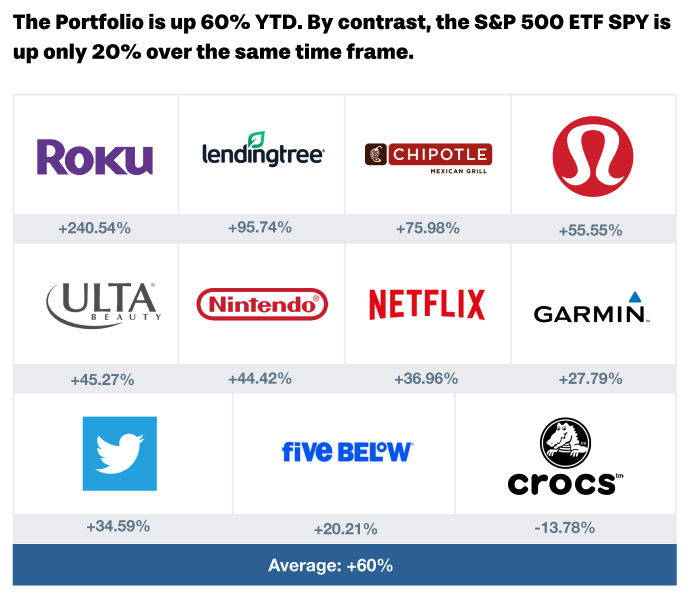 Sentieo 13 H2 2019 Alternative Data Picks
Our latest set of picks is based on exactly the same methodology as before, but we have expanded our focus a little wider. Note: These are not stock recommendations, and we are sharing them to show the power of the Sentieo platform in bringing together the power of a complete financial research platform with both traditional and alternative datasets.
1) SNAP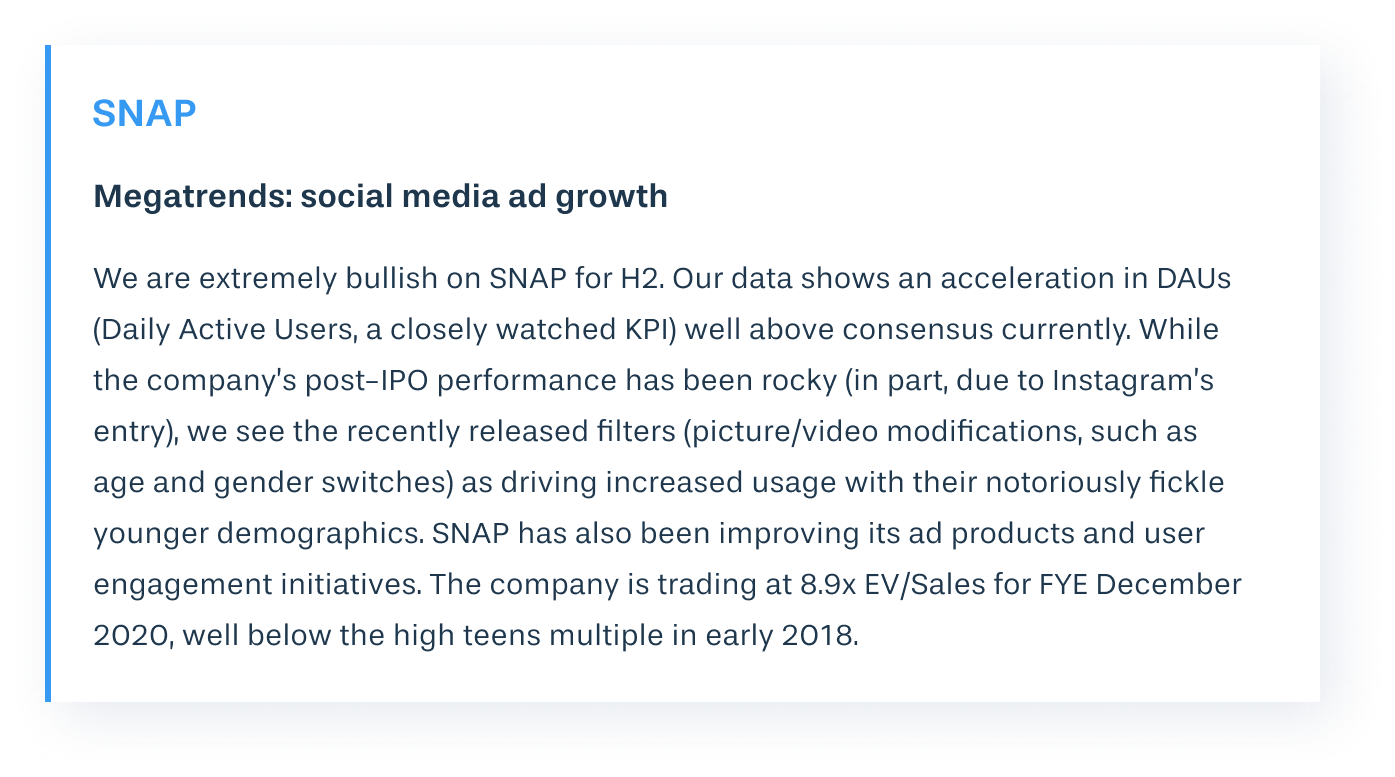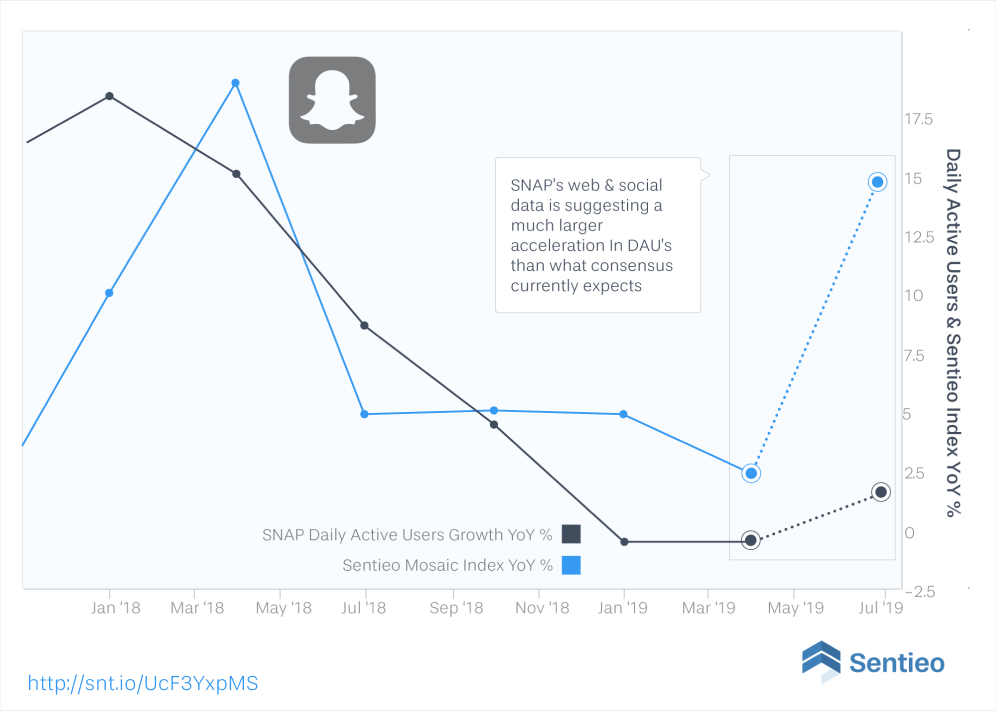 3) TWTR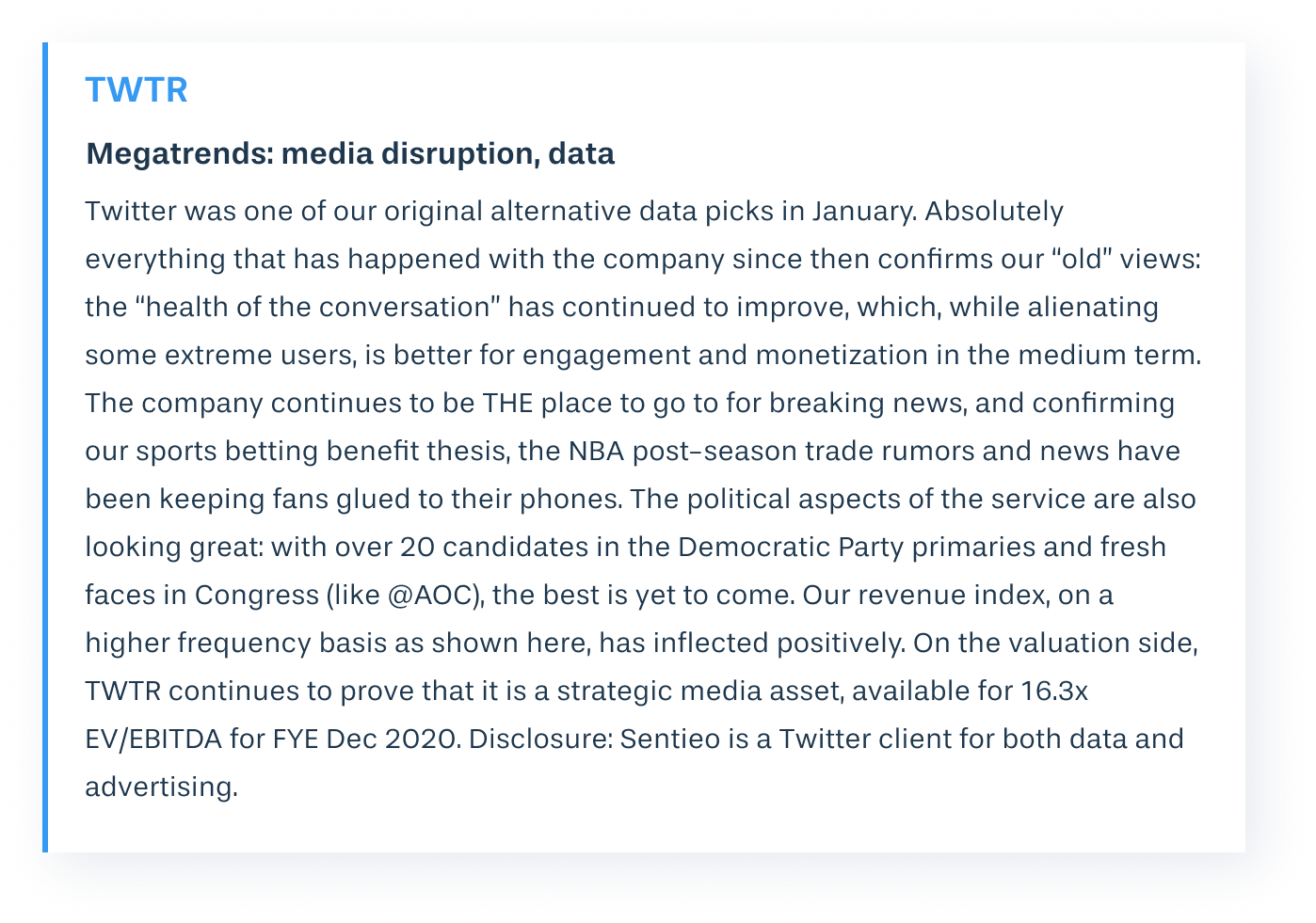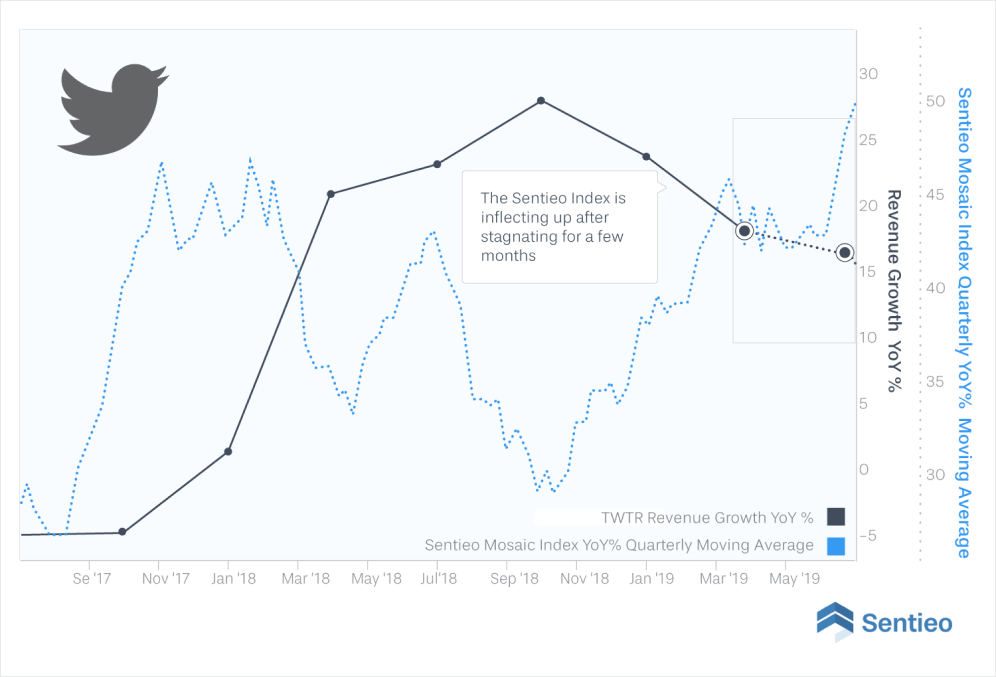 4) CROX
To see Sentieo's 9 other picks, download the full whitepaper here.
We'll also be discussing all the picks and how we made them during our upcoming live webinar, featuring Sentieo's CEO, Alap Shah. Register here.
Disclaimer
The content of this report references opinions and is presented for product demonstration purposes only. It does not constitute, nor is it intended to be, investment advice or recommendations. Readers should assume that Sentieo staff members hold direct and/or derivative positions in all securities mentioned, and may transact in any and all of these securities, at any time, without notice. Seek a duly licensed investment professional for investment advice. Sentieo is not registered in any investment advisory capacity in any jurisdiction globally.