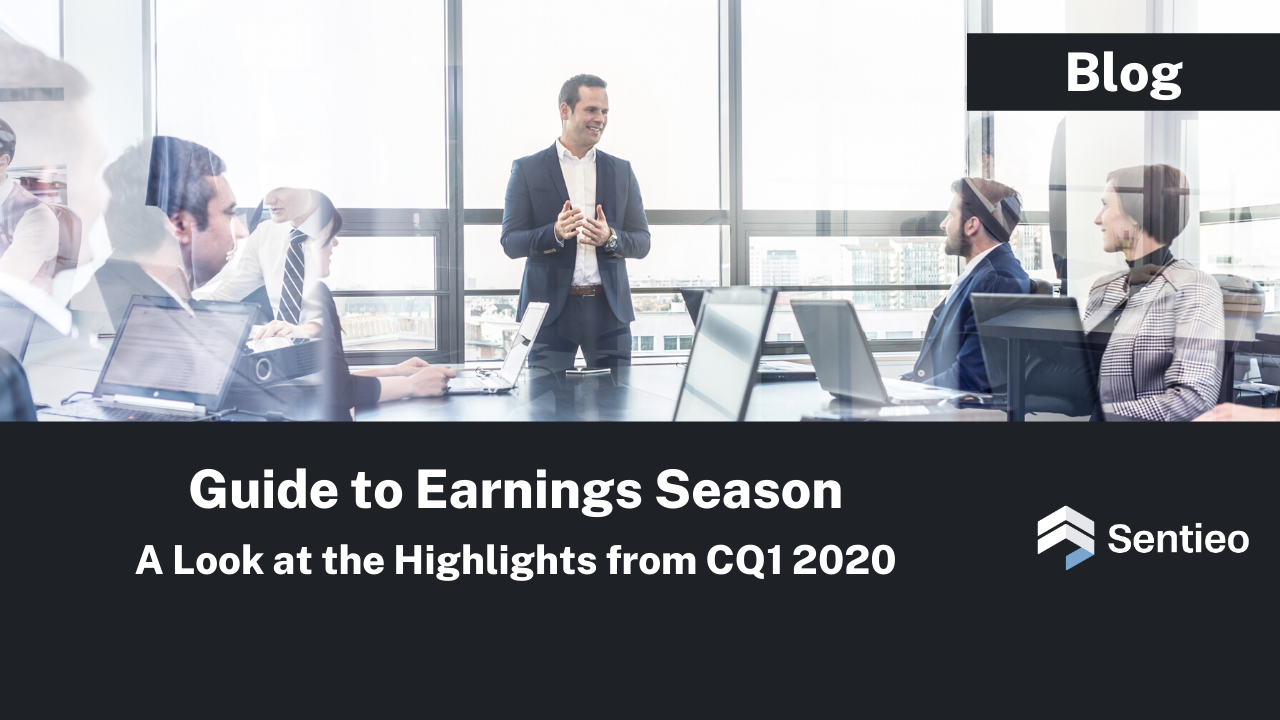 Earnings Season is a busy time under normal circumstances. Tracking multiple companies over a short period creates scheduling conflicts and information overload—ultimately leading to costly missed information. The impact of the pandemic on CQ1 2020 reporting made the usual process of prepping, tracking, reading, and analysis significantly more hectic.

Moreover, CQ1 2020 surfaced a whole new level of data on company performance, making it even more challenging than usual to surface key insights, market signals, and trends across industry sectors. Using our Smart SummaryTM feature, we cut through the noise of earnings, highlighting the information that matters most. In this guide, we cover summaries of 5 different companies: Clorox Company (NYSE: CLX), Six Flags Entertainment (NYSE: SIX), Sysco Corporation (NYSE: SYY), LabCorp (NYSE: LH), UPS (NYSE: UPS).

Using our Machine Learning and Natural Language call transcript application Smart Summary we were able to identify top keywords and score sentiment overall and by key categories (e.g., Guidance, Deflection, ESG). Here's what we learned:

Clorox Company (NYSE: CLX): A Rare Covid Winner Sees Double-digit Sales Growth and Capacity Expansion
Six Flags Entertainment (NYSE:SIX): Complete Operations Shutdown But Superb Liquidity Management Ensures Survival
Sysco Corporation (NYSE: SYY): Major Food Service Volume Declines and a Major Contract Win in the Eye of the Storm
LabCorp (NYSE: LH): Delays in Trials and 50% Volume Drop Counter COVID-19 Testing Capacity Ramp
UPS (NYSE: UPS): Negative NLP Sentiment, ML Highlights Unfavorable Mix Amid the Covid Crisis; China Growing in March.
For more analysis including video overviews of our highlights download our Guide to CQ1 2020 Earnings Season.

Sentieo's Smart Summary™ uses Machine Learning to enable analysts to pick up important information across multiple classifications, such as guidance and KPIs, while skipping over the noise. This ensures that you don't miss important information—especially in those last few transcripts at the end of the workday. With the addition of our NLP sentiment filter to highlight positive and negative language, you'll have all the information you need to make the best decisions possible for your company or your clients. To try Sentieo for yourself, sign up for a free trial at sentieo.com/free-trial/.