Guest Post courtesy of happy Sentieo client and resident (pardon the pun) solar expert Benjamin Herskowitz of Dividend Solar.
Residential Solar Market Landscape
The current state of the residential solar market consists of a fragmented and generally disordered web of solar industry participants. These include solar-photovoltaic ("PV") system component manufacturers, PV system installers, and customer acquisition-focused sales companies. Additionally, there are a variety of financers catering to power purchase agreements ("PPAs"), leases, and loans, and an array of ancillary businesses related to software ecosystems, PV asset management, data analysis, system monitoring, supply-chain logistics, and more. Through this post I hope to describe the residential solar market in its current state and help fellow investors gain additional color on the industry that they might not get elsewhere. Given the fragmentation mentioned above in addition to the nascence of the industry in general, data integrity is rather difficult to achieve. In an attempt to transform the aforementioned disorder into organized chaos, I'll first talk about the industry at large before diving deeper into the industry's different types of players. Finally, I'll discuss the recent Verengo Solar bankruptcy in the context of this post's themes. As a global note, my experience has been predominantly in residential solar and thus my thoughts on the solar industry at large have been formed through that lens.
Based on personal experience, the vast majority of residential solar players are private with $0 – $1mm in annual revenue and represent local solar installation companies around the country. Many of these players were drawn to the industry in recent years as the continued introduction of federal, state, local, and utility-specific incentives made homeowner savings from solar a reality. In addition to these more local/regional players, of course you have the solar "behemoths", such as SolarCity ("$SCTY"), SunPower ("$SPWR"), Vivint Solar ("$VSLR"), SunRun ("$RUN"), the late SunEdison ("$SUNE") and a handful of others. The majority of companies with exposure to residential solar – both public and private – lack any semblance of vertical integration. While in theory being everything to all customers can create great value, the solar industry's pace of change has been too rapid for companies to both execute and innovate. As a result, vertically integrated players like $SCTY and $VSLR have been fighting an uphill battle. As opposed to a company focused solely on manufacturing modules or acquiring customers, one small change in product offerings can have massive implications and demonstrate that previous capital "investments" have become sunk costs.
The most important player in the residential solar industry is the end-customer, the homeowner. Whereas 20-30 years ago the only individuals really "going solar" were those on a very small scale — truly "west-coast hippies" (RGS Energy – Solar Timeline) — the landscape has changed drastically since then. This change is due primarily to retail electricity rates increasing consistently in nominal terms for decades (Historical Electricity Prices), improved PV technologies and associated decreases in their price, an abundance of federal, state, local, and utility incentives including Solar Renewable Energy Credits ("SRECS"), and increasingly frequent adoption and implementation of renewable portfolio standards ("RPS") (Renewable Portfolio Standards). While the stars have aligned for the residential solar industry to grow like wildfire (at least in adoption rates), major inefficiencies have been created. Most would argue – myself included – that ongoing inefficiencies stem largely from government incentives. Incentives of all sizes and shapes made a once unaffordable product terrifically economical but actually in an ironic way. Why do I say this?
In a vacuum with present pricing, going solar makes terrific sense in states with abundant sunlight, temperatures that rarely exceed 100 degrees F, and little-to-no-snow. Places like Denver and San Diego would be the ideal spot. Places like Long Island, the suburbs of Boston, Rhode Island, and New Jersey don't exactly fit the bill, yet residential solar adoption rates in these locations are through the roof. That's because in order to incentivize continued investment in renewable energy, state and local governments have stepped up incentives in places where it would otherwise be uneconomical to go solar. Thus, net-net after all federal, state, local, and utility incentives including SRECs, you might actually be PAID to go solar in Massachusetts, New Jersey, Rhode Island, etc. Conversely, in states where solar has grown rapidly in recent years like Arizona, Nevada, and Hawaii, utilities are flexing hard and cutting down on net metering payouts (AZ NEM Weakening, HI NEM Shutdown, NV NEM Fees). Hawaii no longer offers net metering at the retail rate to the customer given 'over-loaded circuits'. In other words, you'll now pay more on a net cost per watt basis to go solar in a state where it actually makes way more sense to go solar than you would if you lived in a seasonal, unpredictably sunny, cold, and snowy location.
As seen in the chart below, states with the best economics have the highest cost per watt for the homeowner because companies are still able to demonstrate homeowner savings at elevated prices. An analysis of publicly available data – in which I used cost per watt estimates from NREL and assumed a consistent system size of 5.2kW in each state – demonstrates quite clearly two key themes. First, total cost per watt is higher in Massachusetts, New Jersey, and Rhode Island than it is in Arizona or California, even though Arizona and California receive significantly more sunlight each year. Second, while both Arizona and California solar markets offer the 30% federal tax credit and Arizona offers an additional $1,000 flat state tax credit, Massachusetts, New Jersey, and Rhode Island have either SRECs or feed in tariffs that actually make the net system cost per watt negative.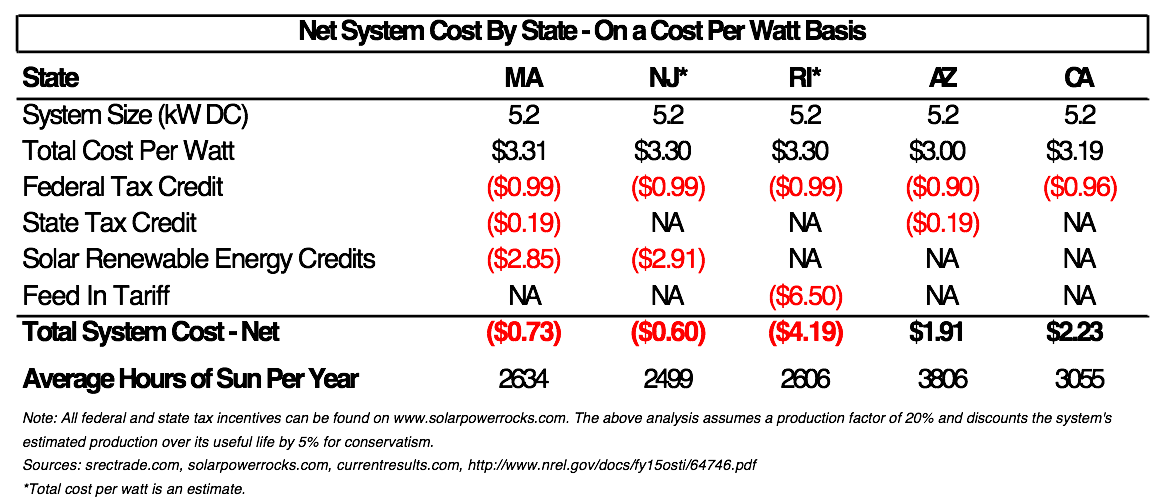 With relative uncertainty regarding incentive expirations or eliminations, companies are attempting to take advantage of the higher gross margin by driving volume.
With that in mind, let's turn to the larger types of players in the industry and dig deeper into the homeowner mindset a bit.
Industry Players
Homeowners:
Homeowners are becoming increasingly savvy about "going solar" for several reasons. First, in states where solar makes economic sense and homeowners can realize significant savings from their solar panels, there is no lack of competition for sales and customer acquisition. If you live in a moderately-sized home in any state in which solar's popularity has risen, there's a good chance you've received either mail trying to sell you on the many benefits of going solar, a knock on your door from a solar sales rep, or both. To many, it might sound surprising that door to door sales tactics are still used. However, the residential solar industry is infamous for this as some of the industry's largest players such as Vivint have had heavy reliance on door to door sales conversions. The industry's reliance on this strategy was revealed several years back through multiple publications including Greentech Media (GTM Door-to-Door Sales). And as recently as March, $VSLR itself referred to the strategy in its 10-K,explaining: "We deploy our direct-to-home sales force to provide in-person professional consultations to prospective customers to evaluate the feasibility of installing a solar energy system at their residence." From personal experience, most of this "sales force" consists of recent college graduates who are sold primarily by the opportunity to make 6 figures if they're successful. While this is not uncommon, the competition and potential reward tends to lead to aggressive sales tactics. Just google "Vivint door to door sales" and you'll have an afternoon's-worth of entertaining material on this topic.
While I'm specifically referencing $VSLR here given the availability of public data and their ties to door to door alarm sales pre-dating the sale of solar systems, there are likely 100+ residential solar sales shops that operate similarly. I've heard personally many instances in which the homeowner was misled, lied to, or promised things that even the divine themselves couldn't promise. Further, because of the aggressive tactics present in the solar sales/customer acquisition arena, an increasing amount of players — both small and large — have introduced creative, predominantly technologically-leveraged methods to improve the entire sales process by emphasizing transparency and ensuring that the homeowner gets the best price available. For example, Pick My Solar, which offers an online marketplace connecting homeowners and all-in installation providers, marketing themselves as consumer-focused:
"Pick My Solar obtains an average of 10-12 solar quotes per client through our online solar marketplace. We then present you with the top three best options. You don't have to set up multiple appointments with various contractors. You don't have to sift through the jargon to try and make apples-to-apples comparisons between bids. We do it for you, and your personal information remains confidential, except to the installer of your choice. The process is streamlined, efficient and saves our clients 25% or more on average. No other solar marketplace is as unbiased or transparent. Cut out the fat in the solar market with Pick My Solar. #FatFreeSolar".
This is a terrific service as it alleviates many of the pain points in customer acquisition and sales. Most homeowners are concerned that (1) they're not getting the best price available and (2) that they're being pressured/forced into going solar and not on their own terms. Pick My Solar eliminates both of these issues as it allows homeowners to see differences in multiple offerings in real time and helps keep industry players honest. As incentives are constantly renewed — including the December 2015 decision to extend the 30% federal renewable energy tax credits through 2019 with a step-down thereafter — creative solutions like Pick My Solar's bidding marketplace will help to keep costs down for homeowners.
Customer Acquisition Companies & Sales Arms:
Currently, customer acquisition is arguably the largest challenge in residential solar. There are many reasons for this but it largely comes down to homeowners' general lack of awareness and understanding of the potential benefits of solar energy, an essentially unpenetrated national market on a percentage basis, and the abundance of incentives.  How are these related?
Well, given the sea of potential residential solar buyers, if you're a sales rep, there is no reason to spend an extra two minutes on a tough sell when you know the other 50 homeowners on the street will save money by going solar, too. Sales reps' focus on low hanging fruit isn't conducive to long sales sessions in which educating the homeowner on the benefits and nuances of solar energy is the focus. Furthermore, customer acquisition costs generally amount to 10-25% (GTM Cust. Aqc. Cost) of total project cost (this is a large part of the fat that Pick My Solar aims to eliminate). That means that on a $25k system as much as $6,250 on average goes to selling/acquiring the customer. While the abundance of incentives makes this possible, in reality this translates into sales reps being overpaid because of highly generous commission structures implemented in an attempt to win market-share at any cost. Coupled with an endless sea of still largely uneducated targets as well as inflated cost structures, generous commissions reduce the likelihood sales reps will focus too long on any one target.
The economics make it feasible such that a low close rate will provide ample income for the sales rep, thereby increasing the number of "at-bats" sales reps are taking and raising the overall cost of customer acquisition per converted customer (note how this ties in to taking advantage of higher gross margins as costs are artificially inflated). While sales reps are certainly not complaining, other stakeholders are less than thrilled with the resulting (and rather obvious) misalignment of incentives. To help put things into perspective, "[f]or Q4 2014, SolarCity spent $79 million on sales and marketing compared to about $72 million in total revenue or 110 percent of revenue. Vivint spent about 82 percent of revenue"(Greentech Media Article). Efforts to lower these costs are admittedly strong and solutions revolve around lead-time efficiencies. According to Katie DeWitt, director of product management at Solar City, "[t]here's such a correlation about the time between steps and fallout. She continues, "[i]n places where we have over-the-counter permits, there are fewer cancelations because things just happen more quickly. There's less time [for customers] to worry, to change their mind, or for something else in their life to get in the way." Dewitt explains that "SolarCity's software strategy uses smart routing to accelerate closing the lead as fast and as efficiently as possible. When a lead comes in, it's routed to the nearest available rep with the highest close rate" (article). Solar is certainly not unique; in many consumer finance verticals conversion rates are tied heavily to improving the "speed-to-lead".
Installers:
While public markets at large reflect national-reaching installation players like $SCTY, $VSLR, and $RUN, the majority of residential installations in this country are performed by regional or local electricians and licensed PV installers. Similar to customer acquisition, the sharp uptick in demand for solar solutions and the potential to earn outsized profits has flooded the industry with installers of all calibers. While the quality of an installation is of critical importance to bankability, customer satisfaction, and future expected default rates (i.e. a consumer not paying for a system that is not performing as expected), the majority of contractors have not engaged in the installation of solar as a primary trade for more than 2-3 years given the rapid growth in the nascent solar industry. Therefore, the reliability and durability of an installation can differ quite dramatically. Even scarier is that such differences are not just seen between firms, but are also noticeable on a crew by crew basis within a given company. Having observed this first hand, it is clear which organizations value workmanship and training and which do not. 
With saturation comes competition and with competition comes massive turnover. And that's exactly what the residential solar installer universe has experienced over the last several years. Solar Power World Online has ranked the top 100 residential installers annually since 2013. A quick glance at the data reveals a striking fact: the lists fluctuate dramatically year-to-year, or at least more than one would expect. Only 42% of the top 100 residential installers in 2013 made the same list in 2014. And of those that were on the 2014, only 52% appear on the 2015 list. Even more interesting is that only 26% of the installers on the 2013 top 100 residential installers list were present on 2015's list. So, to summarize, the top installers in 2013 experienced 58% turnover/displacement in 2014, 2014's best experienced 48% turnover/displacement in 2015, and by the time 2015s list came out, 74% of those on 2013's list weren't included only 2 years later. Several installers that were part of the top 100 residential installers list for all three years are Vivint Solar, Smart Energy USA, KDH Solar, Horizon Solar Power, Solar Source, Haleakala Solar, Hawaii Energy Connection, and about 20 more. Supporting the view that more local players are stealing market share from the "behemoths", 2Q16 was the first quarter in 13 quarters in which the top three residential installers enjoyed less than 50% market share (GTM-Rise of Regional Installer).
While I'm sure the majority of readers here are familiar with the great rise and fall of residential solar stocks, below is a 5-year chart of three national players, $SCTY, $VSLR, and $RUN, all of whom have a high-touch business model with exposure to installation.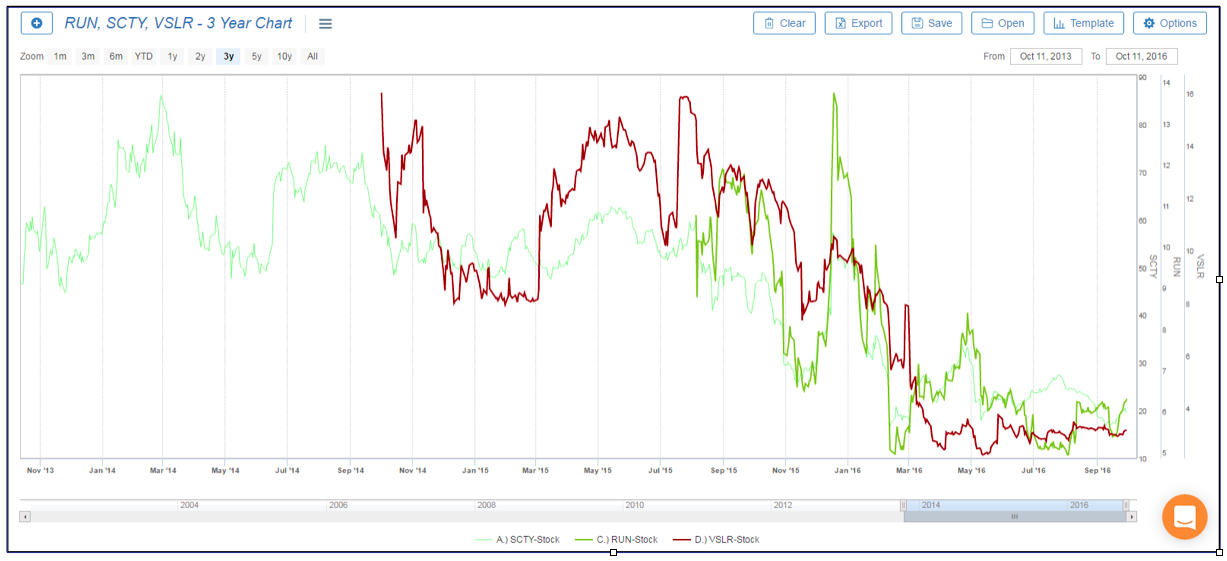 Given the inflated costs caused by incentives in conjunction with high installer turnover (not to mention sales tactics), it is likely that many homeowners will begin dealing with system performance issues in the next several years. Consider an analogy to the home improvement industry; which HVAC contractor you select will determine the quality of workmanship which, in turn, will affect the HVAC system's useful life and incremental repair costs. After having to repair your air conditioning unit twice in one summer due to faulty installation, you will likely wish that you had chosen the higher quality—and likely higher priced—installer initially. The risks associated with solar installation are similar but are compounded by the fact that cost does not correlate to quality installation (the lack of which may be revealed only through a costly independent inspection).
As a result, players in residential solar with exposure to the risks and costs of installation have sought creative ways to both reduce risks in installation quality due to human error and allow smaller crews to complete more installations daily. In the aggregate, such innovation greatly impacts average cost per watt trends, average installation times, homeowner maintenance costs, and unsecured solar loan defaults. As an example, many players throughout the residential solar supply chain—after realizing the massive risks associated with variable quality of installation—have shifted their focus to designing exponentially more efficient module racking technologies. One such innovator is Lumeta Solar ("Lumeta"), which designed a module that can not only be applied to a residential roof with a single penetration but also improves the installation's aesthetic. In doing so, Lumeta has reduced risks associated with installation quality while drastically lowering both average installation times and required manpower. The consequence: lower installation costs and drastically improved top line growth. A glance at Lumeta's landing page, reproduced below, highlights these themes (and reveals the company's relatively strong fire rating).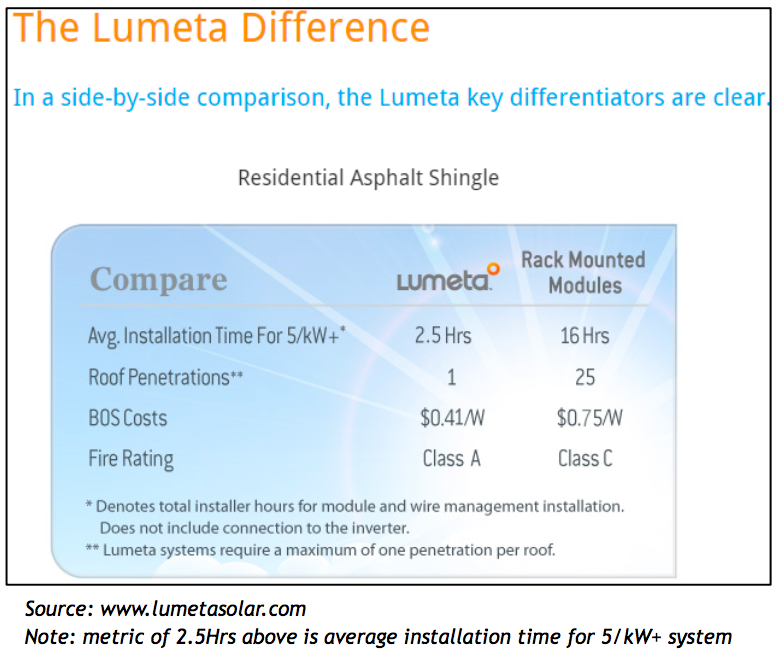 If Lumeta's claims hold true, average installation time and balance of system costs ("BOS") using the company's innovations will decrease 84.4% and 45.3%, respectively. If data from Lumeta's website proves to be true—namely that their 5kW system (different than "Avg. Installation Time For 5/kW+" above) installation can be completed in only 75 minutes—their technology has the potential to change the industry. Consider the following comparison: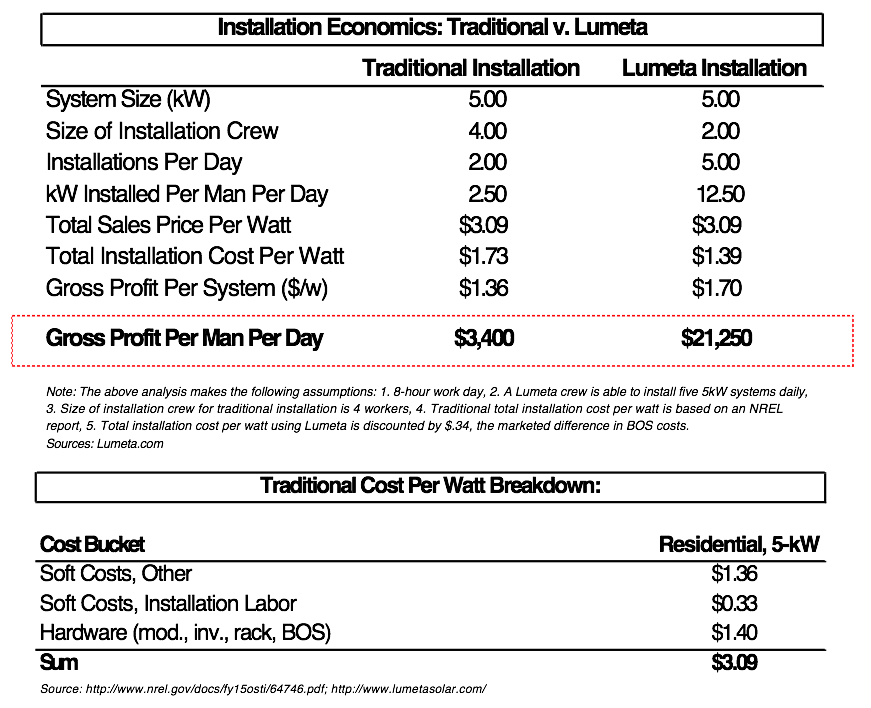 The analysis compares a traditional installation (one without Lumeta's products) to a "Lumeta Installation". In order to install the equivalent sized system (5kW in this example), Lumeta needs an installation crew of two vs. a crew of four. Not only does it take 50% of the manpower, but assuming an 8-hour work day and 5 installations daily, the Lumeta installation crew itself can complete 2.5X the amount of installations daily. Given the change in crew size, looking at the total amount of kW installed per man daily is the best way to identify the effects on profitability. Regardless of pricing and margins, one worker using Lumeta can now install 12.5kW daily whereas a worker using traditional products can only install 2.5kW in the same time. On top of that increase in installation velocity, Lumeta claims its products lower BOS costs by $0.34/W (see ad pasted above). Based on the data presented in the "Traditional Cost Per Watt Breakdown" table above, $1.73 of the total $3.09 consists of soft costs and hardware costs related to installation. Removing $0.34 of cost from the $1.73 brings an installer's total cost of installation using Lumeta down to $1.39. Using a conservative final sales price per watt of $3.09 (NREL national average), that equates to $1.70 in gross profit per system on a cost per watt basis. Given the massive increase in installation efficiency, one worker can now generate $21,250 in gross profit daily – a multiple of 6X+ – compared to a gross profit of $3,400 using traditional installation tactics.
Financers:
Readily available financing solutions can often be the final piece of the puzzle for a homeowner reluctant to go solar. Homeowners across the country are being sold hard on solar and if you're in a state where it makes sense to go solar, you have a high quality installation, high quality equipment, an OEM wrapper, and are not getting gouged on a price per watt basis, going solar is a no-brainer. I say that genuinely. Even though those are tough boxes to check, a diligent homeowner will be able to get there by asking all the right questions. And if a homeowner has checked all or a majority of those boxes, the last obstacle is often figuring out how to pay for this value-creating asset. For many years, homeowners had only 4 options: (1) pay cash and own the system, (2) finance via lease or PPA, (3) take out a loan from a bank or credit union and own the system, or (4) use a combination of bank and credit union debt to own the system. Leases and PPAs were the preferred choice until late 2014, when several market players introduced the concept of solar ownership. To help make sense of the rapid shift from lease to ownership, consider the following graph from a U.S. Department of Energy study demonstrating the rapid decline in residential solar price per watt from 2007 through 2014.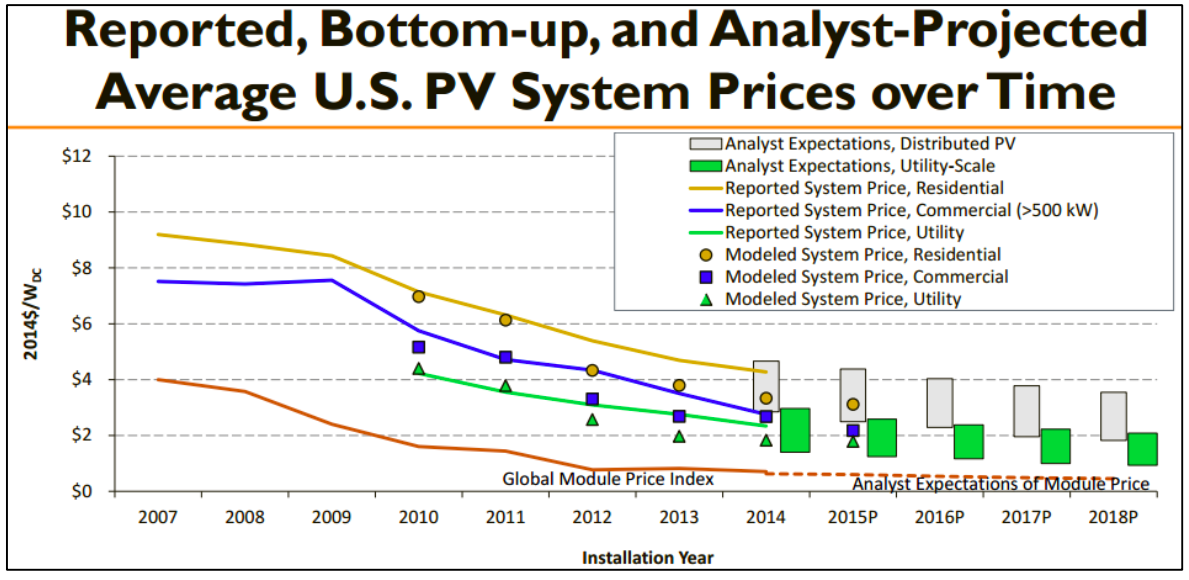 Source: DOE SunShot PV System Pricing Trends
As residential costs per watt decreased to nearly ~$4.00 in 2014 from about ~$9.00 in 2007 and incentives for solar energy were becoming increasingly popular, industry sentiment began to shift. In time, the cost of capital for financers became manageable and installers and sales companies began requesting more diverse product offerings to distinguish themselves and de-risk. And in hindsight, it was becoming increasingly clear to thought leaders and innovators in the industry that leases and PPAs didn't provide any real value to homeowners beyond nominal economic benefits and the bragging rights associated with "going green."
Leases and PPAs offered homeowners the ability to save money on electricity costs and were designed with a one-sale close in mind. The lack of a tax equity component made the product much easier to sell compared to a loan and homeowners were seemingly happy with the lack of responsibility associated with non-ownership. Further, leases or PPAs could be sold by people with relatively little training to uneducated customers primarily concerned with lowering their monthly payment. While the industry would not be where it is today without the innovation and mass adoption of the lease or PPA, product simplicity started to become increasingly trivial as the lack of value transfer — that is, the unavailability of tax credits and incentives to non-owners (i.e., homeowners) — became more apparent. In contrast, direct ownership of the system, by way of loans, allowed the homeowner to (1) monetize the 30% federal tax credit on the full cost of the system after accounting for rebates and state tax credits; (2) monetize the many other incentives available such as feed in tariffs ("FIT"), performance based incentives ("PBI"), renewable energy credits, and solar renewable energy credits; (3) build equity in a credit-positive asset with a palatable payback period (seemingly no one would go solar if utility rates were cheaper and thus the assumption is the homeowner is saving money by taking out debt); and (4) benefit from net metering, the selling of excess power generated back to the grid for a retail or wholesale rate.
While there is clearly massive value in solar ownership for the homeowner, concepts such as tax credits, net metering, feed in tariffs, SRECs, etc., are not simple topics to explain to a homeowner. Theoretically, selling a lease or PPA should be harder because the economics are simply less attractive. In practice, however, while loans constitute a greater value proposition, they are exponentially harder to sell because of the need to explain complex concepts to the average consumer in laymen's terms. Furthermore, when a lot of the value proposition stems from reliance on federal tax credits, homeowners tend to become more suspicious and often present multiple what-if scenarios to the sales rep regarding tax liabilities, tax credit rollover opportunities, etc. Many of these young sales reps aren't yet familiar with the residential solar ecosystem itself let alone nuances of federal and state tax codes. Additionally, loans of any sort typically require some discussion around term, interest rates, re-amortizations, prepayments, buy-downs, etc. This isn't exactly helping customer acquisition costs.
In an effort to increase the probability of a successful sale, lenders have gotten creative with financial structure to ensure both monthly payment and APR is palatable to the average consumer. One such method consists of collecting a variable up-front "hidden" partner fee as a lever to offer the same-risk-level borrower a lower APR. Obviously, a lower APR and thus a lower monthly payment and full-term financing charge make for an incredibly easier sell. Additional differentiators among lenders consist of several things, including but not limited to (1) to whom they are willing to lend (sub-prime, prime, etc.), (2) in which states they are willing to lend, (3) the extent of their ancillary service offerings (such as system monitoring, varying levels and durations of O&M coverage, etc.), and (4) the interest rate and associated partner fee.
For lenders, 1 through 4 listed above don't provide a lot of room for differentiation without taking on excessive risk. Certainly every competitive lender in the solar space would lend to 750+ FICO borrowers all day. Depending on where the borrower falls on the spectrum will clearly determine their interest rate. However, in a nascent asset class such as solar – one in which mass consumer data is widely unreliable if not unavailable and the cost of capital is higher than most – lenders must make the crucial, yet risky decision of how low they are willing to stoop on the FICO scale. In making such decisions, lenders must balance risk with opportunity by asking themselves questions such as, "how much money must a borrower with a 650 FICO score need to be saving on a monthly basis for us to be comfortable extending credit at a 6.99% APR?"
Additionally, it is no mystery why certain states are home to many solar industry participants while others are not. If the economics make sense for a homeowner to go solar, there will be no lack of competition. Thus, in order for a lender to differentiate themselves by lending in states where other lenders are not, they will likely have to underwrite deals in which the homeowner's motive for purchase was driven largely by a "lifestyle" choice rather than an informed economic decision. Such deals are inherently more risk to underwrite because, in the event of financial hardship, the rational homeowner would choose to go bankrupt and opt back into full-time dependence on the utility grid to lower their monthly costs.
Finally, the interest rate and associated partner fee tradeoff is arguably a zero-sum game. For example, while a lender might offer a homeowner a 12-year loan with a 2.99% APR, the sacrifice of interest income is being made up on the backend in the form of a higher up-front partner fee. So, even though the lender might benefit from an ease-of-product-sale perspective now that the APR is lower, managing that backend partner relationship and asking for more dollars up front is not an easy thing to do. Thus, lenders must constantly balance their desire to gain market share with the consequences of issuing risky paper, and the easy sale with partner retention. In short, the solar loan has become a commodity in the sense that homeowner offerings cannot be that different from each other and every lender's cost of capital is relatively similar due to their nearly identical exposure to a new asset class. Thus, in order for a lender to gain market share in the current environment, they must underwrite inherently riskier loans with the hope of gaining long-term pricing leverage.
Bringing It All Together Using Current Events:
Themes presented in this blog post are further legitimized by recent events. The most recent event to shock the residential solar industry was the announcement on September 23, 2016, that Verengo Solar ("Verengo")—a privately-held company—filed for Chapter 11 bankruptcy. Per the press release, "Verengo designs, installs, and services solar photovoltaic systems, which enable homeowners to save money on their electricity by providing a smart and sustainable alternative to soaring energy rates . . . As a key player in the residential solar market since 2008, Verengo has helped over 20,000 homeowners go solar, the equivalent to planting 1,150,000 trees. Verengo works primarily through EPC (third-party fulfillment), 3POs (third-party origination), and home-builder partners." Furthermore, the press release recognizes Verengo for the "numerous recognitions and awards it's received including ranking #1 on the Solar Power World list of Top Residential Solar Contractors in the U.S and being named to Inc. Magazine's List of America's Fastest Growing Companies" (Verengo PR). Basic research on Verengo reveals that their business model was not dissimilar to that of SolarCity's or Vivint Solar's. Consider the following diagrams: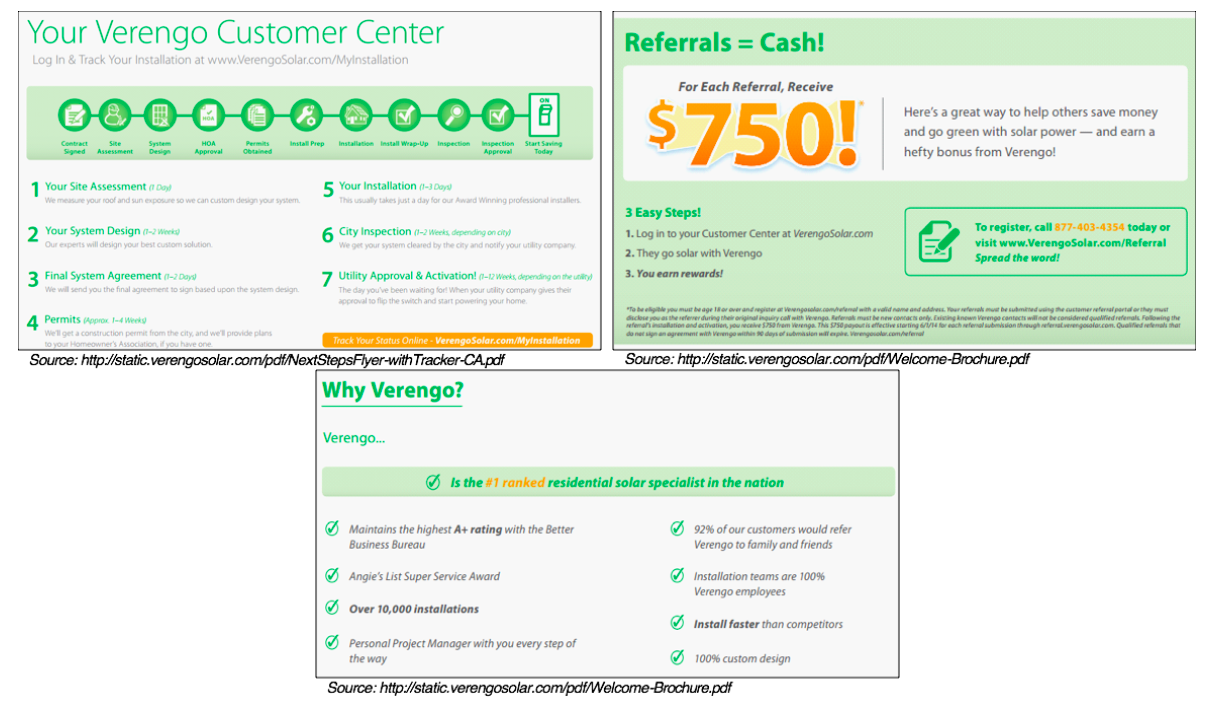 The top left image posted above is an ad by Verengo communicating to homeowners that they will have the ability to log in and track their installation. It references 10 milestones to reach prior to ultimate completion of the Verengo process and pledges that Verengo itself will aid in 7 out of 10 said milestones. Just like SolarCity and Vivint Solar, Verengo has differentiated itself by employing a vertically integrated, customer-centric approach in which it attempts to add value each step along the way. Yet, at this point it is worth noting that the efforts of $SCTY, $VSLR, and apparently Verengo—by almost any metric, including stock price—have proven futile.
Moving to the top right, this image is an ad from Verengo trying to incentivize homeowners to refer friends, neighbors, etc. Notice the large amount – in this case – $750 for ONE fully-converted (i.e., installed and in-service) customer. While this is just another way for the homeowner to lower their net cost per watt, the figure itself provides great insight into their real cost of acquisition per customer. SolarCity and Vivint's public filings tell the exact same story. $SCTY maintains its "Ambassador Program", which values a referral at $200 and 1 free month of service and $VSLR has followed suit, offering $250 for each successful referral ($VSLR Referral Fee).
The bottom image was another attempt by Verengo to ensure the homeowner knew they'd be involved almost every step of the way. It also explicitly states that "installation teams are 100% Verengo employees", further demonstrating the extent of Verengo's vertical integration. Just like Vivint Solar who managed to be one of 26 to remain on the top residential installers list all 3 years from 2013 through 2015, Verengo made the same exact list, listed as the second and fifth top residential installers in 2013 and 2014, respectively. In hindsight, industry participants should have thought more of Verengo's absence from 2015's list of top 100 residential installers after ranking 5th in 2014. Verengo was also recognized as having "the highest A+ rating with the Better Business Bureau" and as a recipient of Angie's Lists "Super Service Award". Finally, Verengo, SolarCity, and Vivint were all backed by financial institutions, private equity firms, and/or had access to capital markets and thus had fewer financial constraints than most industry participants. Therefore, while Verengo Solar's bankruptcy filing is just one of many across a multitude of industries, it is also a sign that perhaps some residential solar players—especially those without access to capital markets—might be forced to re-think their business models.
Major thanks to Sentieo for the opportunity to address the current state of the solar market in their first customer blog post. Sentieo has done wonders for the speed and quality of my research. If there are any questions or comments on this post, please feel free to reach out for the author's direct email contact.
Disclosure: All information and data in this blog post is for informational purposes only. I make no representations as to accuracy, completeness, or validity of any information. I am not liable for any errors, omissions, or any damages arising from its display or use. All information is provided AS IS with no warranties. The information in this blog post are based on my personal opinion and experience and should not be considered professional financial investment advice. The ideas and strategies represented here should not be used without first assessing your own personal and financial situation and consulting a financial professional. I am a personal investor with no affiliation to any company mentioned in this post. I do not hold any positions in any public securities mentioned in this post and have not been compensated in any form for this post.
Editor: We found a great solar savings calculator where you can make your own payoff calculations below. Dividend Solar has a much more simplified version here.