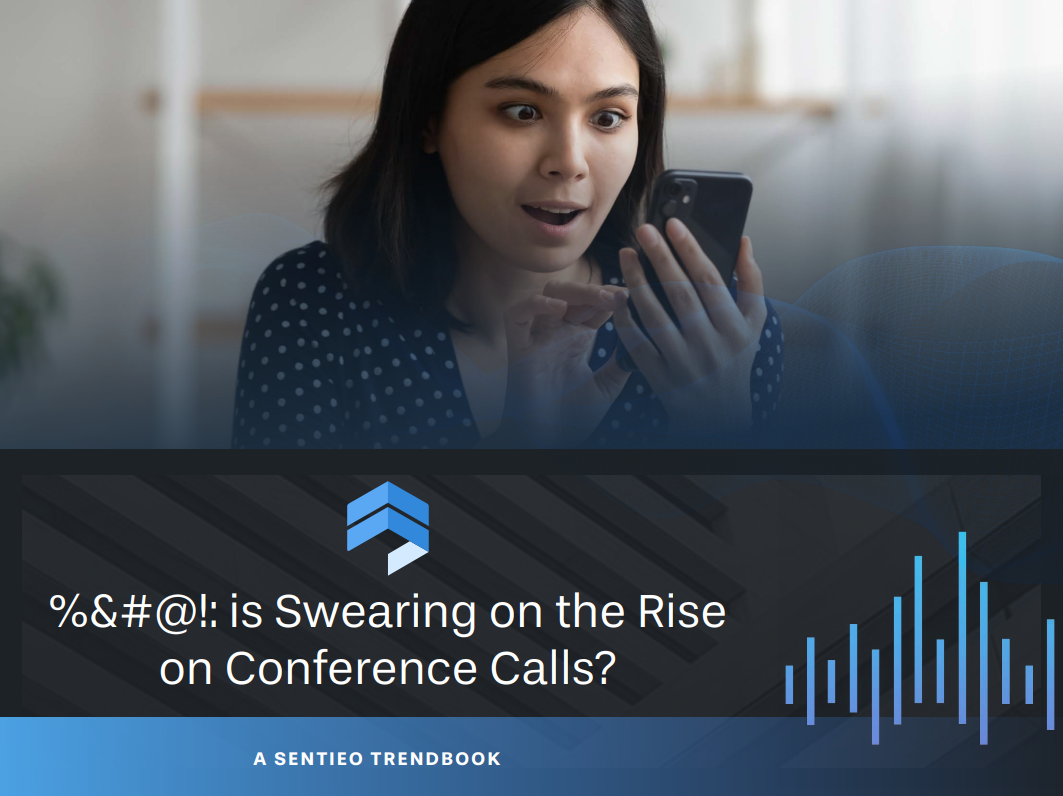 Quarterly calls by publicly traded companies are usually relatively staid affairs, with corporate executives delivering carefully prepared remarks and answering highly detailed questions by their Wall Street coverage analysts.
So when we released our white paper on the increase in expletives on conference calls earlier this year, it caused somewhat of a sensation in the media:
Who says that our award-winning AI search has to be used only for serious purposes? You can see how we use our Deal Hunter Dashboard to find free food, free admissions to events, and sweepstakes, and how we used other parts of the platform to track the surge in Plan B contraceptive searches following Valentine's Day, as well as the never-ending popularity of pumpkin spice lattes.
You can download the original white paper here (no email required), with all the stats and selected anonymized quotes.
Finally, we have some good news, or bad news, depending on your perspective: the trend is still up in Q1 2022. There were 50 transcripts in Q1 2022 that contained expletives, versus 42 in Q1 2021.
The CEO of a US retailer gave this perspective on his career in March: "I just don't think there's a lot of people in business today, except for Warren Buffett and Charlie Munger and, I don't know, George Soros and just a handful. If you had wisdom in 1980, you kind of get into your years of wisdom in your 50s and start to get wise. If I look back and go to my '30s, I really didn't do anything. I just like worked really hard. In my 40s, I just got better. I could get (expletive) done and kind of see a bigger picture. In my 50s, I started seeing a much bigger picture. And in my late 50s and 60s, I think I've kind of gained a lot of wisdom, and I can see a much bigger playing field than I could."
The CEO of an industrial company explained the danger of customer concentration in March as well: "You have to have very little customer concentration. We don't want to deal with 1 or 2 customers that can just beat the (expletive) out of you and control what you do, we want to control what we do."
More recently, in April, the founder and CEO of a tech company discussed infosec buyer preferences: "They don't want the suites. They don't want to bundle because they know that in a bundle might be 7 products, but 2 or 3 of them are (expletive) anyway."
Want to see how we used the Sentieo Financial Intelligence Platform to conduct this research and try it for yourself? Get in touch.