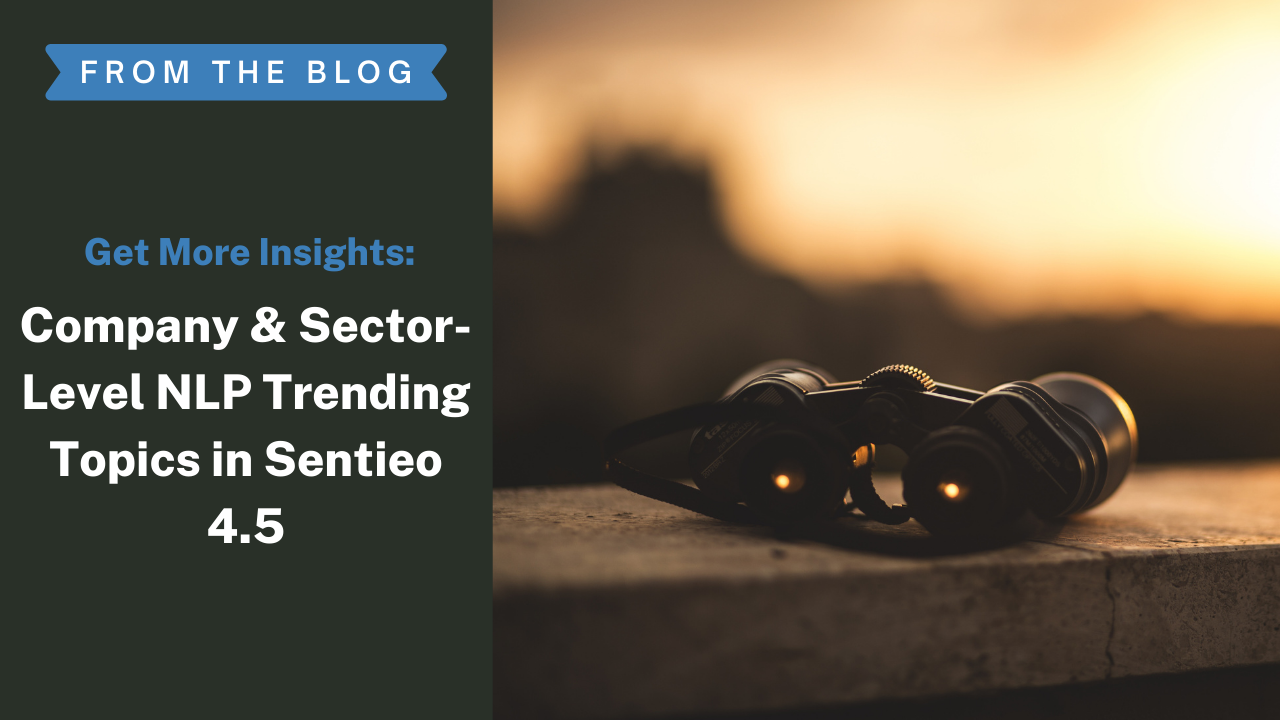 Sentieo's new update features another expansion of our NLP offerings: trending topics at both the company and sector level. This new addition enables faster surfacing of emerging topics, along with a sentiment overlay. 

Our existing NLP and ML features include:

Our newest update focuses on the extraction of the Top 15 trending topics for individual companies and their sectors, with sentiment analysis and "one click" search for more details on the topic for the sector. The features are available across the Sentieo platform, including its own dropdown module, individual company documents page, the transcript Smart Summary, and the (very popular) Dashboards. 
Let's look at a specific example, home builder PulteGroup (NYSE:PHM) and its peers. We can see the Top 15 topics for the last eight quarters for the company, and the trending topics for the Homebuilding sector in the latest earnings calls.
Zooming in, we can see that, for example, both PHM and the industry are positive on Closings, while Lumber (an input cost) is a negative for both PHM and its peers.
Clicking on Closings opens up the transcript snippets, along with a historical mentions timeline on top for the topic, plus sentiment analysis.
Similarly, clicking on Lumber for PHM, we can see the negative comments that led to the negative sentiment scoring but we can also see that lumber was either positive or neutral in the prior four quarters.
Clicking on Lumber for the entire Homebuilder sector opens up a search across the sector transcripts for that term, and we can see Lennar (NYSE: LEN) mentioning that lumber costs went up "dramatically" in the latest available quarterly transcript for the industry.
If a term is trending for a company, users will spot a little fire icon in the query box when they search that company's transcript.
The Trending Terms can be accessed across the Sentieo platform to speed up your workflow. The new addition has its own module in the main navigation dropdown menu.
The Trending Terms can also be accessed on an individual company's main Documents page.
The Smart Summary section of the quarterly transcripts contains the trending terms for that individual company along with the snippets by topic (below, showing PHM's comments on lumber, with a sentiment overlay, in the latest transcript).
Finally, the Trending Topics are available in our Dashboards as one of the many widgets that our users can use to build Dashboards from scratch, or to customize their pre-built Dashboards.
Learn about these new features and more in the Sentieo V4.5 Release Notes, or contact us to set up a free trial. Be sure to subscribe to the Sentieo Blog for more posts on the new release over the next few weeks.