Dine Brands ($DIN), which owns IHOP and Applebee's, is up 18% since the start of this month. You might have heard about their headline-making name change from IHOP (International House of Pancakes) to IHOB (International House of Burgers). See their tweet announcing the change below: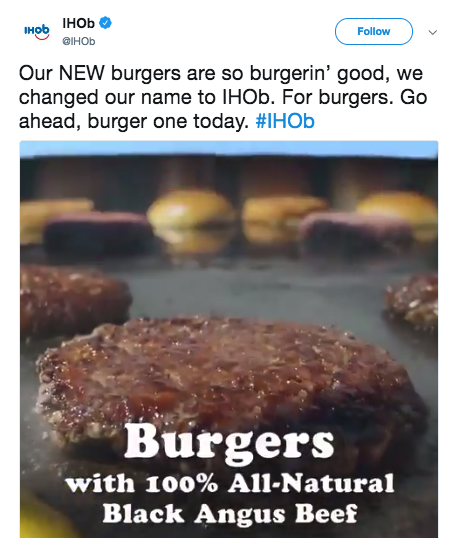 So did this branding change cause Dine Brands' stock price movement? Did a successful social media campaign contribute to a forward earnings prediction?
We used Sentieo's alternative data tool, Mosaic, to dig deeper and understand if social media traffic drove the increase. Alternative datasets like Google Trends, Website Visits (Alexa), Twitter Mentions, Instagram Followers, and Instagram Likes are offered in Mosaic and can provide an edge in analyzing consumer-facing businesses, as they often have a high correlation with revenue growth and are available ahead of traditional financial metrics for the period. As consumer behavior shifts more and more towards digital, indicators like these have become more predictive of tech and consumer company results.
Mosaic also allows users to visualize this alternative data. For example, we used Mosaic to create the chart below. Below the chart is a link to an interactive version of the graph.
In the chart below, we plotted the $DIN stock price (black line), IHOP Twitter Mentions (blue), IHOP.com website views, IHOP Instagram likes, and IHOP Instagram followers (gray). With these social media channels skyrocketing after the announcement of "IHOB" on June 11, the stock price (black line) surged.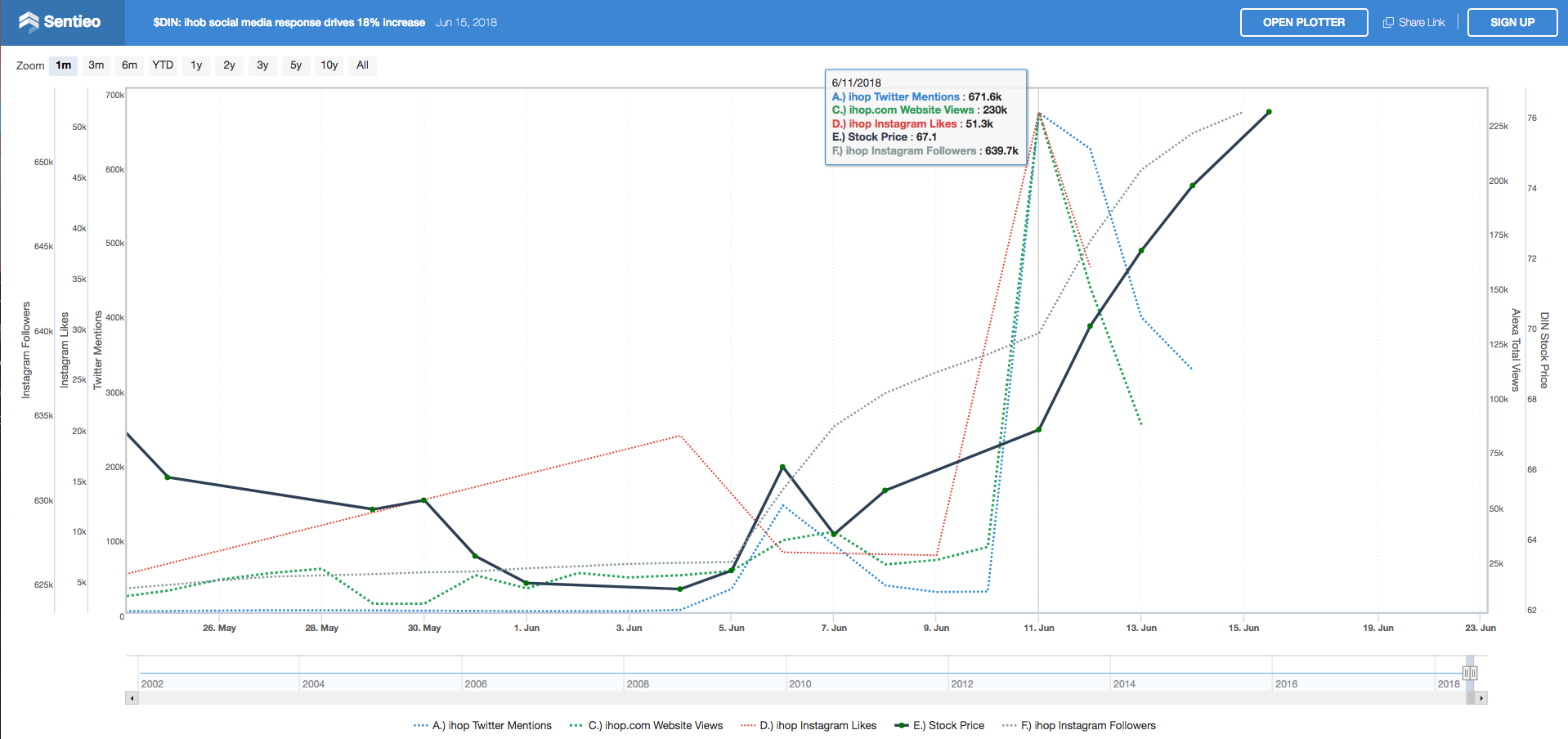 $DIN isn't the only food company that experienced a social media boom and a price reaction following it. Last year, Wendy's ($WEN) challenged a teenager to get 18 million retweets to receive the prize of free chicken nuggets for a year. His #nuggsforcarter hashtag set the all-time record for most retweets, and of course he received the prize.
In the Sentieo chart below, we mapped Twitter mentions of #nuggsforcarter (purple line), as well as Wendy's stock price (gray line). We can see that the stock price increased and stayed high after the social media campaign peaked.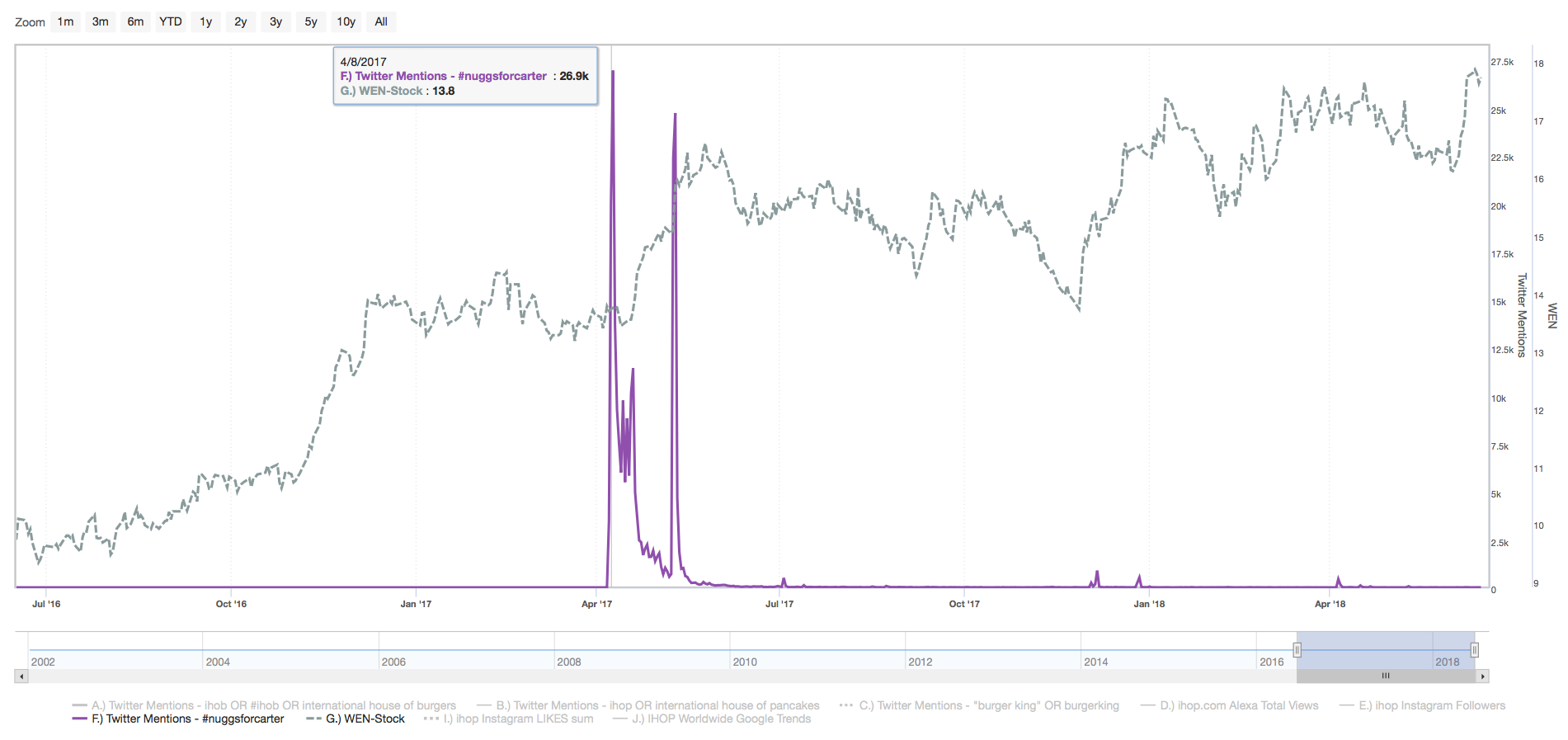 But we can't forget about pizza. Domino's ($DPZ) has had several successful social media campaigns, beating out even Wendy's in Q1 2018 by having 11 times their total number of total Instagram engagements (1.4 million). We plotted DPZ stock price (purple), Instagram Followers (red), and Instagram likes (black) below, and the correlation is clear.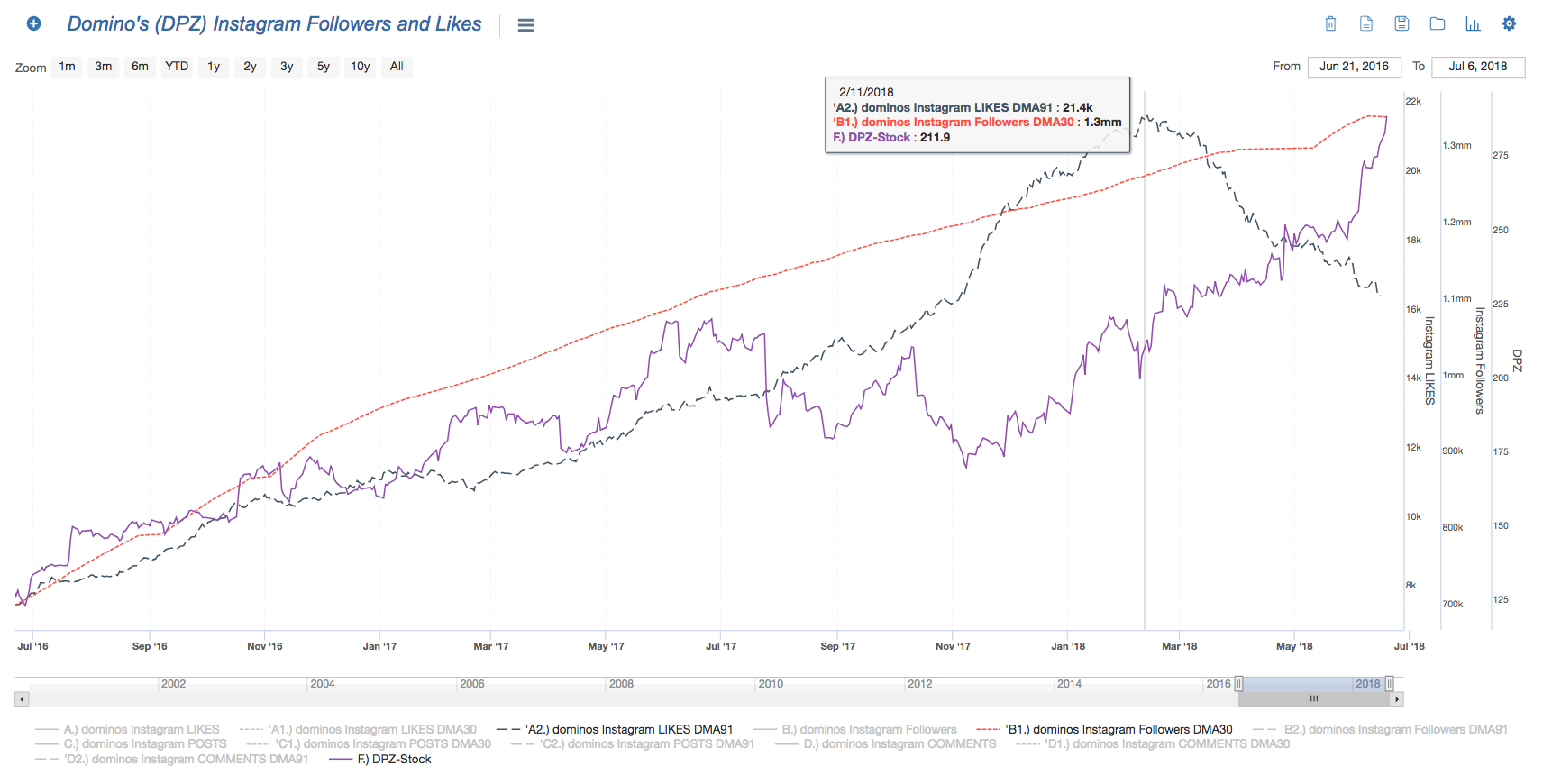 We cannot stress the importance of keeping a close eye on alternative data — especially social media — by using an alternative data tool like Sentieo. Stay ahead of the game with access to as many sizzling stats as possible.