A picture is worth a thousand words — or maybe around $2 bn (which happens to be CAKE's market cap). Three of Sentieo's core functions are table extraction, plotting and record management. In this blog post, we demonstrate how analysts use these convenient functions to visualize a company's financials in minutes.
CAKE, like many other restaurant companies, reports its Income Statement in a non-standard format: there is no all-encompassing COGS. Instead, we see different line items with different cost buckets, such as food costs, labor costs, and occupancy costs. In its earnings release 8-K, CAKE also calculates each of these line items as a percentage of sales.
Using Sentieo's Time Series Function, we will build a time series containing the major operational line items: food costs, labor costs, and "other" operating expenses.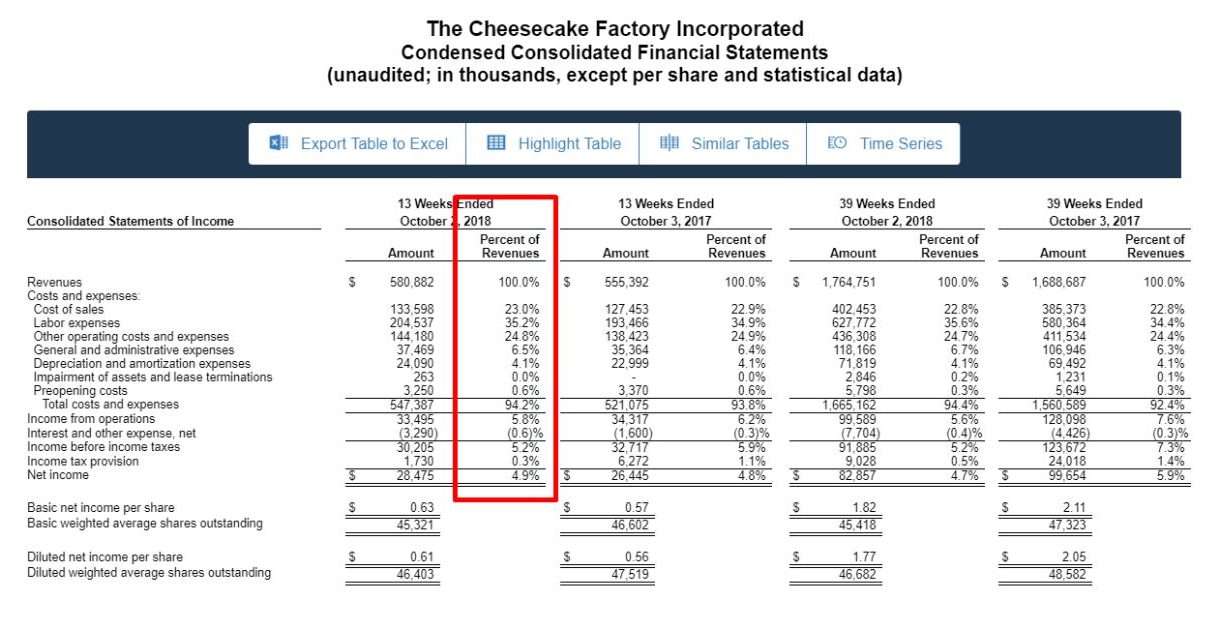 After the extraction, we can review the numbers by document by clicking "Next' (always check to see if the numbers are a 6-9-12 month summation, or just the Q4 is a 12-month. See the boxes in the lower left that help the adjustments). From here, one can open the source document, export to Excel, or open in the Plotter charting engine — after checking the numbers. For companies that change formats, you can enter the correct number in the columns on the left field. We do this here for Q1 and Q2 2015 as the numbers appear without a "%" signs.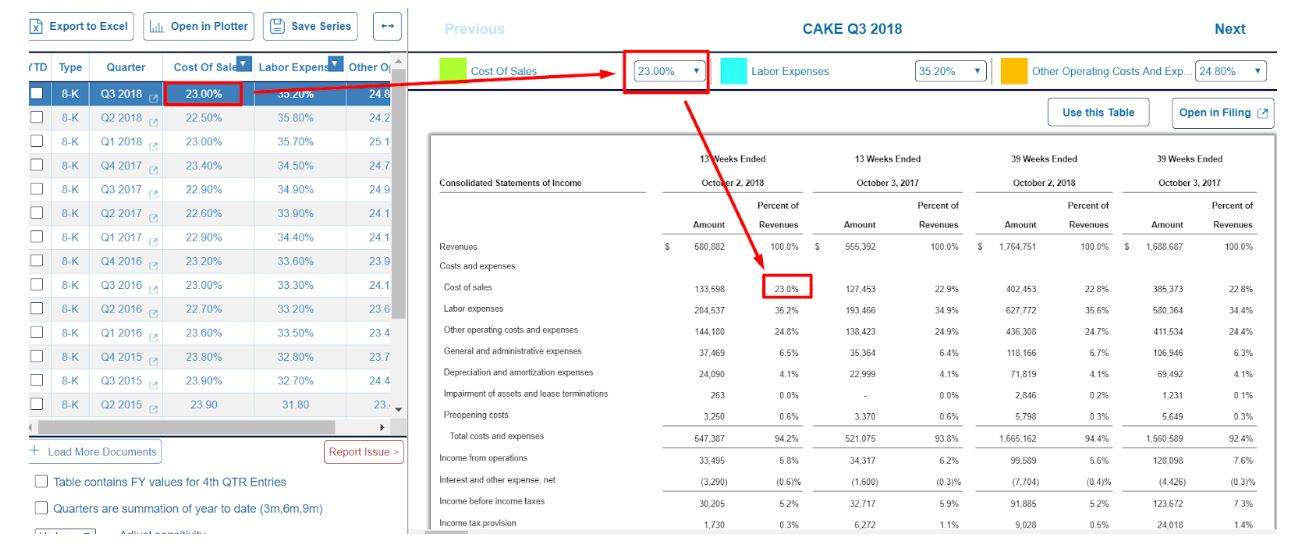 The corrected numbers for 2015 look like this:

After we have made sure that the numbers look good (all are coming from quarterly columns, all are in the same percentage format), we open the data in Plotter.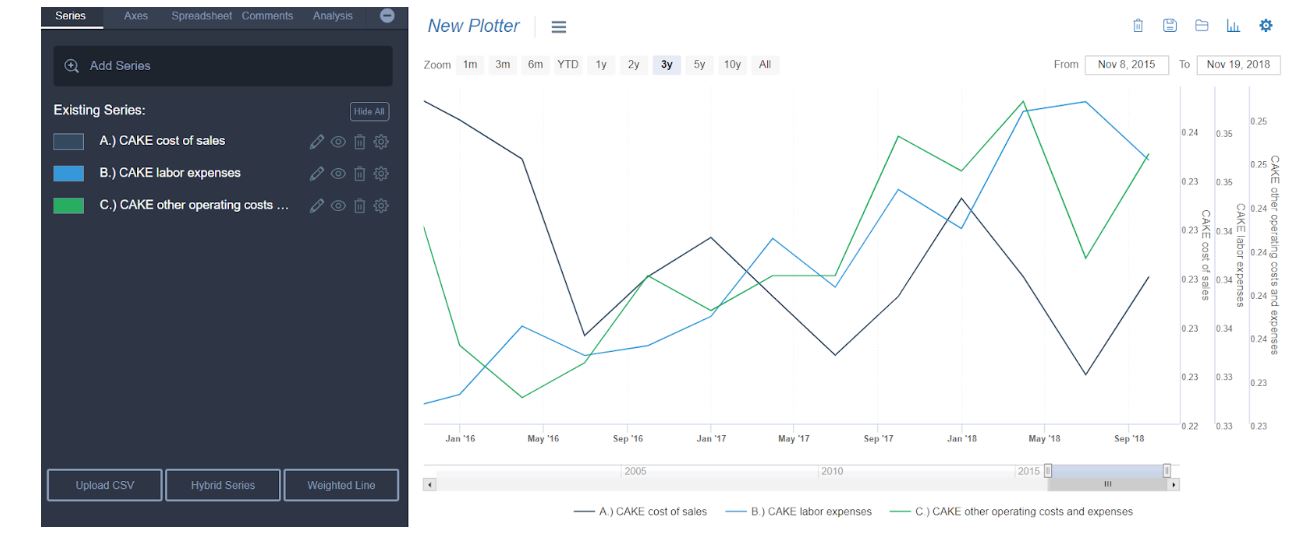 Since all numbers are given as a percentage of sales, we can merge the Y-axes from the chart settings.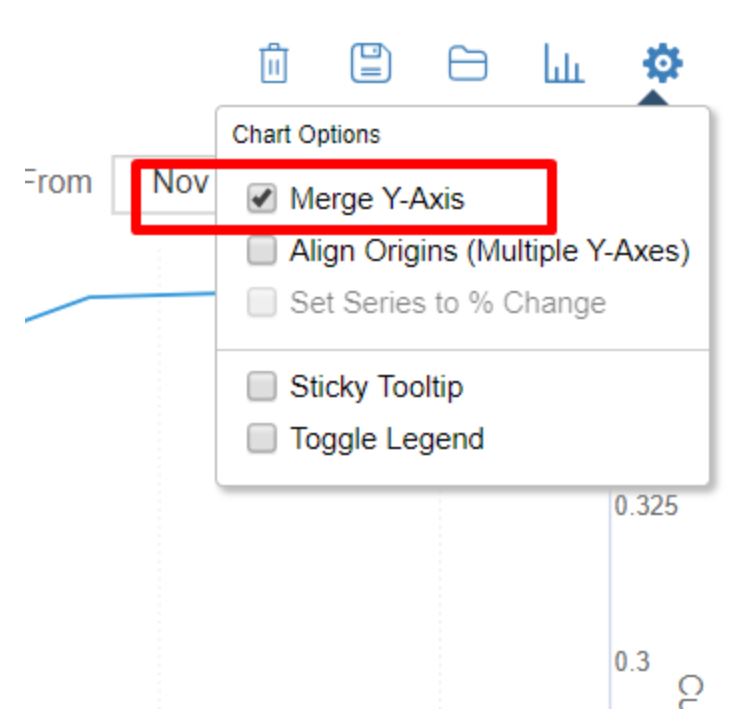 To get a better idea for the underlying cost trends, we are muting the quarterly numbers for each series, and adding a 4-quarter moving average. We can also customize colors, line format and line thickness.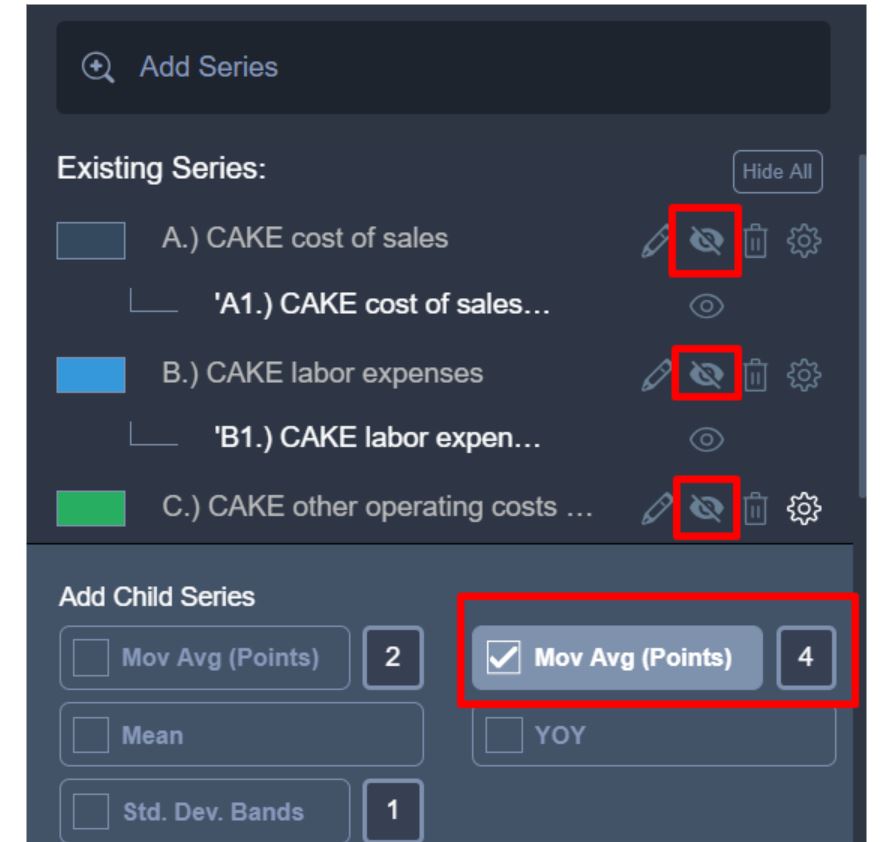 Here we can see the longer term trends. While food and occupancy costs have stayed relatively steady (as a percent of sales), we can see that labor expenses have been moving up.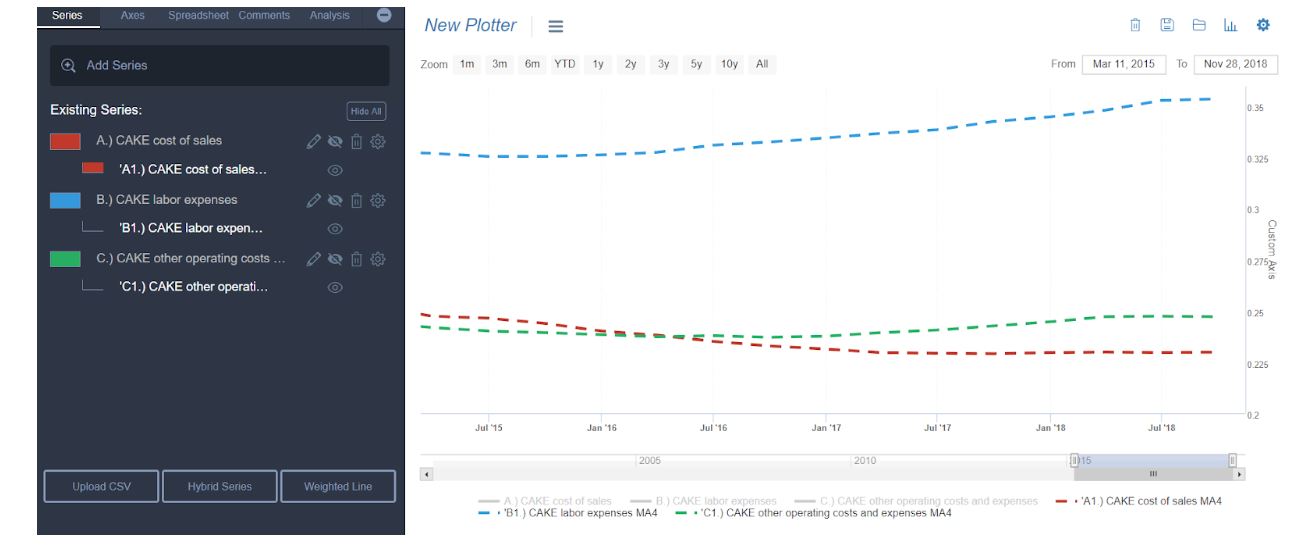 We are now ready to save, tag, and share the chart with the team.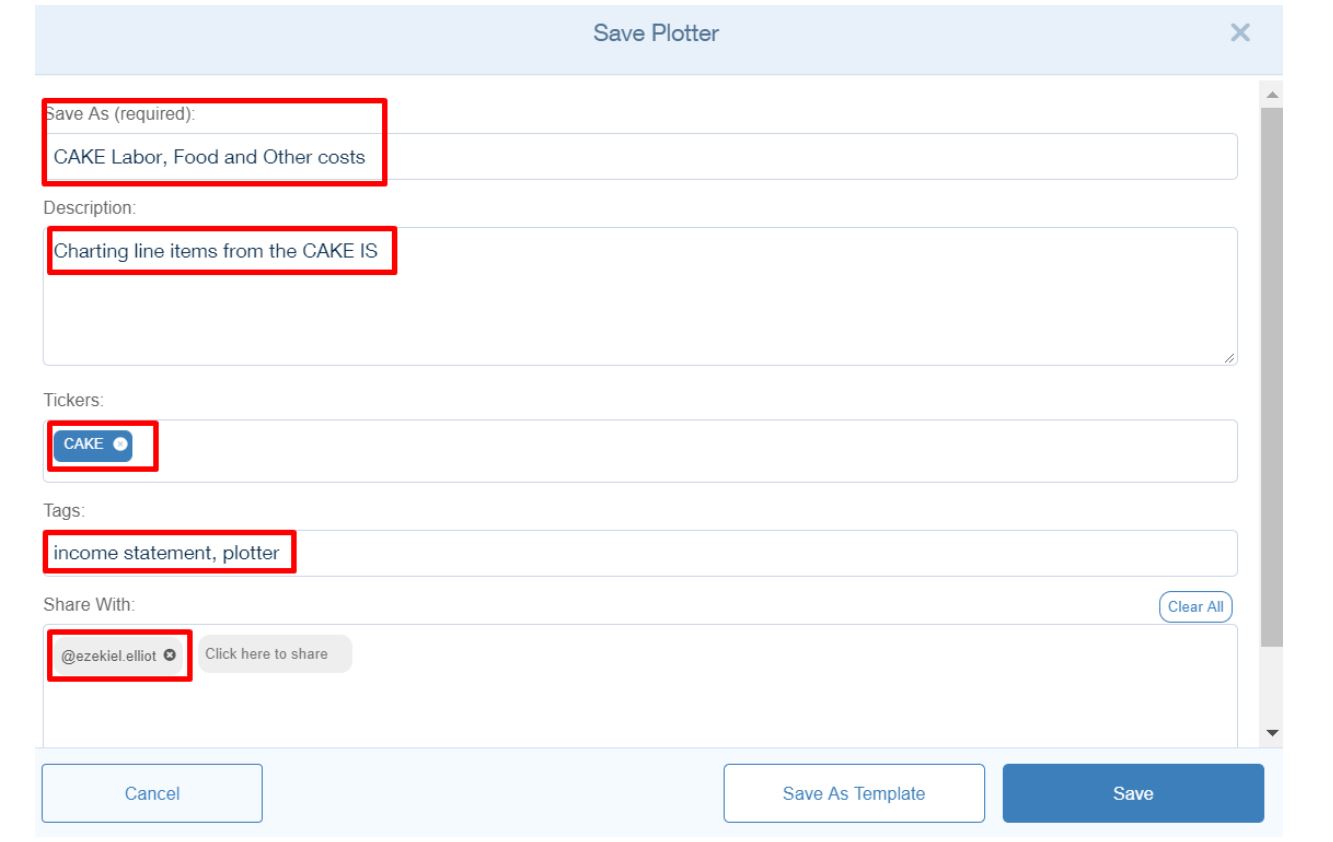 The chart is now a part of our CAKE Notes, and can be commented on, added to full theses, or to other Notes inside Sentieo's Notes Records Management System.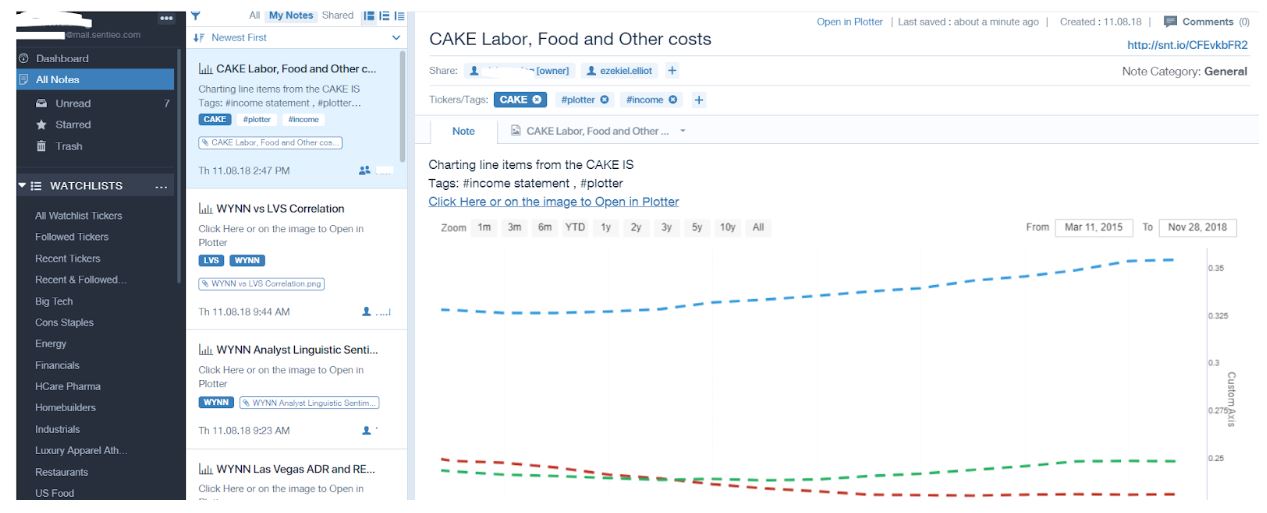 From here, we are ready to dig in deeper in the corporate documents to see what has been going on. Click here for interactive chart.
See how these, and many other tools on the platform, can make your research process more efficient: request a free trial here.