In this final installment of our earnings season blog posts (informed by Sentieo's transcript Smart Summary™), we're covering Facebook (FB).
We kicked the week off by "getting to the meat" of Beyond Meat's call on Monday night. While growth and margin expansion were strong, our keyword surfacing highlighted McDonald's as a key topic.
We then looked at Tuesday's transcript from Merck. While its VIP drug Keytruda is growing nicely, the Smart Summary™ highlighted pricing pressure concerns.
YUM! Brands, the parent of KFC, Pizza Hut and Taco Bell, reported on Wednesday morning. Smart Summary™ was useful to check on the many moving parts of this global, multi-brand QSR chain — from regional comp sales across brands to unit growth. Our sentiment scoring noted a particular analyst question about system-wide margin pressures. (Because it was deep in the transcript, a human reader could have missed this). Our blog posts above also feature short videos, with our Head of Research Nick Mazing reviewing how transcript push notifications work in Sentieo, and what he chooses to hone in on for each ticker.
For Facebook, since it is a well-covered company, we will focus on a smaller set of topics: 2020 guidance, regulatory discussions, and product innovation.
On the guidance side, we see 2020 revenue growth deceleration, but this is widely expected, as Facebook is already large. We also see concrete expense numbers; there have been questions regarding Facebook's investment in combating fake news and other undesirable content.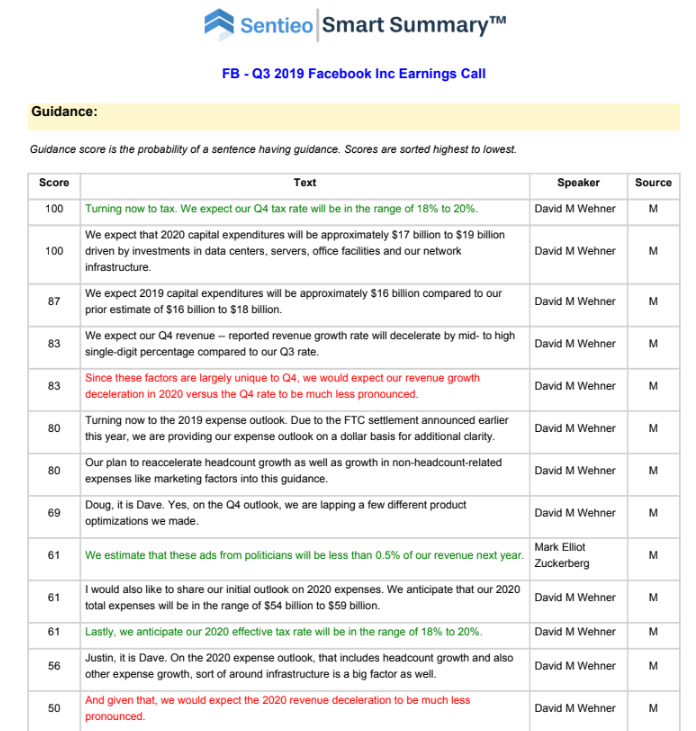 There is a very lengthy regulatory discussion on this call. We see various entities/regulations mentioned on this call. Investors pay close attention to the regulatory environment. Heavy regulation tends to benefit the incumbent players, and Facebook is poised to lock out threats, similar to what happened in the US with the cigarette companies and the "Master Settlement Agreement."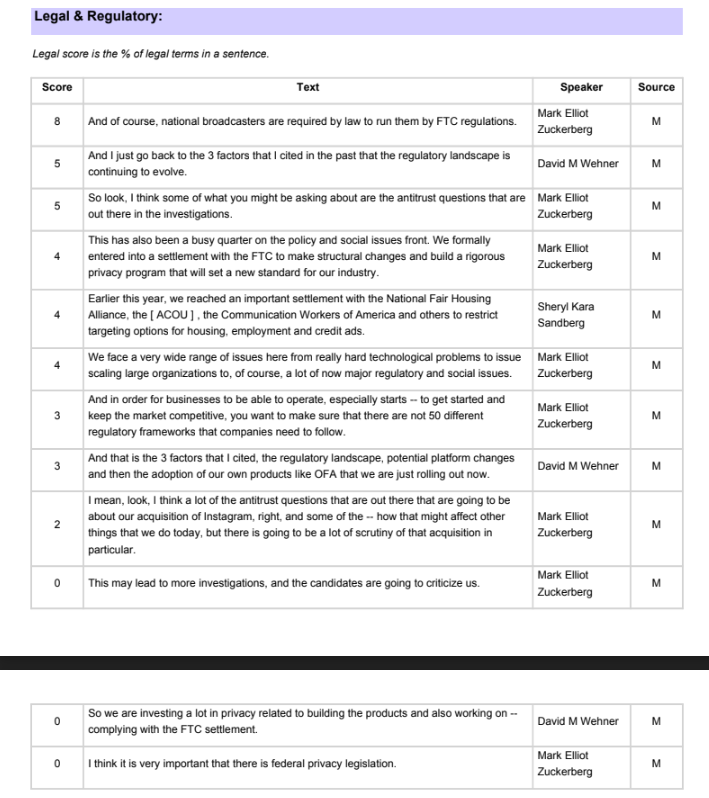 Contrast this Q3 2019 regulatory discussion versus Q3 2018. We can see below that the category in the Smart Summary™ was blank.

We can also see the spike in Facebook's 10-K/10-Q mentions of FTC. They went from single mentions to 27-30 more recently.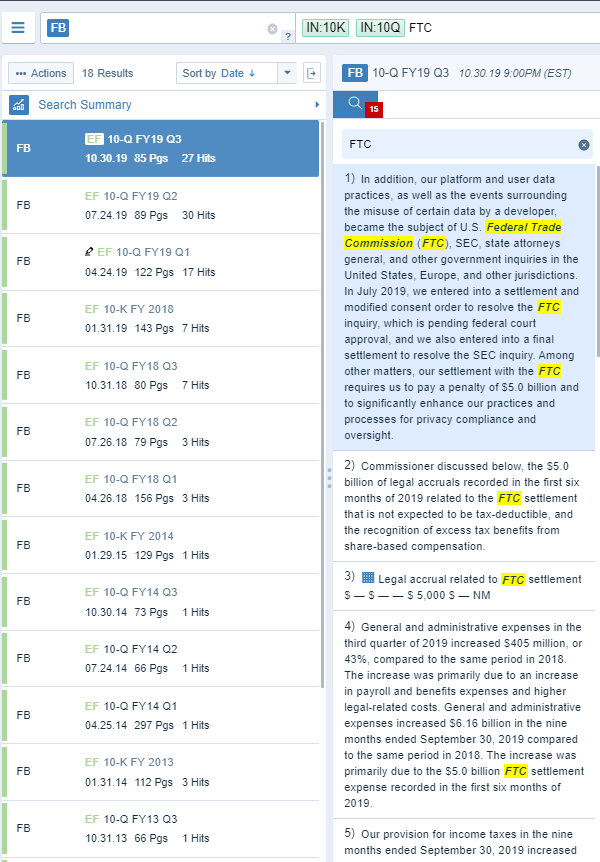 We can also see the financial impacts. The FTC levied a fine in the billions of dollars, which we can see when we chain together the breakout table in the latest 10-Q with the same table in prior filings.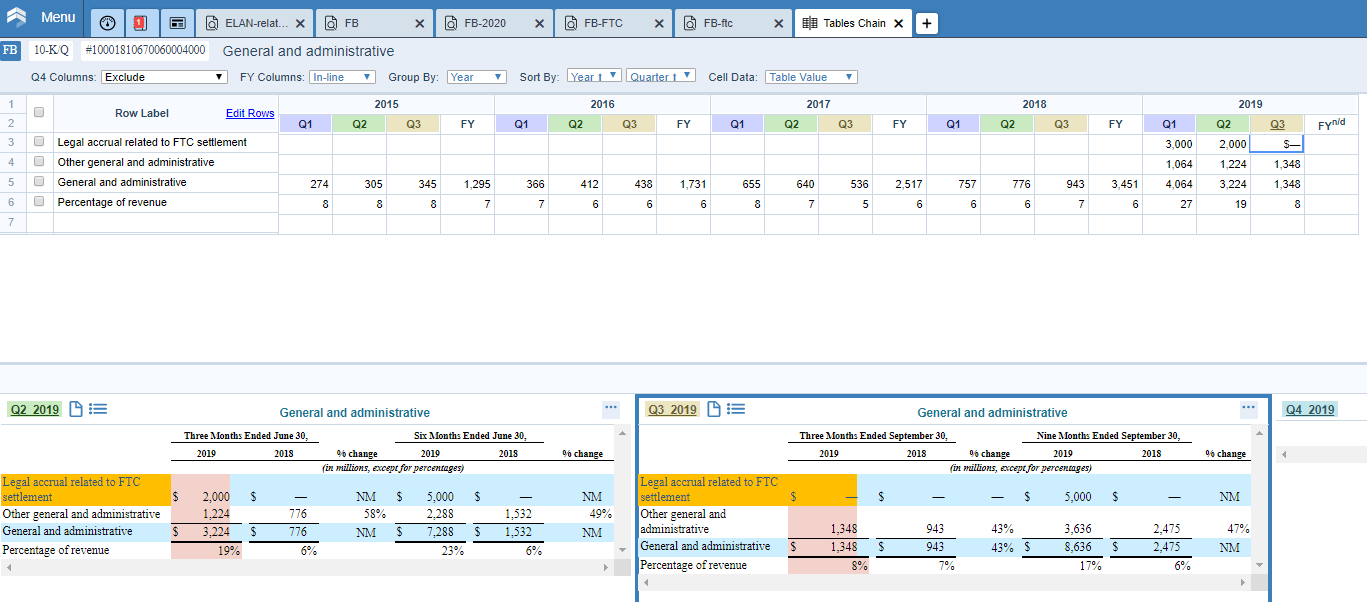 The last highlight from this call is product, specifically Facebook's innovation around Instagram. Our NLP-based keyword surfacing picked up the conversation there as the top keyword on that call.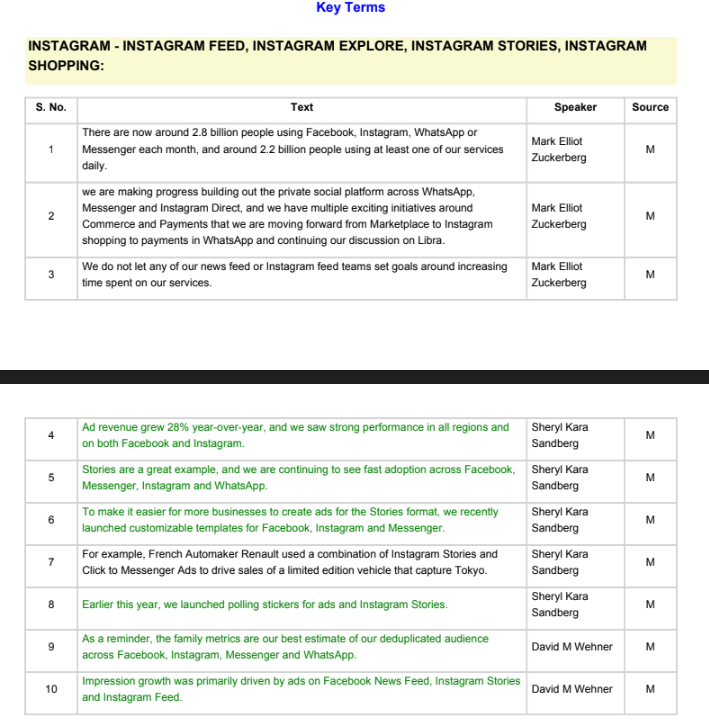 Check out our quick video walkthrough on Facebook.
Smart Summary™ is just a part of Sentieo's research platform. To find out more about us, please get in touch.