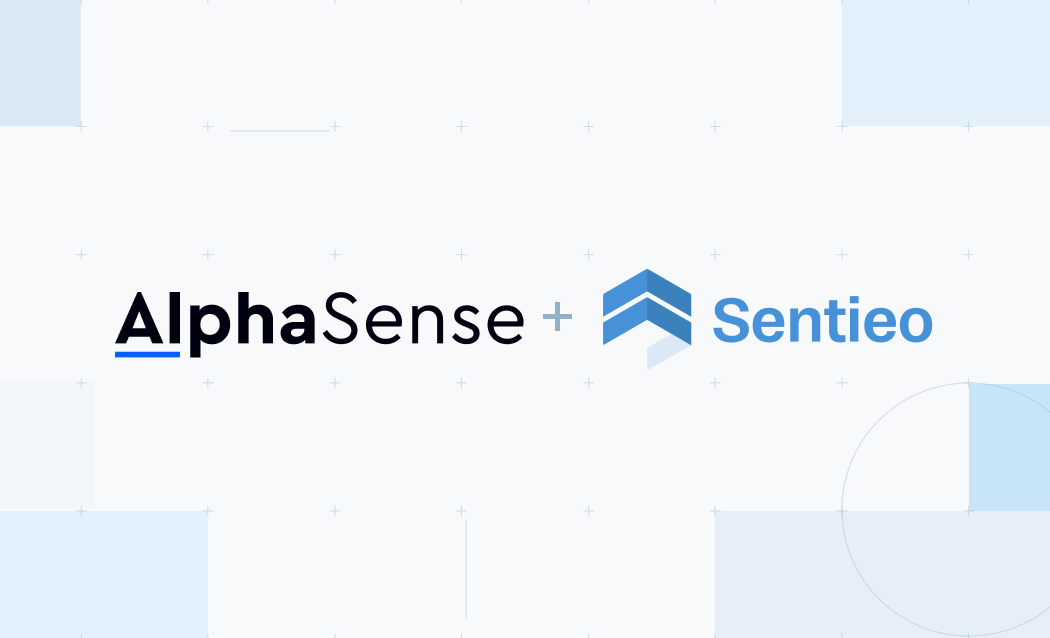 I am thrilled to announce that Sentieo has been acquired by AlphaSense, the leading market intelligence and search platform that shares our closely-aligned mission to empower investors and corporations with the intelligence they need to make better decisions more quickly and confidently.
Since our founding ten years ago, the Sentieo team has built an award-winning financial intelligence platform that enables analysts to find information quickly across millions of documents and datasets. Our platform and workflow capabilities offer fund managers multiple ways to bring their own content into the platform and more easily share findings, collaborate, and streamline even the most data-intensive work. We are proud of our stellar team and the research innovations that today serve over 1,000 customers, including 800 institutional investment firms.
Combining forces through this acquisition will enable us to build an even bigger and better world-class organization. Our founders, leadership team, and employees could not be more excited about the opportunity to join forces and collaborate with a highly capitalized, high-growth partner like AlphaSense.
Sentieo will continue to operate as a standalone company, with ongoing investment in the Sentieo platform. The entire Sentieo team will stay on board to help grow the product, technologies, and team. There will be no interruption to service and customer success contacts and support channels will remain the same.
This new partnership will bring powerful complementary benefits to the customers and markets we collectively serve. By combining Sentieo's rich workflow capabilities, like our Table Explorer functionality, with AlphaSense's exclusive content sets, like the market-leading library of expert call transcripts Stream, a prior acquisition by AlphaSense, we will aim to offer "best of breed" capabilities across both products to ensure we're delivering the best value and experience for our users.
Both Sentieo and AlphaSense share a passion for accelerating time to insight and streamlining research workflows, and we couldn't be more excited for what the future holds.
David Lichtblau, CEO, Sentieo
Announcement
AlphaSense Acquires Sentieo in its Continued Push to Accelerate Growth and Innovation in Market Intelligence
AlphaSense and Sentieo are pleased to announce today that AlphaSense has completed its acquisition of Sentieo, the financial intelligence platform specifically designed for the research needs of investors. The combination marks two strong teams joining forces to deliver even more innovation to the market. Sentieo will operate under its current management as a wholly owned subsidiary of AlphaSense.
Since 2011, AlphaSense has been the leading innovator in market intelligence and search, with a rapidly expanding customer base of thousands of enterprise customers, including the majority of S&P 500 companies, most of the largest investment firms and global banks, all of the largest 20 pharmaceutical companies, and leading companies across wide-ranging industries such as energy, industrials, consumer goods, and technology. In October 2021, AlphaSense announced its acquisition of Stream, a leading expert transcript library, delivering unique insights from business operators in the trenches and today used by a rapidly growing portion of AlphaSense customers across all sectors.
Sentieo is an award-winning financial research engine designed for investors, used by over 1,000 customers, including 800 institutional investment firms. Leveraging innovative machine learning and natural language processing capabilities, Sentieo's platform and workflow capabilities enable fund managers to more easily locate key information, share findings, collaborate, and streamline investment research workflows. Given Sentieo's focus as a powerful financial intelligence platform designed for investors, the acquisition will result in AlphaSense further cementing its position as the leading innovator serving the financial sector.
"With our acquisition of Sentieo, we are excited to accelerate our shared mission to deliver market-leading technology and insights that enable knowledge professionals to make critical decisions with confidence and speed," said Jack Kokko, co-founder and CEO of AlphaSense. "We have been impressed by what the Sentieo team has built and their strong technical capability, innovation, and customer focus. We are excited to join forces, and I am confident that this partnership will help us both significantly improve the value we provide to our customers and the innovation we deliver to the whole industry."
Both companies' customers will continue to receive the same products and services as before. Over time each will be augmented with additional functionality and content based on the companies' collective capabilities. The acquisition allows AlphaSense to further accelerate product development based on the combined strengths of two of the industry's most innovative development teams.
"Speaking on behalf of the entire Sentieo team, we are excited to be a part of AlphaSense. We have a shared mission, shared values, and a shared product-led mindset that will empower us to provide even more innovative solutions to the market together," said David Lichtblau, CEO of Sentieo.
"Jack and his team have built a world-class company that is pioneering the field of market intelligence," continued Alap Shah, chairman and co-founder of Sentieo. "We are thrilled to continue to drive the industry forward with cutting-edge technology and workflow solutions as our two great companies join and grow together."