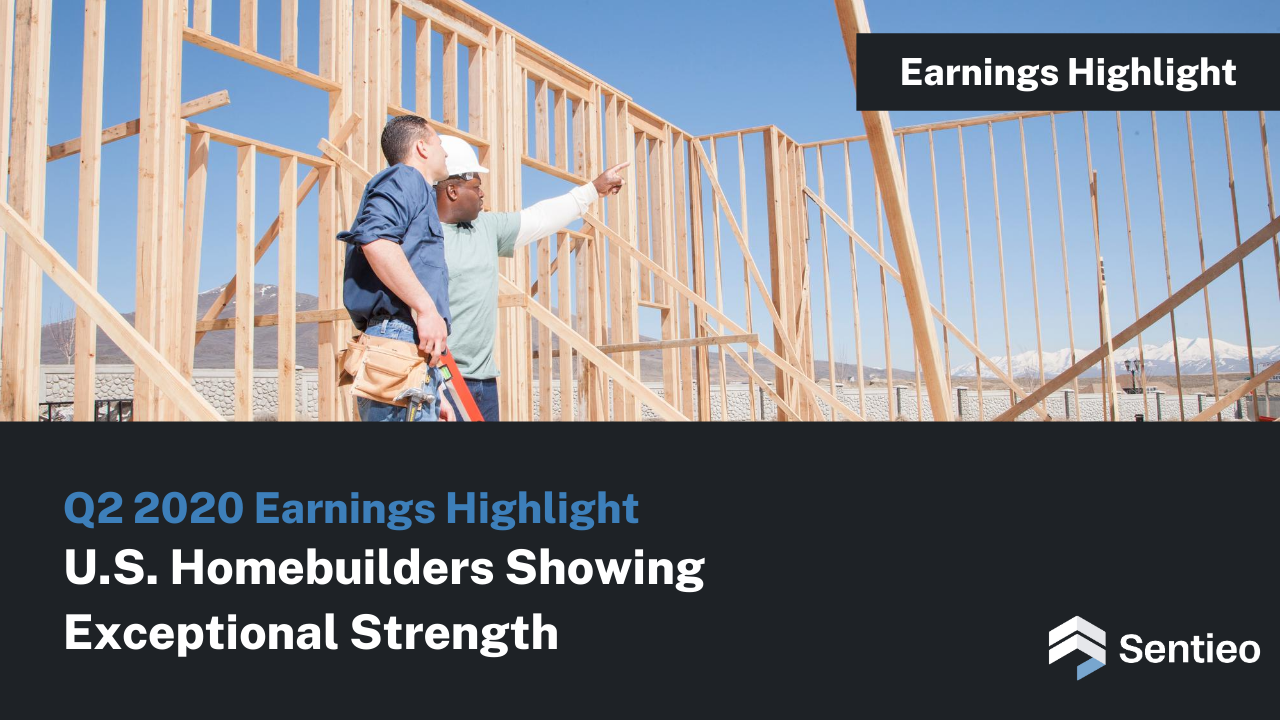 While technology companies have dominated the headlines as beneficiaries of the COVID-19 pandemic, a sector that has also benefited are U.S. homebuilders. In this blog post, we will use our NLP Heatmaps™ to extract the relevant information from recent industry transcripts.
Homebuilders first came onto our radar as we saw that the primary industry ETF, the iShares U.S. Home Construction ITB, was up in the teens year-to-date, verus a flattish overall market (the S&P 500, as represented by the SPY ETF), and the Industrials ETF, XLI.

We started digging deeper using our NLP and ML technology application to find answers fast.
The first thing that stood out to us was that Sentiment for the overall business drivers category (which consists of volume, pricing, revenue, margins, and other categories) for PulteGroup (NYSE: PHM) was the highest in at least five years.
Expanding the broad category for PHM, we can get up to speed on their results: a mix of favorable and improving industry dynamics along with execution led to good results. Sales offices have reopened, the supply chain is working, and more.
Intrigued by the comments on the favorable industry dynamics, we opened our Comparison View which lets us look at comments on the same topics across peers, side-by-side and were able to get the industry-wide comments in seconds:
"Dramatic rebound" in single-family home interest due to COVID-19
Historically low interest rates
Very limited housing inventory
Notably, all three were mentioned by all three builders that reported recently: PulteGroup (NYSE: PHM), Meritage Homes (NYSE: MTH), and TRI Pointe Group (NYSE: TPH). We can conclude with reasonable confidence that these industry tailwinds are, indeed, very real.

We then dug deeper in one specific aspect of our Business Drivers category: pricing. The ability to drive pricing would confirm the tailwinds that all three companies discussed. And, again, all three homebuilders are moving pricing up. On all three calls analysts asked about pricing, and, on all three calls, the management teams were very positive on being able to increase prices.

Another bullish confirmation is that all three companies are giving full-year guidance, which is notable since two had previously suspended their guidance. This is a strong sign of management confidence.
As seen with the U.S. homebuilders featured here, using advanced NLP and ML applications like our newly released NLP Topic & Sector Heatmaps dramatically improves efficiency in research and monitoring of both individual company and sector dynamics. These applications are a part of our industry-leading document search, which is combined with research management, financial data, dashboards, and more, in a unified full workflow platform.
To find out more about Sentieo, please get in touch with us.