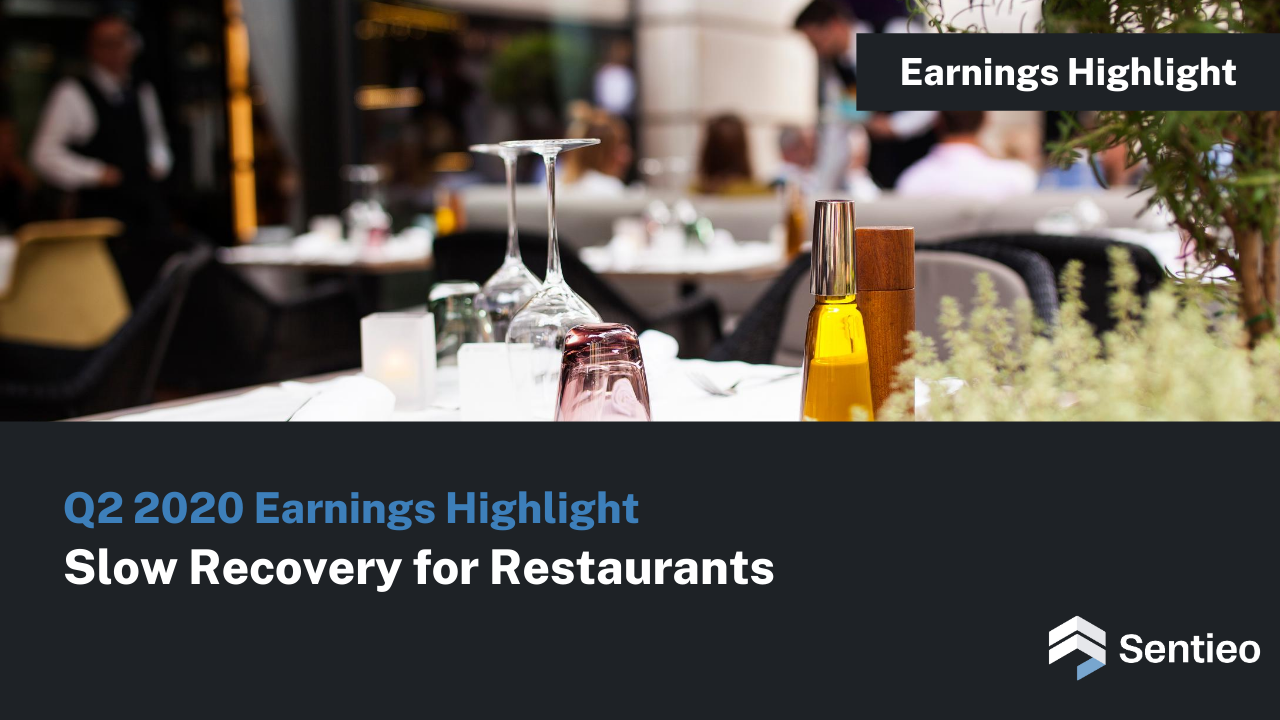 On the blog this week, we continue to highlight how we use our integrated machine and deep learning and NLP Heatmaps™ to extract insight from unstructured data (transcripts, in this case) across an industry. Yesterday, we covered the US homebuilders. The sector has been doing very well year to date, as several factors—cited across the industry—provide powerful tailwinds to the business.

Today we take a look at a more challenged sector: restaurants. We have spent a lot of time this year covering the travails of the consumer discretionary sector broadly, and restaurants in particular: we used our Transcript SmartSummary™ to look at the volume declines at restaurant distributor Sysco (NYSE:SYY) during Q1, we looked at the complete shutdown at Six Flags (NYSE:SIX), and we looked at the available external monitoring dashboards for near real-time data (OpenTable for restaurants).

Broadly speaking, the industry is inflecting positively—at least the larger publicly traded companies are. We can see overall better sentiment in the Q2 transcripts vs. Q1 for Domino's Pizza (NYSE:DPZ), Bloomin' Brands (NASDAQ: BLMN), and McDonald's (NYSE: MCD)
We note the improvement in the Business Drivers NLP category in these "early" reporting companies: this category took a serious dive across the industry in Q1 2020. The blank column in the screenshot below indicates that these companies have not reported yet.
Focusing on a Business Drivers NLP subcategory "Revenues" we can see that the three QSR (quick service restaurant) names that have already reported (MCD, DPZ, and Del Taco, NASDAQ: TACO) are all commenting on improving trends. DPZ even had positive comparable restaurant sales during the quarter. Investors are really focusing on the sequential improvement, like TACO's comment on the current quarter-to-date comps being positive.
We are seeing optimistic comments from "sit down" restaurants like Bloomin' Brands, BLMN, and BJ's Restaurants (NASDAQ: BJRI). With the dining areas shut down during most of the quarter, these companies switched to takeout and delivery only. More interestingly, we spotted this comment from BLMN about volume: with the dining rooms mostly open now, they have been able to retain 50% of the "off premise" volumes, a testament to having an offering that resonates with customers.
BJRI is seeing opportunities post-COVID-19: reduced industry capacity, better real estate, digital ordering and delivery in the "Industry Outlook" NLP subcategory.
We find another optimistic sign in the Corporate Actions NLP category: McDonald's is looking at divesting their stake in McDonald's Japan.
Given MCD's global footprint, their region and country comments provide valuable insights into these economies. Notably, the recovery in China is now more subdued, and the U.S. public health situation is worsening (but the MCD comparable sales have continued to improve in July month-to-date).
We would be remiss not to look at some of the comments from Chipotle (NYSE:CMG) given that the stock recently hit all-time highs, a rarity in the industry negatively affected by the pandemic. If CMG is an indicator for the future, investors and industry observers can expect heavy "order ahead" digital transactions, along with digital order-only spaces (here the drive-throughs are branded as "Chipotlanes").
As seen with the restaurant companies featured here, using advanced NLP and ML applications like our newly released NLP Topic & Sector Heatmaps dramatically improves efficiency in research and monitoring of both individual company and sector dynamics. These applications are a part of our industry-leading document search, which is combined with research management, financial data, dashboards, and more—all in a unified full research workflow platform. 
To learn more, schedule a personalized demo.