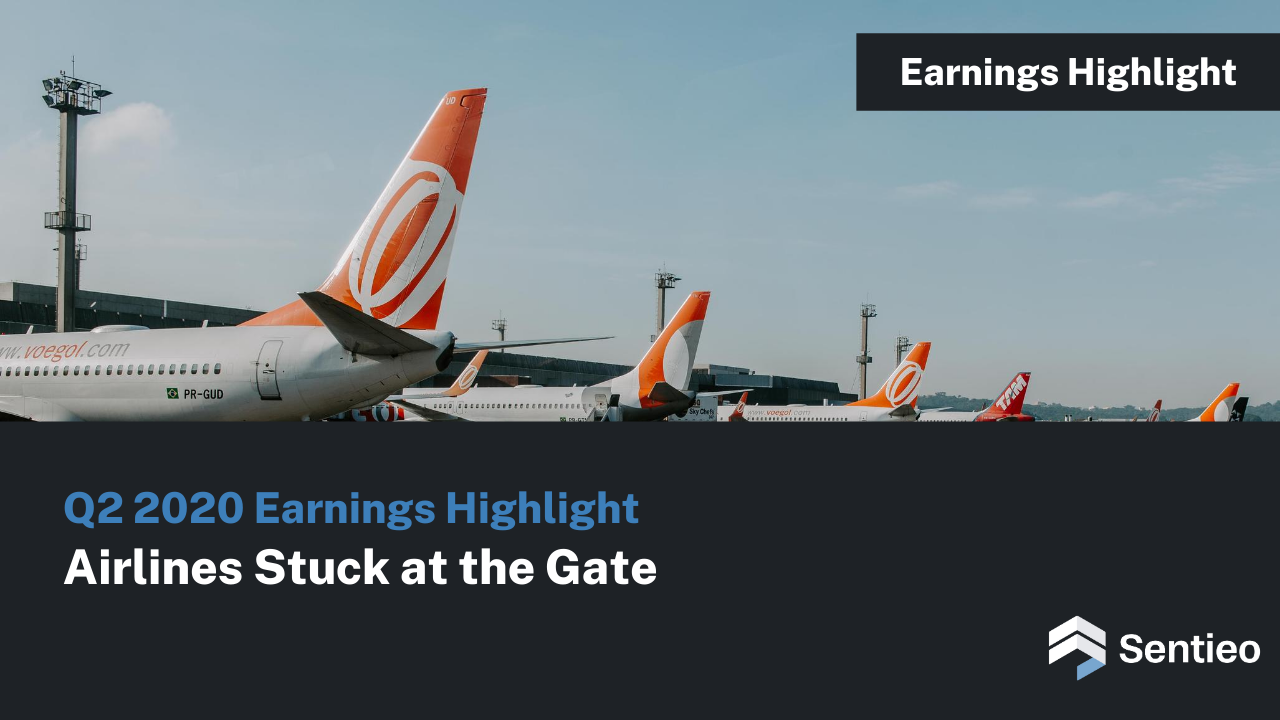 This week, we have been highlighting how we use our integrated machine and deep learning applications, and our newly-released NLP Heatmaps™ to extract and summarize insights from unstructured data (transcripts, in this case) across an industry. So far we have covered the U.S. homebuilders, a sector doing enviably well with megatrend tailwinds mentioned on all calls, and restaurants, a sector showing good signs of recovery, with the most recent comparable sales being positive YoY for some of the largest names.
Today we focus on the airlines, one of the hardest-hit sectors. We previously wrote about publicly available COVID-19 situation monitoring dashboards, including credit card spending and global travel restrictions. Specifically for air travel, we like the public Tableau dashboards from consulting giant BCG (see how easy it is to integrate Tableau in your Sentieo Dashboard here).
While the U.S. airline industry has avoided bankruptcies due to government aid (in contrast to the several LatAm airlines that declared Chapter 11), the stock price performance overall has been pricing in a very slow recovery. The industry ETF, JETS, is down 50% YTD in contrast to the S&P 500 as a benchmark being flattish (interactive chart viewer)
With most of the U.S. industry reporting, we use our NLP Heatmaps to see that overall sentiment around the broad Business Drivers NLP category is not only way worse than the pre-COVID-19 baseline but has also dropped quarter-over-quarter in some cases.
We are seeing the same dynamic in the broad Forward Guidance NLP category.
Looking across the industry, we see several common topics. Cash and cash burn are very much top of mind for the industry in survival mode. As we noted in a guest blog post for our search partner Workiva, cash burn disclosures for Q1 were a first for some of the airlines. 
"Everyone" mentions the CARES Act, which provided liquidity to the industry.
Operating expenses were down across the industry (as we can see by the green sentiment indicator before we even read the comments).
The COVID-19 pandemic is still very much talked about across all calls.
We can also see the competitive strategy moves being discussed on the calls: for example, here we see UAL's loyalty program move, as well as the AAL-JBLU tie-up in the Northeast, using our "expanded snippets" view.
Finally, using the in-product search function, we can get up to speed on the mixed July month-to-date comments.
As seen with the airline companies featured here, using advanced NLP and ML applications like our newly released NLP Topic & Sector Heatmaps dramatically improves efficiency in research and monitoring of both individual company and sector dynamics. These applications are a part of our industry-leading document search, which is combined with research management, financial data, dashboards, and more, in a unified full research workflow platform.
To find out more about Sentieo, please get in touch with us.