Sentieo's main data visualization tool, Plotter, contains a veritable treasure trove of data series. While some financial and valuation data sets are commonly available, Sentieo Plotter stands out with its numerous non-financial data sets that are available within Sentieo, or created by you. (For example, you may have pulled Document Search statistics or data generated from Table Explorer, our ML-driven SEC filings table chaining tool).
Sentieo users can also upload their own data sets. Your individual data series and full charts can be saved for future use. Your charts can then also be added to longer notes or a formatted thesis. They can also be shared with your team or publicly to non-Sentieo viewers.
Below, we'll go over a few of the non-financial data sets that can help you do better analysis.
FRED Macro
We recently integrated around 1,000 of the most popular data series from the data site maintained by the Federal Reserve Bank of St. Louis. 
An analyst needs to understand the macro currents that affect the companies and sectors under her coverage. For example, below we plotted the Civilian Unemployment Rate from FRED vs. a simple average rolling NTM P/E of four staffing companies. We can immediately see that the sector valuation is very closely tied to the unemployment rate.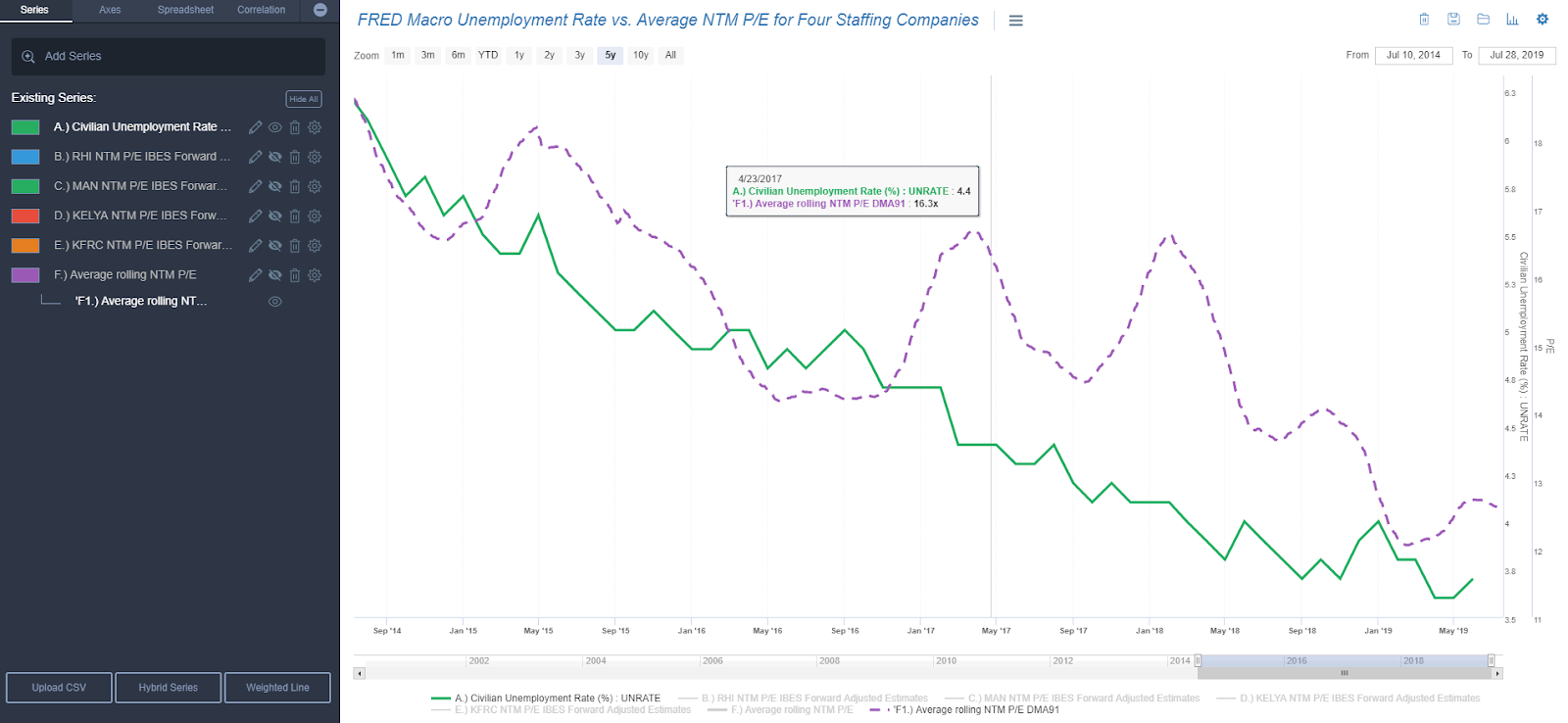 Online Activity Data and the Sentieo Index
Sentieo Plotter pulls Twitter mentions, Alexa website traffic, Google Search trends, and Instagram mentions. Through our Mosaic module, we also run a multivariate regression on these data sets against Wall Street estimates for revenue growth and KPIs. This Sentieo Index is also available inside Plotter, ready to be displayed alongside other data sets. 
For example, here is what one-month moving average page views, search trends, and Twitter mentions of the recent IPO Fiverr look like. Plotter lets you customize your data set display options, including moving averages (for smoothing) or YoY change metrics.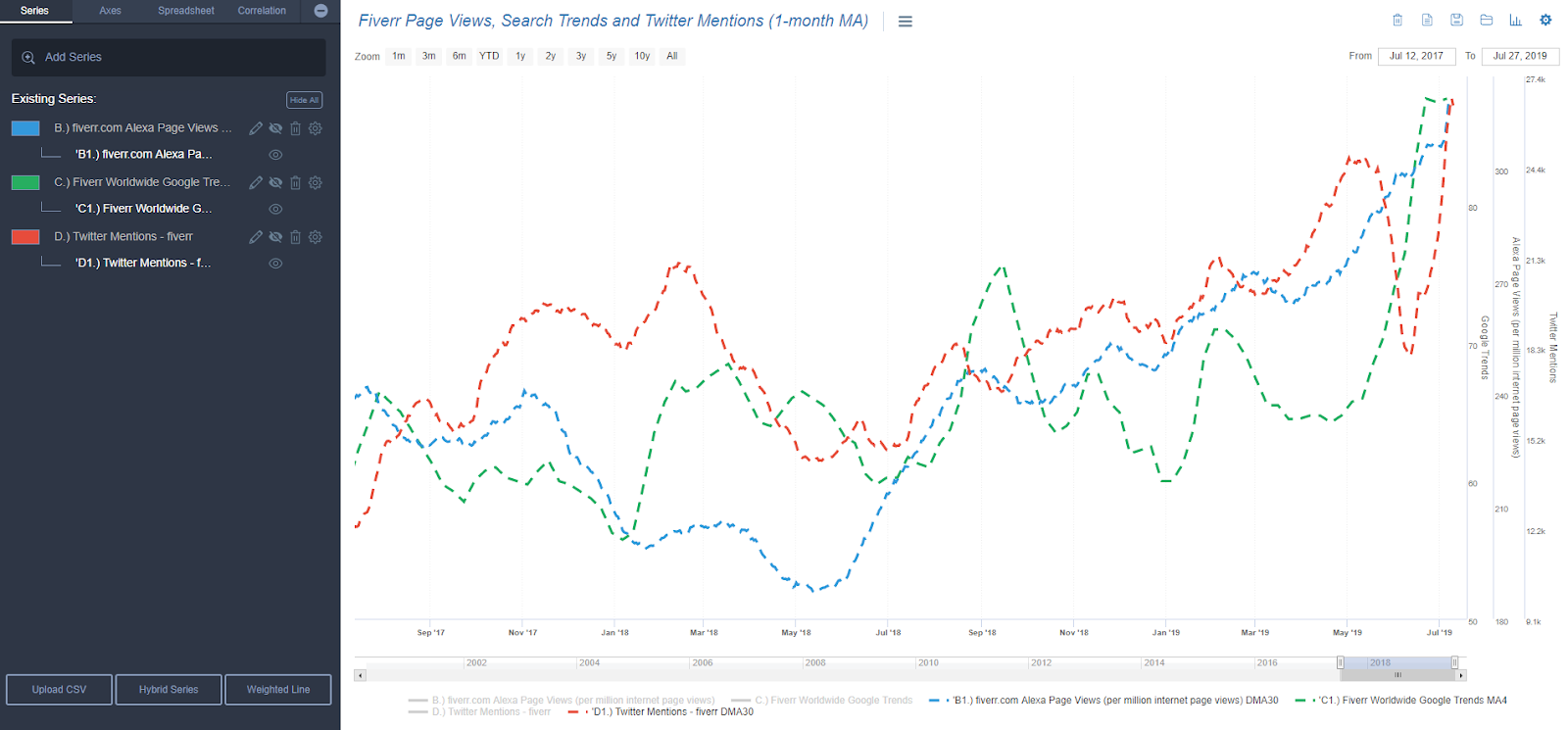 Document Search Statistics
Part of your own IP is your ability to see trends: but how can you quantify trends with non-financial data sets? One way is to generate your own document search statistics to see if documents with key term mentions are going up or down. For example, below we searched all restaurant transcripts for mentions of "delivery." We can see a clear increase in document mentions starting in 2017.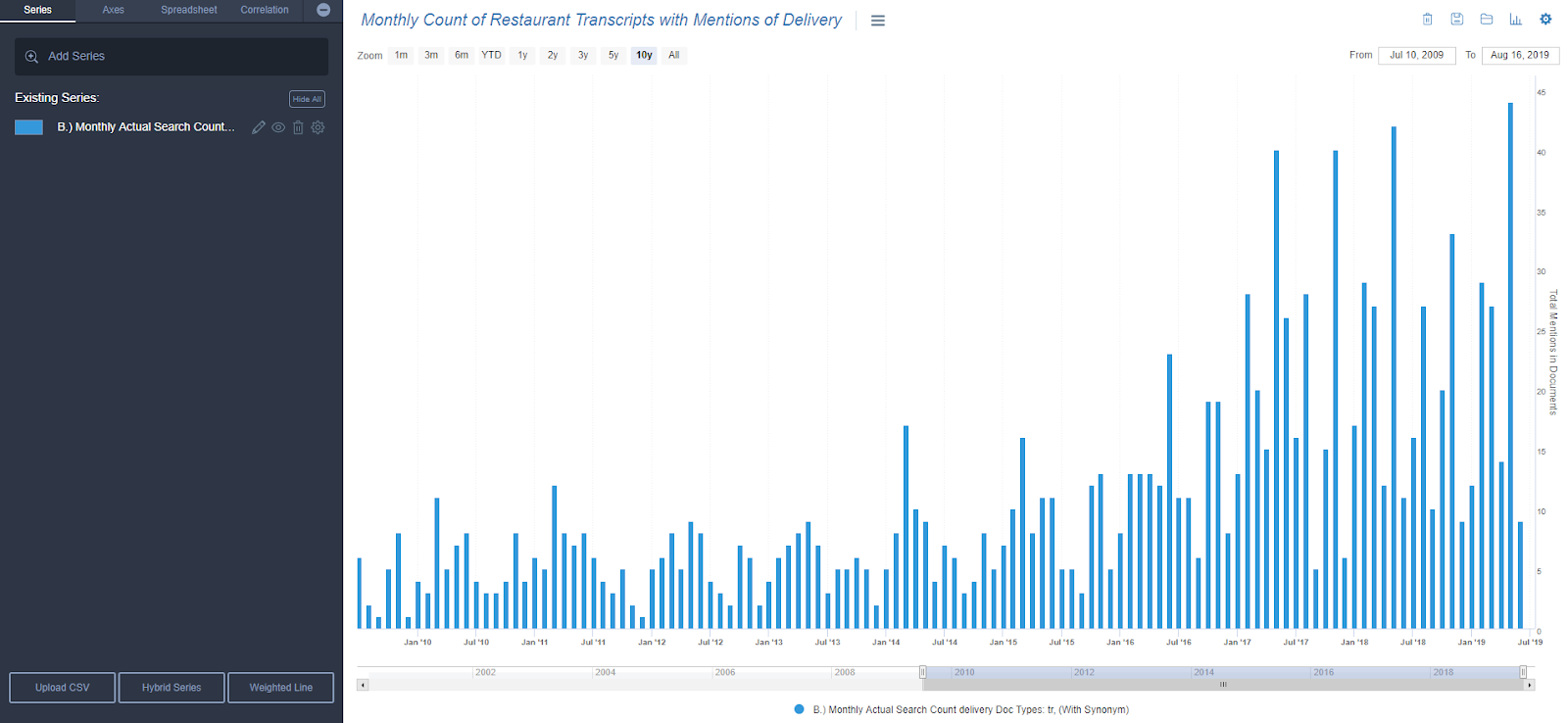 Company-Specific KPIs
In some cases, investors and industry analysts give more weight on KPIs and KPI trends. Sentieo Plotter has company-specific KPIs that can help users "paint a picture" of the underlying business trends. 
In this example, we have pulled KPIs (comparable store sales) for five casual dining stocks, and have done an unweighted average for our "custom index" to see what is going on in this segment of the industry.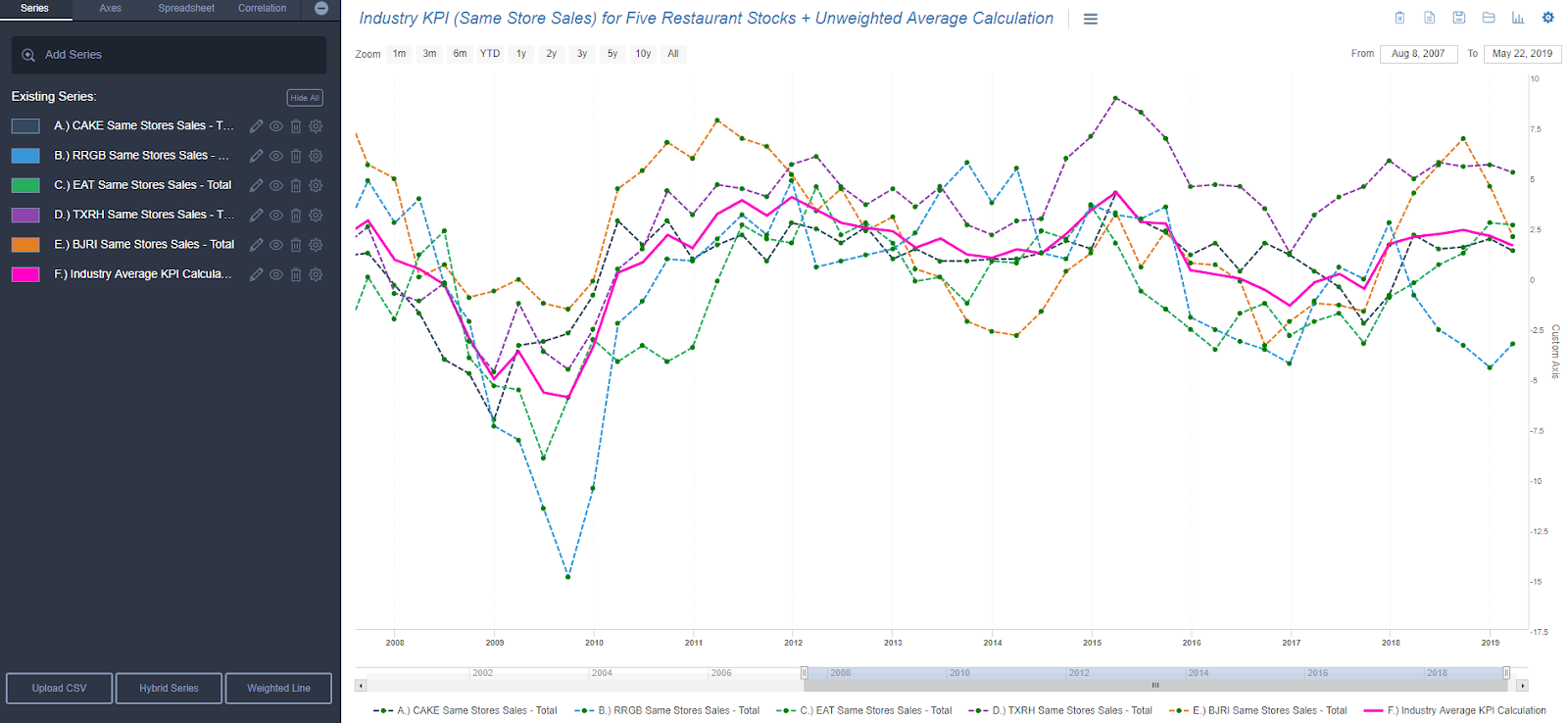 Custom KPIs
Not all KPIs that an analyst might find relevant are available through legacy standardized data providers, but are disclosed in company filings. Sentieo's Plotter is integrated with Sentieo's machine learning-based Table Explorer tool, which identifies and chains past tables in SEC filings. 
For example, here we are pulling Royal Caribbean Cruises' APCD (Available Passenger Cruise Days) in a few clicks into Plotter.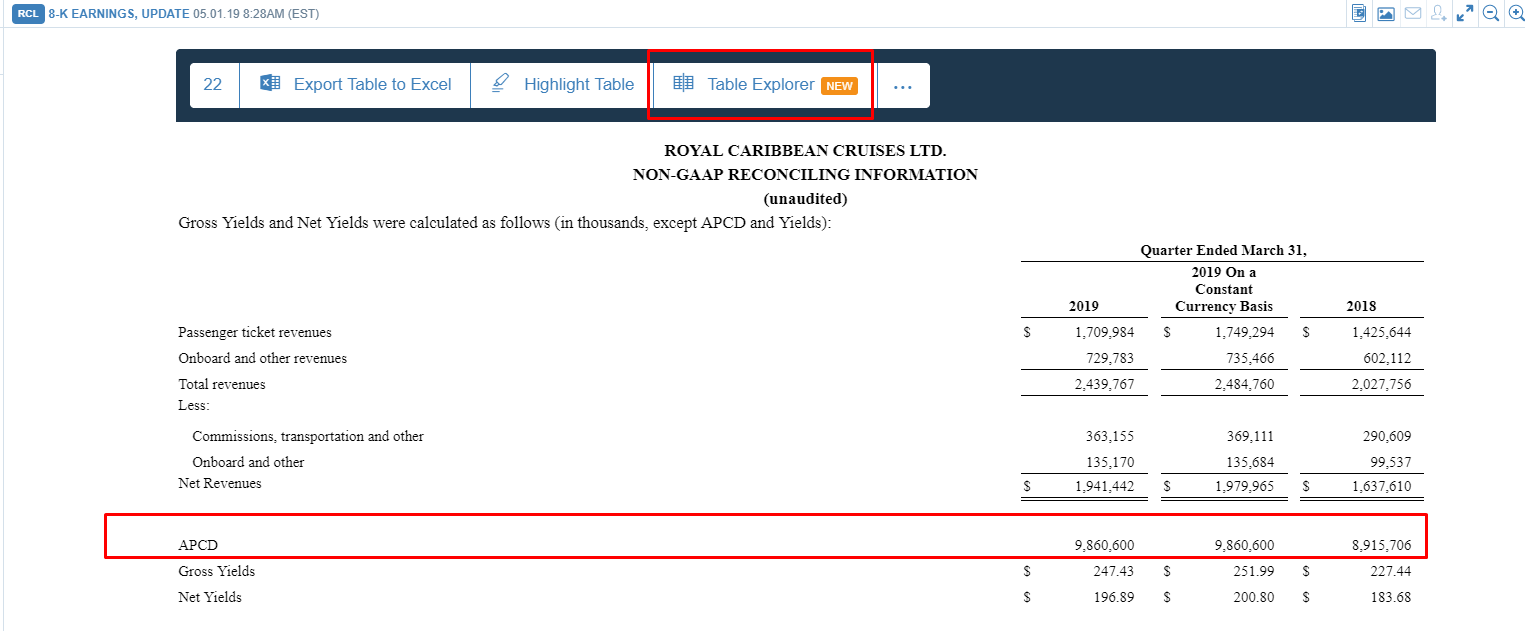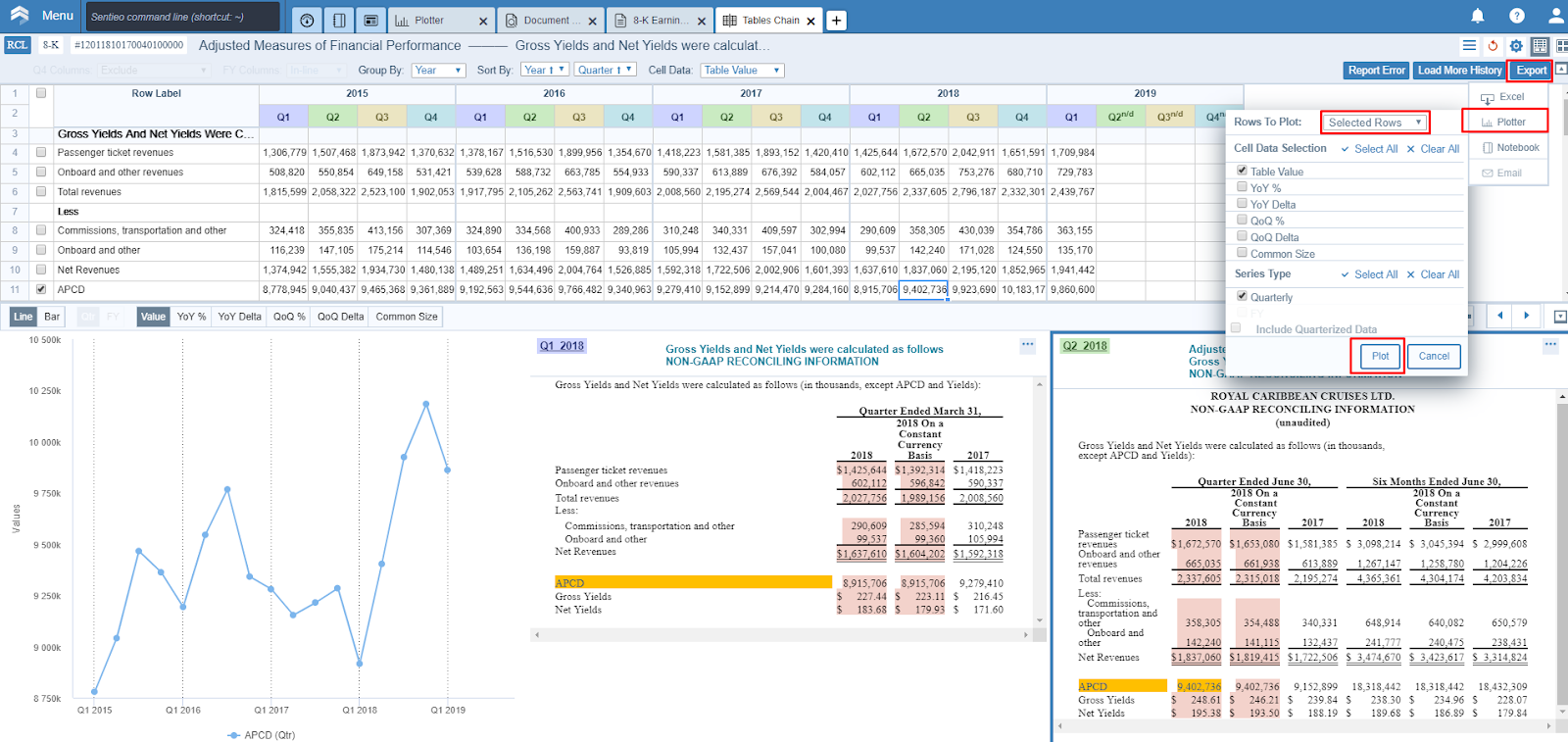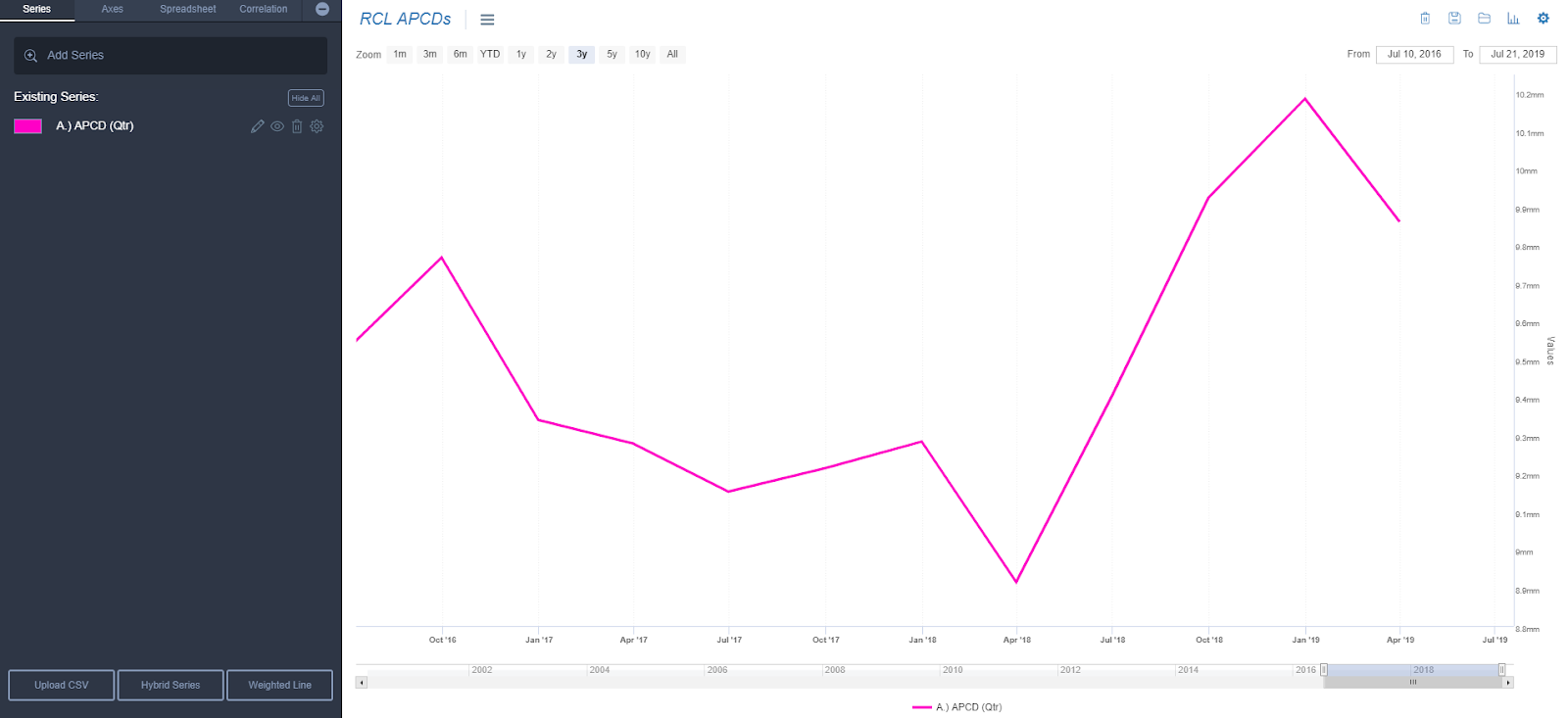 Linguistic Sentiment
Sentieo uses NLP (Natural Language Processing) for analyzing quarterly transcripts (management and analyst sentiment + spread between the two, along with keyword surfacing for both groups). These sentiment metrics can also be pulled into Plotter. For example, here we are looking at Tesla's management sentiment reaching a high point when reported sales growth reached its highest point (summer of 2018, when the company started filling its backlog).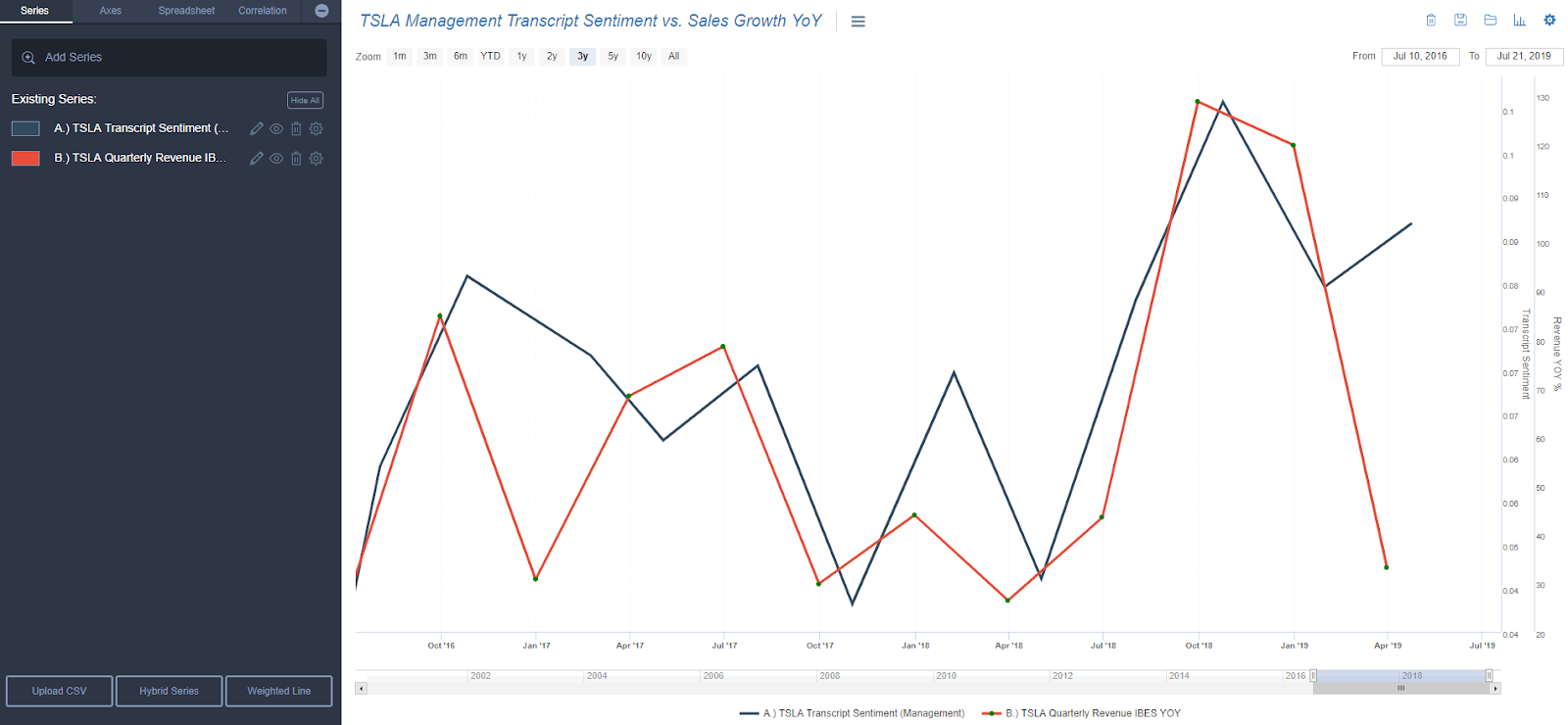 Your own data sets
Sentieo Plotter enhances your workflow, efficiency and visualization capabilities with two other very useful functions: uploading your own data in CSV format and giving you the ability to save generated data sets for quick recall in other Plotters so that you can re-use your IP. 
What we have seen is that some Sentieo clients upload their own proprietary data to combine with and visualize against what Plotter already has. Other clients like using publicly available but obscure data sets, such as very niche US Census data or BLS statistics.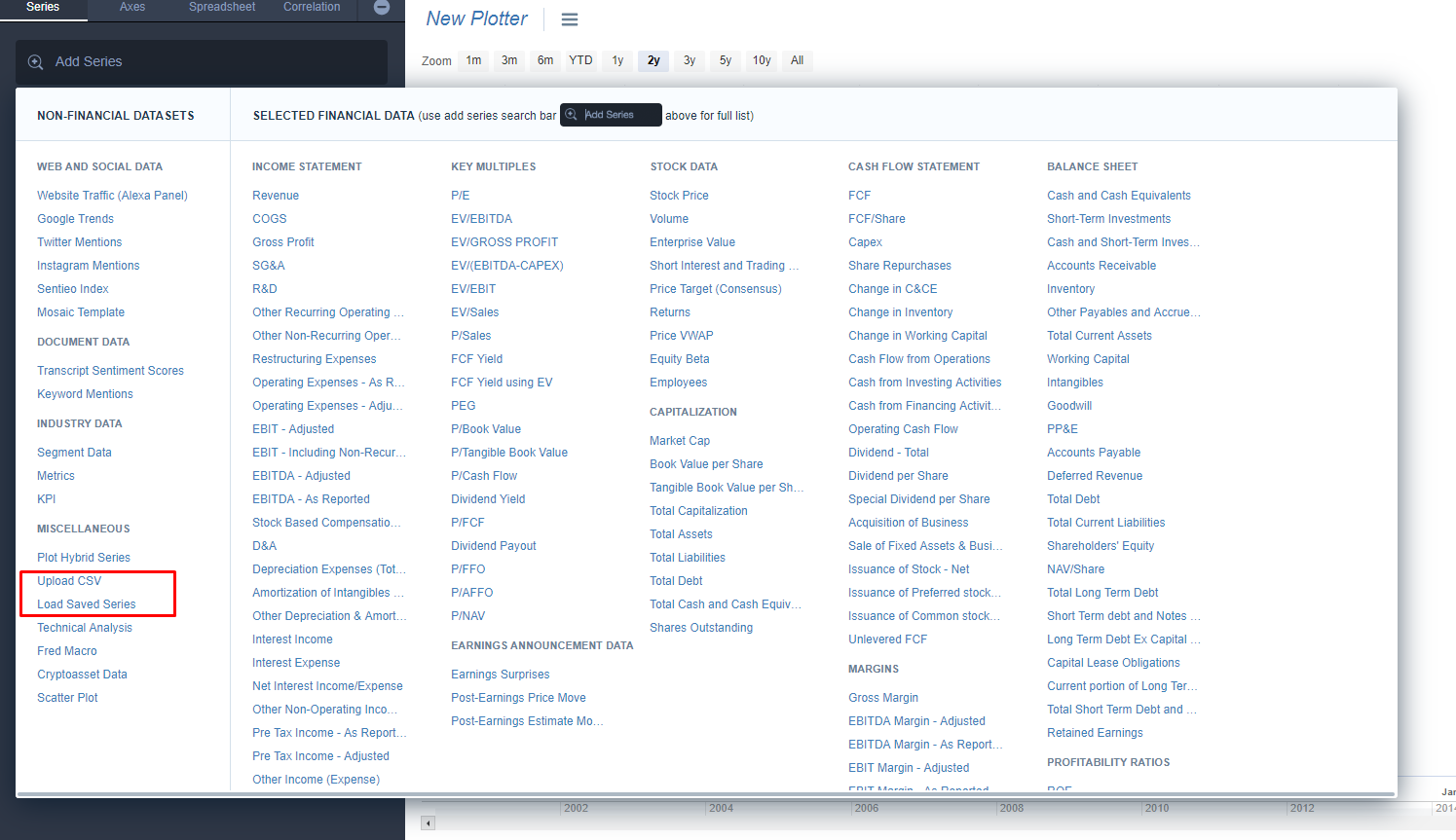 Sentieo can do a lot more than just data visualization. Please get in touch to request a demo.