Oilfield services provider Halliburton (NYSE:HAL) is the first installment in this week's Smart Summary™ showcase. We are applying our newly released machine learning-based tool to improve our own reading while saving time. Below, we will highlight how we picked out the critical pieces of information on the call in just a handful of minutes. 
If you haven't read this feature's announcement post, here's a recap. Smart Summary™ is a one-click application of machine learning that "slices" transcripts in several ways. One of these slices is a broad Classification, like "Guidance" or "KPIs. (See 1 below).
The second slice (2) is based off NLP-powered sentiment (green and red labels). The third application is based on surfaced Key Terms: products, brands, and geographies (3). The fourth and most innovative application is the removal of the chronological flow all together; sentences are sorted in a table view mode, and can be ranked by "signal strength."(4) 
(1) (2) This is what the clickable Classifications look like for HAL's transcript: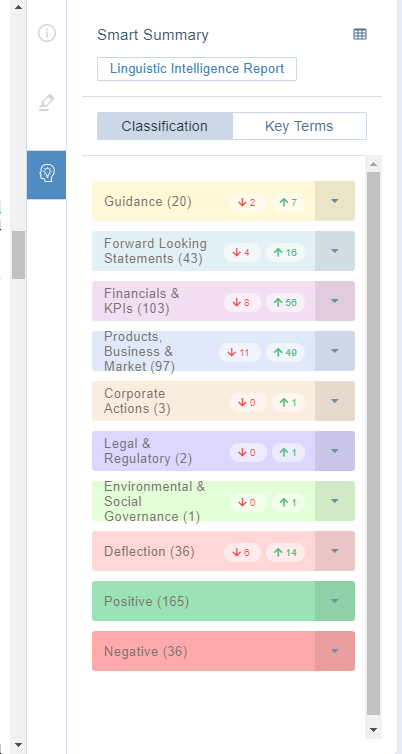 (3) Top NLP-surfaced Key Terms are clickable as well.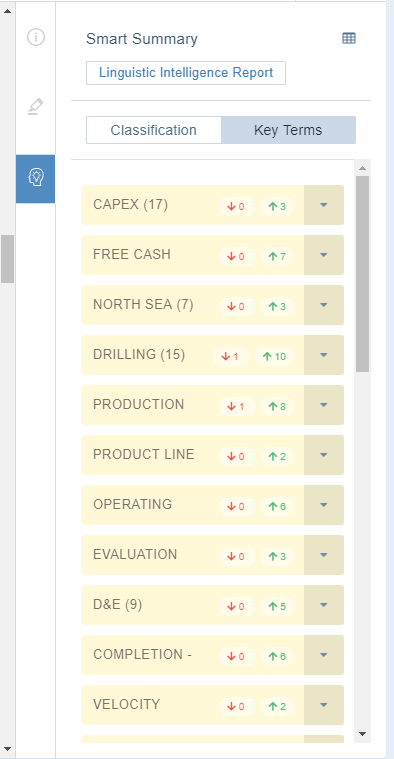 (4) Clicking the Table Icon in the upper right will open the sortable sentence Table View. (Click on image to zoom in).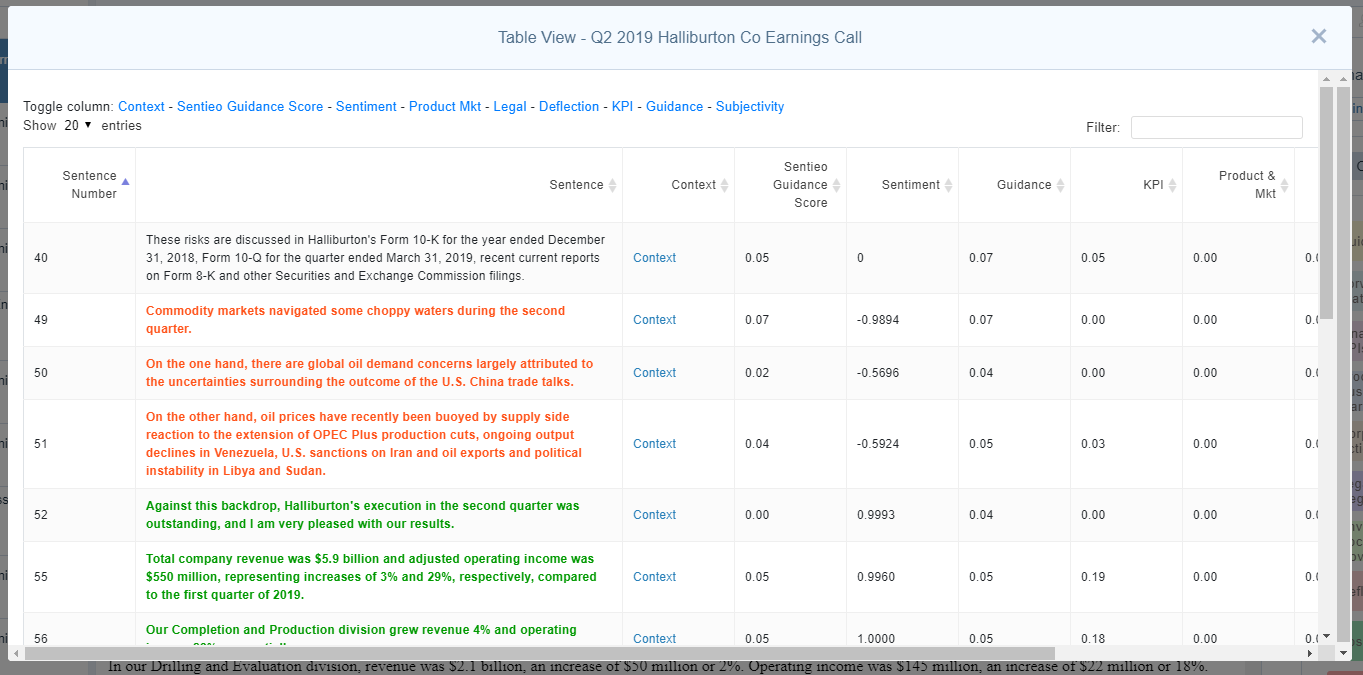 With this in mind, here is what we are seeing as key pieces of information in HAL's transcript.
Free Cash Flow has been and will continue to be positive. This is really good news given the FCF challenges in the energy industry:
Directly related to FCF, HAL is cutting back on capex and is focusing on margins:




Increased activity in several regions led revenue growth in the quarter, while the overall outlook is optimistic: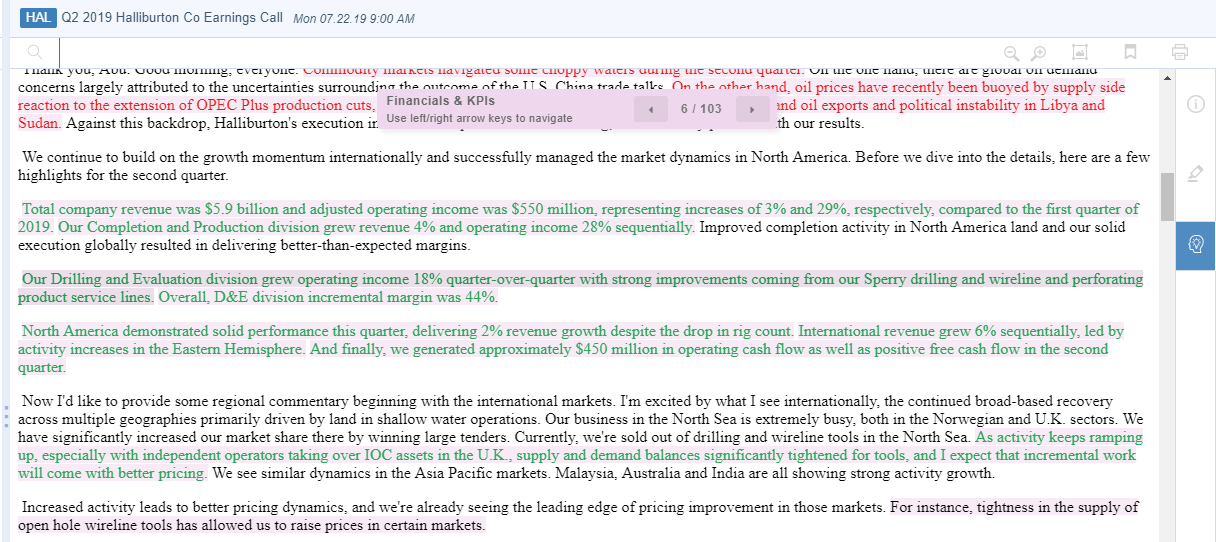 Switching from the full transcript view to the summary view for the Guidance classification, we see the summary at the end of the call: guarded optimism and focus on margins and capex.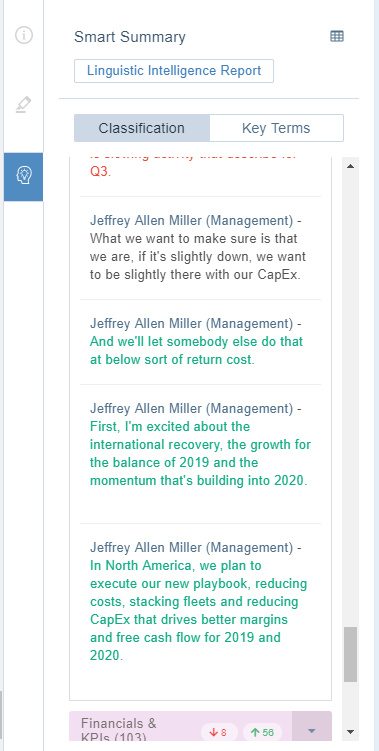 We complete the final review of the transcript using Table View: the non-chronological way to extract information from transcripts. We can see how key sentences on the topics highlighted above are picked up by NLP. Readers can sort sentences along several categories. 
In terms of Guidance "loading," we see Free Cash Flow ranked highly multiple times: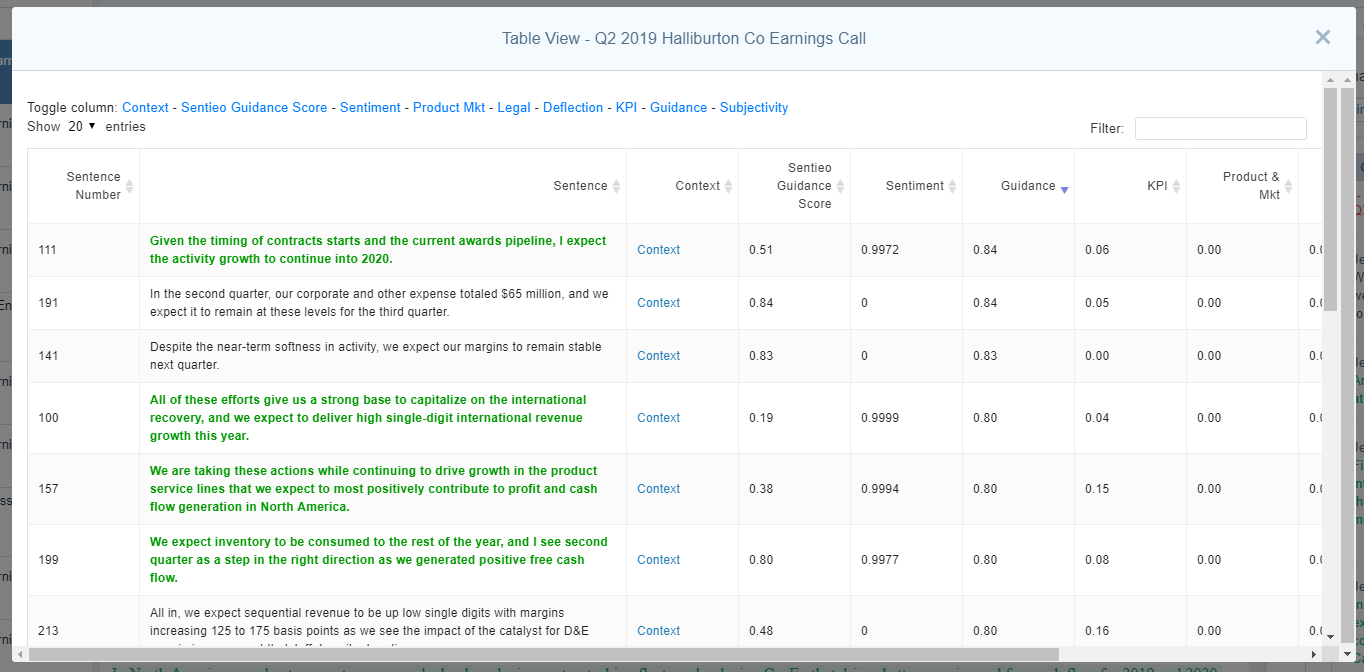 Ranked purely on sentiment, we can see that the overall business did well in the quarter across several geographies: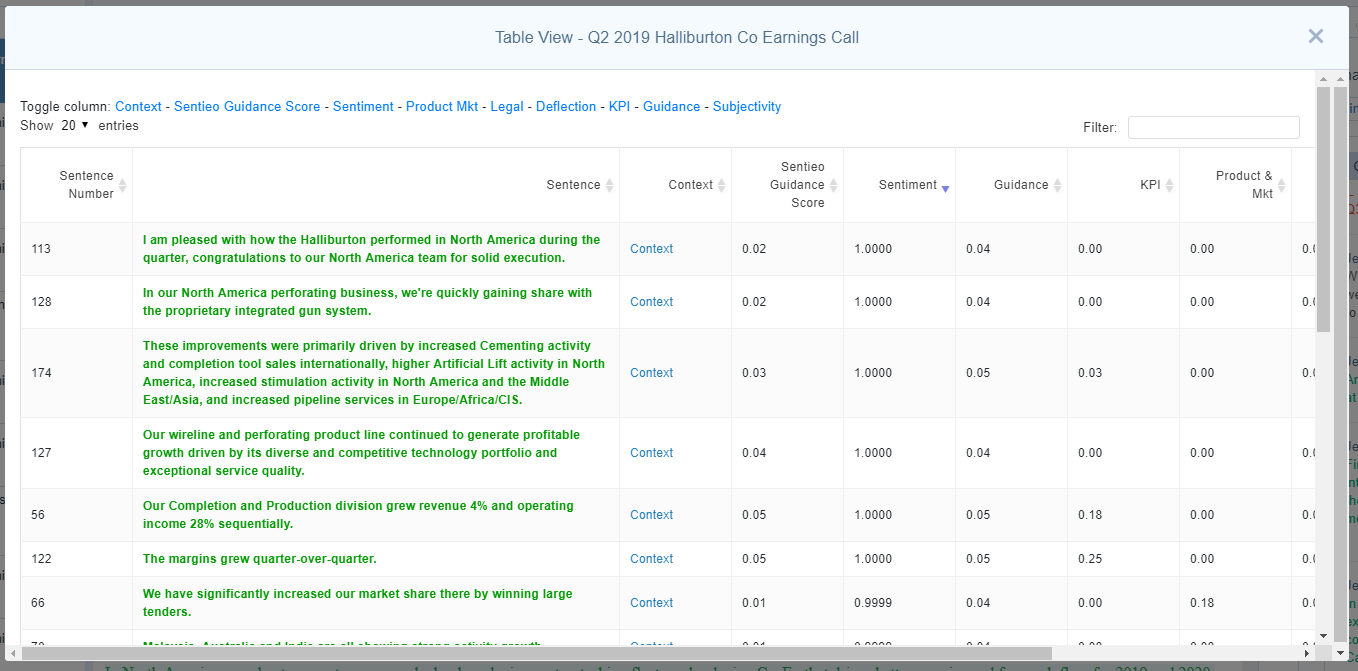 Ranking for Products and Markets, we see new product discussions as well as the pricing signals.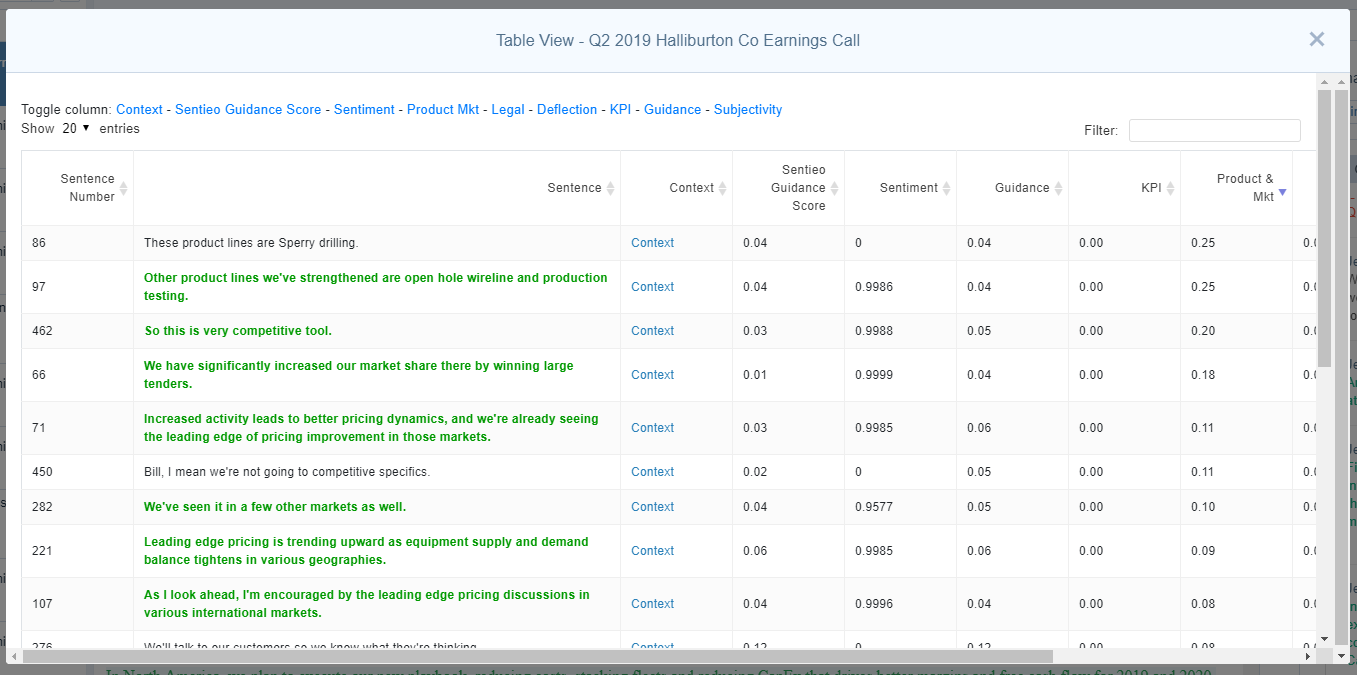 Investors can also easily pick up the negatives in the results and in the outlook: large legacy frac fleet, soft pricing seen by competitors, some segments might see revenue declines.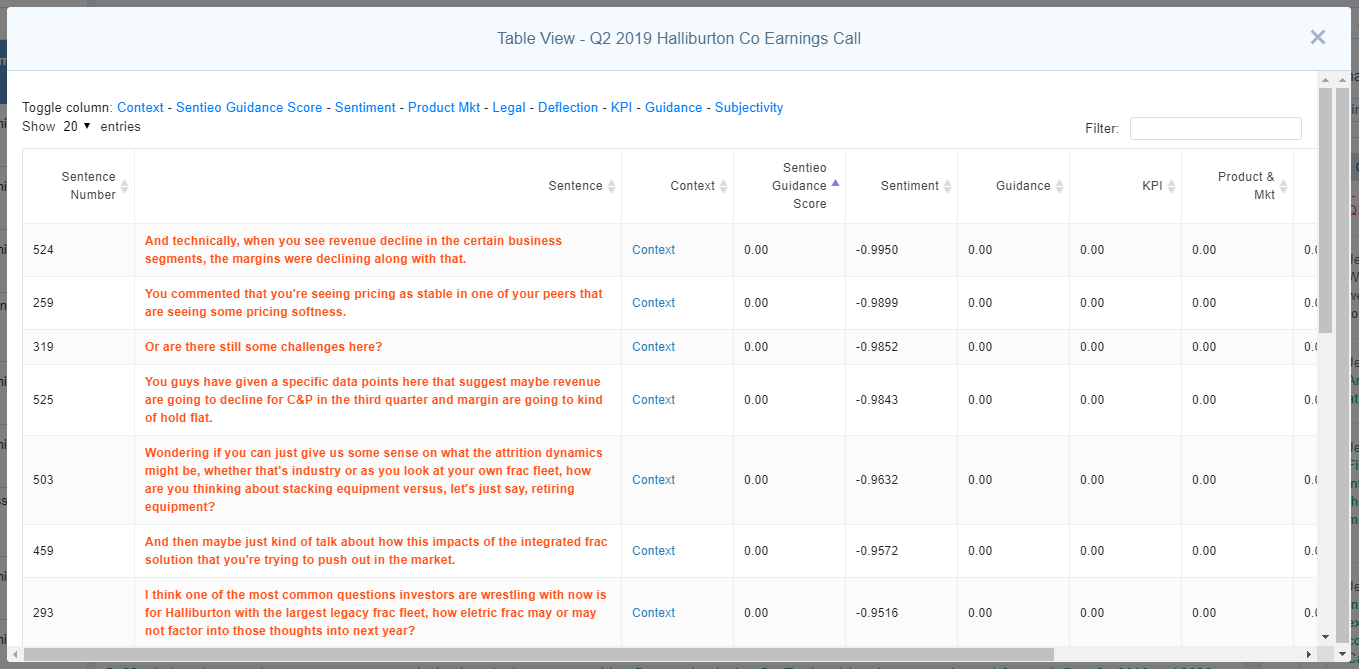 Reading non-chronologically does not mean reading out of context. Simply click on the Context link to see the phrase within context.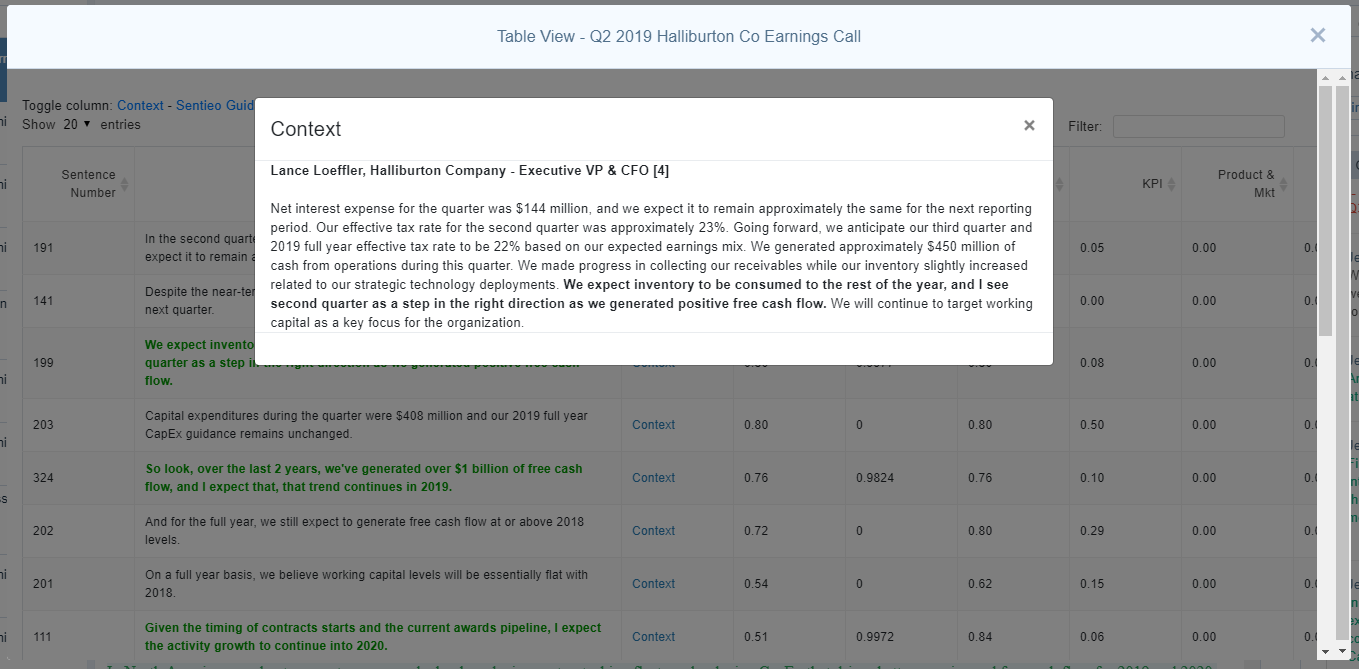 The Table View is also available for the NLP-surfaced Key Terms. In one glance we can see whether these terms are used more or less quarter-over-quarter, and by whom (analysts vs. management). We see how prominently "North America," "capex," and "Free Cash Flow" are featured. An added time-saving convenience is that these Key Terms are click-through: clicking on one will search all HAL transcripts for that term, so you can get immediate historical context in seconds.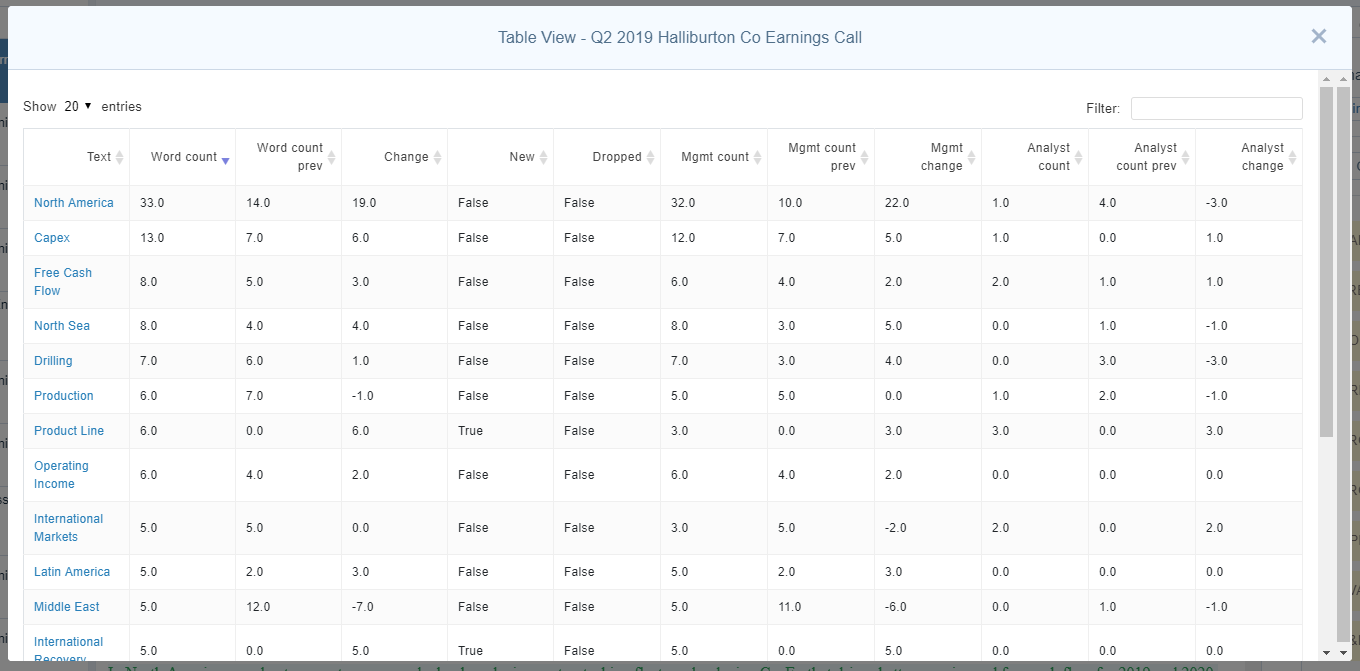 Here we have clicked on Capex, and we can see highlights in the most recent transcript: note how Sentieo's synonym search picks up various forms of the term.
To learn more about how using the latest ML-based tools can help you and your team be more productive, please get in touch with us.