After last week's release of Sentieo's machine learning-based Smart Summary™ for transcripts, this week we will be highlighting exactly how to use this powerful new feature to ensure that you don't miss important information this earnings season, and that you also save time.  
The Smart Summary™ tool classifies a document's language based on several categories such as Guidance, KPIs, and company-specific key terms (like product names) into a convenient, time-saving format. Further, it applies an NLP sentiment filter to highlight positive and negative language. 
Smart Summary™ is the latest machine learning and natural language processing-based tool released by Sentieo this year. We've also released a dynamic synonym suggestions feature for Document Search based on our own, internal synonym search tool. Additionally, we added company-specific autocomplete suggestions to our search. And earlier this year, we rolled out Table Explorer, a flexible and auditable tool that identifies, chains and visualizes tables in SEC filings. 
During the next few days, we will be selecting and publishing our highlights from current transcripts to show how effective Smart Summary™ can be in your research workflow. (Stay tuned).
For example, if we look at the transcript from the Goldman Sachs call last week (below), we can pick up essential corporate and macro information (color-coded as needed), under the Financials and KPIs classification. Scrolling down in the Smart Summary™, we see record assets under supervision: good news in green, versus slower Chinese GDP growth in red, a couple of paragraphs down. The full context is right there as well.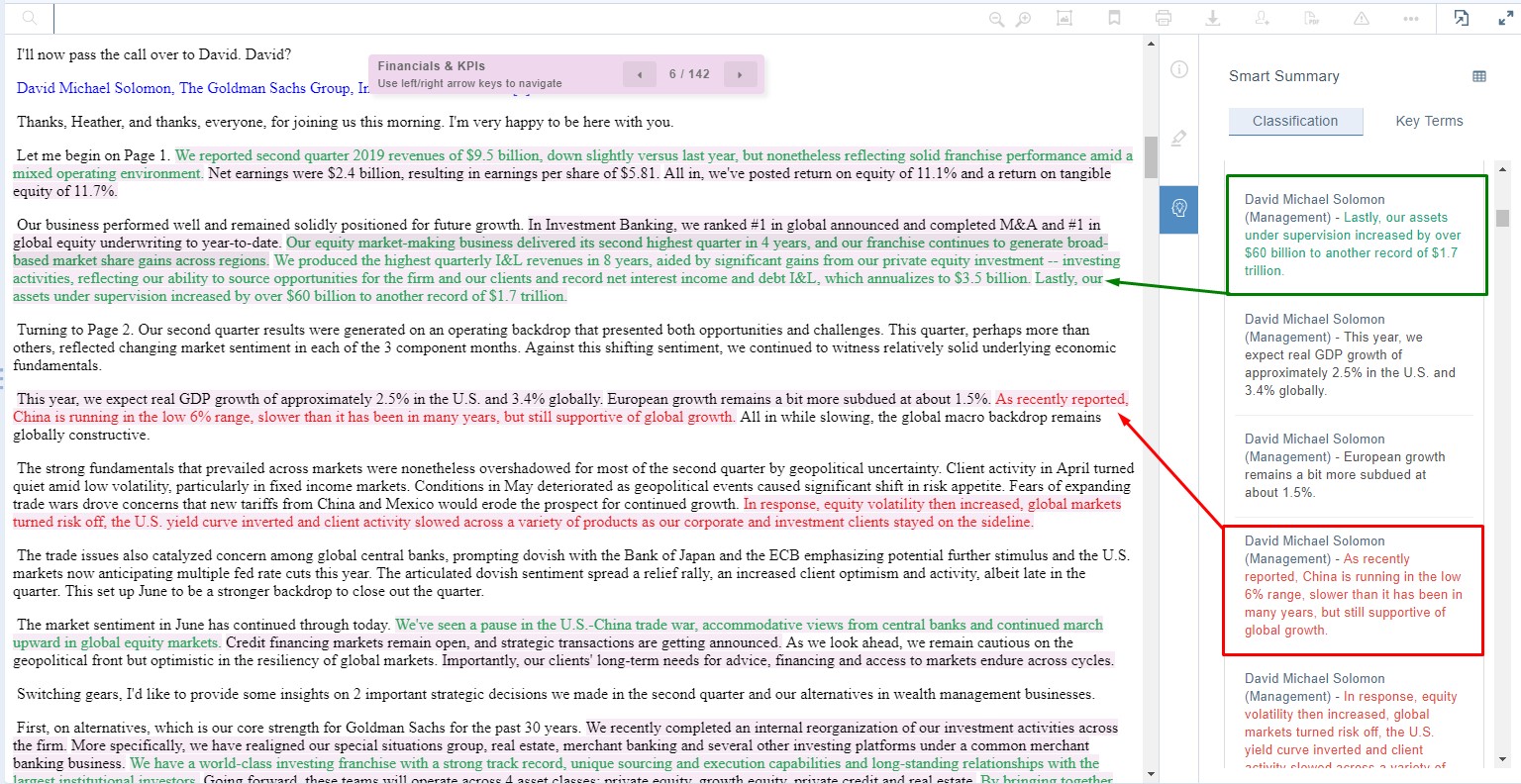 In addition to viewing by Classification group, users can quickly scroll through all positive and negative highlights, regardless of Classification.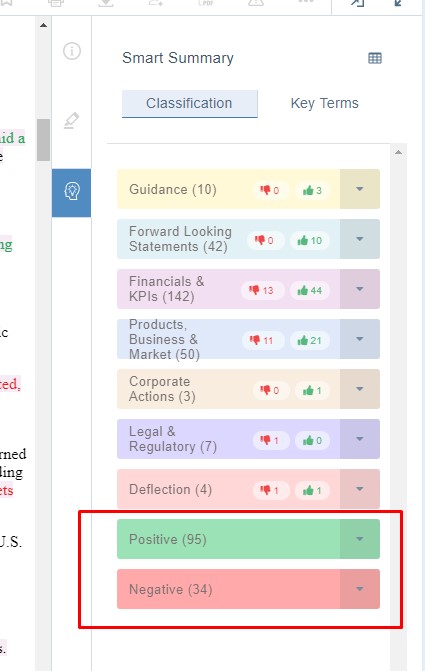 In the Key Terms field, we catch up on Marcus, Goldman's growing consumer banking franchise. We can see a mix of positive and neutral statements.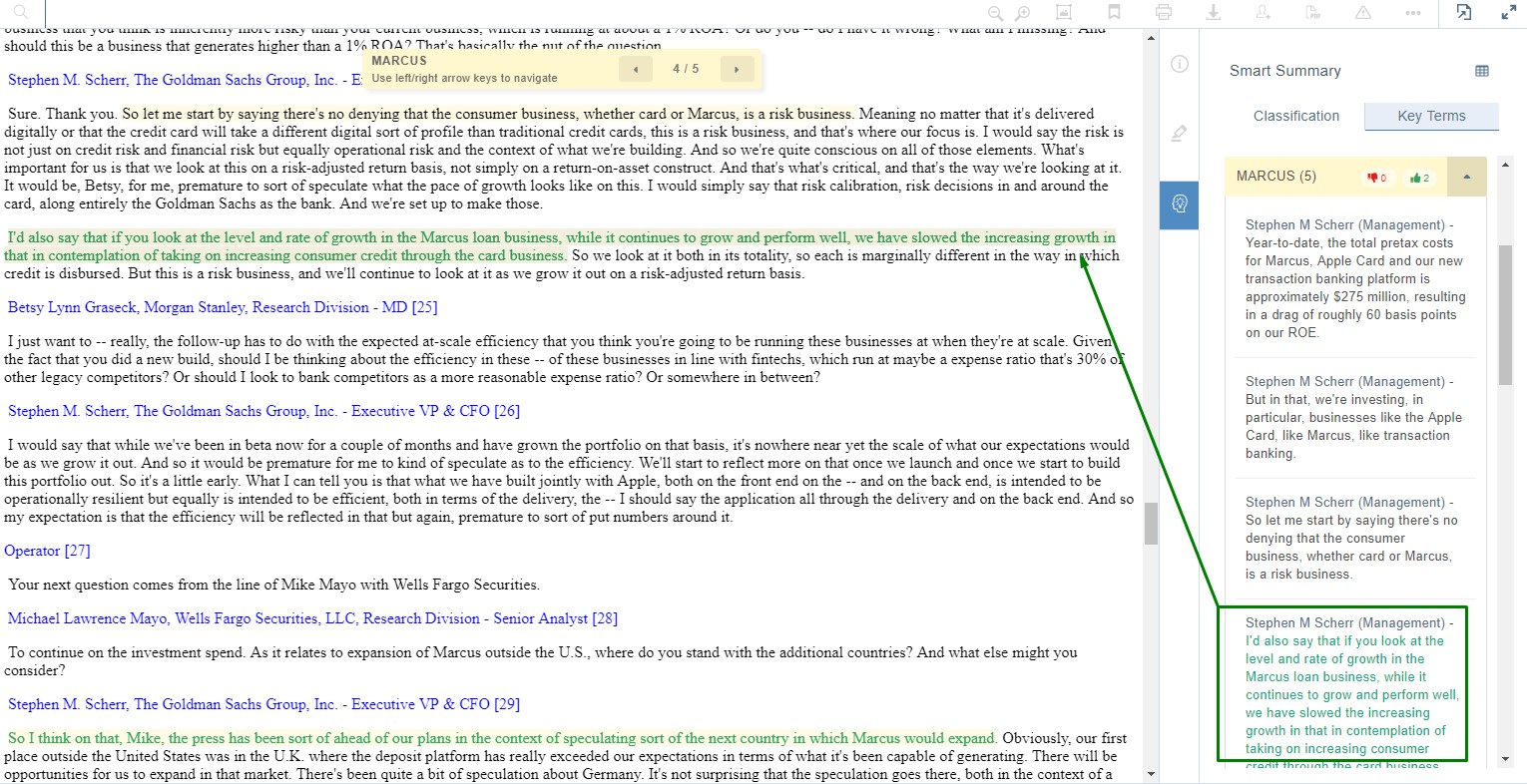 For the next few days, the blog will be highlighting exactly how we're applying this powerful new functionality. To try it yourself, please get in touch.