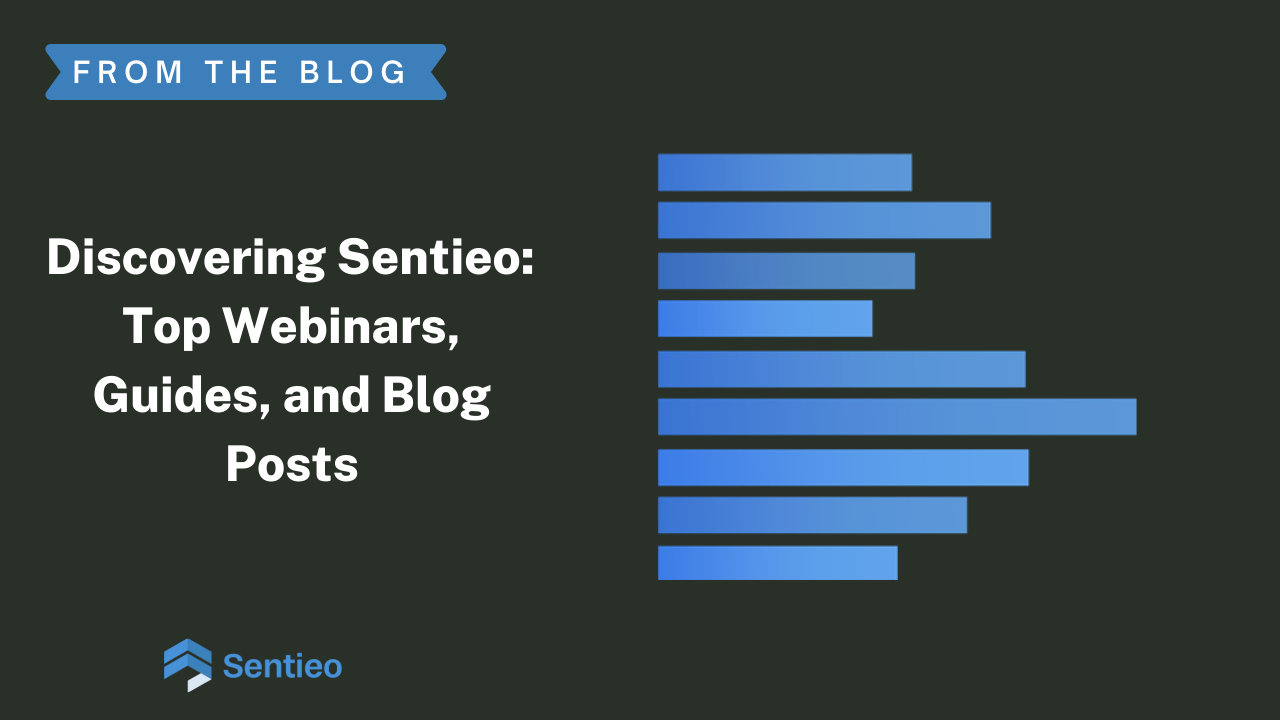 "I did not know you could do that in Sentieo" is something we hear quite often from the users of our award-winning research platform, from advanced search, to complex screening and data visualizations. To address this frequent feedback, we decided to share some of our top webinars, guides, and blog posts in one place below. 
On Demand Webinars 
"Liberate yourself from Ctrl-F" (Part 2) – the Advanced user version of our Document Search webinar continues to be very popular with existing clients. We go over more advanced functions, such as document section searches, speaker searches, footnote searches, combining multiple Boolean operators, dynamic synonym suggestions, workflows around watchlists, qualitative factors, document trends, NLP heatmaps, NLP topics, redlining, table chaining and visualization, and more. 
"Advanced data visualization" – another Advanced version of our module-focused webinars, this webinar focuses on Sentieo's data visualization engine Plotter. We go over advanced hybrid series such as rolling correlations, sector-level relative valuation and profit pool analysis, dashboard templates, benchmarking visualizations, and more. 
"Sentieo for ESG Research"– in this webinar, we go over how the full platform can be used specifically for ESG research, and ESG research management. We go over advanced queries, available ESG document sets, ESG-specific dashboards and visualizations. We also discuss the need for proper research management: from templates for notes from management meetings to proxy voting records to dashboards, version control, and auditability. 
Guides
 A New Approach to ESG Research Integration– this guide is designed to help institutional investors explore a new, integrated approach to ESG research management that can overcome the challenges and maximize the opportunities of ESG investing.
Gaining Competitive Advantage with Investment Research Through the Use of Artificial Intelligence and Other Technologies– this guide from Harvard Business Review Analytic Services looks at the direct applications of modern technologies in the research process, from tackling unstructured data to holistic workflow strategies. 
A New Generation of Research Management Systems– this Celent Briefing note goes over the must-haves in modern research management systems. Creating, systematizing, searching, and protecting internally-generated IP is a common problem for all knowledge-heavy organizations. 
Financial Data Visualization and Analysis Guide– in this guide, we go over a range of financial data visualizations and analyses in Sentieo's data visualization engine Plotter. Every example has an embedded in-pdf video for a direct "how to" demonstration. 
Blog Posts
8 Ways to Integrate ESG Research for UN PRI Compliance (March 2021) – the increasing importance of the PRI initiative is evidenced by both the growth in signatories and AUM. In this blog post, our head product specialist goes over some of the ways our clients integrate ESG into their workflow inside the Sentieo research platform. 
Sentieo Platform Integrations Facilitate Enterprise Deployments (May 2021) – extensive integrations are a must for any research platform looking to unite internal and external IP alongside existing productivity tools like Slack and Outlook. In this blog, we go over some of the existing platform integrations currently deployed by our 1,100+ institutional and corporate clients. 
Freight Woes Threaten The Holiday Shopping Season (September 2021) – while the port congestion problems are headline news now, we saw the dire retailer inventory levels in the data back in August using our platform to analyze the sector. See the sector-level analysis and visualizations, and more.
Using AI to Find the Key Themes This Earnings Season: Office REITs Hurt by Slow Return to the Office (November 2020) – the " great return to the office" has had several false starts globally. In this blog, we use Sentieo's NLP applications to see what is happening in the sector, from section redlining heatmaps to transcript topic classifications across peers. 
To stay up to date on everything happening with Sentieo, follow us on LinkedIn, Twitter, and YouTube.