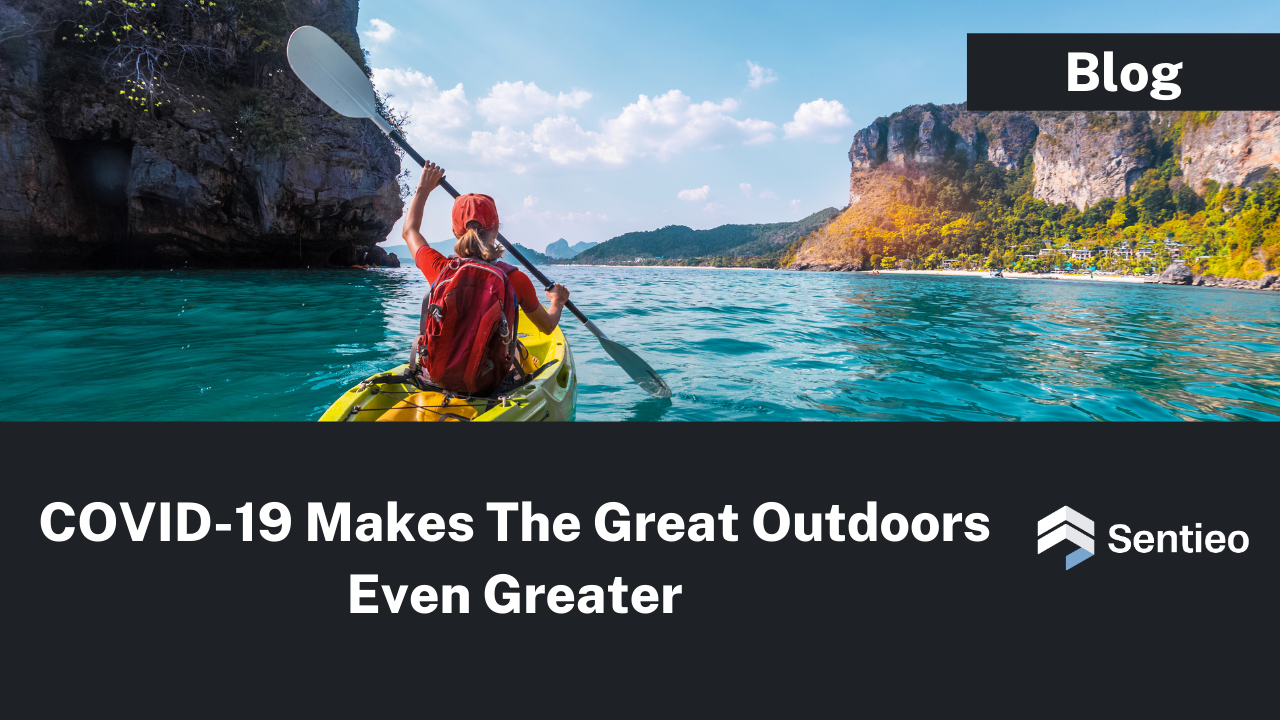 From pools and decks to RVs and camping, the pandemic is driving people outside for recreation, and the companies that serve these niches are thriving.
We first started seeing the trend in search interest: searches for RVs, swimming pools and camping in May were eclipsing their prior seasonal highs.
The search interest has translated into strong business for companies serving these segments. We have seen enviable stock price performance and positive comments from these companies' management teams during the second quarter calls, a relative rarity amidst the deep recession that resulted in a 32.9% annualized GDP contraction in Q2 2020. Below we can see the YTD performance for Camping World (RVs), Trex (decks), Big Five (sporting goods retail), and Yeti (cooler chests and similar products).
We also got a lot of great comments for a number of CEOs on most recent earnings conference calls. No long-distance travel, no gyms, social distancing and few other recreation opportunities fuel the demand for everything outdoors: from hiking shoes to kayaks to RVs.
Here are some quotes that we liked:
Peter Arvan, CEO of Pool Corporation commented on the double-digit increase in sales to individual customers:
"…retail sales were up 22% for the quarter and 20% year-to-date. Strong demand for swimming pool maintenance supplies, above-ground pools, spas and automatic pool cleaners drove most of this increase. "
"A lot of people believe that a swimming pool is the best way for a safe family recreation activity that will be long-lasting."
Matthew Reintjes, CEO of YETI Holdings also commented on double-digit sales increases in their outdoor-oriented business, such as their famous eponymously-branded coolers:
"Demand across the Coolers & Equipment family was up 18% year-over-year as customers look to YETI to support their focus on outdoor pursuits."
Marcus Lemonis, CEO of RV dealer Camping World Holdings, sees multi-year runway from RVs in the United States:
" It is estimated that approximately 11 million households in the U.S. own an RV. And as more people experience the outdoors, we believe there is an opportunity for significant growth in this number. We feel that this growth is more likely today than ever based on the number of first-time buyers we see showing an interest in entering the RV and outdoor lifestyle, and we believe our company and its wide array of products and services would be a significant beneficiary of this potential growth."
Timothy Cofer, CEO of Central Garden & Pet Company, marketer of fertilizers and pet products, saw gardening boom during the quarantine:
"In terms of COVID related impacts, the garden industry is clearly benefiting from consumer spending more time at home and turning to garden products to beautify their lawn and gardens and make being outdoors even more enjoyable. This drove increased consumption among existing consumers and attracted new users into the category, a benefit that we believe will extend into the future. This is similar to what we've seen in prior recessionary environments where consumers find themselves spending more time at home and enjoying their lawn and gardens."
Golfing is doing well, too. David Maher, CEO of Acushnet Holdings, parent of the Titleist brand, commented on the increased interest in the sport in an era of social distancing:
"…golfers were making a full return to the sport, taking advantage of golf's outdoor field of play and embedded ease of social distancing. In recent months, we have seen strong demand fuel U.S. rounds of play increases of 6% in May and 14% in June as the golf community, PGA professionals, golf retailers, course owners and superintendents have excelled at safely welcoming golfers back to the game and accommodating increased interest in the sport."
Footwear company Wolverine World Wide saw strong demand for its hiking brand Merrell. Blake Krueger, the company's CEO, told investors in early August:
"Merrell.com grew approximately 140% during the quarter while nearly tripling new customer acquisition year-over-year. The brand effectively engaged consumers digitally with significant increases in video views and social engagement, driven by highly relevant stories and product celebrating the power and benefits of the outdoors. The combination of compelling new product in the hiking, trail running, outdoor and at home casual categories and strong customer engagement helped generate robust online demand. "
Composite deck material maker Trex's CEO Bryan Fairbanks is very positive on the "outdoor living" category:
"Our sales growth reflected both the strength of the fast-growing outdoor living category and the high demand for Trex decking and railing products."
Helen Johnson-Leipold, CEO of Johnson Outdoors, sees their kayaks helping people get much-needed space and tranquility:
"Participation in fishing has always been high. It's even higher now because on-the-water recreation affords people the space and tranquility they want right now. Innovation is our lifeblood and continues to play a key role in drawing both seasoned anglers and new anglers to Johnson Outdoors for great fishing experience. A great example is the new Old Town Sportsman line of fishing kayaks in watercraft recreation."
Coleman and Marmot brand parent Newell Brands' CEO Ravichandra Saligram saw a sales resurgence in June and July in stoves, grills and tents:
"On a brighter note, as lockdowns began to lift, we experienced a resurgence in U.S. POS growth beginning in June, which has continued into July. The camping category, including stoves, grills, tents and shelters have seen strong growth. "
Boat maker Brunswick Corporation's CEO David Foulkes also sees social distancing driving interest in outdoor activities:
"…we anticipate favorable boat usage trends to continue as people look to remain active outdoors in a socially distancing setting."
Big 5 Sporting Goods' CEO Steven Miller commented on the strength in outdoor recreation driving their strong performance:
"And as travel plans are being replaced with vacations and other family activities, people are increasingly looking for ways to recreate locally and outdoors. These customers are attracted to our broad selection of outdoor and recreation products."