The rise of "mattress in a box" startups like Casper, Tuft and Needle, and Leesa is gaining steam and has potential to up-end traditional mattress businesses. This threat has been discussed for some time — the red bars in the chart below show document mentions of Casper, Tuft and Needle and Leesa in documents tagged to legacy mattress companies. Legacy companies' stock prices peaked just as document mentions of the non-traditional players became more prevalent.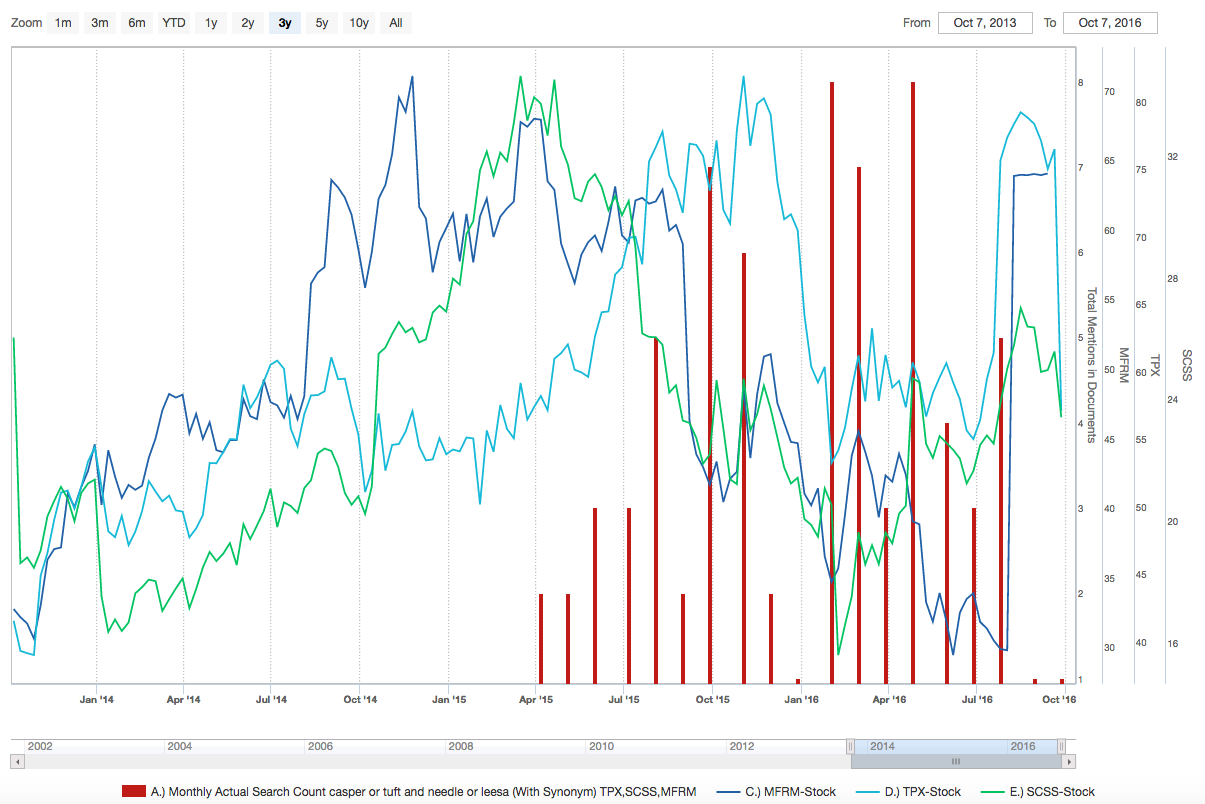 $TPX in particularly is reacting poorly to yesterday's revised guidance from expected low-single-digits (LSD) revenue growth expectations to LSD declines. While management attributed part of the revision to shifts in promotional and advertising strategies, we cannot ignore the effect that upstarts like Casper, Tuft and Needle, and Leesa are already having on the business. Just look at the chart below in which we compare website traffic of the various players. The dashed yellow line is combined traffic to casper.com, tuftandneedle.com, and leesa.com, while the dashed teal line is combined website traffic to traditional mattress players.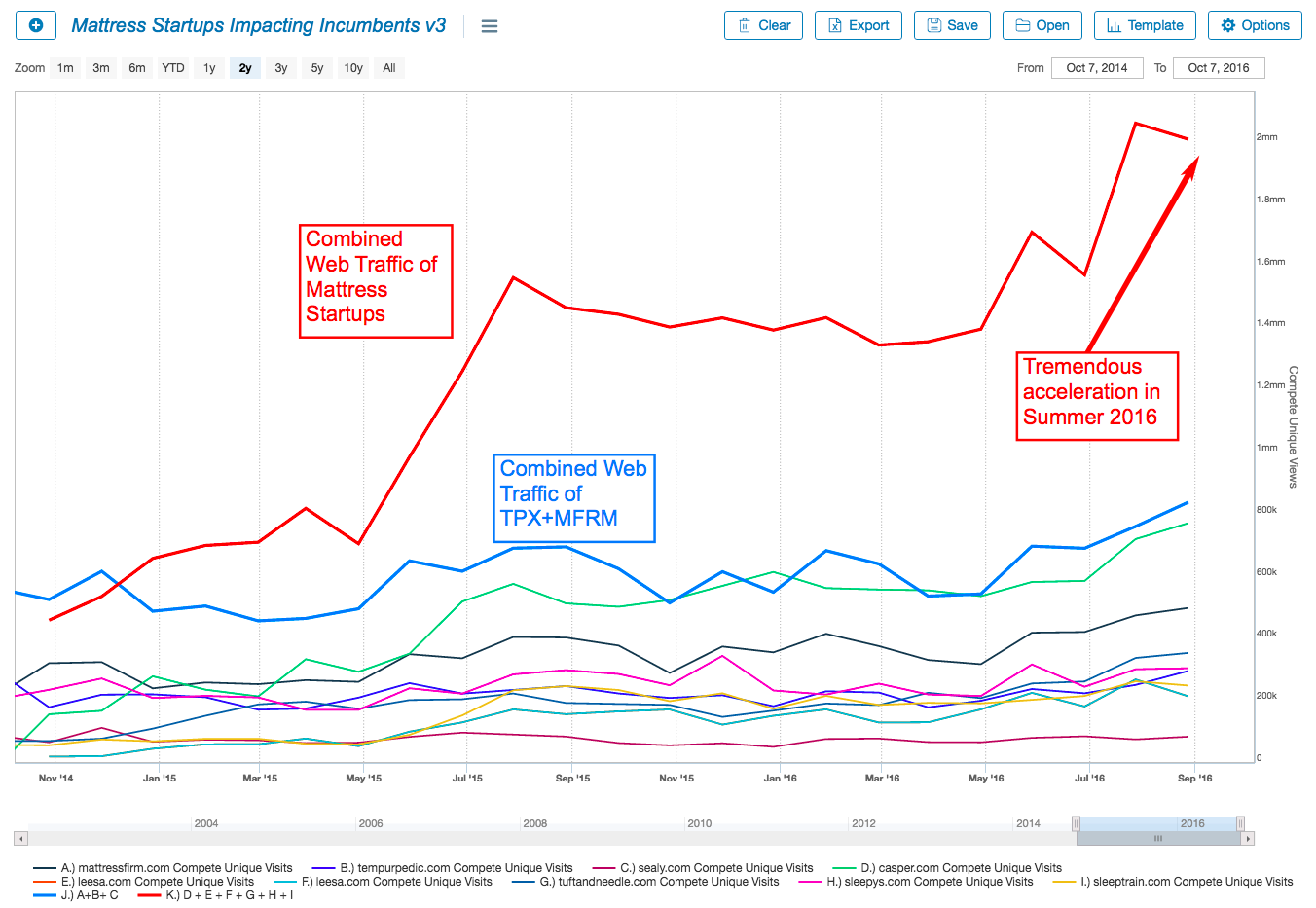 Of course, we don't think that bed-in-a-box startups were the sole cause of the magnitude of the guide-down yesterday. Part of it was self-inflicted due to the extreme bullishness of Scott Thompson from the 2Q16 call (Thompson is rounding out his first year as Chairman and CEO of $TPX), and some was due to shifts around marketing strategy and key customer risk. We were able to track falloffs in major $TPX brands in realtime using our premium Mosaic product.  We think this chart for Posturepedic is particularly compelling: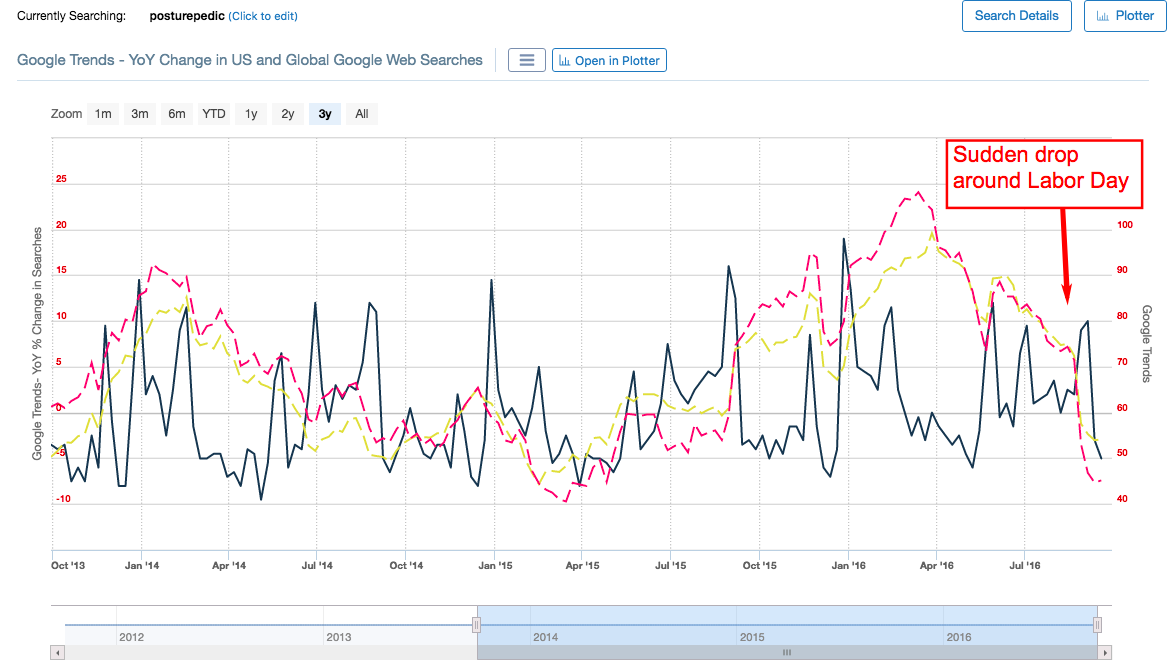 For the moment, $TPX seems largely unconcerned with many of its online competitors.  Using Document Search, we searched through $TPX's filings for mentions of competitors.  An appendix to a 2016 TPX employment contract (snt.io/4c2FVuQfD) lists "competitive enterprises of the company and its affiliates".  Some online competitors like Leesa are not mentioned specifically in the document.  It will be interesting to see if $TPX has been overly complacent about its online competitors, which may be disrupting the industry.
E-commerce initially gained consumer acceptance in the book industry, with Amazon.  Since then, e-commerce has grown massively and reached many other industries, adversely impacting most types of retailers including big box stores like Best Buy and Wal-Mart.  Now, mattress retailers – who are oriented towards providing consumers with an in-store sales experience – are feeling the latest pinch.  It will be interesting to see how they, and even bigger box retailers such as Home Depot and Lowe's, deal with the next phase of the digital lawnmower.