Following Consensus Trades worked in 2013 and 2014, and started to lose some money in 2015. After running the numbers, we were shocked to see this developing consensus underperformance trend accelerate by 1270bps for 2016.
We analyzed Thomson Reuters' I/B/E/S dataset and looked at instances where analysts were unanimously bullish or bearish on a stock.  It turns out that analysts recommendations correlated strongly with share price performance.  However, there was one tiny caveat: the buys dramatically underperformed the sells in 2016.  The unanimous buys were up 4.5% while the unanimous sells were up 20.7% so a market neutral consensus portfolio lost ~16.2% last year.  It turns out that 2016 was a year where betting against the analyst herd paid off!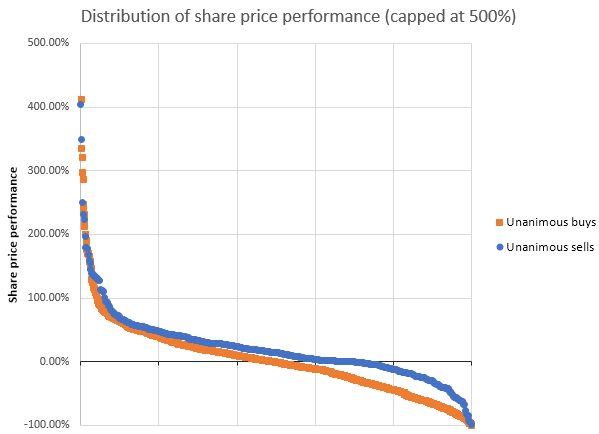 One major factor behind the underperformance was the bullishness surrounding small-cap development-stage pharma stocks.  For healthcare stocks (which were mostly small-cap pharma names in our cohorts), the number of consensus buys outnumbered the sells by a factor of 13.7X versus a baseline rate of 2.24X.