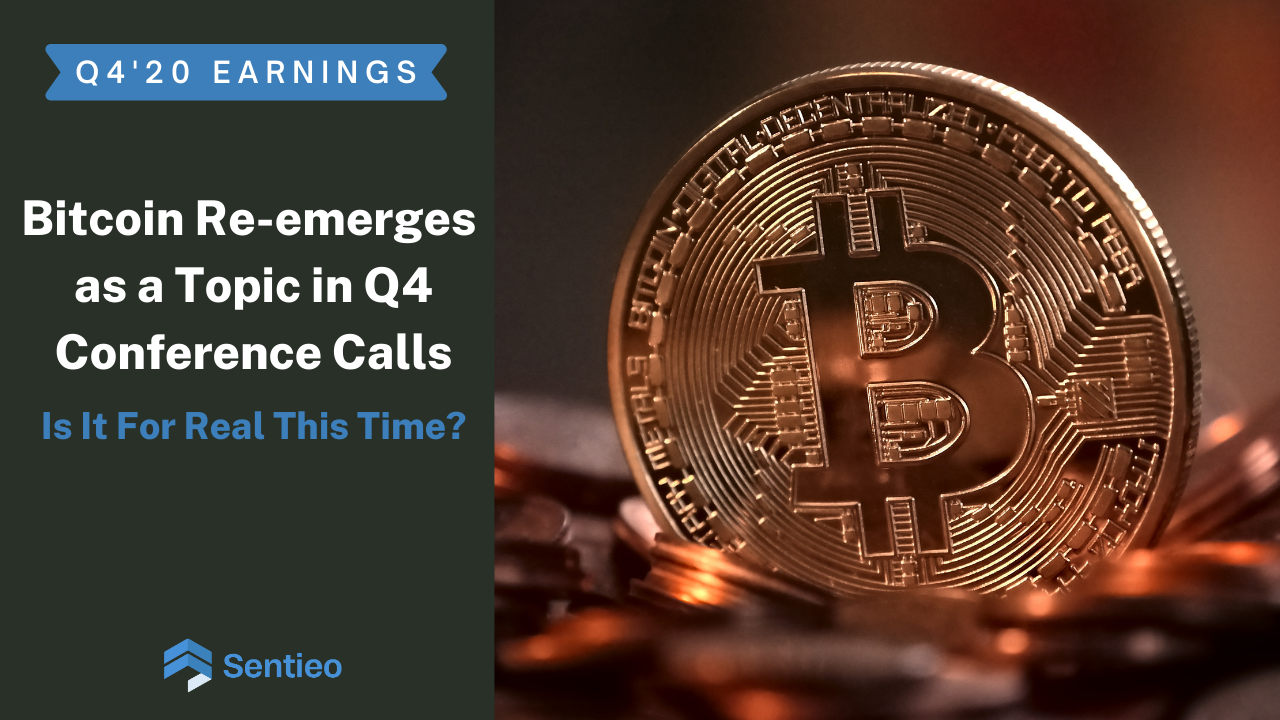 With the dominant cryptocurrency making new all time highs recently, it came back as a topic across a number of conference calls this earnings season. But we are seeing a broader level of comfort compared to the previous spike in 2017/2018, including purchases by well-followed companies like Tesla, as well as product comments from ETF manager Wisdom Tree (whose ETP product trades in Germany as the SEC has not yet green-lighted a U.S.-based ETP) and CME Group, where the bitcoin futures contracts trade.
What happened?
We are still below from where we were in terms of the number of transcripts (monthly counts) that mention "bitcoin" versus the prior period of enthusiasm during the 2016-2018 price run-up (the red line below is the BTC price).
We are also not seeing a big change in the composition of the companies discussing bitcoin.
In our database, we see 284 transcripts with mentions of bitcoin during the "peak" 2017-2018 period. But only 52, or around 18%, of these are from companies with (current) market capitalizations of over $50 billion.
This is roughly comparable to the proportion for the last 6 months, we see 15 transcripts from the large ($50 bn+) capitalization companies, versus 78 overall, or around 19%.
But here is something that is very different from the prior surge: "nobody" talks about "blockchain" the underlying technology, any more. This indicates to us that the current surge in interest is heavily focused on the use of bitcoin as a currency.
Bitcoin presents an interesting conundrum for corporations and investors alike.
On one hand, the market in H2 2020 handily rewarded the pioneer in corporate bitcoin purchases Microstrategy (Nasdaq: MSTR), a 30-year old software company. Its market capitalization went from under $2 bn to as high as $12 bn, closely following the rise of bitcoin itself.
Tesla's recent move into BTC also made headlines: unlike MSTR, TSLA is not controlled by its founder/CEO, and is in the S&P 500 index. This is likely paving the way for future "household name" corporate adoptions as well as recent announcements around custody capabilities by some of the largest players in the space.
But the interest (and reward) in indirect bitcoin plays is also probably partially due to the lack of a direct US-traded exchange traded product. We have seen very persistent premiums to NAV (Net Asset Value) for GBTC, a Closed End Fund holding BTC but without the standard ETP creation/redemption mechanism (in the chart below, we are estimating the GBTC NAV by multiplying BTC by the BTC/share amount of 0.00094898, and then subtracting it from the GBTC price). The most up-to-date premium/discount data is available on the GBTC website.
The accounting for a "regular" corporation holding BTC is fluid (we are quite certainly not accountants nor are we lawyers, so this is not advice: but do read this overview in CFO Magazine). While the article suggests that BTC is an indefinite-life intangible (so "no mark-ups"), the SEC says whether a crypto is a security "depends" while the IRS says it is "property."
Stepping back, we do wonder if it makes sense to "hodl" BTC if investors can do that relatively easily, and if BTC is a suitable treasury asset in terms of volatility: bitcoin did suffer a ~50% drawdown in March 2020 during the COVID selloff, and a ~75% drawdown during the 2018-2019 decline.
We will leave you with a handful of selected comments from the recent calls.
Visa is positioning itself as the intermediary between cryptos and "the real world".
GM, unlike fellow automarket Tesla, has no plans "full stop".
CME has added Ether to its crypto futures products.
WETF is seeing inflows in its ETP mentioned above.
The early adopter MSTR is going all in.
If you have any questions about the Sentieo platform or would like to set up a free trial, please get in touch.