In our May post on $WFM we concluded that meal-kit subscription services like Blue Apron, HelloFresh, and Plated were eating (at least some of) $WFM's lunch and that the company would see a significant drag on comps over the next few quarters. Last night, management mentioned the emerging threat of these meal-kit services in its Q3 earnings call.
In an excerpt from the call below, John Mackey spoke of meal kits in a competitive light, being advantaged by convenience…

..and mentioned the potential to enter the space: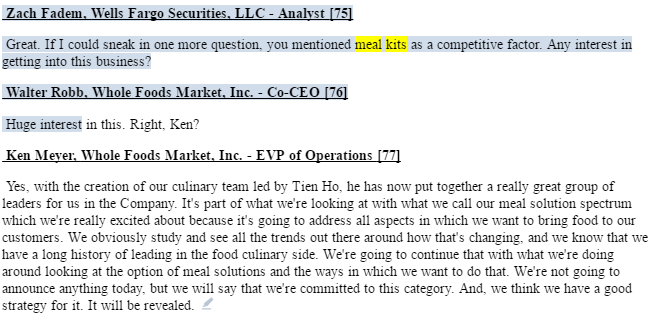 In our last piece, we argued that we could see a base case comp drag of 1-1.5%, and that analyst expectations for a return to positive comps in calendar Q1 were ambitious given the rapid rise of subscription meal services. This is already coming to fruition with WFM missing comps by 40bps and posting a -2.4% qtd comp, with guidance assuming that to continue. With analysts expecting a return to comp growth in calendar Q1 (black line below) and with the stock trading >20x P/E, we still think there is material downside.