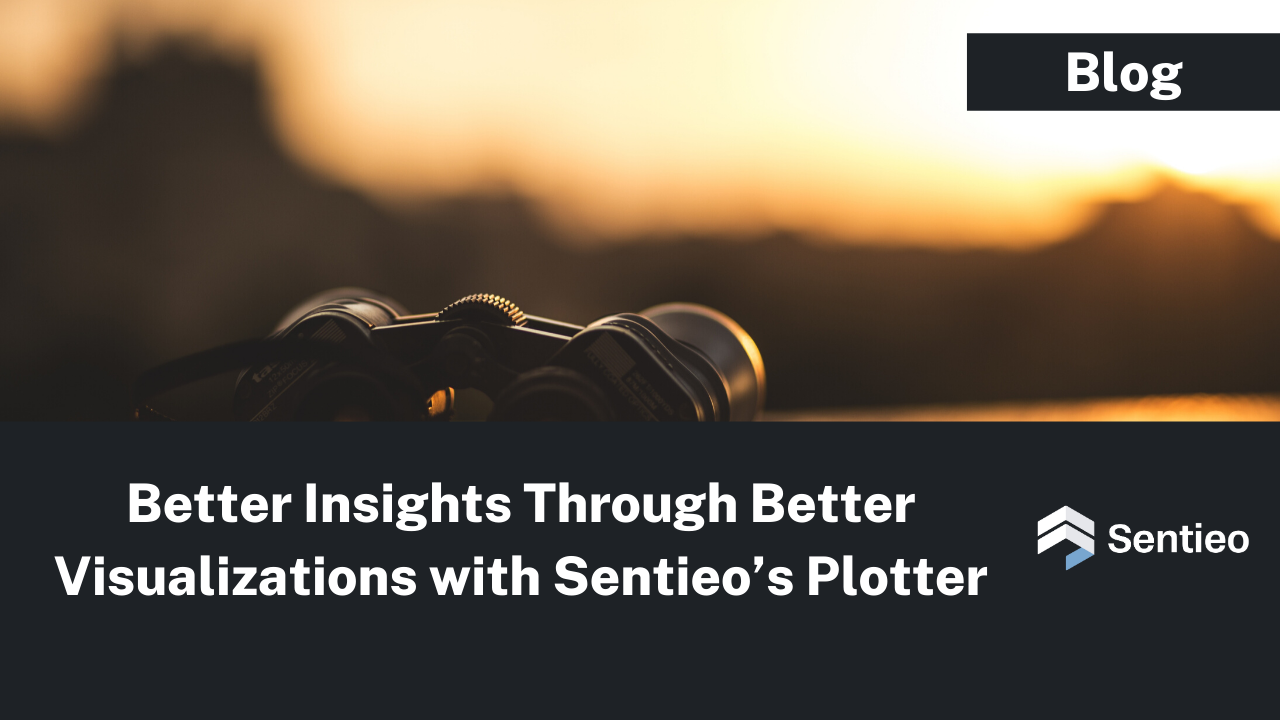 We all know that a picture is worth a thousand words. Sentieo's powerful data visualization module Plotter can help users craft insightful and compelling visuals by combining thousands of financial and non-financial data sets for a complete picture.
In this blog post, we will showcase some basic and advanced functionalities of the Plotter module. You can save your work, share it publicly and internally, and add it to your notes and full theses in our integrated research management system. The charts can also be displayed in our flexible dashboards (you can view our dashboards webinar here). Individual data sets, like quarterly revenue, can be called for single or multiple tickers at once, as well as for entire watchlists. In the example below, we are looking at the individual and aggregate revenues (in red) for the big three US-traded cruise lines: RCL, CCL and NCLH. We can see both the seasonality and the current rebound consensus expectations. You can view the interactive chart here: http://snt.io/eUFKXKNNM
Using the same data, we can quickly plot the relative revenue market shares for the three players by simply dividing the individual revenues by the total industry revenue. Interactive chart: http://snt.io/eDFKXL7Lb

Since cruise lines were hit hard by Covid-19, we can plot the aggregate industry market capitalization against search interest for Covid. Year-to-date, the industry aggregate market cap has gone from $80 billion to $20 billion. What is more interesting is that the market reacted negatively to the initial spike in search interest back in late January and the market capitalization did not recover (unlike the broader equity market that made all time highs in March). Interactive chart: http://snt.io/S5FKXM9cF

Using our Twitter Data integration, we can plot cruise line mentions on Twitter to monitor social media activity. We frequently use Twitter data to benchmark discrete events (like the buzz around the QSR chicken sandwich wars last fall). In this chart, we created a 30-day moving average aggregate (the dotted fuchsia line) for the mentions of the major cruise line brands. Interactive chart: http://snt.io/6GFKXNuFe

Cruise lines are a part of the broader consumer discretionary sector. We can use our industry leading Document Search to visualise linguistic data (here, Consumer Discretionary sector transcripts, monthly count, that mention "liquidity") combined with one of the "financial conditions" indexes through our FRED macroeconomic data integration. We can see that liquidity is front and center for corporates, coinciding with the macro index spike. Interactive chart: http://snt.io/ASFKXQGrT

While Consumer Discretionary names have been negatively affected by covid, certain Consumer Staples names have thrived.

We recently used our machine learning- and natural language processing-based Transcript Smart Summary to highlight the positive sentiment and business growth at The Clorox Company. "Everyone" knows that the Clorox stock has done well: but with Plotter, we can see that Clorox's valuation against that of its S&P 500 Household and Personal Care (HPC) peers has expanded considerably, and this has coincided with the alternative data strength for Clorox's brands (based on our multivariate regression index).

In this chart, we plot the rolling next twelve months (NTM) P/Es for P&G, Kimberly Clark, Colgate and Church & Dwight. With our easy market cap weighted average, we created our own HPC aggregate NTM P/E. We then calculated the ratio of Clorox's NTM PE vs. the HPC peer basket, and overlaid the strong Sentieo alternative data index on top. We can see the major gain in relative valuation by Clorox as the covid crisis unfolded. Interactive chart: http://snt.io/7LFKXXNUW

Using the same basket of S&P 500 HPC names (PG, CLX, CL, KMB and CHD, equal-weighted) as longs, against a SPY short, we can see that the whole sector has done well. This has been very tightly related to the earlier spike in equity volatility (using the VIX index from our FRED integration) as a proxy. Interactive chart: http://snt.io/E9FKXZFxg
Sentieo's Plotter works with your own data sets too, either through an easy CSV upload or through our machine learning-based table identification and chaining tool Table Explorer.

In this simple example, we have chained a decade of Chipotle's comparable restaurant sales in our Table Explorer.

We then exported this KPI from Table Explorer to Plotter where we overlaid CMG's quarterly EBIT margin with long-term mean, and CMG's year-over-year change in stock price. Interactive chart: http://snt.io/YCFKXY7gU
Working with "external" CSV data files is also easy. In the example below, in two clicks, we uploaded a CSV with daily gold volatility data. We then added the price of the major gold ETP GLD, and the relative price performance of GLD to the major S&P 500 ETF SPY. We can see that prior periods of gold price volatility have led to relative outperformance for gold against the S&P 500. Interactive chart: http://snt.io/3nFKXYwMC

Interested in learning more about other parts of the Sentieo platform? Get in touch with us for a custom demo.