We are huge fans of Tim Westergren, who wrote the textbook on scrappy startups having founded and led Pandora through the tech implosion of the early 2000s. Doing everything to keep Pandora alive, from convincing employees to defer salaries, to maxing out personal credit cards, Tim's vision of a Music Genome Project (US Patent 7,003,515) ultimately proved immensely valuable. But that was a decade ago.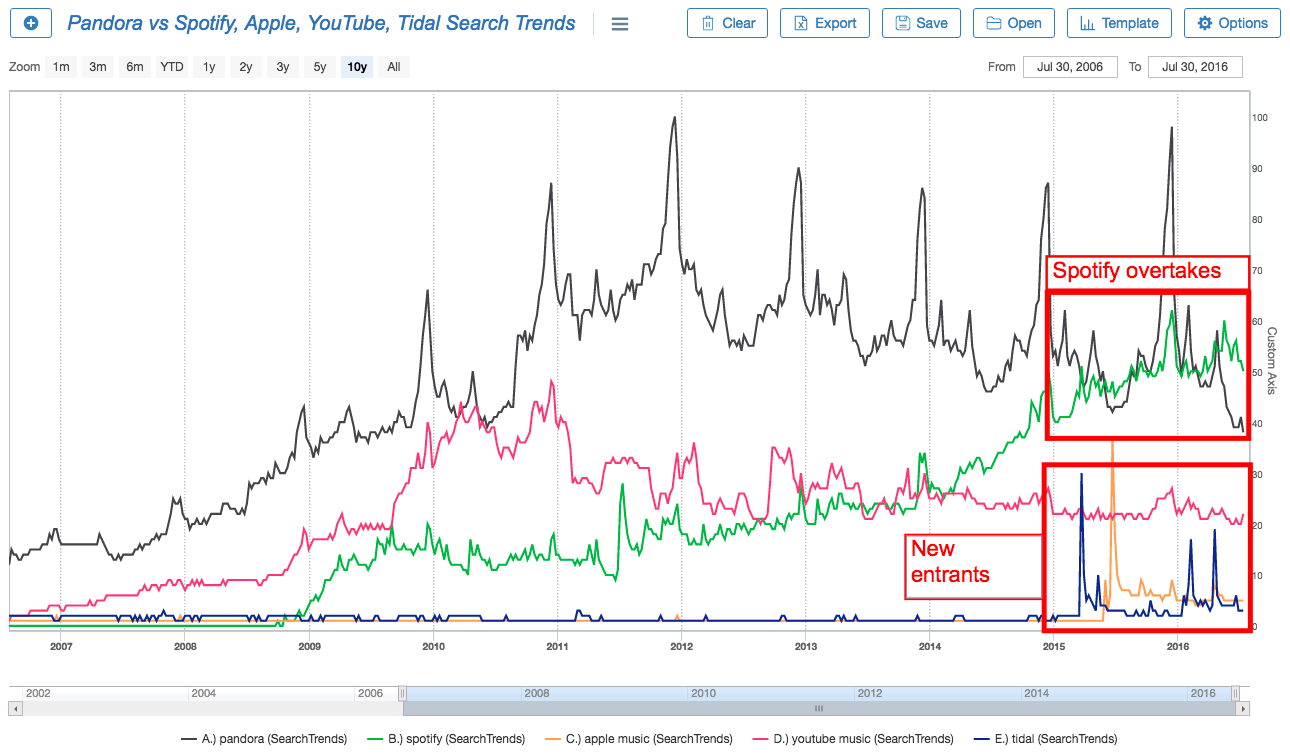 Since then, huge competitors from adjacencies like Apple ($AAPL) and Youtube ($GOOGL), well funded entrants like Amazon ($AMZN), to startups like Spotify and Tidal, have waded into the space with new technology. Spotify today was the subject of fresh discussions around an $8bn IPO while Pandora languishes at a $3bn market cap. A combination of 1) a subscription-based business model, 2) on-demand listening and 3) curated discovery has proven extremely successful and has presented a serious threat to Pandora's lean-back, low ad load, passive listening model.
Tim has returned to rescue Pandora once again. Pandora's pivot is 6 years too late, but late is better than never, and they are now pulling out all the stops. In this post, we show:
How the Street has gotten Pandora's modeling so very wrong – and is still doing it!
How Pandora is ex growth in users and in technology
How to track Pandora on operator metrics using our Mosaic product and

ask the right questions

How to import custom data sets into our Plotter and

answer

those questions
Put your favorite playlist on, and let's begin!
The Big Picture So Far
Pandora has fallen precipitously from its 2014 high of $37 and now trades at a third of that: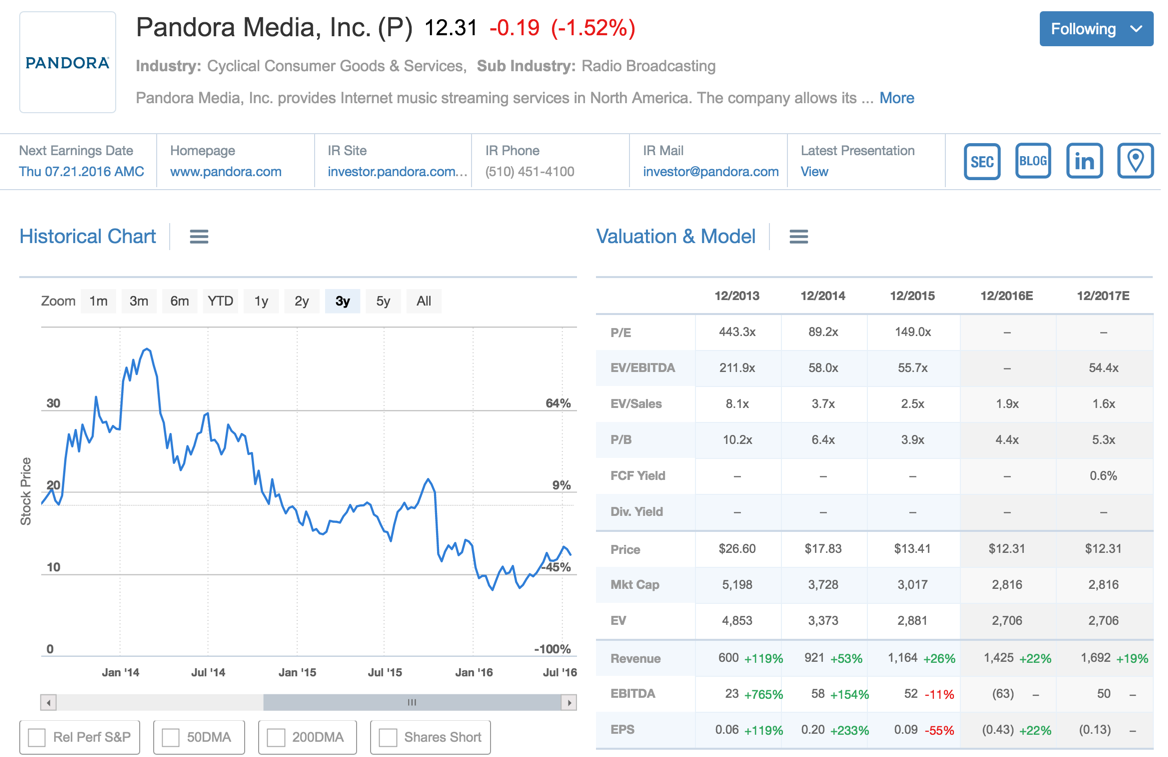 Being subject to the twin threats of slowing growth and ramping costs, analysts have consistently proven far too bullish on the company's out year economics. Two years ago analysts expected P to earn $450m in EBITDA in FY17. Now it is a coin toss if they break even. Here it is easily visualized in the Analyst Estimates Chart page of our Equity Data Terminal.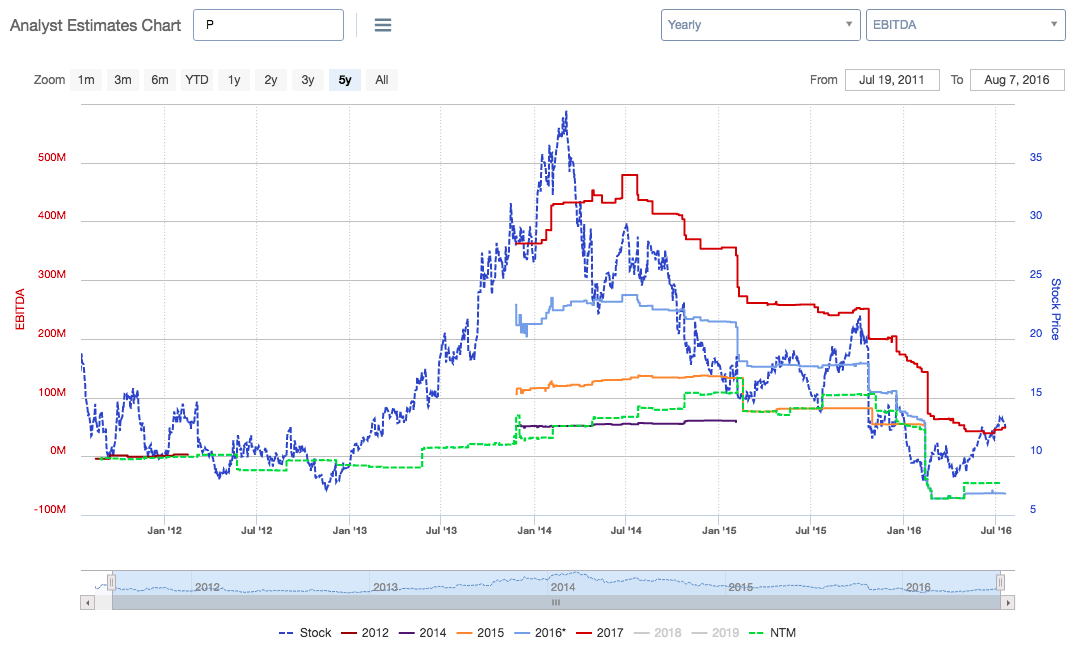 Needless to say, Wall Street hasn't learned a thing. Here are out year EBITDA estimates on our Annual Model page in Equity Data Terminal.

Pandora's big innovation was the Music Genome Project (MGP). That was great for its time, but now options have proliferated, and competitors have found better ways to both serve and help discover music, from large players like Spotify all the way down to up-and-comers like 8tracks. As you can see from our Real Time Search product, Spotify overtook Pandora in organic search interest last year: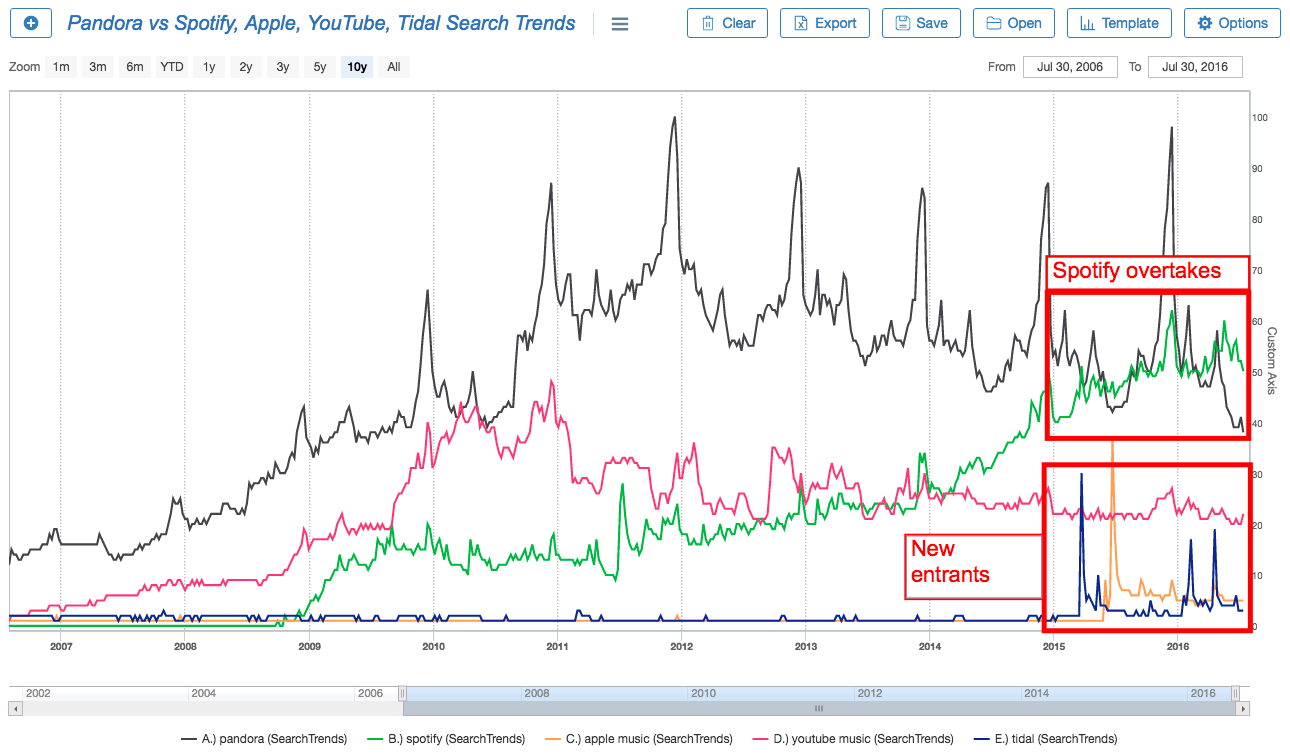 So it is clear that the on demand/curated playlist model is working, and passive radio peaked in 2012. Meanwhile, Pandora is -still- touting its MGP, and is, in fact, proud that the same process has been running for so long. Here you can see it in Tim Westergren's own words on our powerful Document Search feature: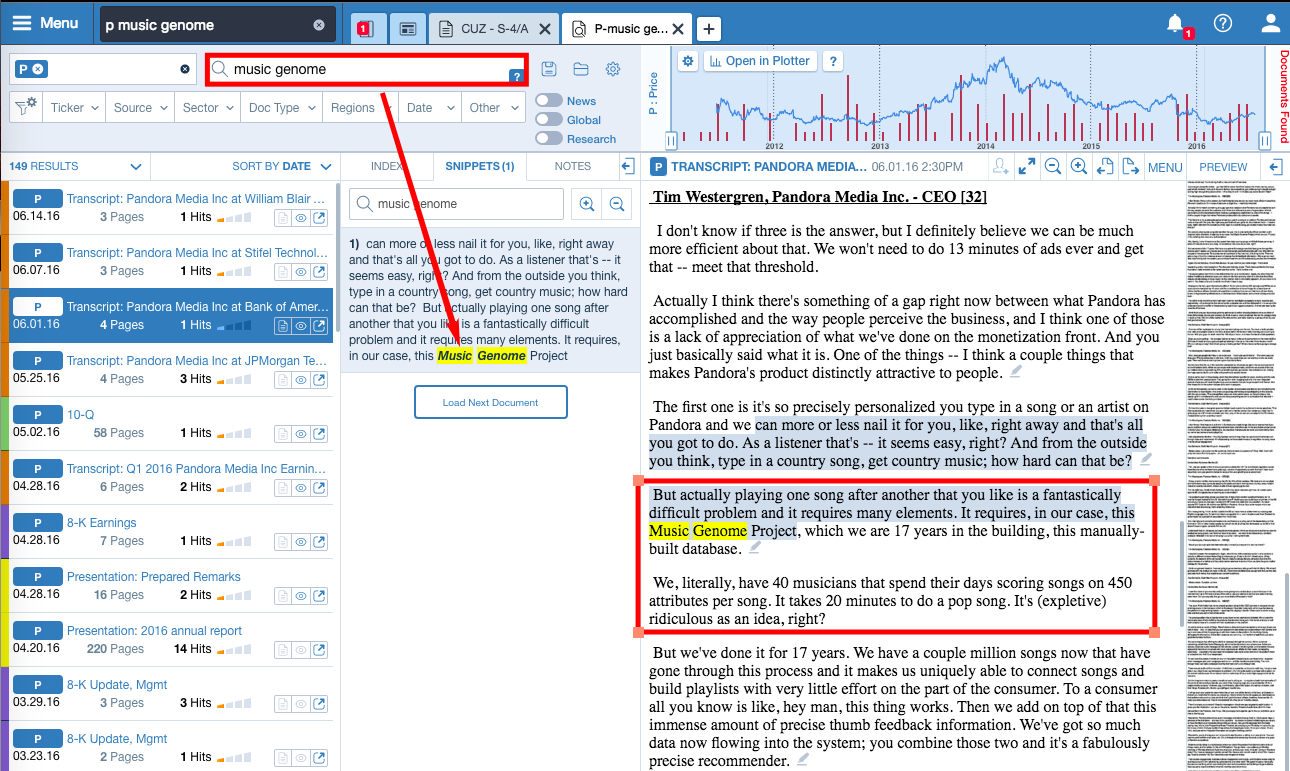 The Future Outlook
Stocks with depressed expectations don't make good shorts if its all in the price. With the CRB decision resolved with a better than expected outcome, bulls have looked forward this year to a fundamental change in Pandora's business model as they struggle with making money against the backdrop of stagnant listener hours. Pandora is trying everything from buying Ticketfly to creating a concerts business to talking about an on demand model (which they are 6 years too late on). The depressed stock price and change in management have created hopes, garnered a wave of upgrades, and fueled a+60% short squeeze off February's levels. Activists got involved and continue to hold out.
We checked this on our premium Mosaic product, which we have written extensively about elsewhere: This hope would seem to be backed up by recovering web traffic data, although organic search interest seems deeply mired in the negative. What's going on here?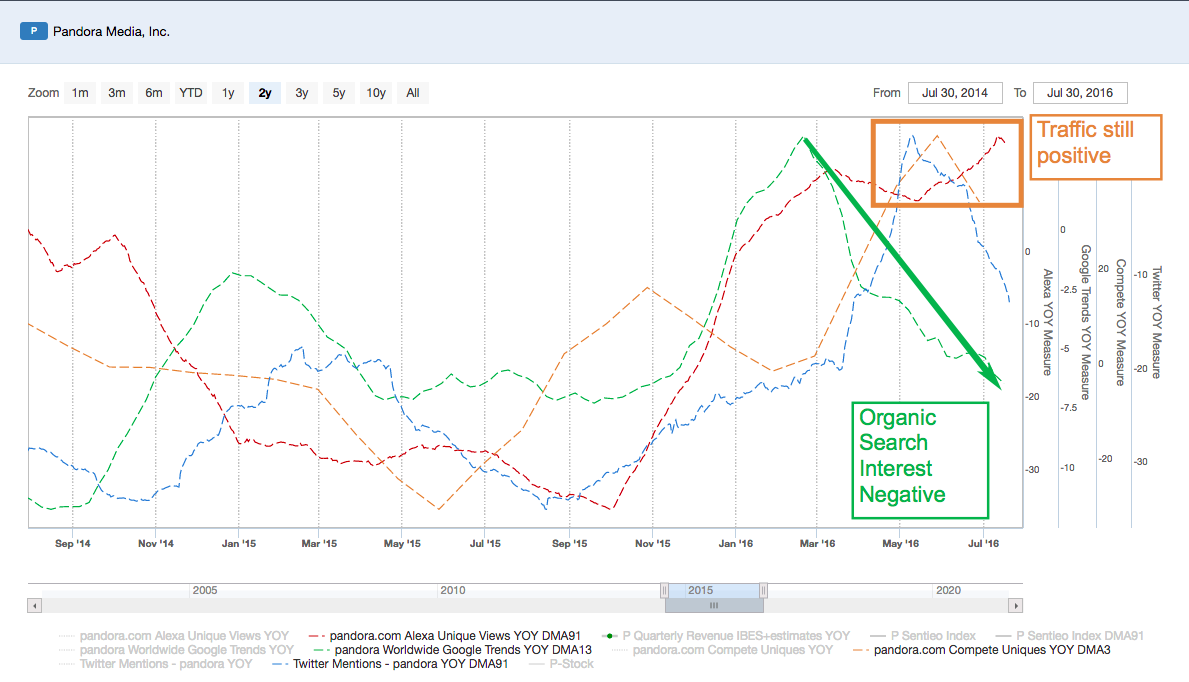 It would be nice to have a read on organic vs inorganic traffic on Pandora to see if this is just due to a pickup in ad spend. This is where having the ability to plug in your own custom datasets comes in handy. We were frustrated that existing financial data terminals don't let you do this, and wanted something better than Excel which easily gets unwieldy to manage. This is why we created Plotter, our best-in-class financial visualization solution, and integrated Pathmatics' digital ad intelligence into the Sentieo platform.
Bringing In External Data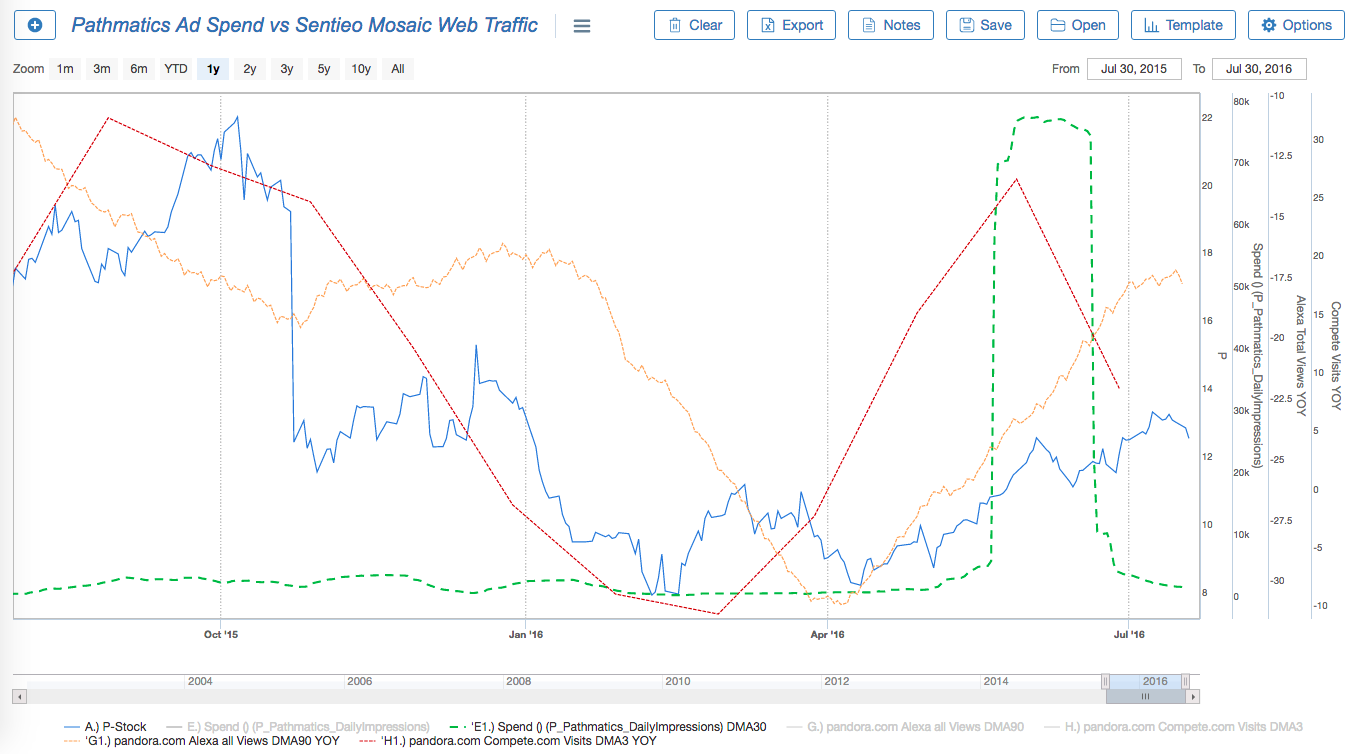 Here we have plotted Pandora's stock and web traffic vs. Digital Ad Spend and Impressions data from our friends at Pathmatics. It is evident that Pandora's stock is correlated to their web traffic, and given the nature of their internet radio business, this isn't too controversial. The recovery since March-April 2016, following a TV advertising campaign, is accompanied by a significant spike in measured ad spend on digital.
Pathmatics provides analytics products to the online display advertising industry.  Utilizing its patent-pending technology, the company manages to analyze digital advertising activity and deliver real-time actionable digital and mobile intelligence to advertisers, agencies, publishers, and adtech providers.
Doing a little digging into the data, it becomes evident that Pandora simply went out and put a bunch of ads on Youtube, increasingly a bigger player in streaming, and the market leader in the tastemaker demographic.

Any relationship with YouTube Red? Why, yes.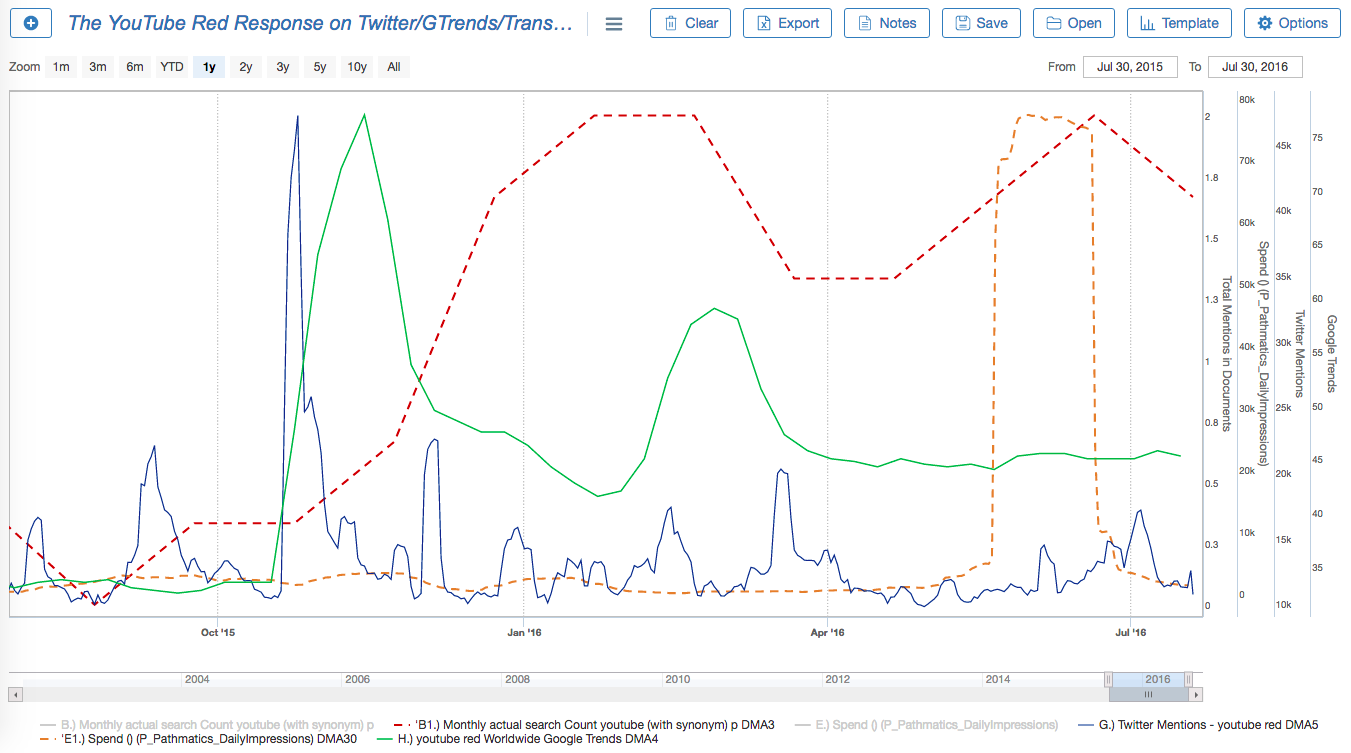 Just like Youtube, we are going to mash up the mosaic of datapoints:
YouTube Red was launched in October of 2015 with a ton of publicity and a free trial
This is evidenced by the corresponding spikes in Twitter (blue) on the announcement
And a longer tail on Google Trends (green).
As the impact was felt, the company started talking increasingly more about Youtube in their public statements (red).
The Pathmatics data (orange) shows an alarming spike in captured digital ad spend just months after Pandora management noticeably increased their frequency of discussing Youtube since October 2015.
Here is their concern in the CFO's own words:
… Pandora is just a lean back product. And people listen to it 23 hours more, some people, a month. But they hear a song that reminds them of an album they want to listen to or a new artist that they want to hear more of. They pause Pandora and they go somewhere else because they can't enter a specific song or an artist and listen to that on Pandora.  And by bringing these other features and functionality we would like them to be able to do that within the Pandora environment. Right now, they pause, they go somewhere else, then they come back and we're really good at retaining those people. But every time that happens you take the risk that we lose those users forever. And there's a whole generation where we think that risk is higher than normal.
Read: the cool kids. Pandora is very worried.
Conclusion
So the overall implication for this quarter's earnings report is: traffic is up and listener hours may be up, so on the surface it will look like a positive headline number, but organic interest is still down and they paid their newest competitor to get that traffic up. Until we hear more details on the aptly nicknamed "Pandora Two" tiered plans promised in Q4 (which, as we learned from Netflix's earnings, has its own problems), the company seems to have no plan to get to that >400m EBITDA number the street needs to see for the stock to work.
Maybe it never did. We are reminded of the classic scene from HBO's Silicon Valley.
In a very real sense, Pandora is back in startup mode, with its legendary founder back in charge, and pivoting in search of a relevant business model. We wish them well.
To see how Sentieo can help with your earnings prep, simply go to Sentieo.com and sign up for a free trial. If you would like to continually receive content related to topics of interest in the markets, don't forget to subscribe to the Sentieo Blog so that we can notify you of new posts by e-mail.