$LULU is down over 35% since its Q2 earnings print, driven by a traffic-induced comp miss and now increasing fears of sustained markdowns. On the latter we used Twitter data to investigate whether there is a discernible trend in discounting that has persisted during the pre-Holiday period.
We queried the full firehose for tweets mentioning both Lululemon and any derivatives of discounting/promotional activity and normalized it against total tweets mentioning Lululemon, generating the pink line in the chart below. We noticed a significant increase in promotional tweets in Sep/Oct vs. the same period last year (see pink line within the red boxes), agreeing with cautious sentiment for Q3 margins. However, the trend seems to have improved during November with promotional tweets rapidly falling back in line to Nov 2015 levels (see pink line within blue boxes). With sentiment so low and largely elevated markdowns priced in, a return to normalization in November could be enough to provide some relief.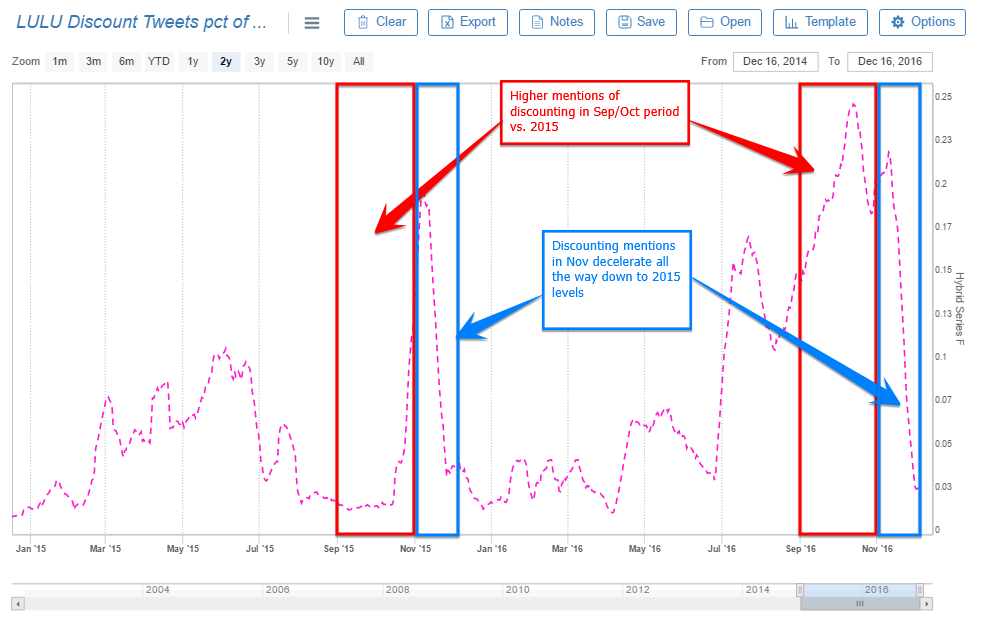 Want to see a similar analysis for other consumer names? Contact us at hello@sentieo.com!