There are several approaches used in forecasting financial metrics for publicly traded businesses. In this post, we will focus on revenue forecasting for businesses that provide "unit-based" metrics.
What are unit-based metrics? Broadly speaking, these are the fundamental revenue-generating blocks of the businesses. We see them reported in different forms. For example, in retail and restaurants, the units are the actual physical locations. We also see unit-level metrics in subscription-based businesses from movie streaming giant Netflix (and the widely followed "subs" number) to home alarm company ADT to SAAS companies (where reported unit-based metrics include customer acquisitions costs, CAC, and churn.)
We will look at one example to illustrate our approach.
Let's take restaurant chain Chipotle. Deriving a revenue forecast for the full year next year is relatively simple: we need to know the number of restaurants that the company will have "mid-year" (since we assume no seasonality in openings), the current average revenue per store (a number that is either provided or can be derived), and a certain level of "comparable sales" growth, generally in-line with current trends. Usually management will provide their annual guidance when they report Q4 but, until then, we can have a reasonable estimate.
In the last 8-K with the Q3 results that Chipotle filed, we find the following information:


Chipotle started the year with 2,408 units and expects that it will end the year "at the lower end" of the 2018 guidance range, or, about 130 extra units. We also see that about half were opened by Q2, indicating no seasonality. Our conservative estimate for 2018 year-end units is 2,538.
For 2019 then, since we have the guidance already, we can take the midpoint of the 140-155 guide, or 148 units. This will leave us with a year-end 2019 forecast of 2,538+148=2,686 units.
However, remember that this is the year-end number: not all of these restaurants will be generating full-year revenues, so for our annual 2019 revenue forecast, we will take half the growth, or 74 units. Our "mid-year" forecast for units is now 2,538+74=2,612 units.
We also need to know how much revenue each unit is generating, also known as AUV. Chipotle does provide this number: we can see that for the last quarter, the LTM number is $1.98 mm.

However, the AUV number is not static: Chipotle, and many other restaurants and retailers, provide a "comparable store sales" growth number every quarter. While there is no set industry standard, this number is usually derived from units that have been open for at least a year. We can see that last quarter the number was +4.4%, but also that the number has moved up and down quite a bit historically as the company recovered from its food safety issues, as we can see in Sentieo's Plotter of this particular KPI.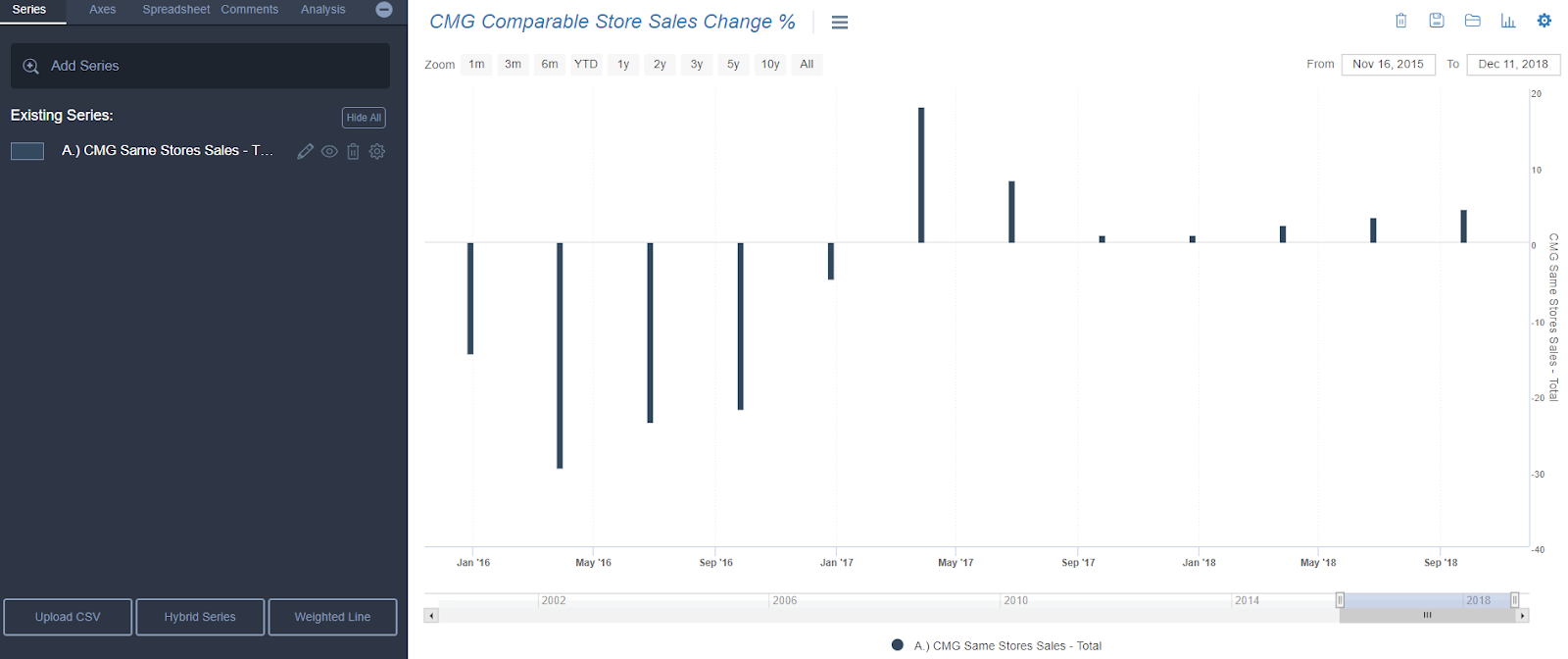 We can set a range of 2% to 5% for 2019, and now we have all the assumptions that we need.
They are 2,612 units selling $1.98 mm on average, times 2% to 5%. Our revenue range estimate for Chipotle then is 2,612 x $1.98 mm x 1.02 = $5,275 mm on the low end. Our high end estimate is $5,430 mm. We can see that this is not far from the current Street estimate for Chipotle's 2019 revenues, as listed in Sentieo's Equity Data Terminal.

What will make a real difference here is knowing whether the unit openings will be front-loaded, even, or back-loaded, as well as current comparable sales growth trends. We might not get additional clarity on that until the report. However, we can try to estimate the real-time comparable sales trend using Sentieo's Mosaic alternative data composite index, which shows strong current KPI trend so we are comfortable being above the Street estimate.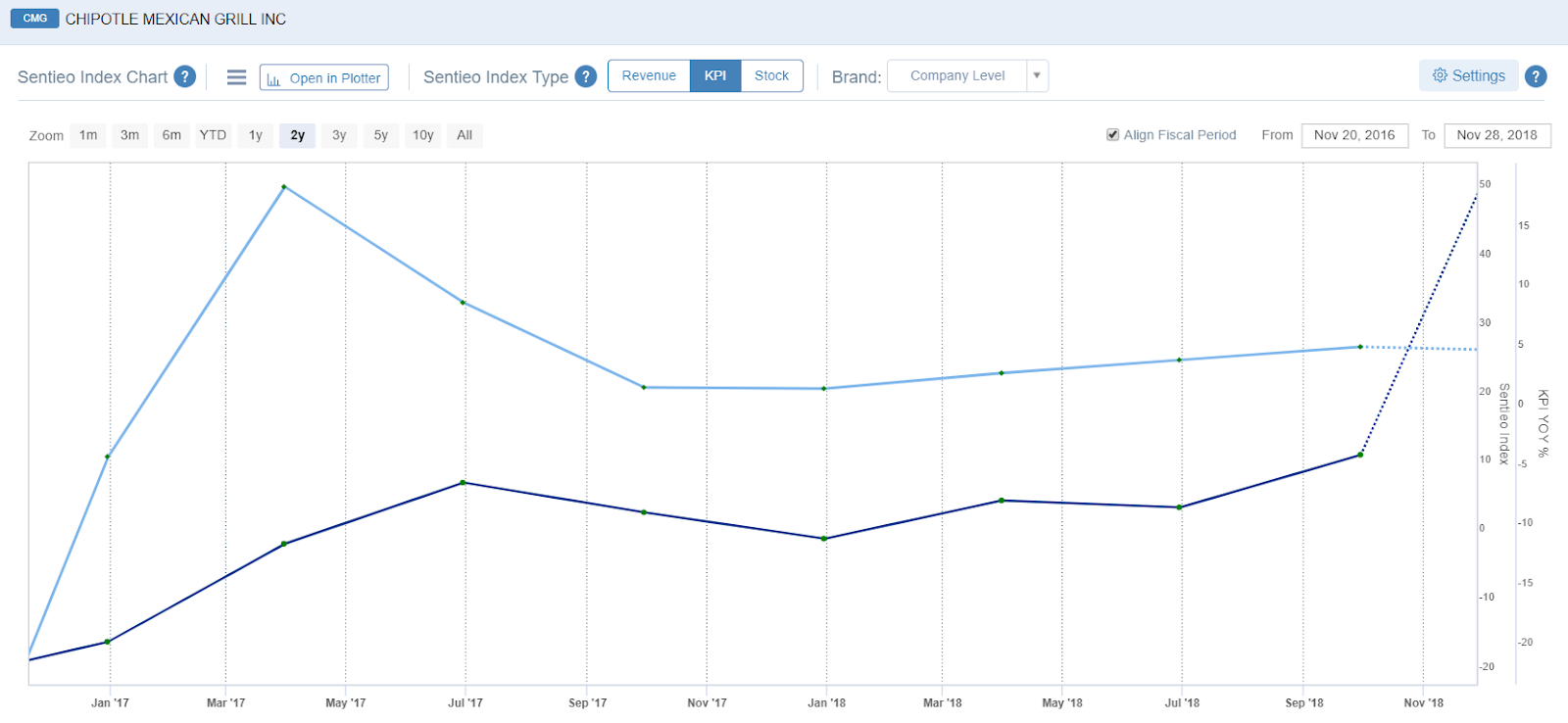 If you'd like to find out more about Sentieo, please sign up for free trial here.