We analyzed over 9 million financial documents, covering more than 10,000 companies across the globe, for mentions of the self-driving car theme. We found that interest in self-driving cars has grown 8.5x in the past two years, but suspect that there is much more interest to come. Predictably, car and technology vendors were earliest in bracing for the technology's impact, but the insurance industry is now beginning to take the threat seriously.
Self-driving cars are approaching quickly. Google unveiled its self-driving project just four years ago, while Tesla shipped the first car with its famous auto-pilot feature just one year ago. Though impressive progress has been made, much more is needed before self-driving cars reach scale. In the meantime, there have been setbacks. Last May, the first person was killed in a car operating on auto-pilot, while Uber ended its San Francisco self-driving project after a week amid permit conflicts with the DMV, along with several sightings of its cars running red lights. (The project continues in Arizona.) Despite the inevitable bumps along the way, self-driving cars—also known as "autonomous vehicles"—will almost certainly become a reality within the next two decades, and their impact will be felt massively across the transportation and logistics industries, among others.
Mentions of Self-Driving Cars Increase by 8.5x in 2 Years
A search for "autonomous car," "autonomous vehicle," and "self-driving car" on Sentieo Document Search, shows that the number of references to self-driving cars is booming. The graph below shows the number of company press releases, presentations, filings, and broker research reports which mention these terms dating back to 2005. Though interest began appearing that year, mentions only started to gain pace in 2012. They took off in 2014 as the topic went from theory to reality. The search terms were mentioned in over 140 documents in January 2017 alone. Growth in mentions between 2014 and 2016 represent an increase of  850%. We expect the number of references to more than double in 2017 based on early data.
With Smartphone Cycle as a Guide, Mentions Could Increase 32x over next 8 Years
If self-driving cars turn out to be as impactful as the proliferation of smartphones following the iPhone debut in 2007, there is still an enormous amount of room for growth. The graph below shows the monthly occurrences of documents mentioning "smartphone" and related terms since 2005 in Sentieo's Document Search database.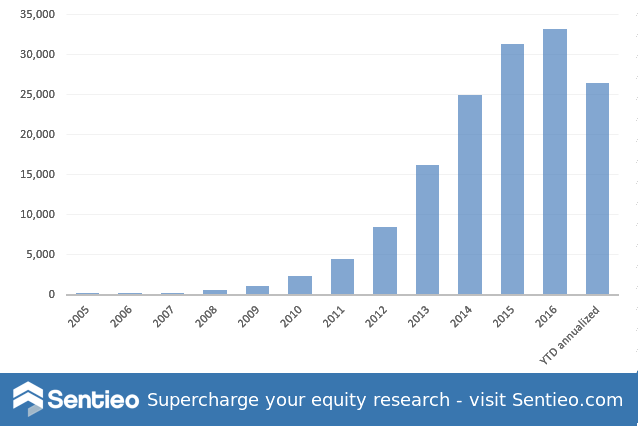 Source: Sentieo Document Search
The first time "smartphone" appeared in 140 documents in a month, matching the current peak levels for self-driving cars, was in May 2009. The theme grew considerably afterwards and peaked seven years later in May 2016 with 4,404 documents, representing 32x growth over seven years. Shares of Apple rose 660% over that period while those of Nokia fell by 62%. If the smartphone cycle is any indication of how long and deep a successful cycle can be, there is still much more to come with self-driving cars, and many more opportunities to play the theme on the equity market.
Tech and Auto Dominate Attention, But the Insurance Industry is Catching Up
Slicing the data by sector shows that, predictably, the tech and automotive industries have paid closest attention to the self-driving phenomenon. Given tech's role in pushing innovation around autonomous cars forward, along with the automotive industry's clear susceptibility to such developments, this prominence isn't surprising. That said, the automotive industry's share of mentions is rising, from 26% in 2013 to 34% in 2016, indicating that prominent players are beginning to take the threat more seriously. (GM notably acquired self-driving startup Cruise Automation for $1 billion in 2016, for example.)
Mentions of self-driving cars level off significantly outside of the tech and automotive industries, but one sector is starting to show notable interest: finance.
Insurers, which will be impacted heavily in the auto insurance industry, are responsible for this growth. As shown in the graph above, the number of mentions of self-driving cars in the financial sector is now higher than it was for tech and automotive in 2014, the year that Mobileye went public and car vendors began selling vehicles with advanced driver-assistance features.
Growth in the number of documents in Sentieo's Document Search by Sector
The timing of the uptick also matches the launch of Auto-Pilot by Tesla, which has prompted the insurance industry to assess the potential impact self-driving cars will have on its business model.
Many statements which we reviewed were dismissive, arguing that the extent and timing of adoption remains long-term and uncertain. Many statements are more bearish however, indicating anxiety ahead of the deep changes to come. Below is a sample of quotes from company transcripts and filing reports:
Swiss Re

, a Swiss reinsurer, has regularly mentioned self-driving cars as a major risk since a 2013. It sees a substantial reduction in the growth of the car insurance market, and argues that diversification will be key to survival. From their 2015 annual report: "Autonomous cars […] are […] a highly disruptive technology. […]Swiss Re held various events since 2013 with] experts from car manufacturing and technology, safety and legal specialists. […] this will present many new challenges to the way we do business and how we view and manage risk, retail insurance and liability. […] 1. Autonomous cars will improve safety; 2. The sharing economy will drive autonomous car adoption; 3. They are more climate-friendly and can reduce energy reliance; 4. Consumers will begin to embrace the technology; 5. Regulation and the law will adapt, slowly; 6. Cyber risk will increase; and 7. Autonomous cars will affect liability and tort cases. Although it is uncertain how legal and regulatory issues will play out, it is clear that our role as re/insurers will change considerably. Many of these changes will also create new opportunities for businesses who quickly adapt and diversify their products and services so as to target new market segments."
Swiss Re: motor insurance market forecast (assumes 100% ADAS adoption and no inflation)
Tryg

, a Danish insurance group, describes the disruption from self-driving cars in its 2016 annual report: "Motor insurance accounts for a significant share of the non-life insurance market, and the insurance business therefore closely monitors how technical developments affect this area. With the development of the autonomous car, the motor insurance market is expected to shrink in the future. What exactly the impact will be on the insurance business remains an open question. So far, the development of more technically advanced cars has led to a reduction in the number of people who are injured in car accidents, but at the same time it is also clear that the more advanced cars are much more expensive to repair. Contrary to developments in motor insurance, other areas are expected to grow in the future. This goes, especially, for the insurance of people, pets and technology. Based on these developments, Tryg has been actively acquiring companies in these areas and developing new child insurance, pet insurance and cyber insurance products."
AON

, the reinsurance broker, said in a report in September 2016 that Autonomous vehicles may reduce US motor premiums by -20% to over -40% by 2035-2050. However, "we as an industry need to act quickly to ensure that we have the products available to align to the new paradigm; if we fail to do so, we only invite disruption."
SOMPO Holdings

, one of the top insurers in Japan, sounded more dismissive of the threat than its European peers in a May 2015 earnings call, although it conceded that a reduction in premiums is to be expected: "A

 world where we see 100% of the vehicles as self-driving cars on the road will not come. [However,]

 there are cars already available with safety driving assistance system, which receives some discount premium and we would probably have to apply something similar to that. […] So self-driving cars plus cars driven by people and totally manual cars.

So three types of cars will co-mingle on the road and this co-mingle situation will continue for 10, 20 years [will support a smooth long term decline either than immediate change.]"
Methodology
This study is based on statistical analysis provided by Sentieo Document Search. Sentieo Document Search is an extensive database comprised of the filings of current and former publicly-traded companies. Searchable documents include S-1s, 10-Ks, 10-Qs, press releases, presentations, earnings transcripts and analyst reports. In total, the database holds more than 9.4 million documents. The search engine allows researchers to focus queries by sector, sub-sector, market-capitalization and other financial metrics. The tool also automatically provides results for synonyms and related queries where relevant. In this study, we focused on the theme of self-driving cars. Related search terms included "autonomous car" and "autonomous vehicle."