How TableX Helps You Find, Organize, Audit, & Extract Non-Standard Data
Tired of digging through documents and manually inputting numbers to build your models? As former analysts ourselves, we built Sentieo's TableX from the ground up to save you hours of unnecessary work — with functionality you can't get anywhere else. We built TableX years ago, and have been making continuous improvements to the natural language processing technology in order to add functionality and make it more accurate. Stay tuned for some major upgrades over the next two months as we level up the technology.
What Is TableX?
Table X helps analysts find, organize, audit, and extract data easily.
Let's say we want to look at Apple's iPhone units sold. We open up Sentieo Document Search, enter the Apple ticker, and query "IN:TABLE iphone NEAR10 units." (See screenshot below). We choose the 2017 FY10K and see the mention of iPhone sales highlighted in yellow.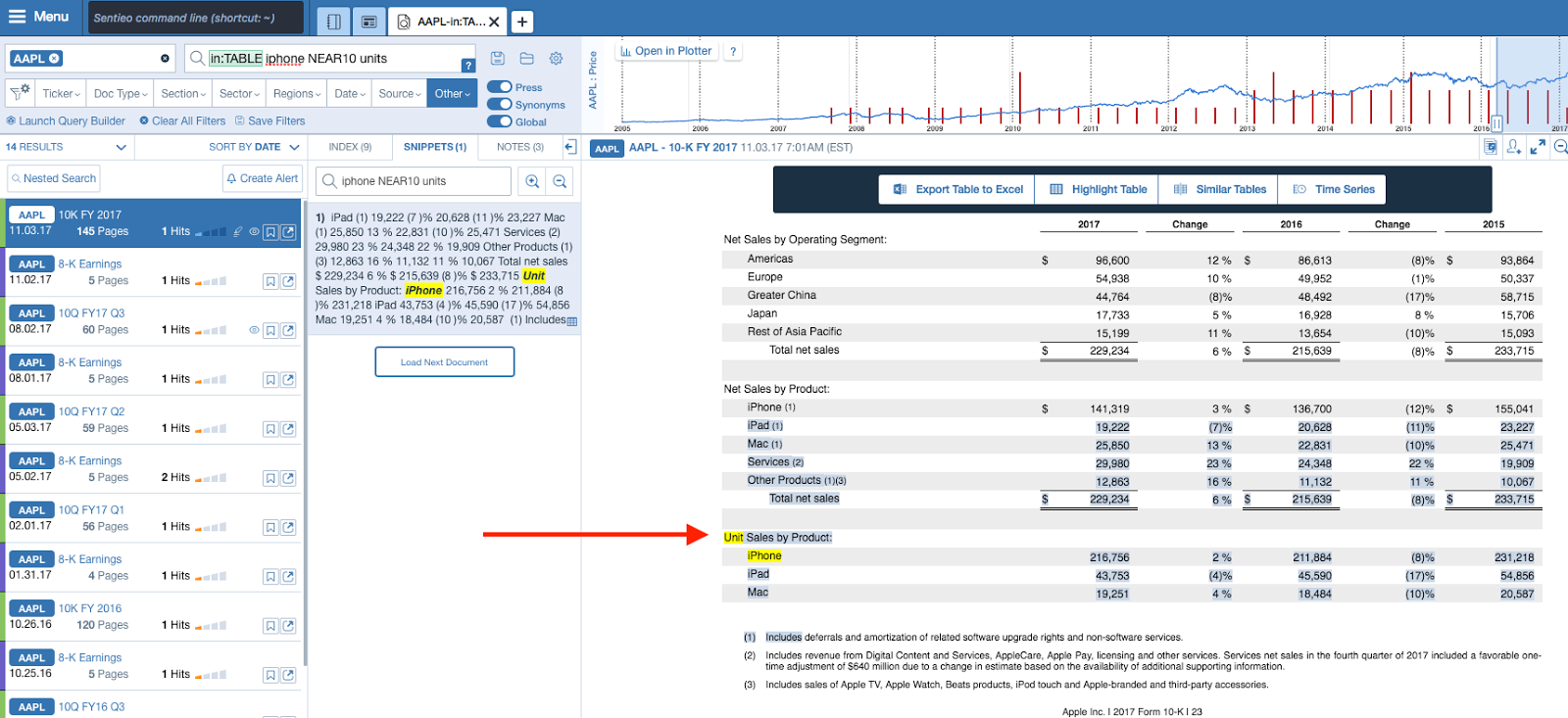 From here, we can do a few things. First, we can Export Table to Excel (see 1 below).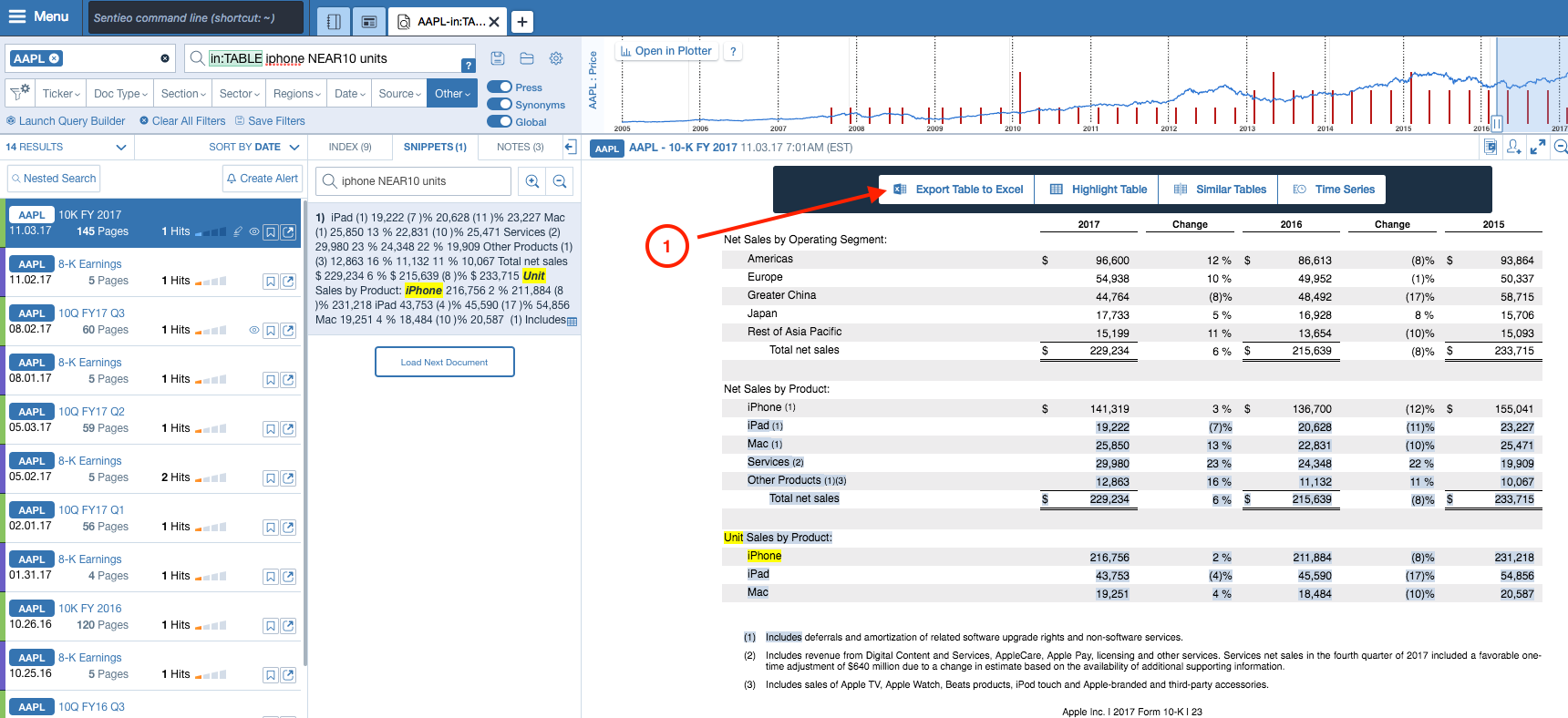 When you click this button, Sentieo will download a cleanly formatted Excel file for you, saving you countless hours of copy-pasting and formatting: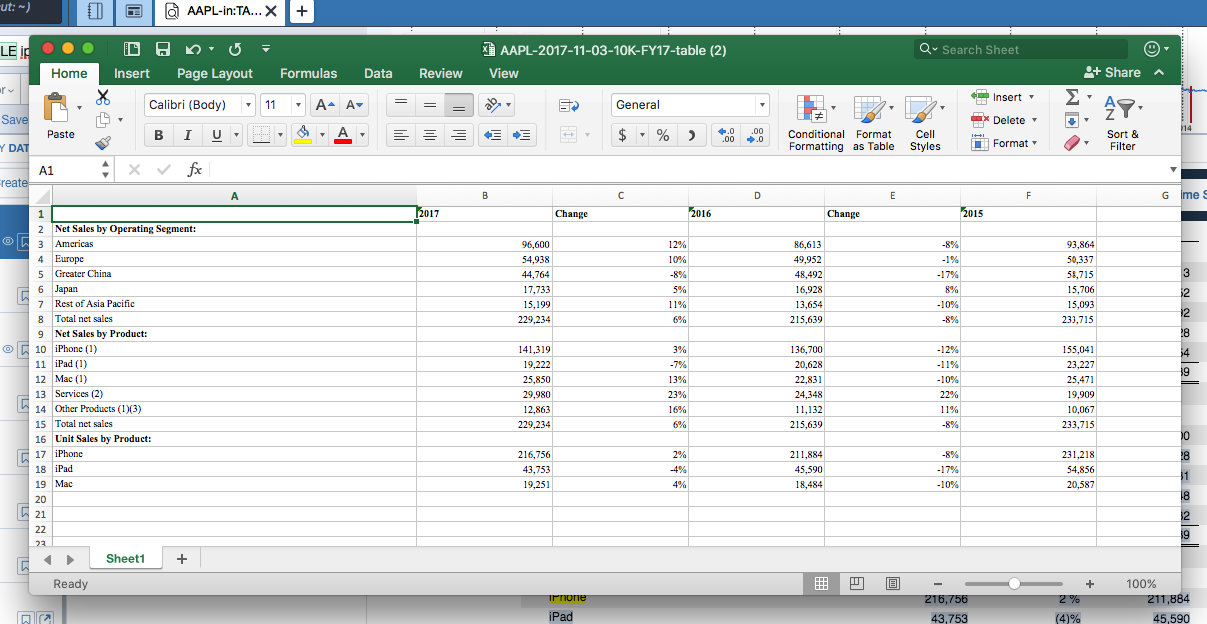 Let's say that you would also like to reference this table at a later date. Simply press the Highlight Table button (see 2 below) to send a copy of the table to your Sentieo Notebook: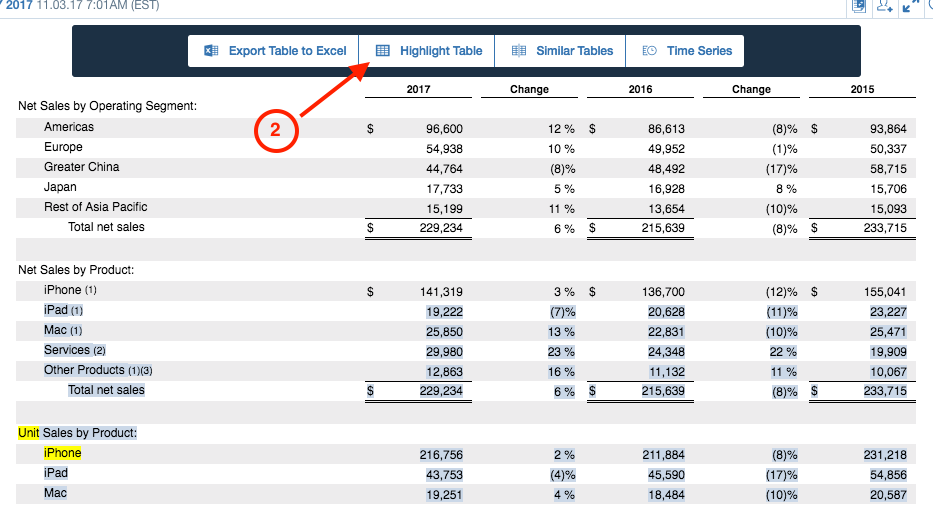 The table will automatically get tagged with the appropriate ticker, and labeled for easy search and recall. You can see the saved table below in our Notebook:

One of the most useful TableX tools is Similar Tables, a feature that is unique to Sentieo. If you click the Similar Tables button, you can easily compare similar tables from different points in time.

This function allows you to compare your current table to its historical equivalents. On the left is the table we just found (Q4 2017), and on the right is a similar table from the prior quarter. If you click "Next" on the far right, you can see the table from Q2 2017 and earlier. Similar Tables saves analysts hours of time they might usually spend searching for, exporting, and comparing historical tables side by side.
Time Series takes table comparison one step further (see 4 below).

With Time Series, you first choose the data you'd like to compare over time. (See checked row below: "iPhone")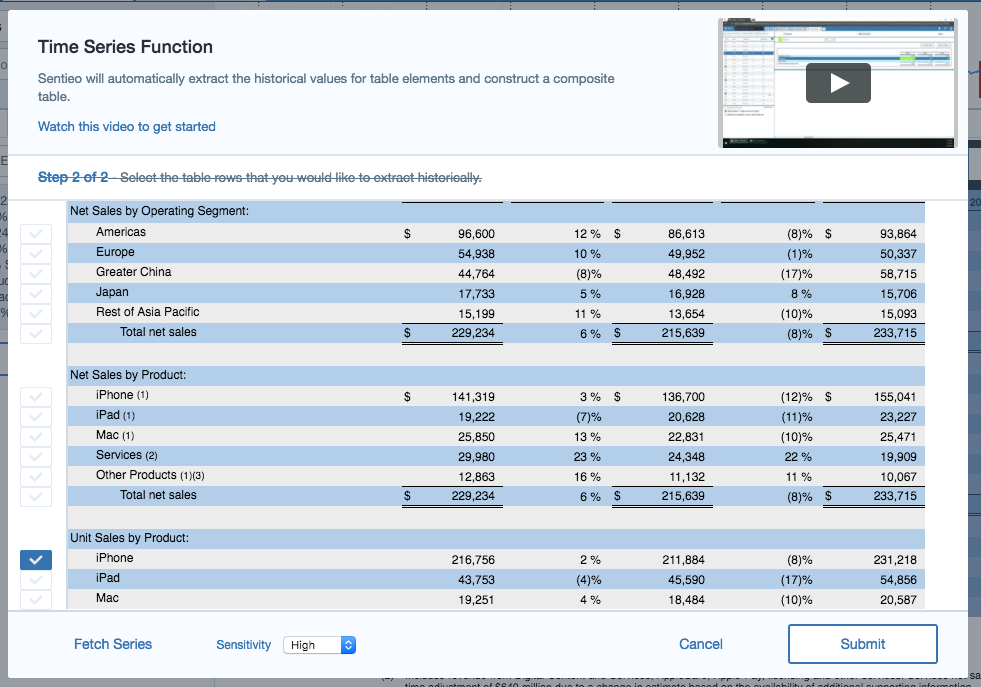 After selecting the line item(s) you want to examine, Sentieo will crawl through and extract values for this line item in any document type that you checkmark on the left hand side (see below).

You also have the option to Export to Excel and dump the numbers into your model, Open in Plotter to visualize any trends in the data, or Save Series in order to reference these values at a later time.
This all works well for SEC filings. But what if you want to extract a table out of a PDF research report or investor presentation. Our technology can handle that too. All tables in PDFs have an "Export Table" button to put that data directly into Excel, like this table on Netflix Streaming drivers from a JPM research report: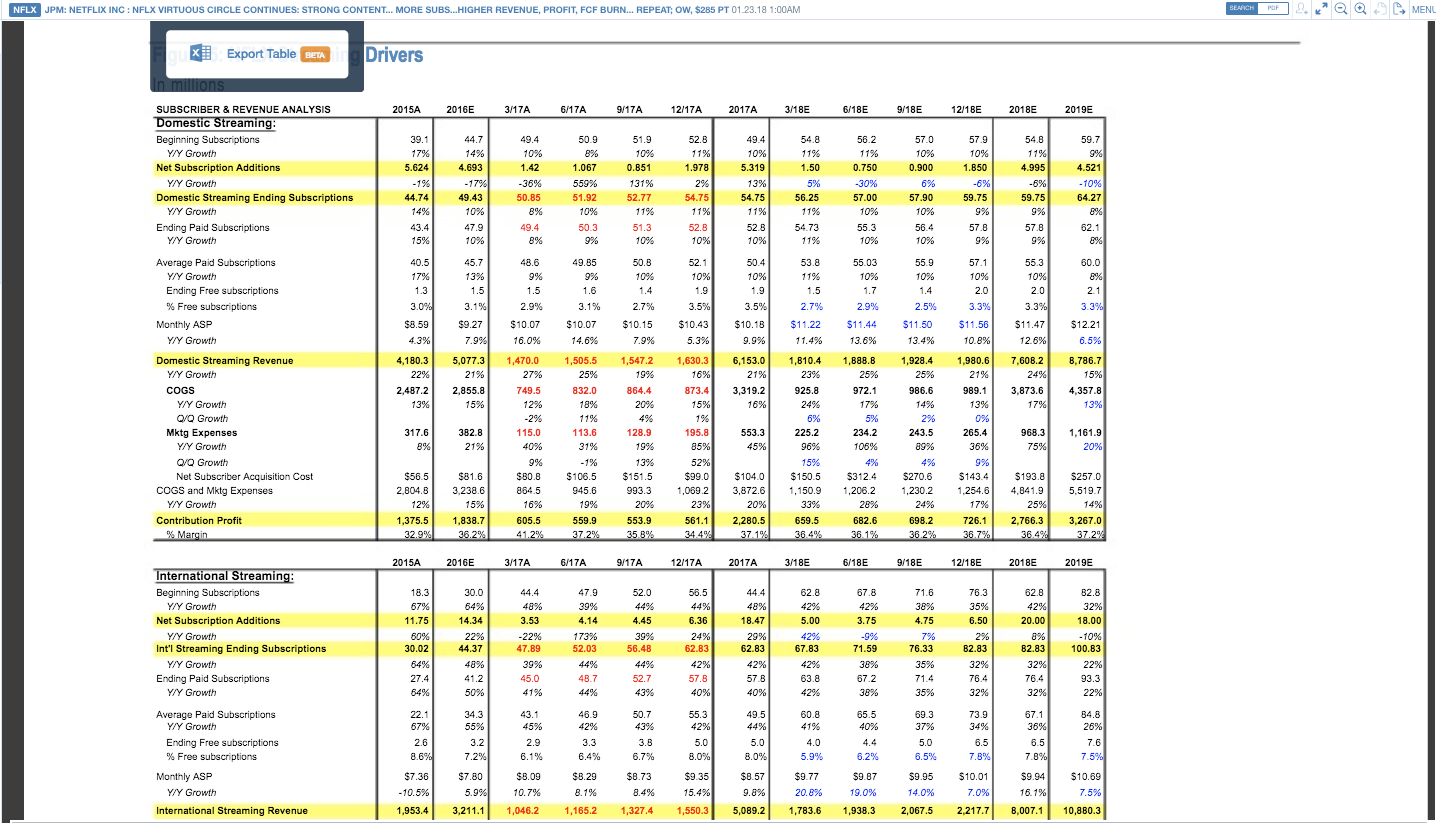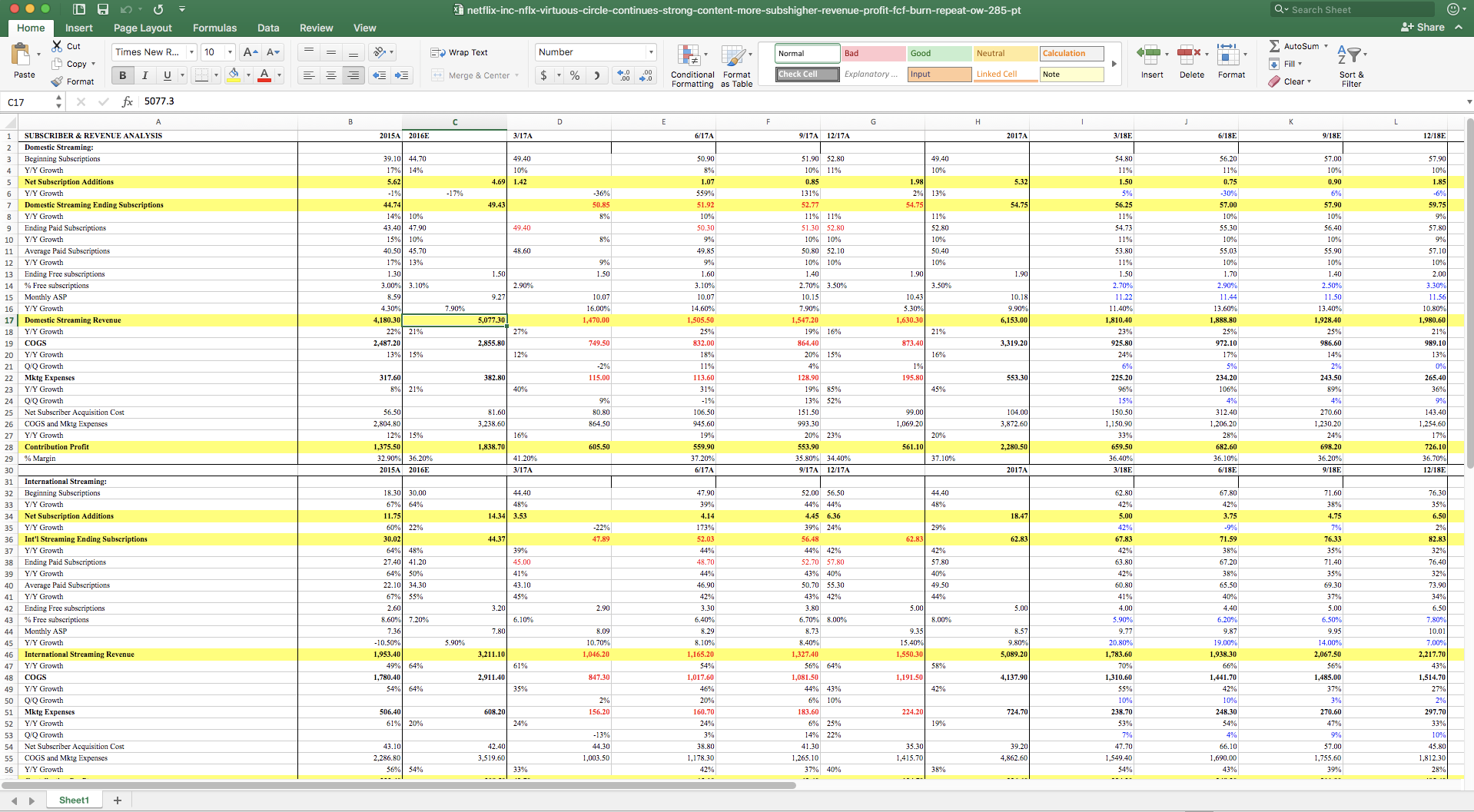 Check out the video below for a full walk-through of all TableX features, with the use case being that you're on the phone with Apple's management team and they're talking about the iPhone's pricing power. You need to check if what they're saying ties to the financial data — in under 120 seconds:
Stay tuned for TableX updates to come! We're a month or so away from a TableX release that will make data extraction and analysis even easier. To try it out for yourself, get a free trial of Sentieo today.