As the race to the U.S. presidential elections is underway, we take a look at sectors being impacted most by the 2016 election season. Generally, in the run-up to an election, consumers tend to cut back on discretionary expenditures due to the uncertainty around the political climate.
Measuring in Quantitative Terms
One such sector feeling the heat is the Restaurant sector – both casual dining and quick service restaurants. We did a document search in Sentieo with the term "Elections" for restaurant companies. The first thing we noticed was that the mention of the term "Elections" during 2016 has been 50% more than that during the 2012 election period.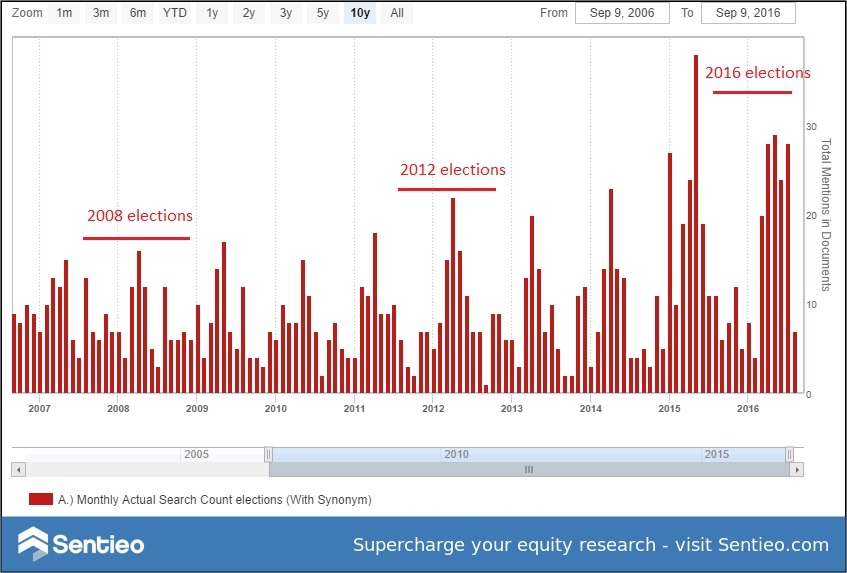 Thanks to Sentieo's document search feature, it seems like the impact of 2016 elections on restaurants has been bigger than the last time. Not enough people are willing to spend on food away from home, especially this election cycle, given the uncertainty of potentially big changes.
Sentieo's data on Same Store Sales makes it extremely easy to track SSS for companies. What's more? The data is available segment wise. We made use of this feature to track SSS for restaurant companies in the U.S., and added a market cap weighted line to see the overall trend. We note that SSS for the overall sector has been declining since the beginning of 2016.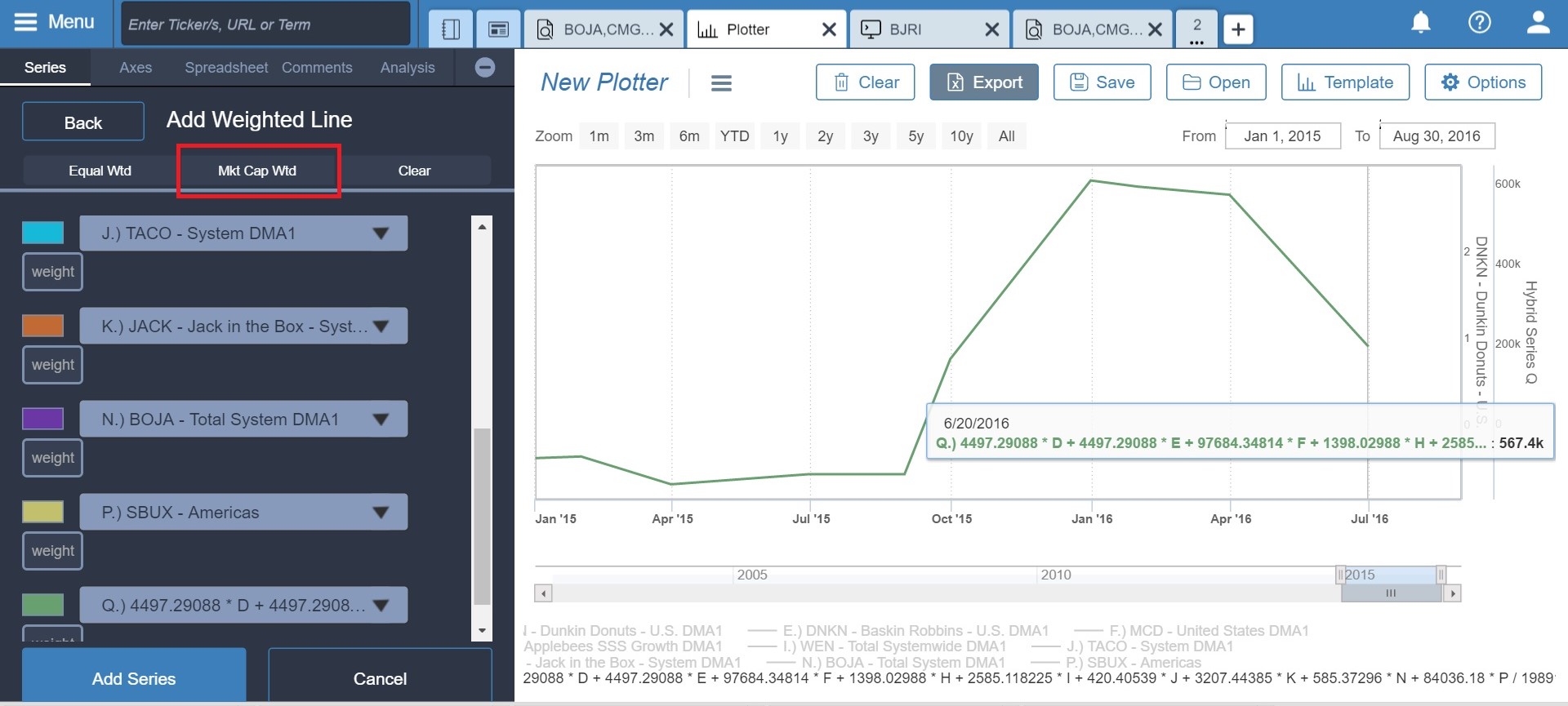 Another factor that could be impacting the restaurant sales is that people prefer to stay at home and watch TV during the election season- as CNN ratings have been through the roof. While declining commodity prices have made food at home cheaper as compared with food away from home, higher gas prices compared with last year is curbing the discretionary spend.
What Companies Are Saying
Companies such as Wendy's and McDonald's have been blaming the elections and the consumer sentiment for weak restaurant sales in the U.S. We use Sentieo's document search feature which makes it extremely easy to navigate through transcripts and other documents, and helps us keep important notes.
We note Tod Penegor, CEO of Wendy's was reported as saying:

Further, McDonalds' CEO Steve Easterbrook was also talking on similar lines.

…. and casual dining restaurants are also sailing in the same boat as the fast food chains. Ruby Tuesday's CEO JJ Buettgen was noted as saying:

As restaurants try to battle out their tough comps from last year favored by lower gas prices,
they have introduced reward programs and promotions to help declining sales. We did a quick document search to see how "rewards" have trended over the years. We note that the mention of "rewards" has increased substantially since the last year, suggesting that restaurants are introducing more promotions, and that the market is becoming more price competitive.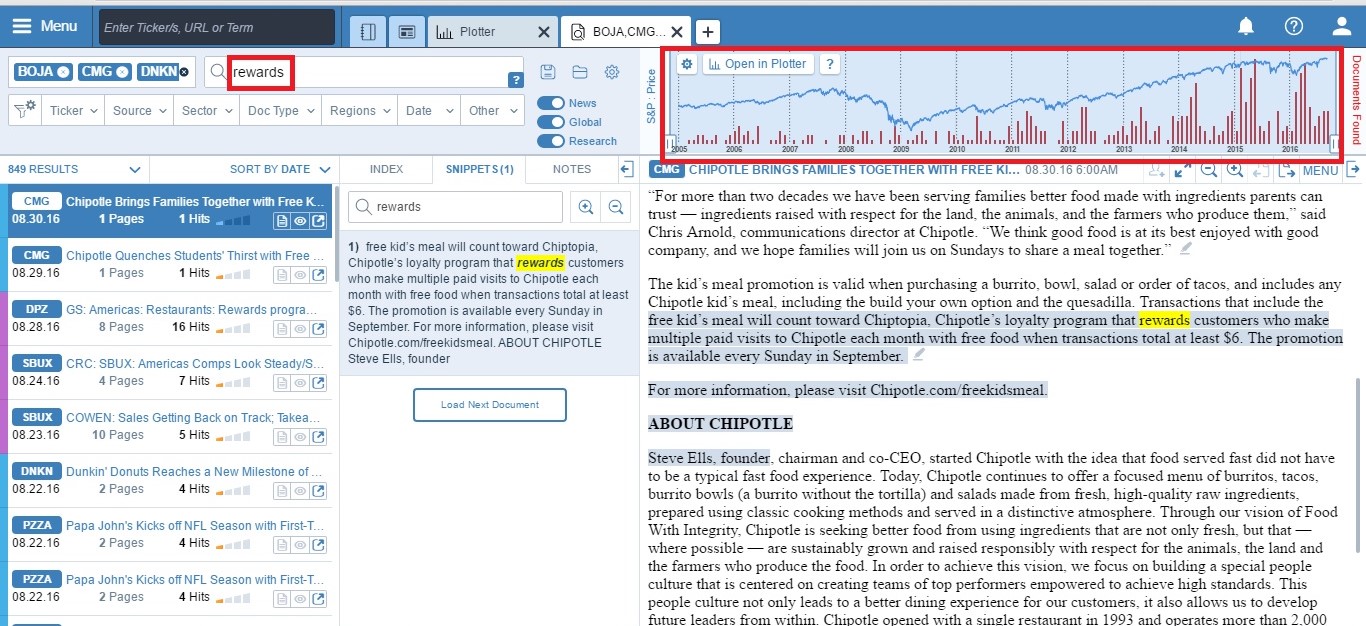 Impact On Valuations
Stock prices for most of the U.S. restaurants have gotten beaten down in the run-up to the election. We use Sentieo's plotter tool to track the PE multiple for these stocks, and see that the valuations have softened. However, over the same period, PE multiple for S&P 500 expanded from 20.1x to 24.7x, reflecting the underperformance of restaurant stocks.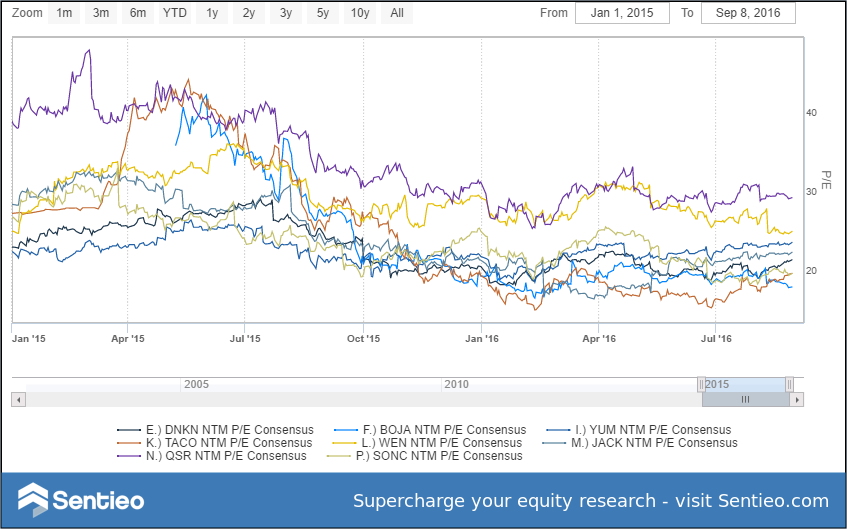 What do we conclude?
Be it declining commodity prices, political woes, or increasing competitive pressure, things don't seem to be favoring the restaurants for now. While some believe that it's just a matter of elections and restaurant spending will get better, others see this as very early signs of another recession…. However, we will have to wait for the election season to get over, and see if restaurants start to recover from these levels.
Till then, stay tuned for Part 2 on other sectors impacted by this election cycle…