About two weeks ago, we posted an extensive blog post going through the various alternative data indicators for retailers with "Back to School" season exposure. We specifically looked at where our alternative data composite is vs. the most optimal (or predictive) metric. In some cases, the index works better for overall revenue growth and, in other cases, the index works better for KPIs (comparable store sales, in the case of retailers, but we do have others, like Bookings for tech companies). To find out more about how we use alternative data across our platform, including screening, visualizations, and alerts, please watch our recorded webinar. 
The retailers on our list have by now reported their results, and some have provided "color" on the current quarter (August sales trends). In this post, we will review how we did. 
We wrote "We see the potential for strong overall YoY revenue growth in FIVE, PVH, DBI, AEO, CAL, ZUMZ, and VRA. We see the best potential for comparable store sales growth for BBY, BURL, SCVL, and DLTR."
For the overall revenue growth names:
FIVE: Five Below saw an extremely robust 20% revenue growth (comps were +1.4%). This is an exceedingly rare double-digit growth number for a physical retailers. (FIVE was also one of our H1 long ideas) (Interactive chart link)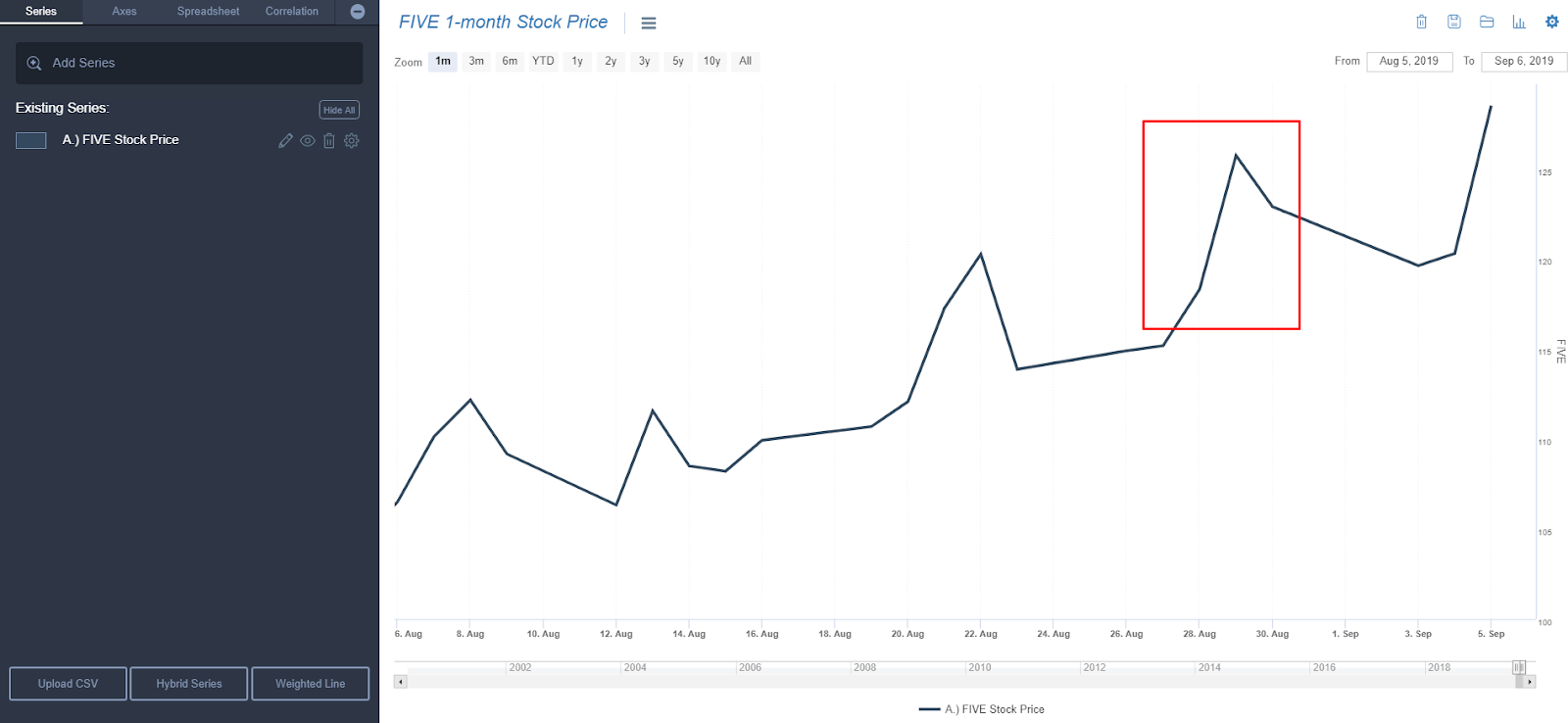 PVH: PVH total revenue grew 3% on a constant-currency basis, above Street estimates, though the company did bring down its H2 revenue guidance. (interactive chart link)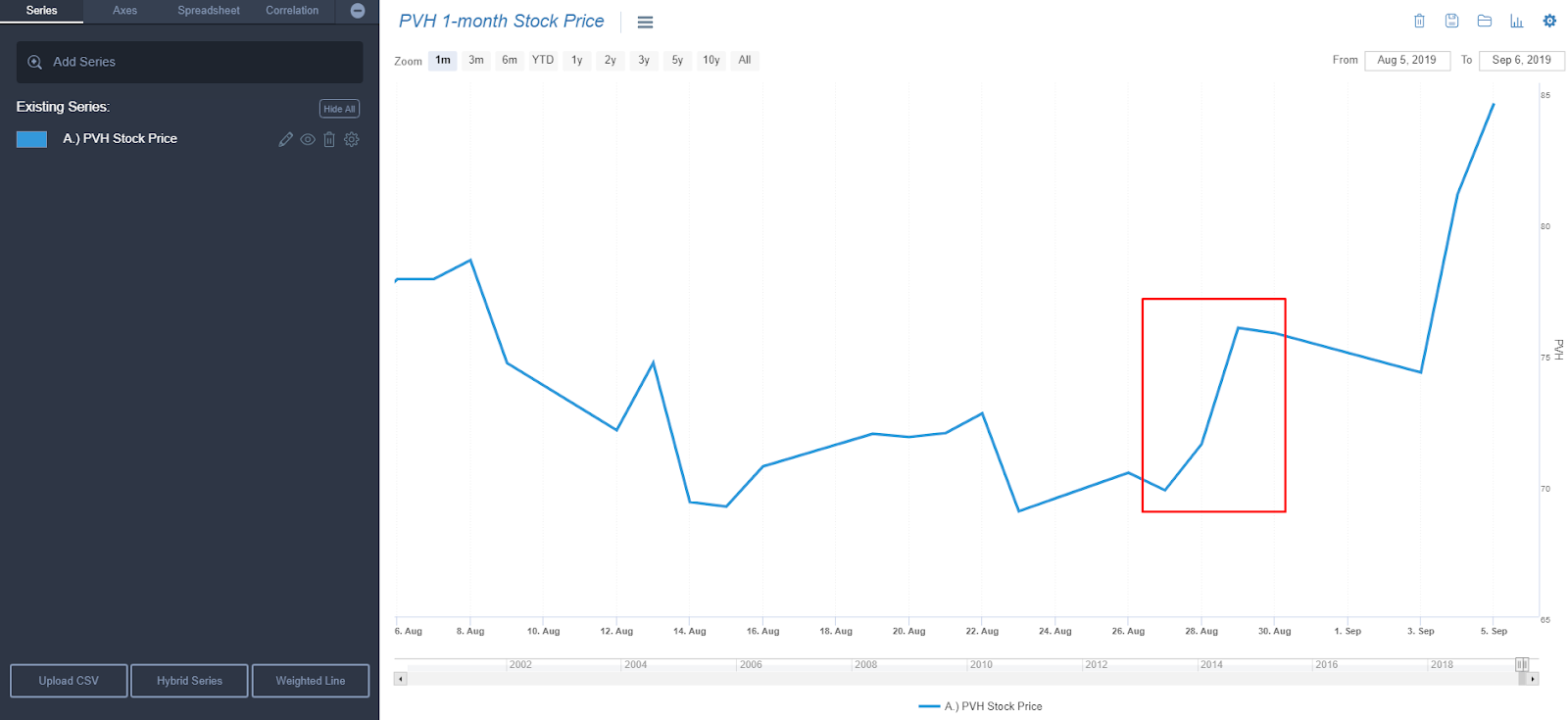 DBI: Designer Brands (formerly known as DSW or Designer Shoe Warehouse) total revenue growth of +8% disappointed vs. consensus. (interactive chart link)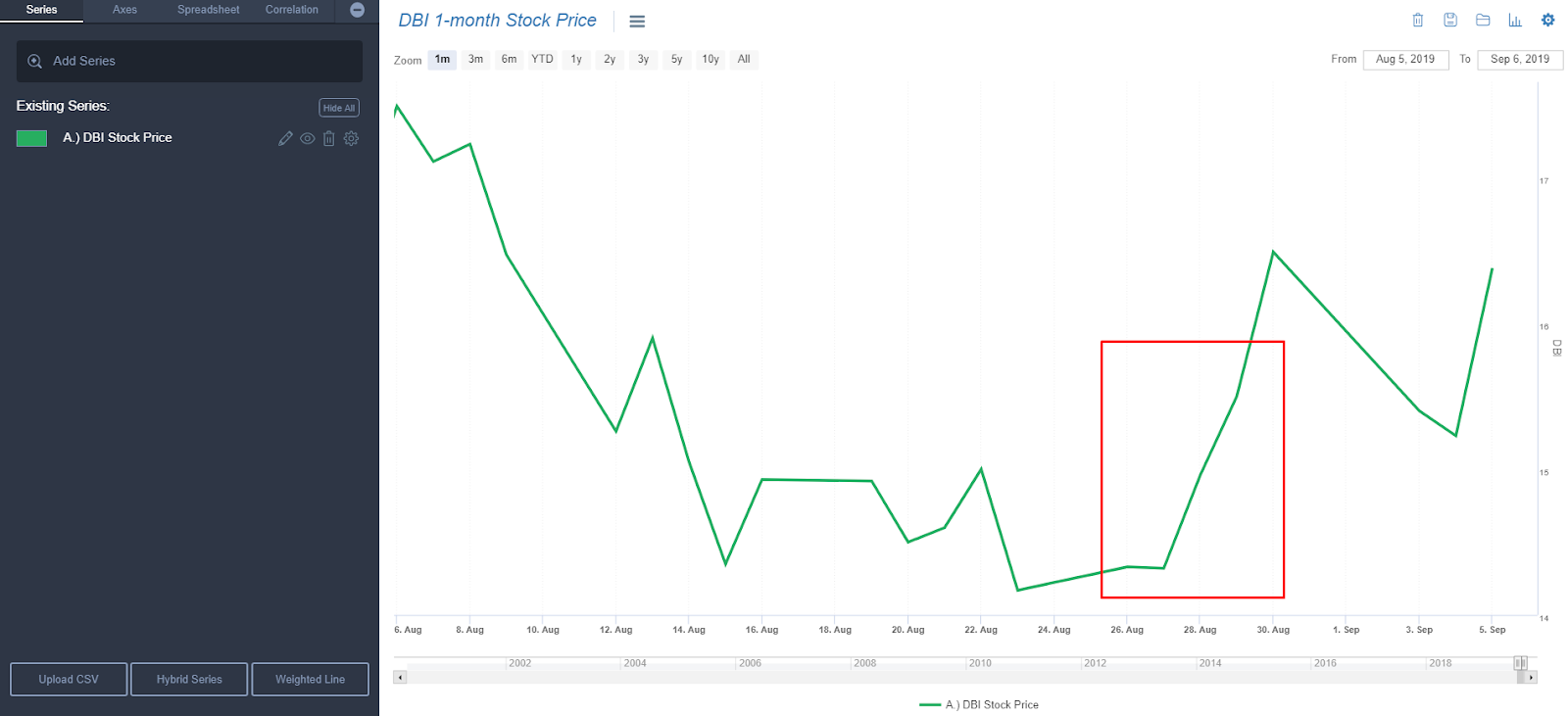 AEO: American Eagle (parent of the eponymous brand and aerie) saw total revenue growing at 7.9% for the quarter (vs. consensus of 4.2%), with very strong comps at aerie. The stock did sell-off only to fully recover the very next day. (interactive chart link)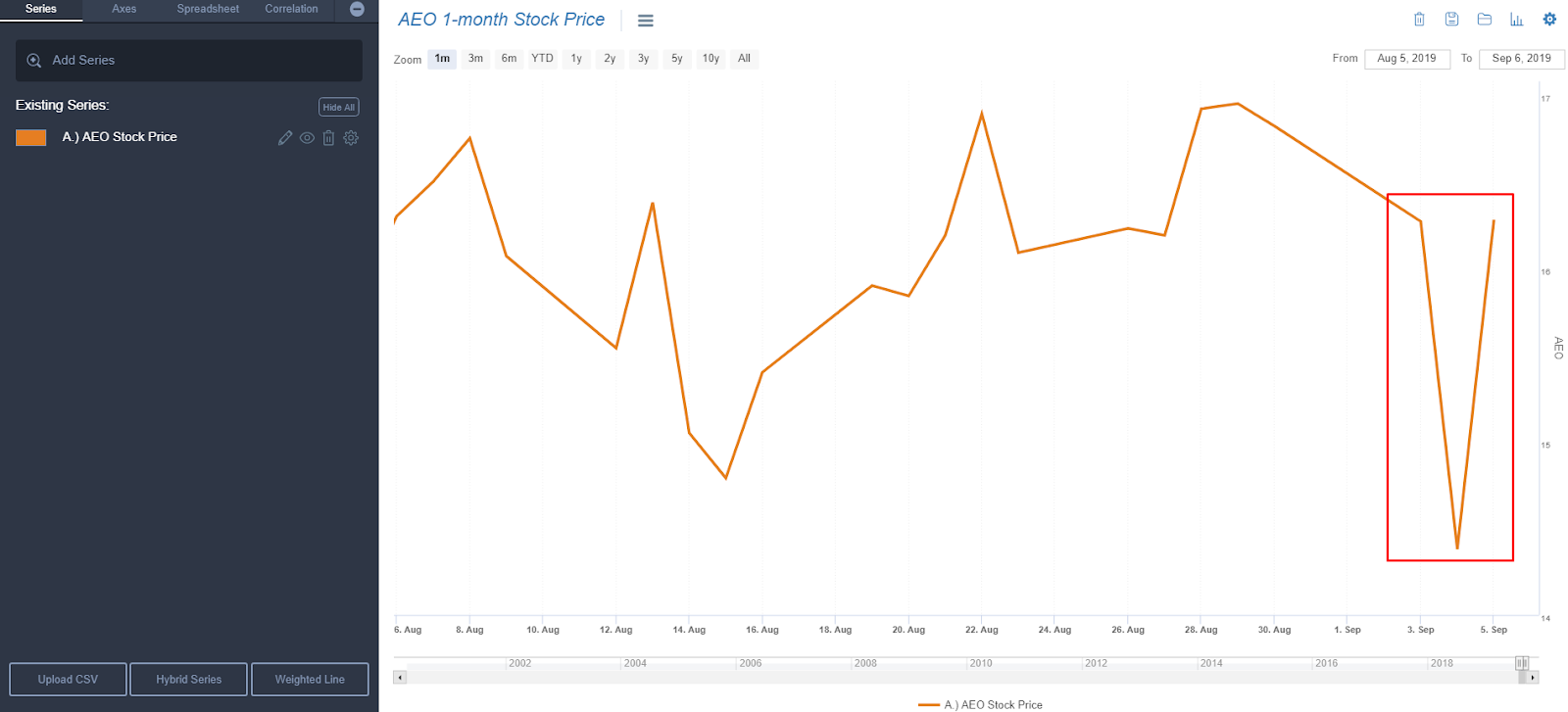 CAL: Caleres (parent of brands such as Famous Footwear and Allen Edmunds) total revenues increased 6.5%, also above consensus. (interactive chart link)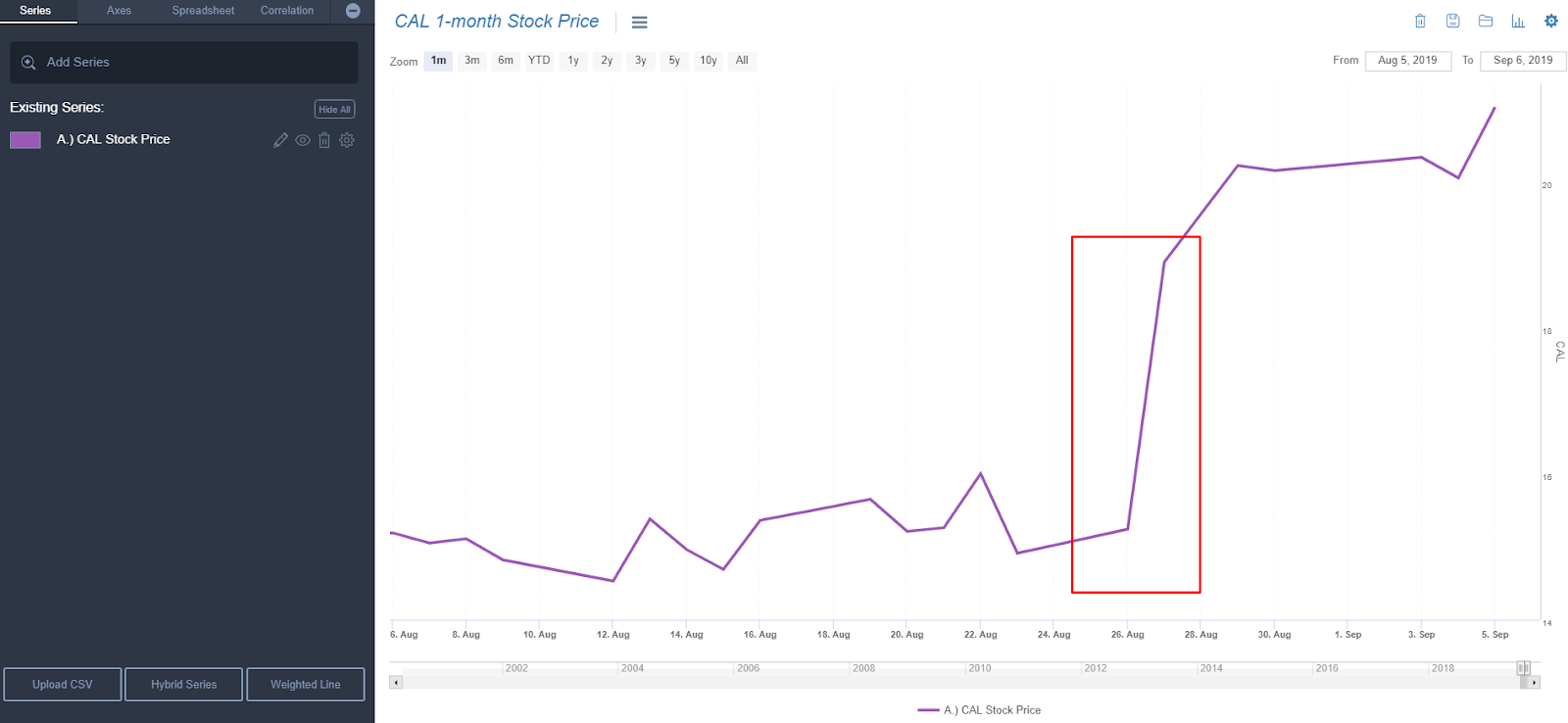 ZUMZ: Zumiez reported really strong numbers, and guided up for the year. Revenue increased 4.3% while the August comp was up 7.1%. The stock is trading up about 8% on the day after the earnings. (interactive chart link)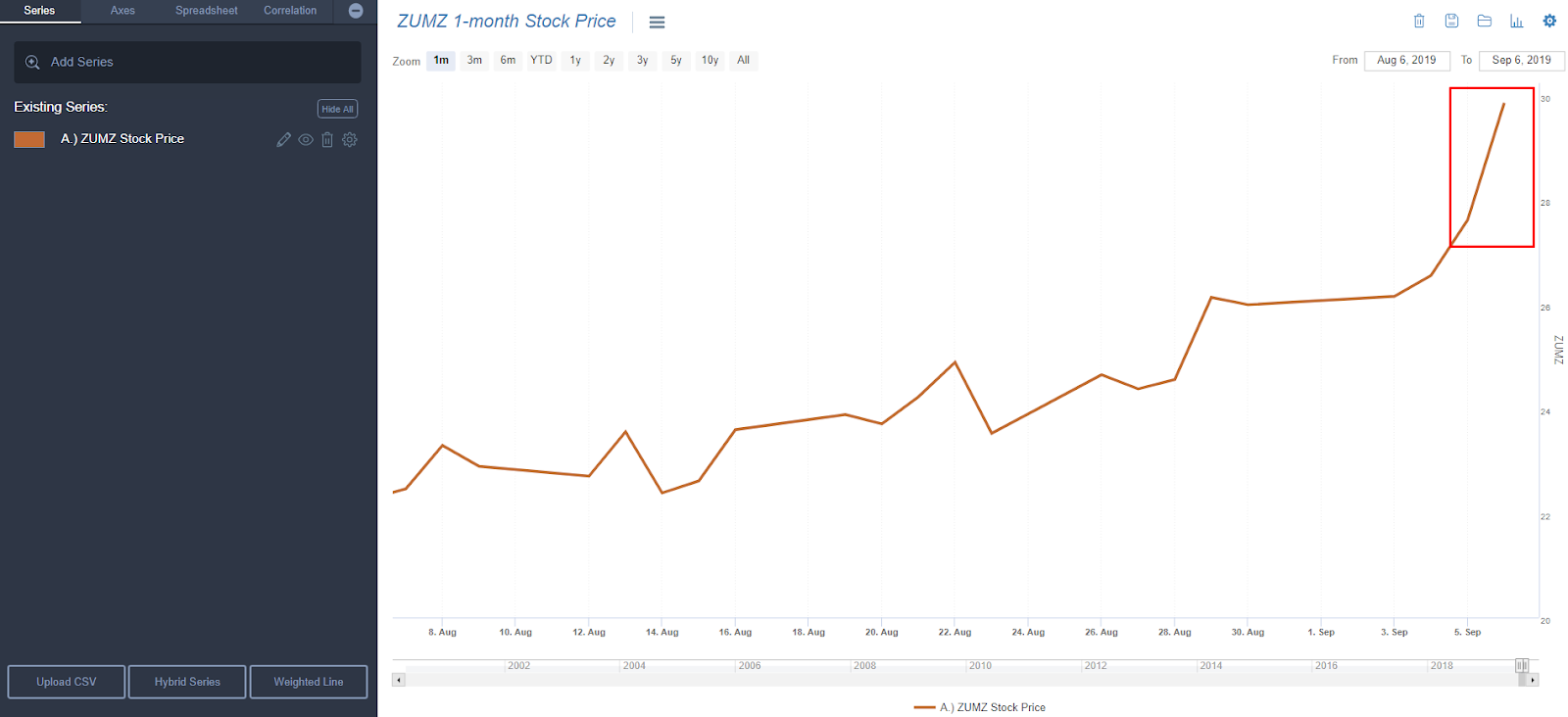 VRA: Vera Bradley total revenue increased 5.4% (at the high end of their guidance). However, there were a lot of puts and takes. There was a partial recognition of an acquisition-related revenue in the quarter, combined with reduced clearance sales. (interactive chart link)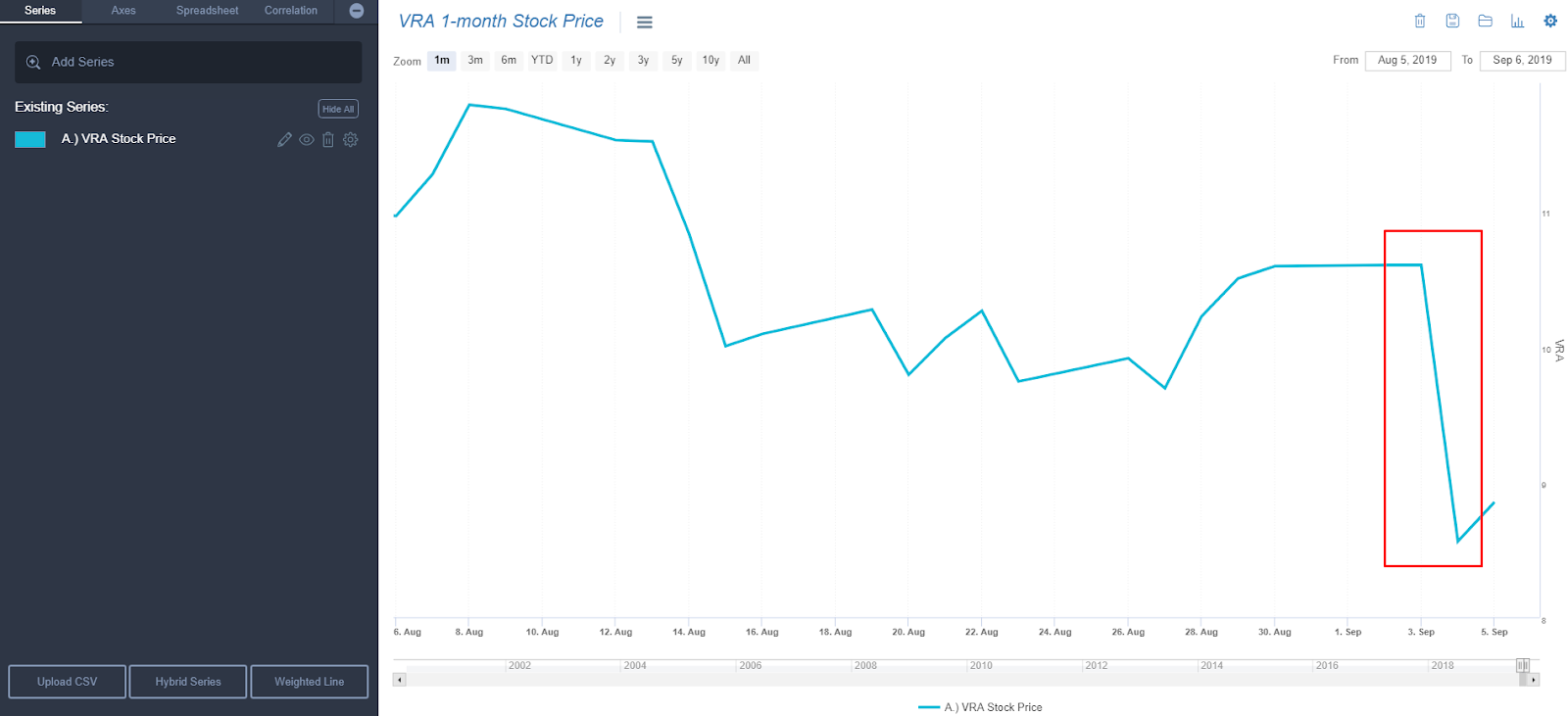 We are able to summarize these results very quickly by using our industry-leading document search: we simply brought up all 8-Ks and all press releases for these tickers at once.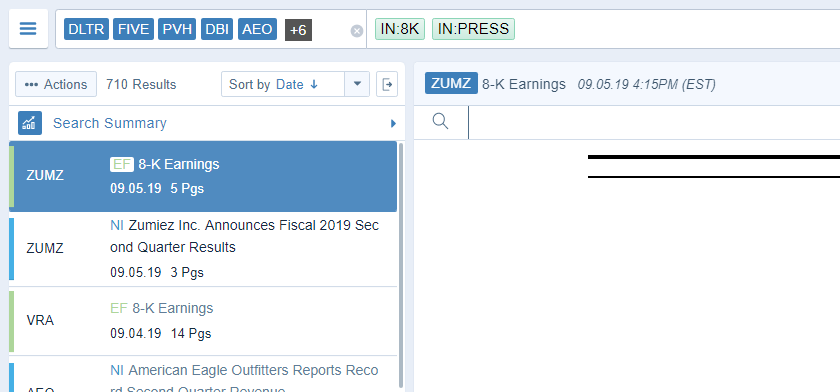 For the strong comparable stores growth names:
BBY: Best Buy was perhaps our biggest "miss". Comps of only +1.6% domestically and well below Street estimates. Additionally, the company narrowed its full-year comparable store sales growth forecast unfavorably. (interactive chart link)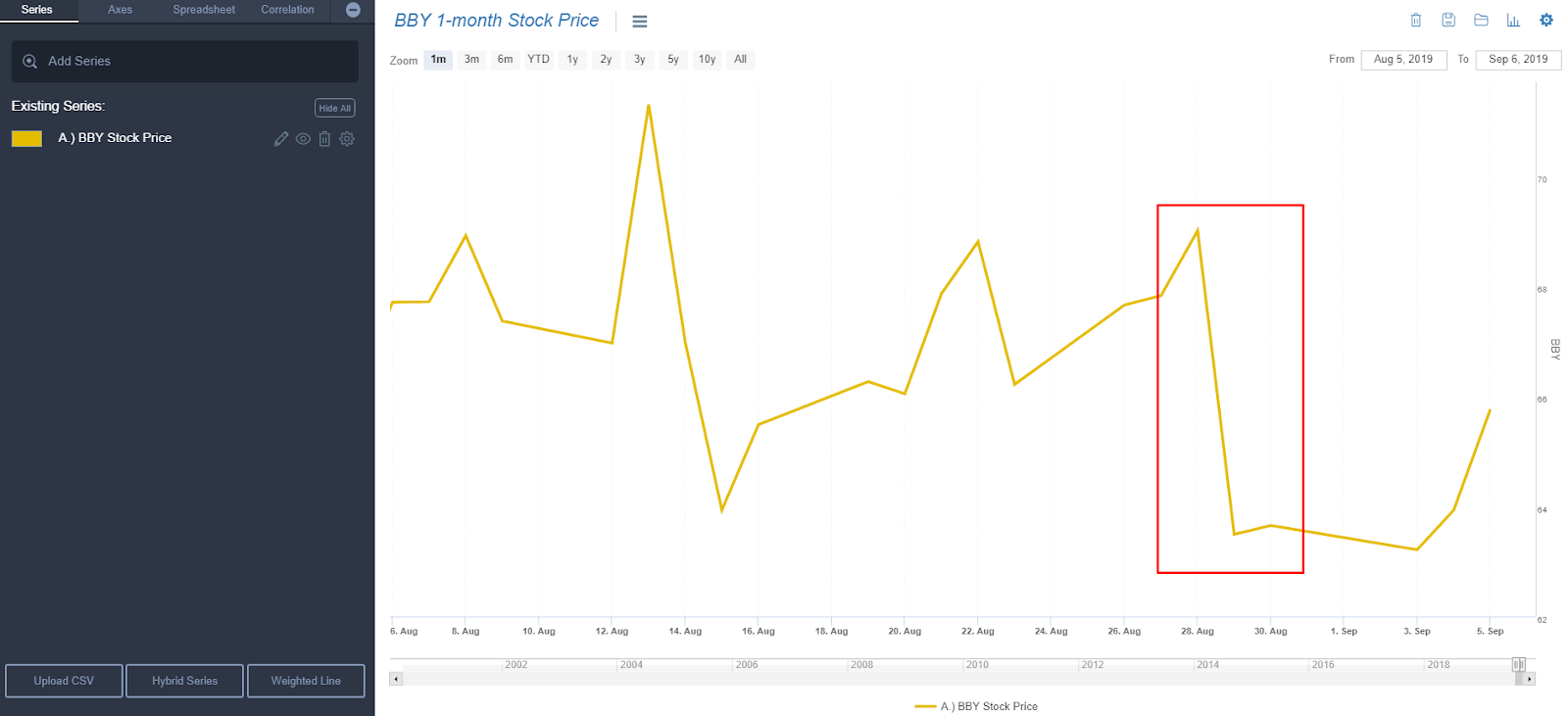 BURL: Burlington Stores, on the other hand, was our biggest "win." Comps there exceeded the company's own guidance and accelerated QoQ (+3.8% vs. +0.1% in prior quarter). The company also raised its comparable store sales growth guidance. (interactive chart link)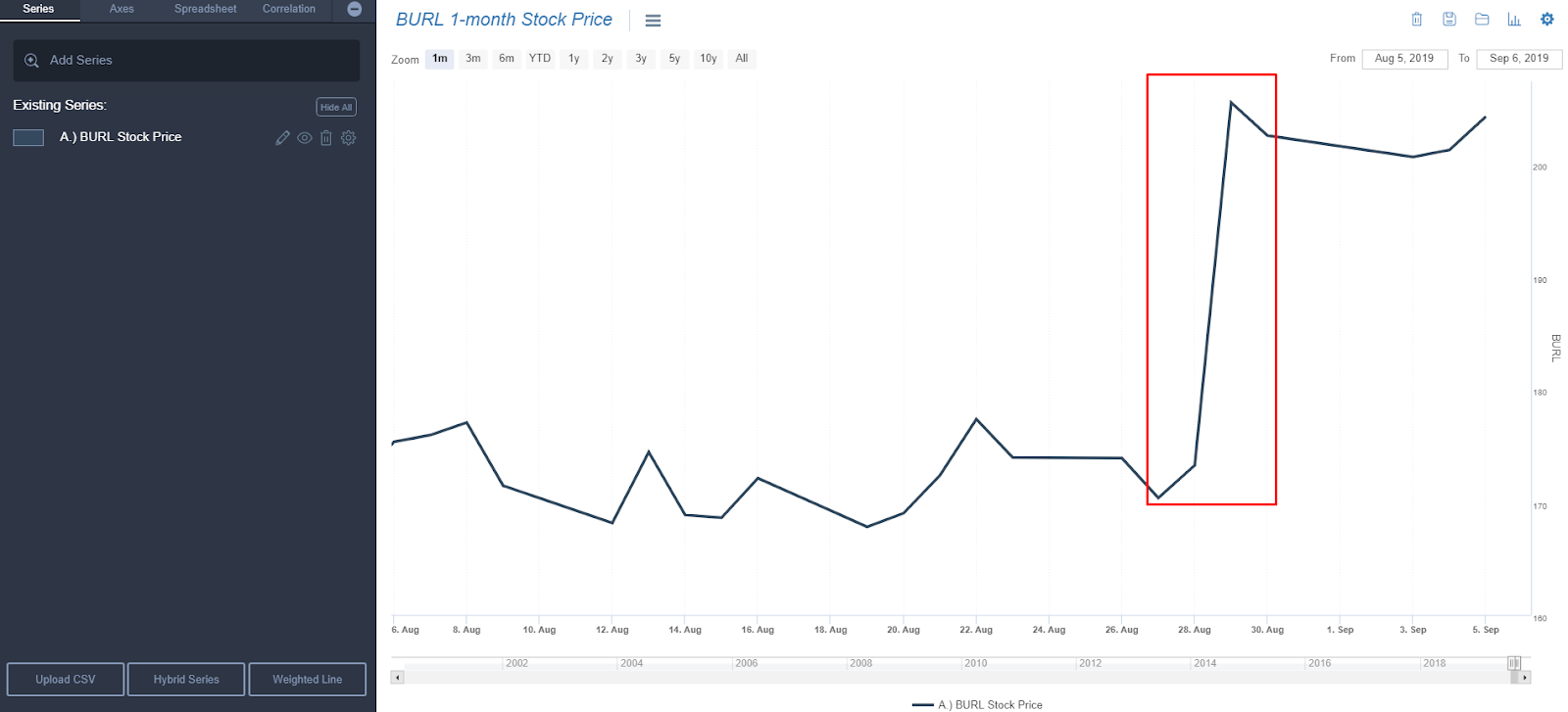 SCVL: Shoe Carnival beat the Street comparable store sales growth estimates very slightly (+1.4% vs 1.3%). More interestingly, the company said that its August SSS are coming in strong, at +3.5%. (interactive chart link)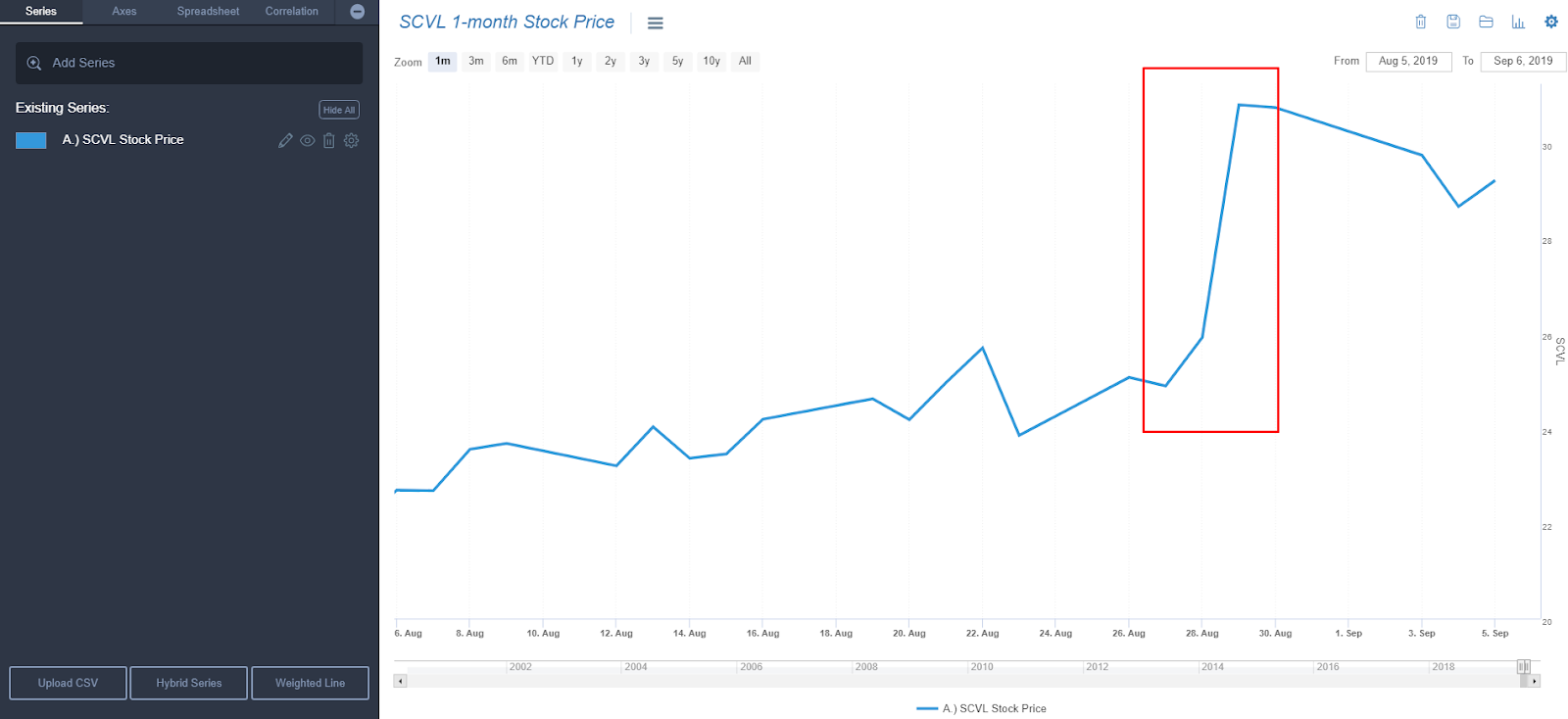 DLTR: Dollar Tree (also parent of Family Dollar) reported a 2.4% growth in their comps, well above the 1.9% consensus, mostly driven by Family Dollar. The company re-iterated its low single digit guidance. (interactive chart link)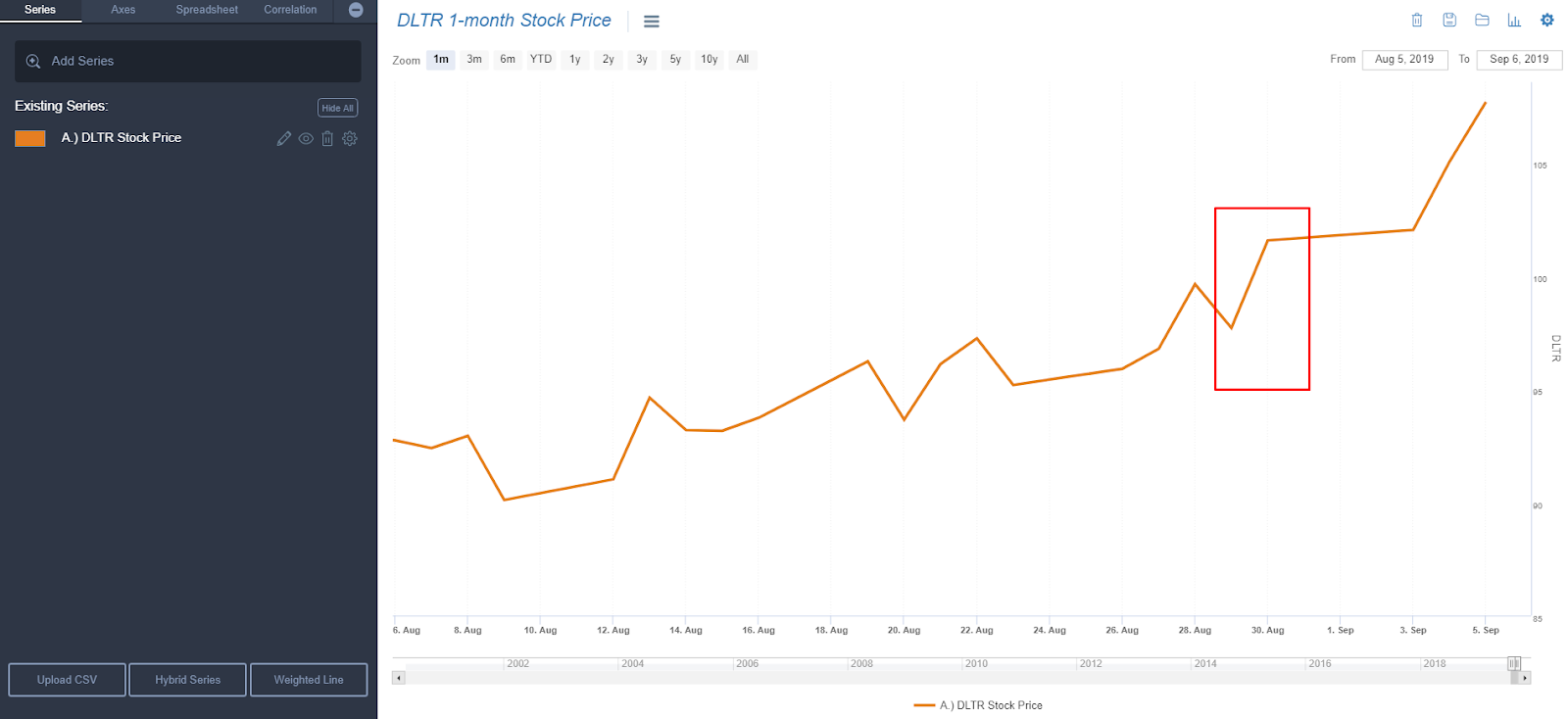 How did we do overall? 
An equal-weighted portfolio consisting of these 11 stocks returned over 13% in the last month, versus roughly flat returns for the broader retail ETF XRT. (interactive chart link)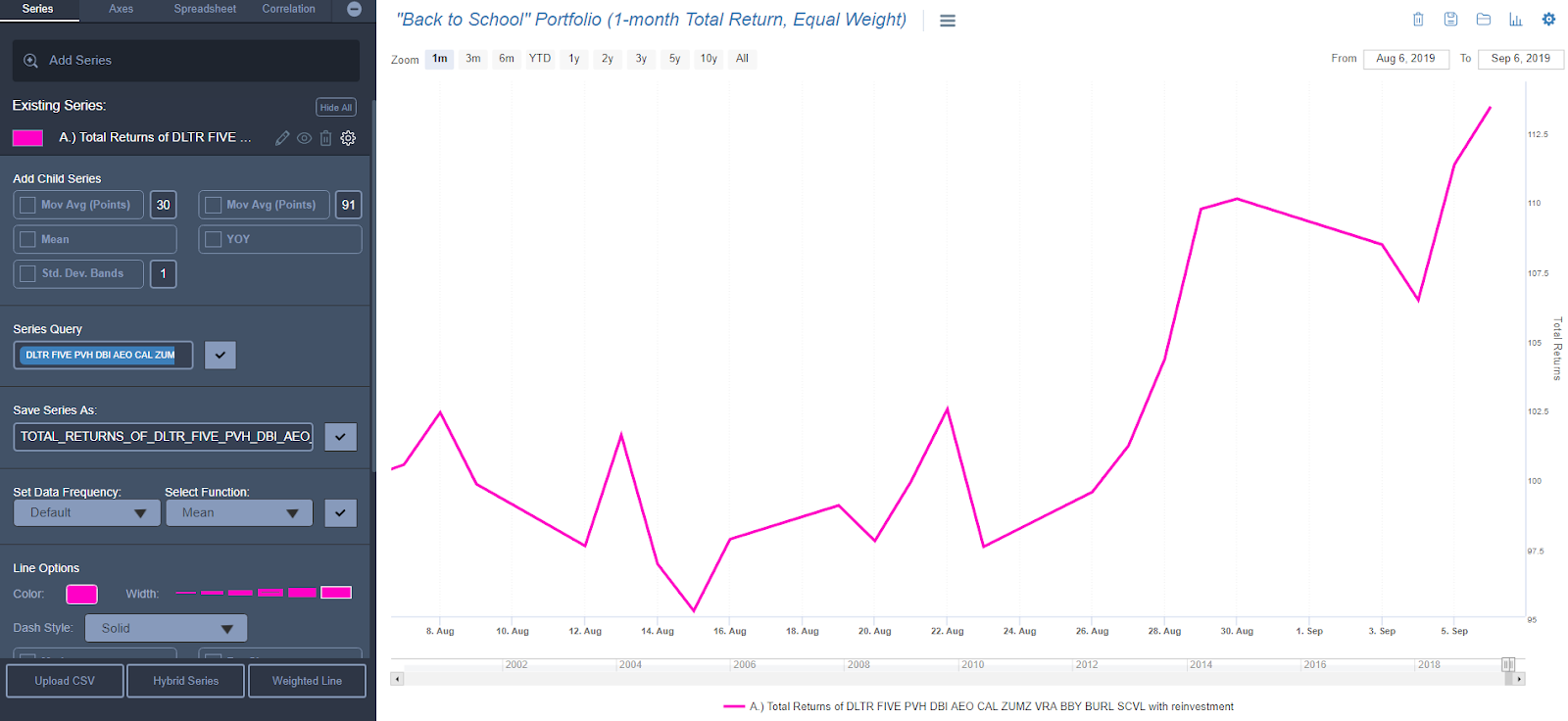 To find out more about the alternative data integrations in our platform, please get in touch with us.