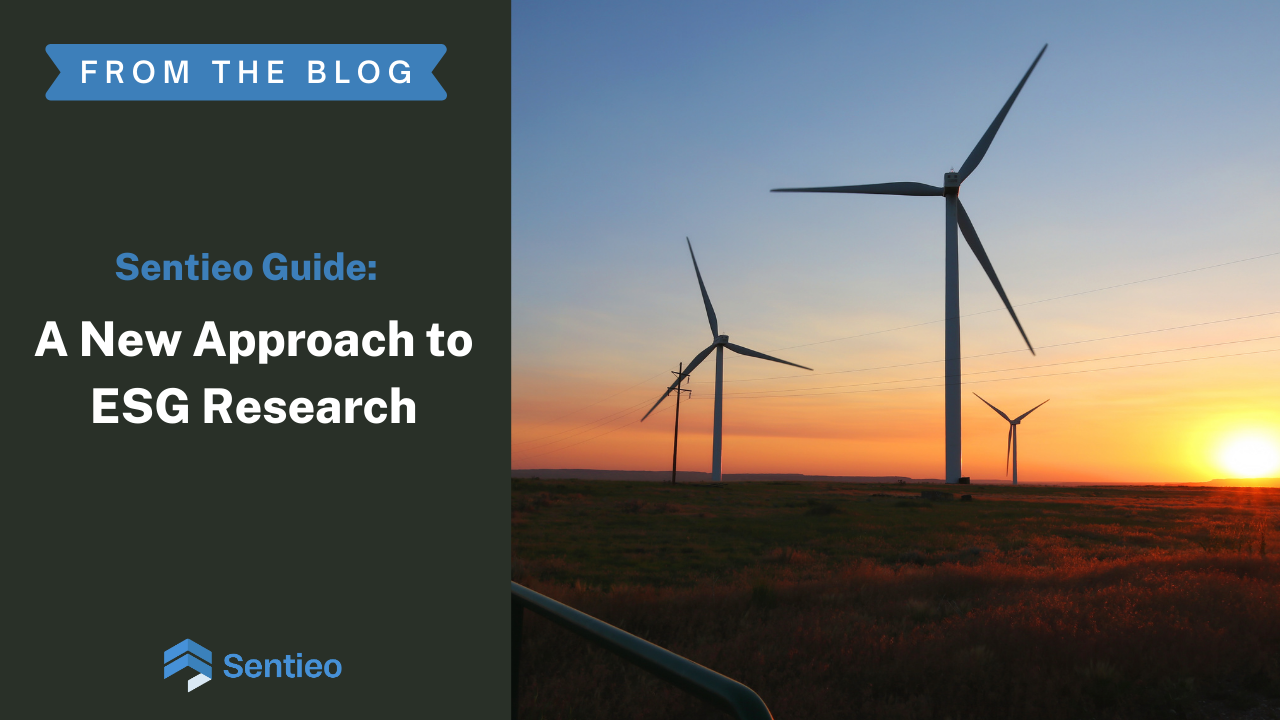 The State of ESG Research Management
With public, investor, and regulatory pressures rising to integrate environmental, social, and governance (ESG) principles and transparency into investment research and decisions, institutional investors are struggling to find, analyze, and centralize the deluge of information provided by companies and ratings organizations.
In fact, research conducted by McKinsey in 2019 "highlighted that while 90 percent of companies report on sustainability, only 15 percent of investors can successfully integrate this information into their investment decisions."
The lack of ability to effectively and efficiently integrate ESG factors into investment research workflows leads to a significant amount of time wasted by expensive ESG and fundamental analysts, missed insights that could deliver better results, and a lack of confidence in ESG-driven investment decisions.
ESG Investing: Mainstream & Delivering Results
ESG investing has come a long way since Who Cares Wins, the report that made the case for integrating ESG factors into capital markets, was published in 2005.
Long considered a niche investment strategy, ESG investing has become mainstream, with assets under management using sustainable investment strategies on the rise across the globe:
The US SIF Foundation's 2020 biennial Report on US Sustainable and Impact Investing Trends found that sustainable investing assets account for $17.1 trillion or 33% of the total U.S. assets under professional management–a 42% increase over 2018.
PwC Luxembourg's late 2020 report, The growth opportunity of the century, called ESG a "paradigm shift" with European ESG assets forecast to make up "41% to 57% of total fund assets in the region, compared to the 15% of assets ESG accounted for at the end of 2019."
In 2019, research from The Economist Intelligence Unit found that 76% of Gen X and Millennials in the UK say "it's increasingly important to consider ESG factors when investing."
And from Morningstar to Morgan Stanley, JUST Capital, RBC Global Investment Management, and Goldman Sachs, research shows that ESG investing pays off in terms of performance and returns.
ESG Research Obstacles
Despite strong returns and rising interest in ESG investing, institutional investors continue to struggle with the best way to confidently integrate ESG factors and research outputs into investment decision-making processes.
Proliferation of documents and data
The growing amount of financial and non-financial data points and documents that need to be consumed by ESG analysts and the typically small teams doing primary research is overwhelming, requiring complex fact-finding exercises and use of multiple tools and channels for sourcing from:
Publicly-traded companies
ESG ratings organizations (such as Sustainalytics, JUST Capital, and MSCI)
Sell-side research
Industry oversight groups
Lack of transparency and standardization
There are no standards for corporate sustainability reporting and disclosures as there are for financial disclosures, making it difficult to validate claims and reconcile this information to make comparisons between companies.The same thing applies to the growing body of third-party ratings, all of which have their own methodologies for evaluating a company's track record on ESG factors.
Fractured research workflows
With disjointed processes and systems used to conduct and track research across teams of ESG and fundamental analysts, capturing and auditing all of the source material and engagement interactions–internally across teams and externally with company management–is time consuming and resource intensive at best and nearly impossible at worst.
Regulation on the Rise
When it comes to transparency and standardization of methodologies and reporting to support ESG investment strategies, legislators and regulators are starting to step up, particularly in Europe.
Europe's SFDR Deadline Approaching
The first major milestone in the European Commission's Action Plan on sustainable finance is swiftly approaching, with a March 10, 2021 deadline for compliance with SFDR, the Sustainable Finance Disclosure Regulation. SFDR imposes transparency and disclosure requirements on institutional investors and asset managers, including:
Written policies on the integration of sustainability risks in the investment decision-making process
Information on the methodologies used to assess, evaluate, and monitor the effectiveness of sustainable investments
Periodic reports on the impacts of sustainable investments
UNPRI Signatories Growing
Some 2,600 global asset owners and managers, representing $103 trillion in assets, have committed to incorporating ESG issues into their investment analysis and decision-making investment processes by signing the United Nations Principles for Responsible Investment (UNPRI). Compliance with UNPRI mandates includes:
Incorporation of ESG factors into 50% of total AUM
Centralized capture and aggregate reporting of both internal and external engagement on ESG factors
SEC Exploring ESG Disclosure Standards
With Europe moving full speed ahead on regulating ESG disclosures, the Securities and Exchange Commission (SEC) is looking to catch up with the agency's investment committee recommending with creation in May 2020 of a framework for ESG disclosure.
A New Approach to ESG Research Integration
Positive performance and returns combined with growing public, investor, and regulatory pressures to integrate ESG factors into investment strategies is driving greater interest in a new, integrated approach to ESG research management that incorporates content aggregation, NLP-powered search, notes standardization, and compliance in a single platform.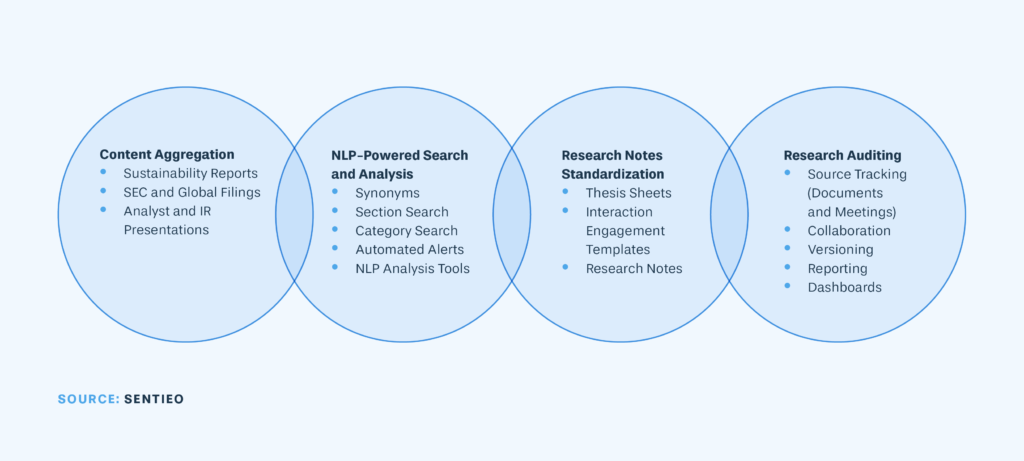 Learn more in the guide we put together to help institutional investors explore a new, integrated approach to ESG research management that can overcome the challenges and maximize the opportunities of ESG investing.