Sentieo's Excel plug-in (a beta version is available to subscribers) can be used as a powerful screening tool to identify companies that buy back their own shares.  One danger with screening for buybacks is that many companies destroy shareholder value with buybacks: management buys back shares at high prices and fails to buy back shares at low prices.  Fortunately, we can weed out many of these companies by looking for companies that reduced their share count from 2008-2010 (since market valuations bottomed in early 2009).  Such companies bought back cheap shares in the past so they might be doing it again.
We've compiled a list of 76 stocks that meet the following criteria:
The company reduced its share count year-over-year by at least 2%.
The company reduced its share count from 2008-2010 by at least 5%.
Market capitalization is above $300M.
This universe of stocks should be a great place to look for undervalued companies buying back their shares.  4 of them are owned by Berkshire Hathaway.
Of course, you're going to have to put in the work to figure out the degrees of undervaluation (or overvaluation).  In this universe of stocks, the company that reduced its share count the most in the last fiscal year is Wendy's (WEN).  While Wendy's management demonstrated the most conviction in its own stock, conviction may not necessarily correlate with undervaluation.  Based on consensus estimates, it currently trades at a 2017 forward P/E of 22.5X.  While Wendy's stock may very well be undervalued, it is not glaringly undervalued based on conventional metrics like P/E or forward P/E.
Without further ado, here is the list:
.csv spreadsheet (click to download)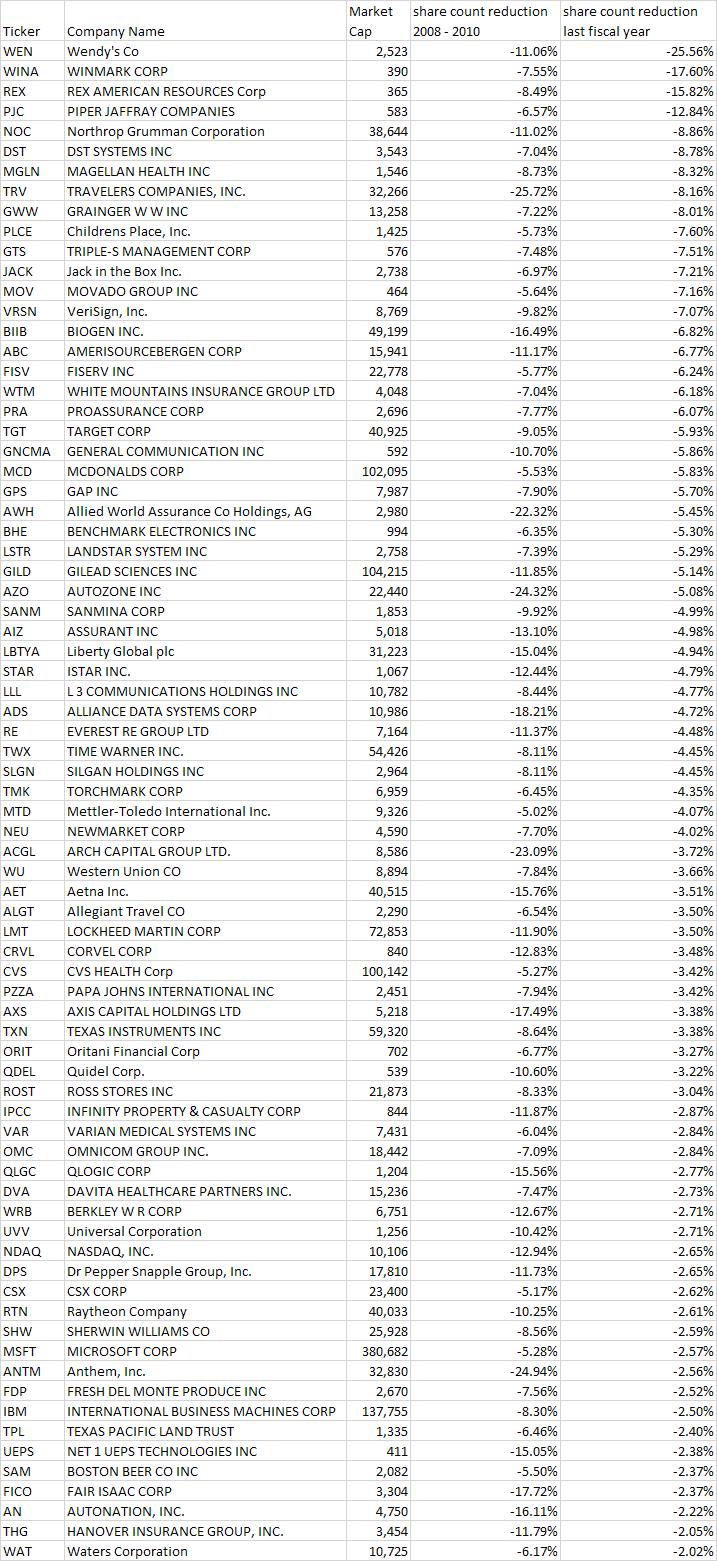 Notable names on this list
Out of this universe, the following four are current Berkshire Hathaway holdings:
Berkshire Hathaway has owned these stocks in the past but no longer does so according to its latest 13-F:
Wrapping it up
As you can see, we're hard at work coming up with new tools to save time and generate investment ideas.  This is just a sneak peak of what our Excel plug-in can do!
To see how Sentieo can help with your stock screening, simply go to Sentieo.com and sign up for a free trial. If you would like to continually receive content related to topics of interest in the markets, don't forget to subscribe to the Sentieo Blog so that we can notify you of new posts by e-mail.