The United Nations Principals for Responsible Investment (UN PRI) continues to be a driving force of change among asset managers around the world. The organization's goal of understanding "the investment implications of environmental, social, and governance (ESG) factors" and supporting "its international network of investor signatories in incorporating these factors into their investment ownership decisions" has seen tremendous progress over the past 10 years.
The number of UN PRI signatories has grown from just 734 in 2010 to 3,038 in 2020 with the AUM managed up from $21 trillion to $103 trillion.

A key requirement for a signatory is that an investment manager must incorporate ESG factors into their investment processes covering a minimum of 50% of the firm's total AUM. As a result, ESG incorporation and tracking is no longer confined to ESG funds and portfolios. Firms must come up with a plan to incorporate ESG factors into all portfolios and think creatively about how they will aggregate the outputs from each individual fund up to the firm level. 
Becoming a UN PRI also continues to become a necessity for asset managers competing for AUM as asset owners begin to ask within RFPs if an investment manager is a UN PRI signatory across asset classes. Below is an excerpt from a public RFP for an Emerging Markets Equity and Emerging Market Debt mandate for San Bernardino County Employees Retirement Association which directly asks the question of whether or not a manager is a signatory along with requests for details.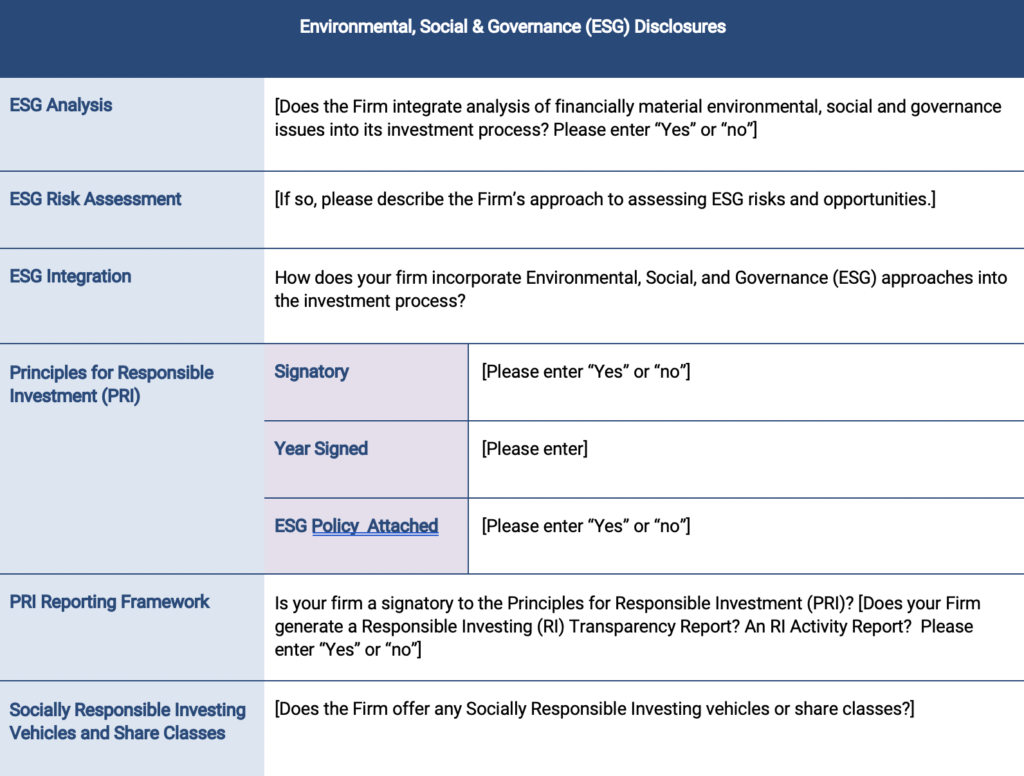 Sentieo can be an essential tool for UN PRI signatories by providing the unique ability to alleviate two headaches for asset managers: search/collaborate on ESG insights and ESG reporting.
8 Ways to Find & Collaborate on ESG Insights
Sentieo's industry leading AI-powered search identifies ESG factors, insights, and news around a company or portfolio quickly, surfacing relevant issues to users, helping them identify risk, and communicate and collaborate on any relevant findings to incorporate ESG into an investment process, regardless of asset class.
Search inside sustainability disclosures
Leverage Sentieo's powerful synonym/acronym dictionary for more efficient searches
Use Sentieo's category feature to quickly find numbers attached to concepts, for example emission reduction goal tonnage across publicly traded and private entities
Benchmark governance disclosures with in-proxy searches
Use Sentieo to automate ESG monitoring by setting up instant email, mobile, and desktop Alerts when new documents or data are published for a specific company or a watchlist
Save searches of companies, ESG topics, or industry trends
Monitor financial metrics, like ROIC, for a watchlist and track a company's performance on a configurable Dashboard
Capture and collaborate on ESG theses and interaction meeting notes
Learn more in the guide we put together to help institutional investors explore a new, integrated approach to ESG research management that can overcome the challenges and maximize the opportunities of ESG investing.
Contact us today to discuss your ESG research integration challenges, and look for my post on ESG reporting next week.