Why We Wrote This Guide
The amount of data available to researchers today can be overwhelming. In fact, competitive intelligence professionals are often drowning in data.
The tens (or even hundreds) of companies that they track each produce hundreds of data points, documents, and news — any of which could inform a change in corporate strategy or competitive response.
CI professionals can easily miss valuable information as they spend hours searching for relevant and actionable nuggets, or even just a more general understanding of market dynamics.
So how should analysts surface through this data deluge to find missing insights?
We came up with 6 key questions that you should be asking yourself (and your team) as you track your peers' activities. The answers to these questions will help define your CI strategy.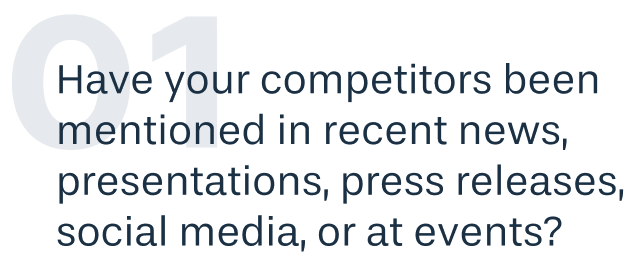 Why It Matters
Staying on top of your competitors' news, events, and more can help you plan and time your own strategies — whether those be announcements, launches, or promotional activities.
Following a competitor's activities will help you understand which media outlets they have partnered with, and in turn, how they are positioning their brand and/or product(s) within those publications.
Knowing where competitors hold events can also give insight ?into their target demographics. You'll also be able to shed light ?on the types of activities where they invest most of their marketing spend.
How It Works
Some tools allow you to set up instantaneous email alerts for specific companies, document types, and keywords. You may also want to create themed watchlists to look at multiple competitors at once.

Why It Matters
How well are your competitors doing, by the numbers? The documents that they've filed with the SEC are a gold mine ?of information.
To get insight into a competitor's next move, search the company's annual 10-K filing, specifically within the "Outlook" or "Use of Proceeds" sections, which show if the company has used capital to expand or grow, to repay debt, or to support general operations. Can you see specific plans for this capital?
How It Works
Use a tool that allows you to search across all document types, and even within specific document sections.
Get alerted when new competitor documents are released, whether they be a 10-Q covering the company's quarterly performance, an 8-K for material events (acquisitions, changes
in corporate management, or updated fiscal year end-date), ?or an S-1 for an IPO.

Why It Matters
Annual reports (among many other document types) can also give good insight into product research and development (R&D), which can include everything from initial product design to compliance testing, to new market deployment.
Track exactly how much your competitors are spending on innovation.
How It Works
Get alerted on specific company and keyword searches like "NVDA > R&D > automation," so you're always in the know about your competitor's product roadmap.
Want to know the other 3 questions you should be asking? Download the full whitepaper.
You can also check out the webinar we ran last week around the same topic! Watch Webinar.