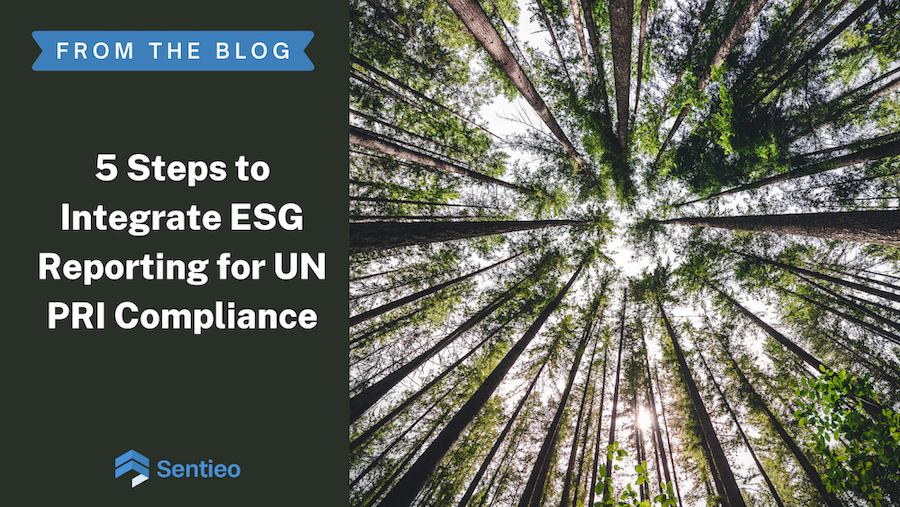 Aggregated firm-level reporting presents a tremendous headache for those charged with completing the reporting modules required by the UNPRI RFP/RFI response.
As a UN PRI signatory, firms are required to produce data around incorporation and engagement across asset classes and portfolios that represent greater than 10% of a firm's AUM. And firms must also centrally track the engagements that take place across an organization by topic and count.
In addition to support for search and collaboration on ESG insights that I covered in last week's blog post, the second major UN PRI benefit of partnering with Sentieo for asset managers is centered around our ability to help meet reporting requirements and other expectations of being a UN PRI Signatory. Utilizing our best-in-class platform to follow these 5 simple steps can help lessen the headache and burden of meeting UN PRI reporting requirements while increasing collaboration and communication across the firm. 
Step 1: Utilize Standardized Tags for ESG Factors
Standardized ESG tags used universally across a firm allow for quick aggregation of notes that are created containing those tags. Permissioned compliance accounts can see all, but not edit, notes from across investment teams, allowing them to aggregate total engagements, gain examples of Factor integration, and quickly understand all owned securities at a security, portfolio, and organizational level.
Step 2: Universal Templates for Content Creation and Permissioning
By standardizing tags, organizations can leverage uniform templates across their investment teams to track analyst and portfolio manager perspectives on ESG factors as well as engagements around ESG. Consistency in format and content allows easy aggregation and consumption by marketing and sales staff, enabling them to find examples of ESG incorporation and impact when responding to demands of clients and prospects.
Step 3: Centralize Research Content
Standardized tags and templates provide minimal value if they are located in disparate systems that don't communicate with each other. By centralizing all investment content in a single, appropriately permissioned and secure platform, leverage of this RMS structure becomes powerful, allowing value to be created for the associate, analyst, portfolio manager, marketing, RFP, and compliance workflow.
Step 4: Appropriate Permissioning
By creating appropriate permissioning groups within an organization, centralized reporting agents can leverage the content from across an organization of multiple investment teams and products. This allows an organization to maintain the security and integrity of each team's individual investment process while meeting the requirements of RFP, marketing, and UN PRI.
Step 5: Aggregating Reporting
By following the top three steps, and adopting the Sentieo RMS across an organization, producing the metrics required by the UN PRI becomes painless. Our powerful Document Search engine allows users at all levels of an organization to quickly find relevant content and examples, and by combining standardized tags and templates across your organization, pulling aggregated metrics in 3 clicks.
With powerful permissioning and security features, Sentieo allows you to provide appropriate access to individuals across the firm to easily complete those reporting requirements, respond effectively to client inquiries with context and examples, and provide the specific outputs that may be needed for RFP/RFI inquires.
ESG incorporation into the investment research process is here to stay and becoming a UN PRI signatory is becoming essential to winning institutional and consultant driven dollars.
Learn more about how Sentieo can help institutional investors explore a new, integrated approach to ESG research management that can overcome the challenges and maximize the opportunities of ESG investing in our recent guide. Or contact us to discuss how we can help you integrate ESG research into your workflow and UN PRI reporting.