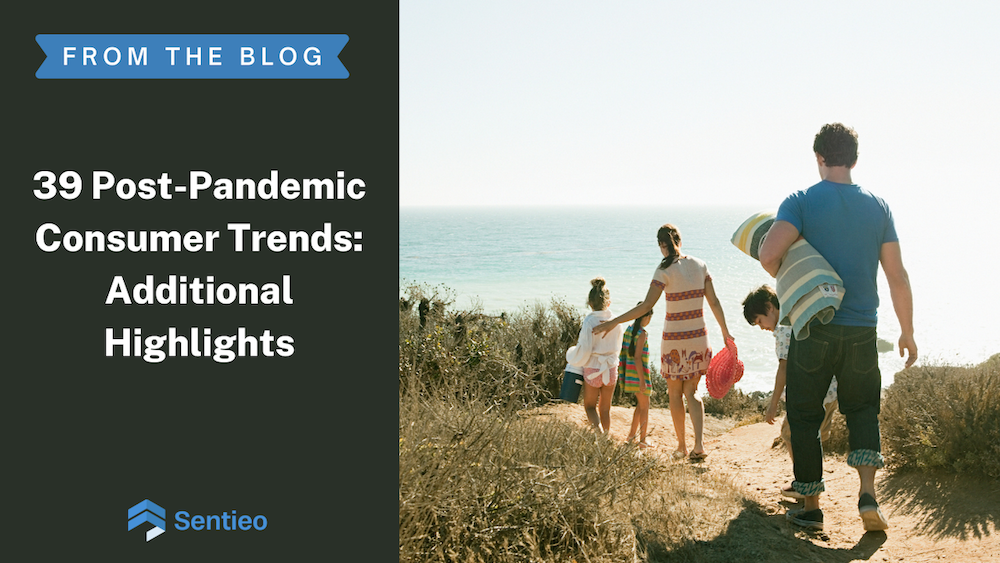 Recently we released a new trendbook titled "39 Post-pandemic Consumer Trends" highlighting a number of changes in consumer search behavior as the world emerges from the pandemic. The report followed our popular "corporate" trendbook with 21 transcript trends for 2021, which focused on emerging (and declining) trends from earning call transcripts. A few days ago, on our blog, we highlighted a few of the trends, and, in this post, we will highlight and expand on another set of these interesting developments. 
"Sunscreen"
Searches for "sunscreen" continue to do very well. We can observe that they had been growing overall year over year in the second half of 2020 after a dip in the first half, probably as a part of the Outdoor trend (see our write-up from last summer here). It looks like people are more than ready to spend more time in the sun. 

We are also seeing a recovery in the revenue growth estimates for Edgewell Personal Care (NYSE:EPC) as well as the company's EV/NTM EBITDA multiple. EPC owns a number of personal care brands, including the popular sunscreens Banana Boat and Hawaiian Tropic.
"Seaworld" "Six Flags" "Busch Gardens" "Epic Pass" "Ikon Pass"
US domestic leisure travel continues to look great. In the original trendbook, we highlighted the recovery in both Seaworld and Six Flags (see our write-up using transcript NLP on the Six Flags call in the depth of the COVID crisis). We can widen the trend with other searches: Busch Gardens, another leisure destination brand owned by SeaWorld Entertainment (NYSE:SEAS), has fully recovered. 

"Seaworld"
"Six Flags"
"Busch Gardens"
We are also observing strong (all-time highs in some weeks) year-to-date interest in ski passes. Both the Epic Pass, sold by Vail Resorts (NYSE:MTN) and its newer competitor, the Ikon Pass, are doing very well.

"Epic Pass"
"Ikon Pass"
This strength can be seen in the steep upward revenue estimates revisions for the domestic leisure-focused airlines, like Allegiant (NASDAQ:ALGT) and Spirit (NYSE:SAVE). For more information on the domestic airlines, watch our webinar with the sector head at Third Bridge, an independent expert research provider integrated into Sentieo.
We are seeing the strength in the reported results as well: for example, Vail's ETP (Effective Ticket Price) for the quarter that just ended was on par or higher than prior years', while total skier visits were up 36% (vs drop of 26% in the same quarter last year, and 14% growth YoY in 2019 pre-COVID).
For more information on our ML-based table identification, chaining, and visualization tool Table Explorer, watch this short workflow video. 
"Pizza" is out
We highlighted the year-over-year drop in global searches for pizza in the second part of our trendbook where we looked at what is happening with COVID winners, from Zoom backgrounds to sweatpants. The trend has continued since the publication of the trendbook: searches are well under 2020, and in-line with several prior years.
We can also see this reflected in the average EV/NTM EBITDA multiple of the larger global pizza players: there has been a decline over the last few months. We are looking at Domino's Pizza (NYSE:DPZ), its publicly traded franchisee groups in the UK and Australia, Domino's Pizza Group PLC (LON:DOM) and Domino's Pizza Enterprises Ltd. (ASX:DMP), as well as Papa John's International (NASDAQ:PZZA).
To learn more about Sentieo's versatile data visualization and analysis capabilities, watch our Basic and Advanced data viz webinars.
Download the report to read about all 39 Post-Pandemic Consumer Trends.