Today, we're excited to bring you our H1 2020 stock picks. This has become a bit of a fan favorite over the last couple of years—a report that is requested by our customers, the online community, and our internal staff in equal measure.
We know that incorporating alternative data into the equity research workflow empowers analysts to pick up digital breadcrumbs and turn them into signals. We first launched our semi-annual "Stock Picks" report in January 2019 to demonstrate the power of this approach—and demonstrate it did. In the first report, we used Sentieo to publicly pick 11 stocks. Halfway through the year, these 11 long ideas returned an average (mean) of 60%, compared to the leading S&P 500 index ETF at just under 20% YTD—its best H1 performance in two decades!
To choose our stock pics, we use a combination of fundamental analysis along with alternative data from our platform and broad "themes" including high-growth industries, megatrends, revenue growth, and industry leadership. Next, we plot the data looking for telling trends and finally apply our team's 60+ years of collective fundamental, qualitative investing experience to make our picks.
The H1 2020 edition highlights 14 new picks and takes a look back at our 2019 picks, why we selected them, and how they're doing today. Last year's H1 picks returned over 70% for the full year, while the H2 batch performed slightly above the SPY ETF since publication date to year-end (8.42% vs. 8.39%). We also did a retail-focused "Back To School" portfolio that further showcased our alternative data integration across the platform: we combined document search (to identify "back to school" stocks) with screening (looking for acceleration in the most predictive metrics). An equal-weighted basket, pun intended, of these 11 most actionable "Back to School" retailers outperformed the retail ETF XRT over the following month, as our alt data indicated they should: the basket was up around 13% vs. flat performance for the XRT. See our retrospective for details on each stock.
Sample H1 2020 ideas (download the full report here)
CROX
Megatrends: casual wear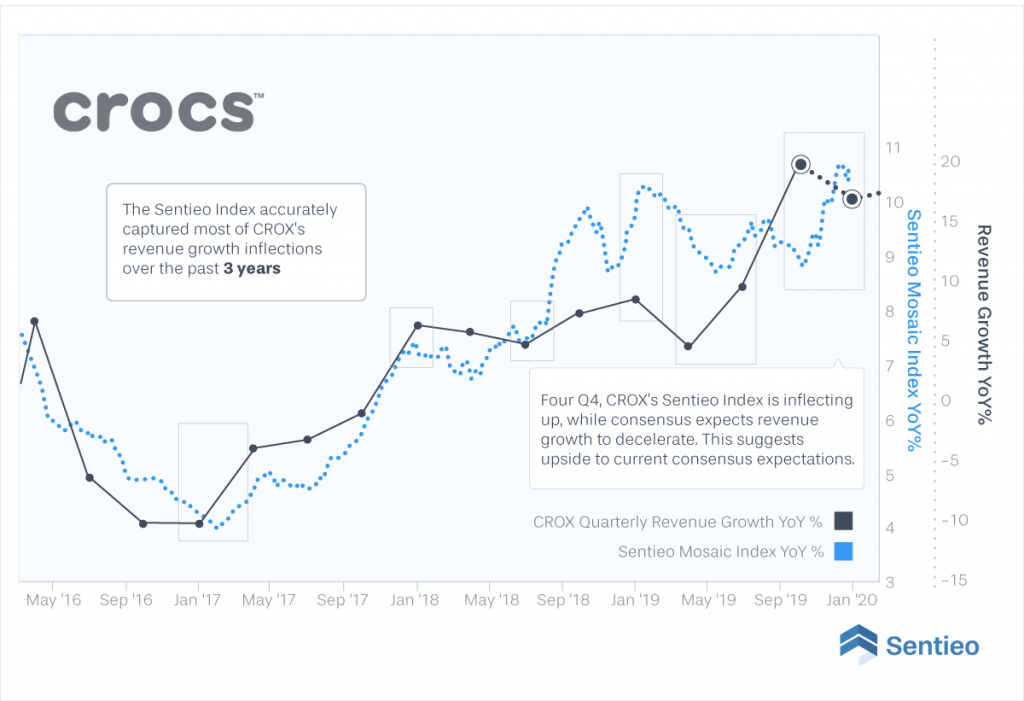 Casual footwear company CROX was one of our H1 and H2 long ideas for 2019, and it's also back for 2020. After overcoming some company issues in H1 2019, the company had an outstanding H2, more than doubling its June 2019 numbers. We are seeing excellent revenue and earnings estimates revisions, with solid alternative data index vs. expectations for revenue growth in the current quarter. The stock now trades at around 21x P/E for FYE Dec 2020: while there has been some multiple expansion since the summer, we still see room to run towards the premier names in footwear, all at 30x and above (for Nike, Adidas, Puma, Under Armour, Asics).
CHGG
Megatrends: online learning, cloud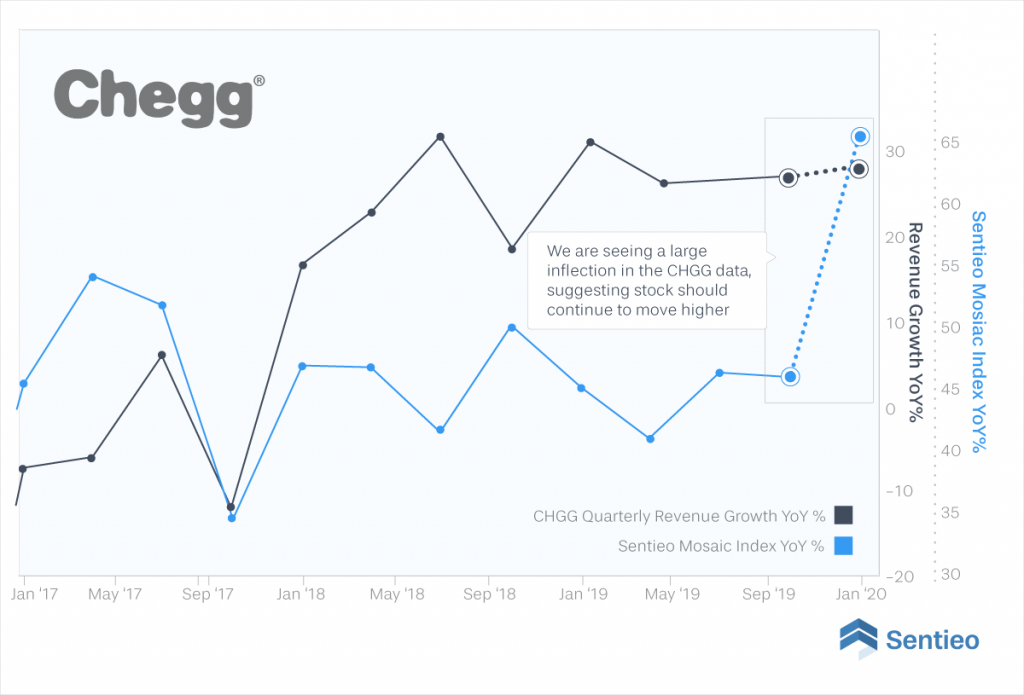 The dominant US online learning aid and textbook rental player Chegg (CHGG) has several levers to pull operationally in 2020: better bundling, better password sharing control, international, and execution around the recently acquired IT "boot camp". With remarkable brand recognition, highly scalable content platform (across a variety of subjects), personalized learning aids (including tutoring), and affordable pricing ($15-$20/mo), the ROI for CHGG customers is undeniable versus tuition/remedial classes/dropping out. Yet the company trades at around 9x EV/Sales for FYE 12/2020, below similar high-growth, high-margin, defensible SaaS stories. We see an opportunity for catchup in 2020 (backed by strong search trends), very similar to what we saw with CROX in 2019. Also notable is the nearly 17% short interest, based on float.
DOCU
Megatrend: cloud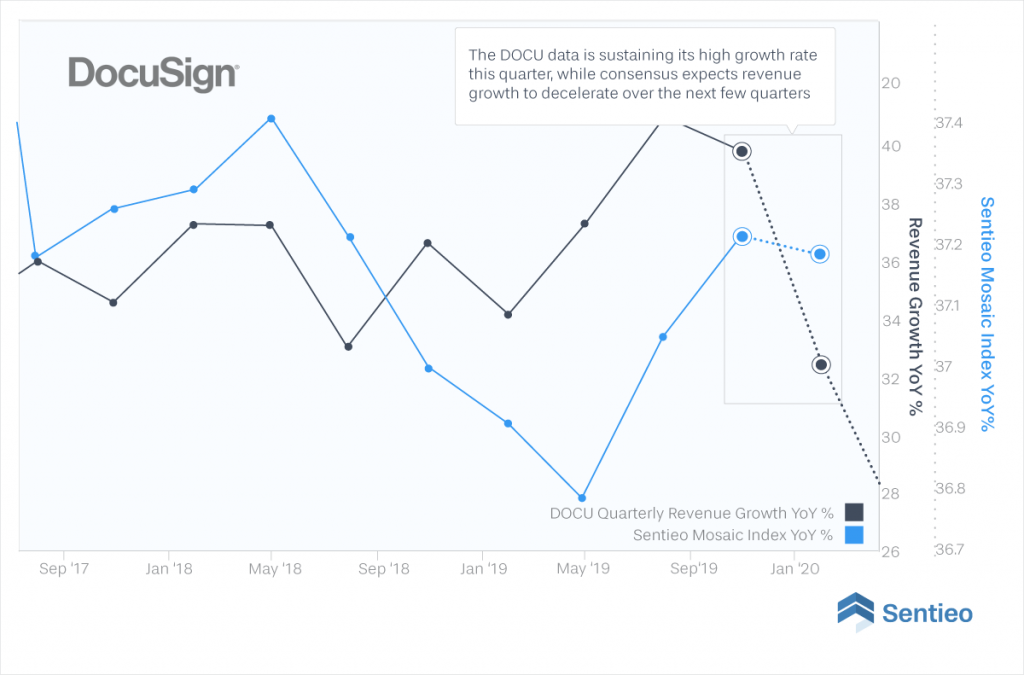 Similar to our returning pick COUP, DOCU is at the forefront of changing business processes, but in contracts. The ubiquitousness of contracts across every enterprise and every department means a very large TAM, and DOCU has the sales growth and KPIs to prove it. Our alternative data for the upcoming reporting quarter indicates better than expected sales growth. The company trades at around 11x EV/Sales for FYE Jan 2021, with very strong revenue estimates revisions.
To get the full H1 2020 list, and to see our full 2019 retrospective, download the full report "Equity Research Guide: How to deliver alpha without spending millions on data science projects"